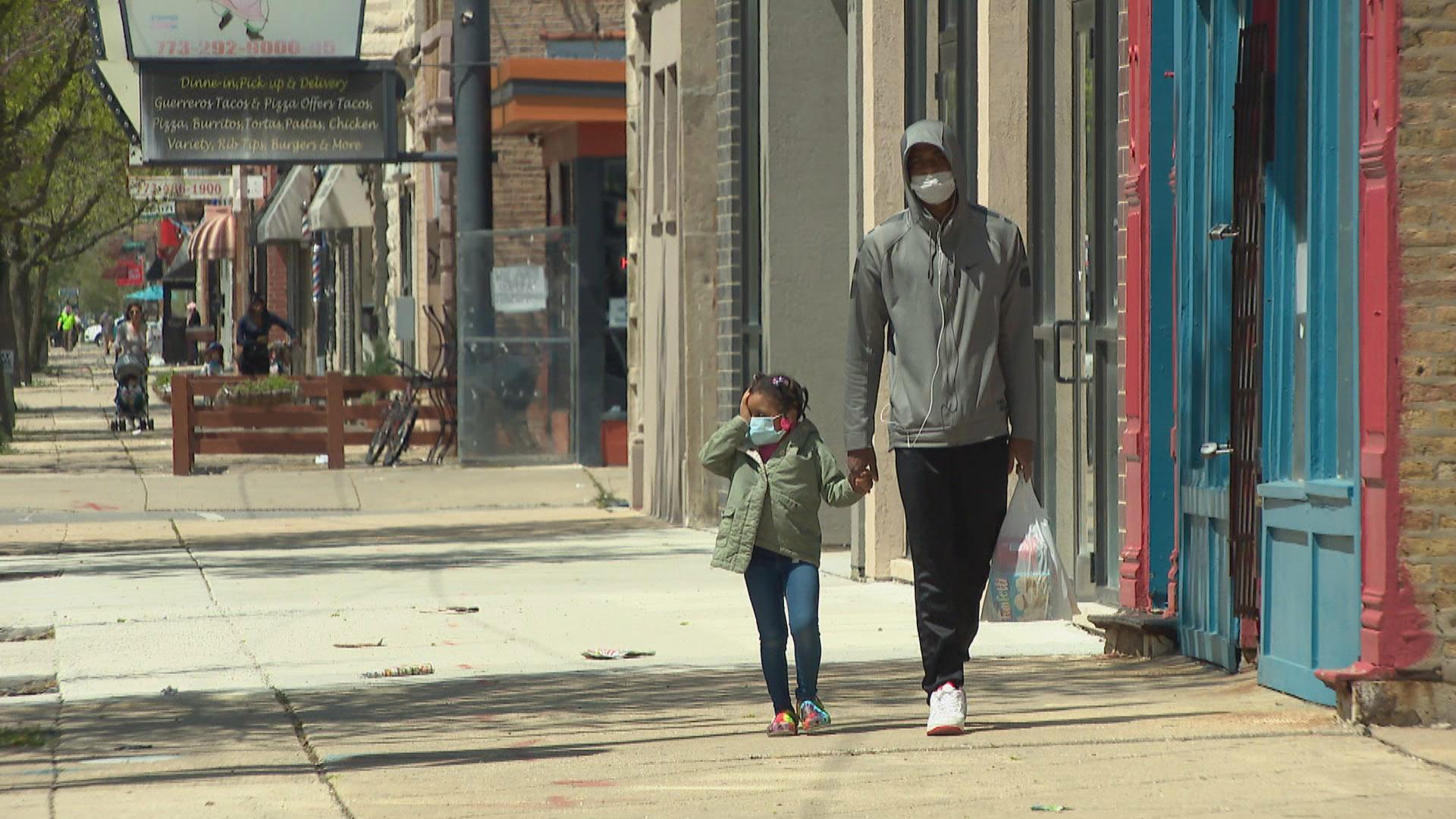 Family members wearing masks walk along the sidewalk in the Humboldt Park neighborhood on Thursday, May 7, 2020. Under Gov. J.B. Pritzker's stay-at-home order, all residents should wear face masks or coverings when social distancing is not possible. (WTTW News)
Like many business owners, Brian Berk had a hard time falling asleep in early March.
News reports made it clear the coronavirus was advancing, and that the pandemic would make it impossible for The Howard Elliott Collection, Berk's furniture company, to keep operating as normal.
"I was watching a report about the shortage of masks and other personal protective gear for nurses and doctors, and I wanted to help," Berk said. "I didn't even know what materials were used to make masks, so I got on the computer."
Berk soon realized that the same raw materials his company used to make pillows and slipcovers could be used to make masks — so he got to work.
"Then I realized we had a supply of elastic — liquid gold, as I call it," Berk said, laughing.
In a matter of weeks, Mayor Lori Lightfoot's administration agreed to pay Berk's company a total of $1.54 million to produce masks, face shields and gloves to replenish its stockpile, making the west suburban company Chicago's primary provider of personal protective equipment.
Two of the four city contracts inked with The Howard Elliott Collection would have required City Council approval under normal circumstances, since they totaled more than $500,000. But on March 18, Lightfoot issued an executive order that gave her the authority to enter into contracts of up to $1 million to respond to the coronavirus pandemic.
When Lightfoot asked the City Council to approve an ordinance approving that expanded purchasing power a month later, the contract with The Howard Elliott Collection drew criticism from Ald. Chris Taliaferro (29th Ward), who wanted to know why a Chicago-based firm wasn't selected for the work.
Taliaferro told WTTW News on Wednesday that he still had not gotten an answer about why a Chicago firm was not selected. The city should contract with Chicago firms whenever possible, especially as many struggle to survive the economic crisis created by the pandemic, said Taliaferro, an ally of the mayor.
"Mr. Berk is an example of someone who really stepped up," said Joe Schuster, who is leading the effort in the Mayor's Office to procure protective equipment. "We're grateful to local Illinois businesses like The Howard Elliot Collection who were willing to be resourceful and creative with their inventory to make sure our frontline workers have what they need."
A narrowly divided City Council voted 29-21 to approve Lightfoot's emergency powers, which are set to expire June 30, after Lightfoot said she needed to be able to act fast to obtain crucial gear — such as face masks and shields and gloves — to respond to the pandemic quickly.
In all, The Howard Elliott Collection provided 1 million protective masks, 300,000 face shields, 119,000 gloves and 37,500 cloth masks to the city, according to Cathy Kwiatkowski, a spokesperson for the city's Department of Procurement Services.
The equipment produced by The Howard Elliot Collection has been "thoroughly reviewed and tested to ensure they meet national safety standards," Kwiatkowski said.
The city entered into a contract with The Howard Elliott Collection after a review process, Kwiatkowski said.
"With a more than 20-year history of sourcing products overseas, the company has mobilized its resources and leveraged its manufacturing partnerships to provide hundreds of thousands of [personal protective equipment] to organizations," Kwiatkowski said. "Based on these manufacturing partnerships, direct access to high-volume factories in China and ability to deliver quality-controlled products that meet the city's strict deadlines, Howard Elliott was qualified to provide supplemental [personal protective equipment] to the city's stockpile."
Berk, whose Addison-based company works with manufacturers in China and employs workers in his west suburban headquarters, said at first he made a couple hundred prototype masks and tried to donate them, only to be turned away because the masks did not have a medical-grade filter.
"No one could get those filters," Berk said.
Gov. J.B. Pritzker likened the scramble for personal protective equipment on March 22 to the "wild west" with states competing against each other and the federal government for the life-saving gear.
As the shortage worsened, Berk was able to donate the masks to the University of Chicago Hospital's oncology department as well as the Will County Senior Center in Joliet and to health care workers in Munster.
That prompted Berk to write a blog post on his website, and to start reaching out to state and local governments to pitch his company's services.
Berk said a friend of a friend who had a connection to U.S. Sen. Dick Durbin (D-Illinois) sent a link to his website to someone who sent it to the mayor's office, which responded with interest. 
"We were vetted pretty extensively," said Berk, who said he didn't know anyone in Lightfoot's office and had never been politically active. "They did their due diligence."
State records show Berk has never made a political contribution to an Illinois politician.
Despite Berk's burgeoning side hustle as a manufacturer of personal protective gear, he still isn't sleeping well, as he works to keep his 40-employee business afloat, without a single laid off or furloughed employee.
"It is sometimes overwhelming," Berk said. "But we are grateful to be able to help."
Contact Heather Cherone: @HeatherCherone | (773) 569-1863 | [email protected]
---