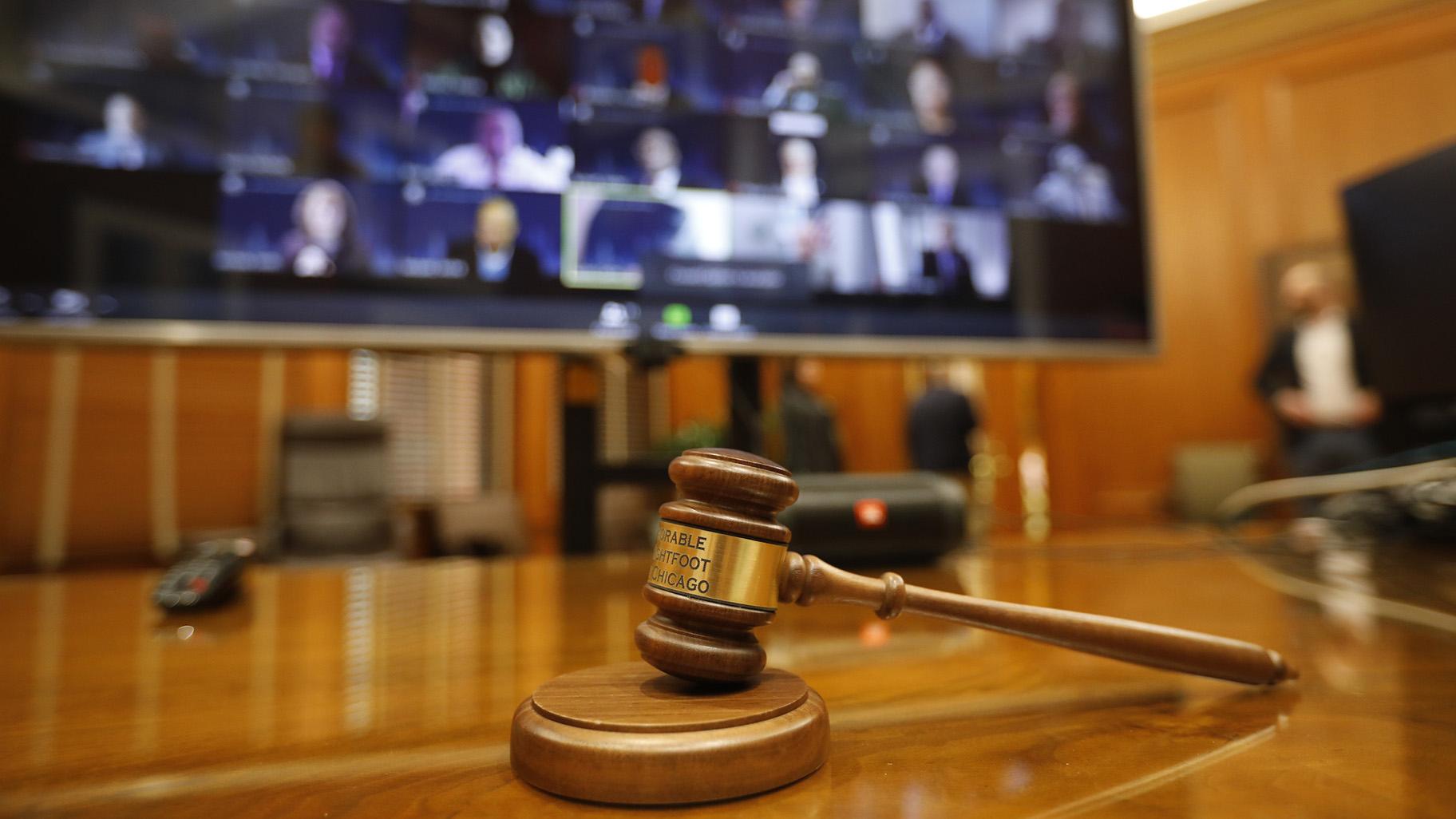 Mayor Lori Lightfoot presides over the city's first virtual City Council meeting on April 15, 2020. (@chicagosmayor / Twitter)
Aldermen narrowly approved a measure Friday that grants Mayor Lori Lightfoot expanded spending and contracting authority to respond to the coronavirus pandemic without the approval of the City Council.
The 29-21 vote is the closest in recent City Council history, as tensions between aldermen and the mayor continue to rise during the pandemic that forced the meeting to take place virtually.
Ald. Carlos Ramirez-Rosa (35th Ward) and three other aldermen joined forces on Wednesday to force a two-day delay on the measure, which Lightfoot said was of critical importance to ensure Chicago could obtain crucial equipment to respond to the pandemic quickly.
Ramirez-Rosa said the measure lacks "true oversight" and an assurance that money will be spent through an "equity lens," using one of Lightfoot's central campaign promises to needle her during the debate.
However, since the City Council can meet on 48-hours notice, there is no need for the City Council to grant the mayor expanded powers, Ramirez-Rosa said.
Lightfoot's assertions that she needed the powers to purchase personal protective gear was a "lie created at the last minute," Ramirez-Rosa said.
On Wednesday, Lightfoot lit into the aldermen who blocked the measure, singling out Ramirez-Rosa for the harshest criticism, saying she was "embarrassed" by his actions. Ramirez-Rosa represents the mayor, a Logan Square resident, on the City Council.
Lightfoot said the "small handful" of aldermen chose to "use this moment of crisis to grandstand."
Lightfoot called the aldermen "selfish" and their actions "shameful."
Black Caucus Chair Ald. Jason Ervin (28th Ward) said he was concerned the measure would allow the mayor to spend federal relief funds without a vote of the City Council.
The measure gives Chief Procurement Officer Shannon Andrews the authority to approve emergency contracts of up to $1 million to respond to the coronavirus pandemic. In addition, Budget Director Susie Park can spend federal and state relief grants to respond to the pandemic, and move funds within city departments if she deems it necessary.
Park is required to give the City Council's Budget Committee weekly summaries of pandemic-related spending and contracts.
The measure is set to expire June 30, which Lightfoot called "an outside marker" for when the pandemic is expected to peak and begin to recede. If Dr. Allison Arwady, the commissioner of the Chicago Department of Public Health, determines that the pandemic is still raging, the mayor's emergency powers could be extended.
Ald. Brendan Reilly (42nd Ward) said he expected the federal government to reimburse Chicago for most of what officials spend to respond to the pandemic.
"I have faith in Mayor Lightfoot to be judicious with these funds," Reilly said.
Contact Heather Cherone: @HeatherCherone | (773) 569-1863 | [email protected]
---