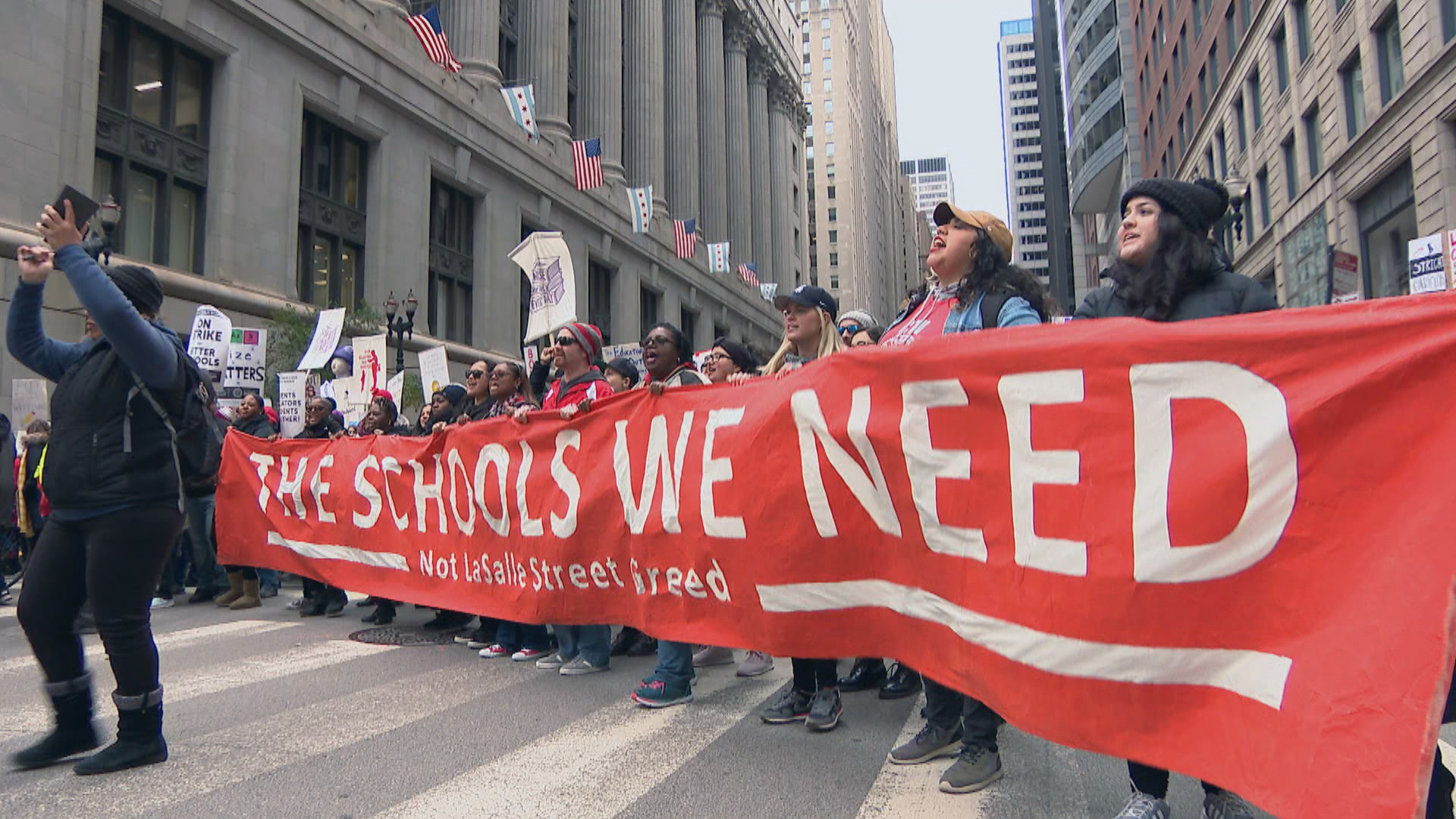 The Chicago Teachers Union and SEIU Local 73 hold a massive demonstration in the Loop on Wednesday, Oct. 23, 2019 -- day five of the Chicago teachers strike. (WTTW News)
A pair of educators are suing the Chicago Teachers Union and the Board of Education, claiming their First Amendment rights "to stop subsidizing CTU and its speech" have been violated by an "unconstitutional policy" forcing them to pay union dues.
The class-action lawsuit filed in federal court Monday challenges a CTU policy that only allows nonmembers to terminate their union dues during an "escape period" each August. The plaintiffs, Joanne Troesch and Ifeoma Nkemdi, claim this violates First Amendment protections defined by the U.S. Supreme Court's landmark 2018 ruling in Janus v. AFSCME.
"This is another anti-worker lawsuit from a reactionary, Koch-funded law project, filed as part of a coordinated, national right-wing effort aimed at undermining the rights of workers and their unions," CTU General Counsel Robert Bloch said in a statement Tuesday.
"We operate stringently within the letter of the law, including Section 11.1 of the Illinois Educational Labor Relations Act, which governs dues collection procedures. We expect the court to reject this lawsuit out of hand."
Troesch works as a technology coordinator at Jones College Prep, while Nkemdi teaches second grade at Newberry Math and Science Academy.
In the lawsuit, both women state that in 2017, they signed a form authorizing the Board of Education to deduct CTU dues and contributions to the union's Political Action Committee from their paychecks.
A year later, the U.S. Supreme Court issued its Janus decision, which meant Illinois could no longer force public workers — including teachers — who chose not to join unions to pay "fair-share" fees that fund collective bargaining efforts.
According to their lawsuit, Troesch and Nkemdi didn't know they had a constitutional right "not to financially support the CTU" until last fall, when they each conducted research about how to continue working during the teachers union's October strike.
When they learned they wouldn't have to continue paying dues if they weren't union members, they each sought to resign their CTU memberships and told the board they no longer authorized them to deduct union dues or fees from their paychecks.
"Per the U.S. Supreme Court's decision in Janus v. AFSCME, I cannot be required to pay any dues or fees to a union to maintain my job," both Troesch and Nkemdi wrote in identical letters addressed to the union last October. "Therefore, neither the Union nor my Employer is authorized to enforce any authorization."
CTU Financial Secretary Maria Moreno responded to the women in November, informing them that in accordance with the original union agreement they signed, the "dues revocation window" extends only from Aug. 1 to Aug. 31. Thus, Troesch and Nkemdi would have to continue paying dues until Sept. 1, 2020.
According to the lawsuit, those deductions have continued since last November.
The National Right to Work Legal Defense Foundation, which is providing Troesch and Nkemdi with pro bono legal representation in the case, is asking a federal judge to order the CTU and Board of Education to reimburse their clients for those dues and stop enforcing the "escape period" policy – which it dubbed "unconstitutional."
"Once again, teacher union officials are violating the First Amendment Janus rights of teachers they claim to represent just so they can keep the teachers' hard-earned money rolling into their union's coffers," Mark Mix, president of the National Right to Work Foundation, said in a statement.
"The Foundation is proud to stand with Ms. Troesch and Ms. Nkemdi, and will continue to defend all educators who simply want to serve their students and community without being forced to subsidize union activities."
Spokespersons from Chicago Public Schools did not respond to a request for comment Tuesday.
Contact Matt Masterson: @ByMattMasterson | [email protected] | (773) 509-5431
---