There's a feeling of calm before the storm in Rogers Park. 
The community straddles two zip codes that have seen a combined 1,200 to 1,300 confirmed cases of COVID-19, according to the Illinois Department of Public Health. 
The diverse community includes a lot of mixed- and low-income housing, as well as some middle- and upper-income housing. 
Interactive: More from our series, COVID-19 Across Chicago.
Tenants are anxious about rent, according to local community service organizations, who say they're getting a lot of calls from landlords and tenants about May payments. Through a $2 million city rental assistance grant and other fundraising, residents appear to be holding off eviction for now – but what happens in future months? 
The nonprofit Northside Community Resources is trying to help. It raised about $5,000 for immigrant and refugee communities to help with rental payments. But the organization's concerns go beyond eviction. 
Executive Director Chris Zala says that if the unemployment rate doesn't drastically improve, a spate of foreclosures could be on the horizon.
"We're starting to get more and more calls, and as the COVID crisis winds down and the market opens back up, we fear that we'll see a huge plethora of people calling and needing assistance with foreclosure prevention," Zala said.
That feeling of uncertainty extends into Rogers Park's business community, which reflects the eclectic, colorful neighborhood with hundreds of stores, restaurants and bars.
Sandi Price, executive director of the Rogers Park Business Alliance, says the majority of neighborhood residents do shop locally, and it's the companies that were able to quickly adapt with technological savvy that were able to retain at least some of their business.
"If you can't do the social media, the digital marketing, get the word out that you're still open, people are going where they know it's open," Price said. "Just having a website is not good enough. They're not updating their website. We found that the businesses that don't have the capacity to do the social media are the ones that are suffering and not getting the business."
The Chicago Upholstery and Drapery Co. is one example of unexpected adaptation. The company switched its entire operation to making protective face masks. Company co-owner Dale Forbes says they've been able to donate the masks to the community and sell them to medical providers around the country. Forbes says one order came in from out of town, and through word of mouth, the business snowballed from there.
"What we do now is pretty much to keep the doors open, the lights on," Forbes said. "It's not a money-making venture. It was to make sure the employees that I have can have something to take home to their families, and that our doors are open and our lights are on so that we can stay open for when the upholstery business opens."
But Forbes says the demand for upholstery and curtains is still robust and the company has a backlog of orders to fill once that part of their business can reopen.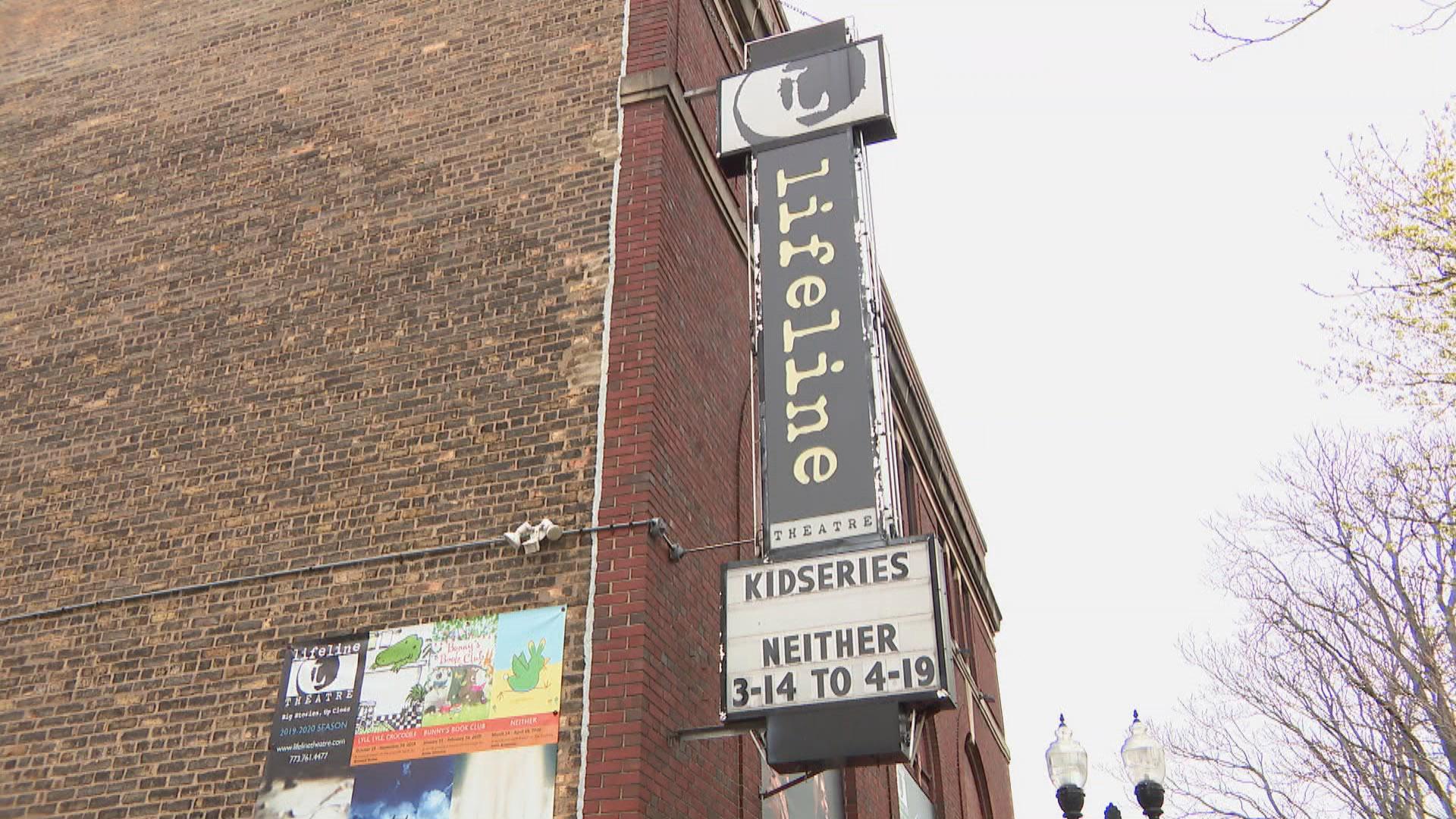 (WTTW News)
Another defining characteristic of the community is the local arts scene. Lifeline Theatre is one of the city's largest non-union operations. 
Managing Director Allison Cain admits they are in frightening territory, as the theater community wonders when audiences will feel comfortable coming back to see live performances. Cain says the theater has been able to hold fundraisers and has received city arts grants to operate, but there's a much larger and deeper conversation now about what live theater is going to look like before a COVID-19 cure or vaccine becomes available.
"We are now trying to figure out how to commoditize streaming and what that looks like, and different ways in which we can stay connected with our patrons, but also to bring in much needed earned income," Cain said. "If things lighten up and we can bring in 10 people, hopefully we can bring in a cast to do a shoot, only if everyone's safe."
Follow Paris Schutz on Twitter: @paschutz
---
Community Reporting Series
"Chicago Tonight" is expanding its community reporting. We're hitting the streets to speak with your neighbors, local businesses, agencies and leaders about COVID-19, the economy, racial justice, education and more. See where we've been and what we've learned by using the map below. Or select a community using the drop-down menu. Points in red represent our series COVID-19 Across Chicago; blue marks our series "Chicago Tonight" in Your Neighborhood.
---