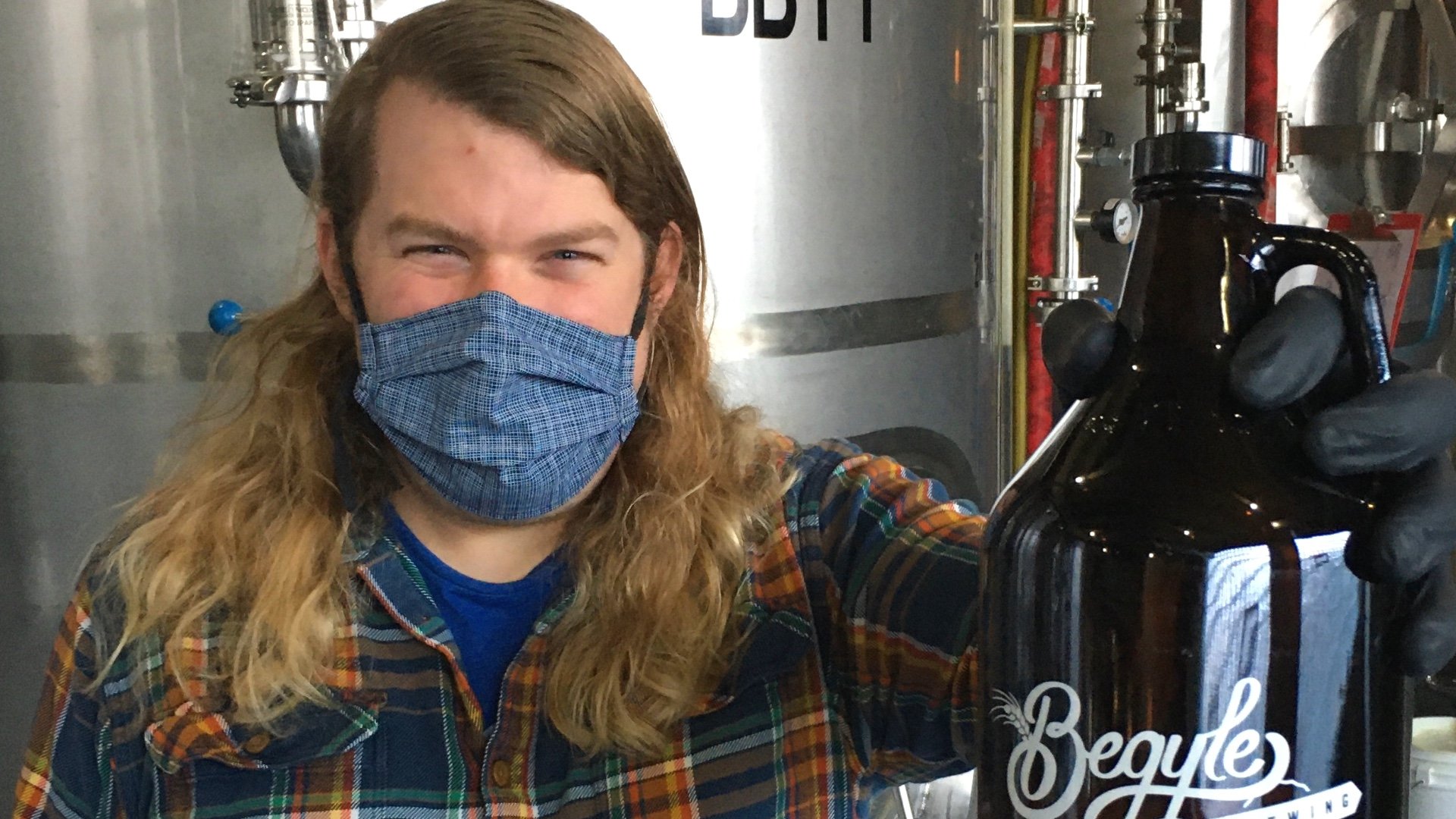 Begyle Brewing's Kevin Cary is about to lose his "Thor-like" locks, all to benefit The Friendship Center food pantry. (Mike Roach)
For the first time in a decade, Ross Outten is about to get a good look at his face.
Come Tuesday at 5 p.m., Outten, director of The Friendship Center food pantry, will be shaving off his thick beard, live on Facebook, during a Haircut Happy Hour.
It's all part of a "hair-razing" fundraising scheme cooked up by Begyle Brewing's Kevin Cary. In lieu of a festival jointly hosted by Begyle and neighboring Dovetail Brewery, which benefits the pantry, Cary roped in Outten and Dovetail's Hagen Dost, who all agreed to shave their heads or faces if donations reached $5,000. 
Good thing the guys have an "It'll grow back" attitude, because within a day, the target had been reached, and then some, now nearing $10,000.
The donations will help plug the $50,000 budget hole The Friendship Center is facing for 2020, given the cancellation of its biggest moneymakers: summer festivals. 
In 2019, Begyle and Dovetail collected $25,000 in gate receipts from their two-day Mayfestiversary street fair, money they then turned over to The Friendship Center.
This year, Mayfestiversary — an annual celebration of beer, music and community — was scheduled for May 23-24 until, like everything else, it got wiped off the calendar by the coronavirus. (Plans for a virtual fest are evolving.)
"That's one-fifth of our revenue," Outten said of total festival income. "We're stressing about that."
The strain on the center's coffers comes at the same time that need for the pantry's services is soaring, with visitors tripling in recent weeks.  
Typically the Friendship Center, located in Lincoln Square, serves Chicagoans who live north of Montrose and west of Ravenswood, and on a normal distribution day, 40 to 50 people might show up to receive food, Outten said.
But nothing's typical or regular about the times we're living in. With a third of Chicago's food pantries shuttered, The Friendship Center is now serving all comers from all corners of the city. "If you walk in, you'll be going home with food," Outten said. On a recent weekday The Friendship Center had 133 people pass through its doors. 
"I'm seeing a lot of people we've never seen before," said Outten. 
Though social distancing and the wearing of masks has made it difficult to form personal connections with the newcomers, Outten said he knows from experience how difficult it is for people to accept a handout when they've never needed one before.
His message: "That's the whole reason we're here. There's no shame in coming here."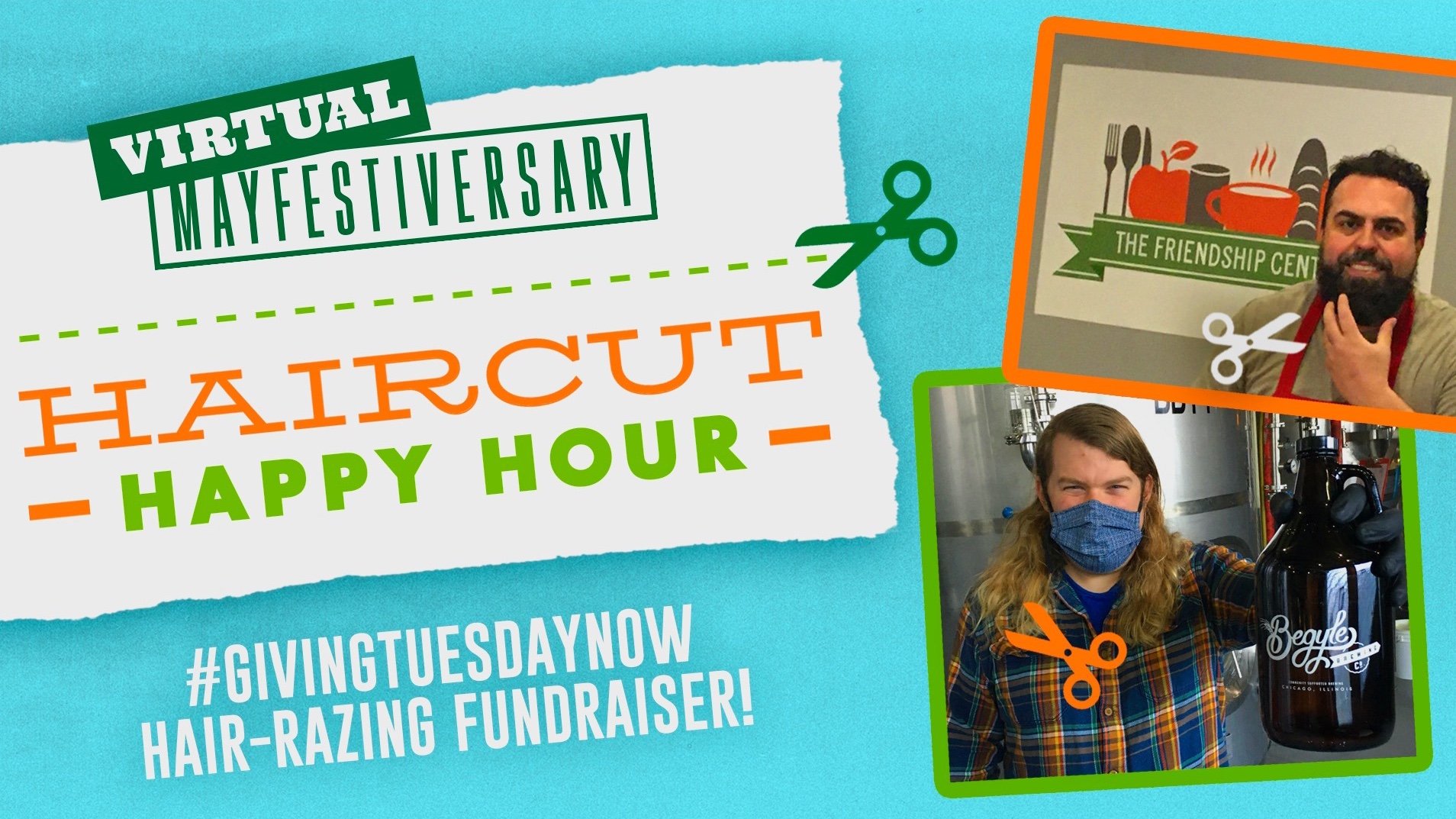 Ross Outten, director of The Friendship Center, is about to lose the beard he hasn't shaved in a decade. (Mike Roach / The Friendship Center)
Breweries are going through their own tough times during the COVID-19 pandemic, but Cary said that doesn't compare with the extreme need witnessed by The Friendship Center. 
"We are fortunate that we are still open and offering curbside pick up. It may be a limited version of our business to some extent, but when we get back to normal, we want our community to be just as strong as it was when we shut down," Cary said. "So replacing that revenue for The Friendship Center seemed important."
He's about to become a victim of the success of his own idea, preparing for his wife to buzzcut the "Thor-like" locks he hasn't taken scissors to in four years. 
"I am going to miss it quite a bit," Cary said, but then joked, "I am looking forward to being more aerodynamic."
A similarly good-humored, and grateful, Outten said of the looming loss of his beard: "At least the (face) mask will fit better."
Tune in at 5 p.m., May 5, for the Haircut Happy Hour.
Contact Patty Wetli: @pattywetli | (773) 509-5623 |  [email protected]
---