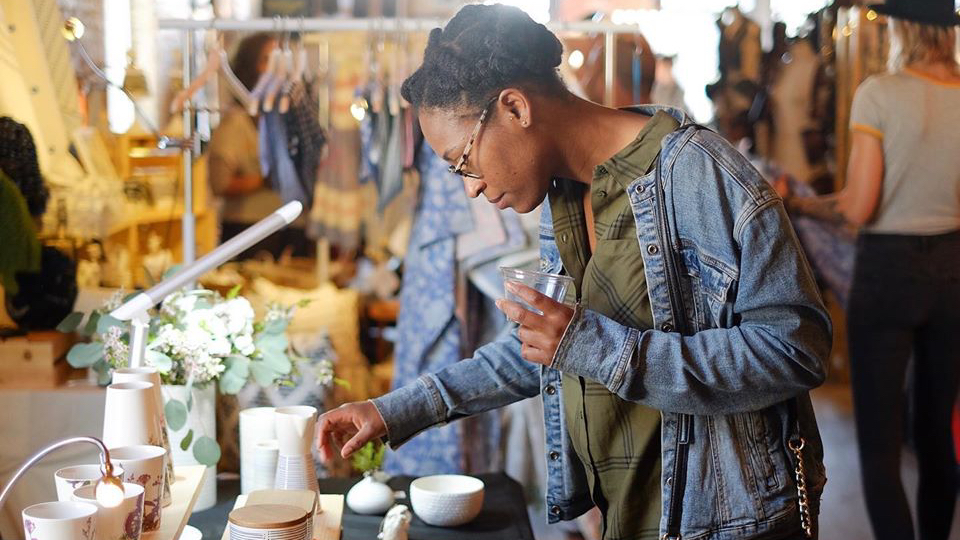 Show of Hands has organized a virtual marketplace to replace its canceled spring craft fair. (Courtesy of Show of Hands Chicago)
Emily Wentz was expecting to host thousands of guests this weekend at Show of Hands, the semiannual independent craft fair she founded in 2013. 
That plan went out the window back in mid-March, when Wentz pulled the plug on the fair, set for Friday through Sunday at Artifact Events in Ravenswood. It was a tough call at the time, given that the state wasn't yet in full COVID-19 lockdown, but one that gave her a head start on coming up with a plan B.
This week, Wentz announced that the show will go on, sort of, in a highly altered format.
At 5 p.m. Friday, at about the time she would have been toasting the opening of Show of Hands, Wentz will kick off a weekend's worth of Instagram Live programming featuring chats, demonstrations and studio tours with dozens of the show's makers — from letterpress artists to jewelry designers to woodworkers. Her guests on Friday include the alcohol-themed Aged & Infused, The Bitter Ex and Union Horse Distilling, all chosen to mimic the cocktail party atmosphere of the fair's first evening. 
"It's a little small replacement of the fact that the show isn't happening," said Wentz, who also runs her own design firm, Orange Beautiful. "For shoppers, I want them to get a tiny taste. To think, 'It was so cool to see that. And oh, I should buy something.'"
Wentz has also taken Show of Hands "super basic" online listing of vendors and amped it up into a searchable, sortable directory that users can shop as if they're at the show.
Want to find makers who sell mugs? Buy a bracelet for Mother's Day? The directory will serve up profiles of makers who fit the bill, with links to their online shops, as well as special promotions. 
"If you want toffee, I want to get you to toffee," said Wentz. "I thought of our most loyal shoppers, and how to make it easy for them to give our vendors money."
Wentz is quick to point out that a "legit" virtual version of Show of Hands is still in the works, maybe even with vendors setting up booths in their homes, but this weekend's Instagram substitute is better than the alternative of doing nothing. 
"It's a way to let people feel like we're not all just giving up and sitting home feeling sad," she said. "It's helping people feel like it's not the end of the world. I feel like I have a platform where I can promote hundreds of businesses. That's the one thing I can do. We're stronger as a group."
In general, most artisans' support themselves on a combination of wholesale accounts and direct-to-consumer sales, with consumer revenue often split between online sales and craft shows, said Wentz.
During the COVID-19 shutdown, shows, where a maker might net $10,000 on a super successful weekend, have been taken out of the mix, and wholesale has fallen off a cliff, with nonessential retailers putting the brakes on orders. Wentz said she's been impressed with the way so many of her peers have adapted to the new normal. "A lot of them decided to take the bull by the horns instead of letting it defeat them."
But pivoting to an exclusively digital marketplace is less than ideal for a number of reasons, Wentz said. Take shopping for a candle or soap. How do you smell a candle or soap online? How do you sample handmade confections? How do you stumble onto something you never knew you needed or wanted? And of course the biggest question of them all: How do you make personal connections?  
"Part of me hopes this makes people wake up to the fact that ordering everything online sucks. I hope people come out of this thinking, 'I missed going to a brick-and-mortar store. I didn't like the way that felt,'" said Wentz.
If the world hasn't returned to whatever normal is by the time Show of Hands' holiday edition rolls around, set for Nov. 20-22, Wentz said she'll figure out a way to make it work.
"We've got to adjust and adapt. Small business owners are really good at that; we do it all the time. We're all used to everything being a problem we have to solve ourselves."
Contact Patty Wetli: @pattywetli | (773) 509-5623 |  [email protected]
---