It's an unlikely scene at one of the world's busiest airports: silent terminals, a few passengers making their way to the ticketing counter and security checkpoints, airport workers diligently cleaning and sanitizing surfaces. Flight boards showing at least half of scheduled flights canceled.
This is O'Hare International Airport during the coronavirus pandemic.
Interactive: More from our series, COVID-19 Across Chicago
According to the latest statistics from the Transportation Safety Administration, around 111,000 travelers passed through all of the nation's airports Tuesday. That number is 95% below the 2.1 million passengers recorded on the same day last year.
Chicago Department of Aviation officials say the numbers are slightly better at O'Hare and Midway, with traffic routinely at 7% to 15% of pre-pandemic levels.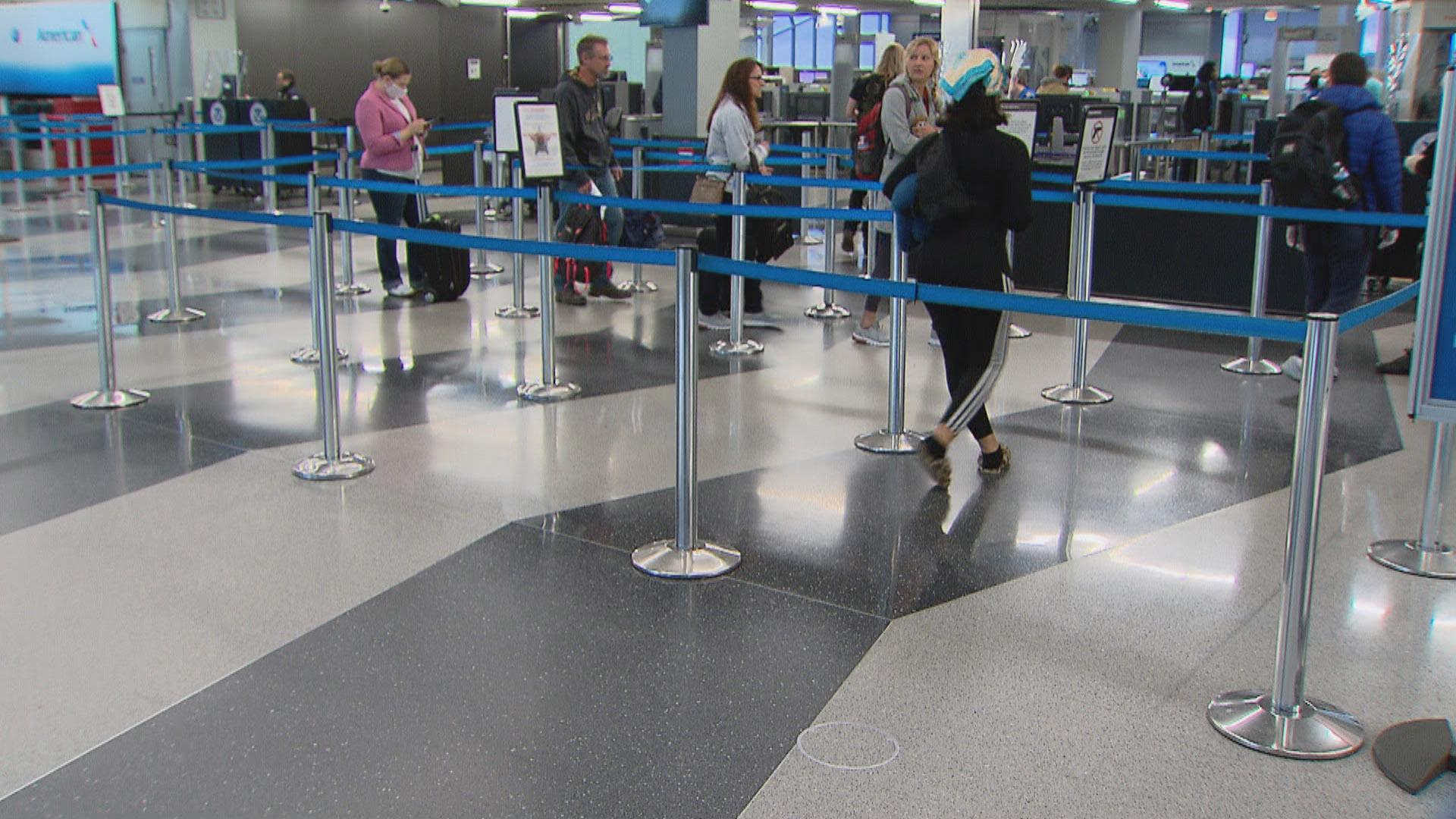 (WTTW News)
Airlines and the TSA have started to tout increased safety measures to give travelers confidence. There are sneeze guards and plentiful sanitizer at security chekpoints. But a cursory glance at an O'Hare terminal Wednesday revealed no social distancing markers on the floor, and passengers regularly standing closer to each other than the recommended 6-foot guideline. Many passengers are wearing masks, although that's not yet mandatory.
On Wednesday, House Transportation Committee Chairman Peter DeFazio (D-Oregon) urged the FAA to mandate face masks for all airline passengers and crew. 
United Airlines says it was the first airline to mandate all crew members wear them. The airline also announced increased cleaning and sanitizing procedures. 
American Airlines released a video of crew cleaning cabins between flights, and says it will distribute sanitizer and face masks to all travelers starting May 1. 
Both airlines declined our requests for interviews. 
Transportation expert Joseph Schwieterman, a faculty member at DePaul University, says airlines have struggled throughout the pandemic on what message to convey to the public.
"Airlines are in a tough spot, you tell people they have to wear masks, it sends a signal that things aren't safe," Schwieterman said. "On the other hand, people see that's more proactive and they feel more comfortable. You've seen JetBlue Airlines come out with a mandatory mask policy for passengers. I think in a few weeks we'll see more airlines do this, and I think the public expects it."
O'Hare passenger Aly Nunez, who was traveling to Texas with her family to attend a funeral, said little things that airlines do can go a long way toward calming her nerves about flying during the pandemic.
"Keeping distance between passengers on the flights — I hope that's what I see," Nunez said. "I hope to see people cleaning, just to see something makes me feel more at ease."
Meanwhile, Midway passenger John Cook, who arrived from Florida, said his travel experience was among the best he's ever had.
"I think this is the safest time to fly," Cook said. "There's very few people around, people are good about social distancing and everything is scrubbed down by the airlines and the airports so well."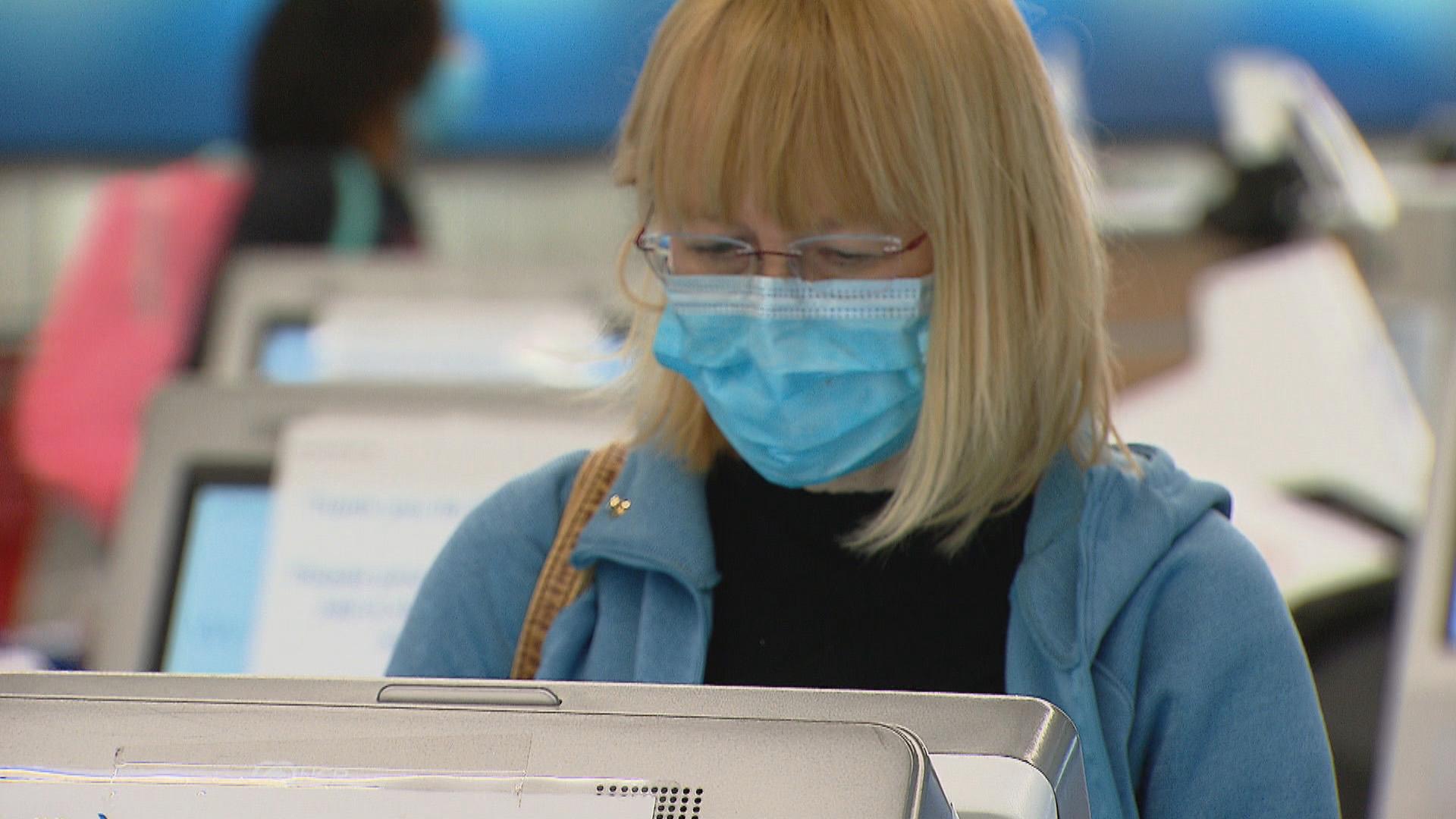 A passenger at O'Hare International Airport on Wednesday, April 29, 2020. (WTTW News)
Still up in the air is how this pandemic and near shutdown affects the $8.5 billion massive expansion and redesign of O'Hare airport, already underway and set to be completed by 2028. 
Construction is still active on Terminal 5, and aviation department officials say the lack of traffic means workers can actually move a little faster. 
Chicago's aviation commissioner declined an interview request, but Schwieterman says he believes the project will go forward as planned.
"The gate charges are still accumulating, but the landing fees are way down," Schwieterman said. "But the project has such momentum behind it, it'll push ahead. There may be some plan B strategies on financing, but it was something so sorely needed."
 As for the air travel itself – will it come back in the next few months? Years? Opinions are split. Many observers believe people won't feel confident until there's a vaccine for COVID-19. 
Schwieterman says he's optimistic it could bounce back in a big way in the fall.
"A lot of factors: fuel prices are really low, tremendous pent-up demand, and air travel is so integrated into our lifestyles. Once things return to normal, those habits will return pretty quick, and there'll be some bargains out there."
Airlines got billions of dollars in federal stimulus money on the condition they don't lay off or furlough anyone at least until Sept. 30.
On Thursday, American Airlines releases its first quarter earnings results, which are expected to be fairly poor.
Follow Paris Schutz on Twitter: @paschutz
---
Community Reporting Series
"Chicago Tonight" is expanding its community reporting. We're hitting the streets to speak with your neighbors, local businesses, agencies and leaders about COVID-19, the economy, racial justice, education and more. See where we've been and what we've learned by using the map below. Or select a community using the drop-down menu. Points in red represent our series COVID-19 Across Chicago; blue marks our series "Chicago Tonight" in Your Neighborhood.
---