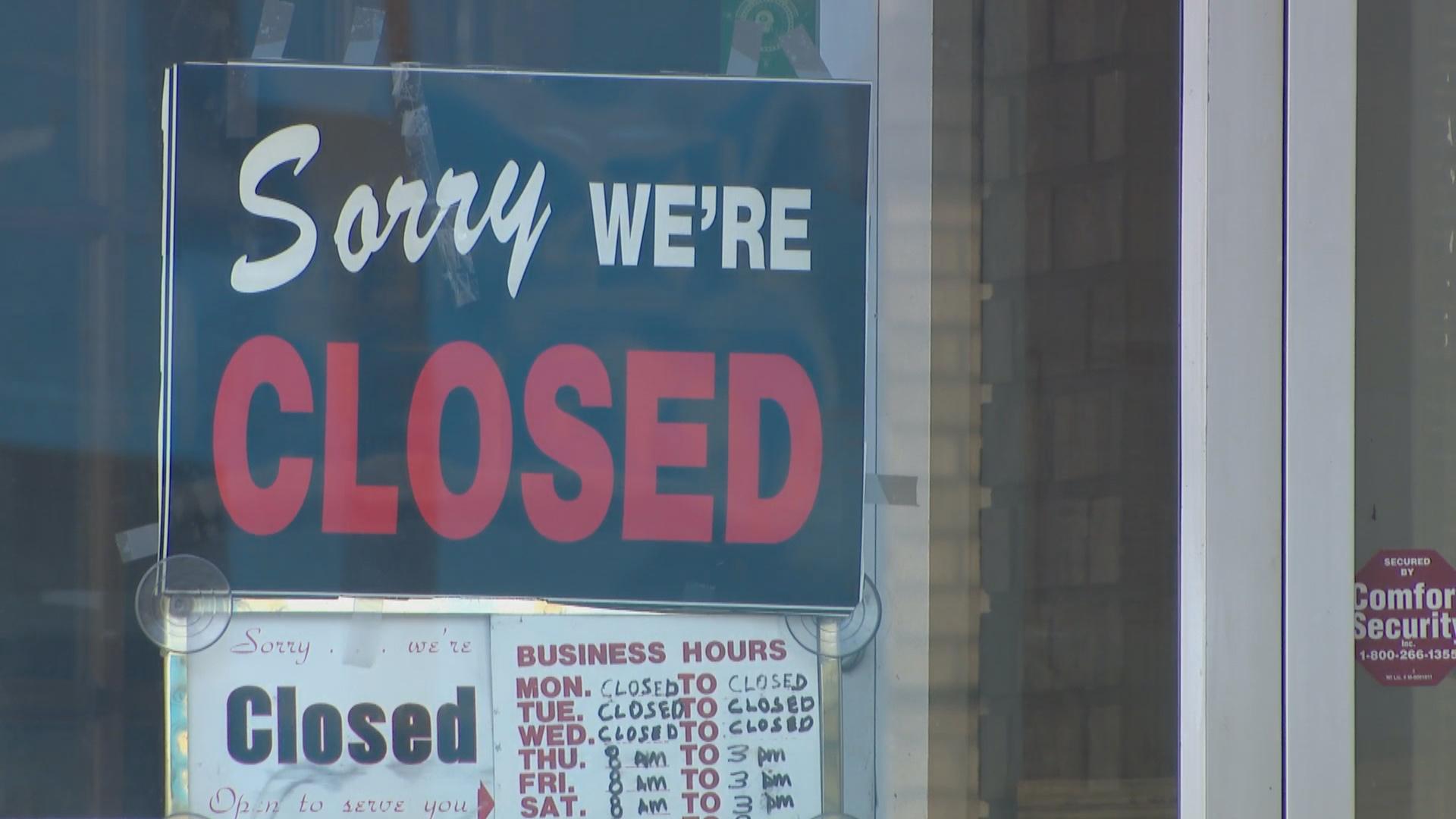 A small business hangs a "closed" sign on its door during the pandemic in April 2020. (WTTW News)
Small businesses on the South and West sides that are struggling to stay afloat during the coronavirus pandemic can apply for $5,000 grants from the city, Mayor Lori Lightfoot announced Tuesday.
Officials will fund 1,000 grants with $5 million from foundations, individuals and businesses via The Chicago Community Trust in partnership with The One Chicago Fund, officials announced.
"For some of these businesses, if they don't get money now, they are not coming back," Lightfoot said.
The grants will be awarded through a lottery. The deadline to apply online is Monday, and grants are expected to be awarded by May 11, officials said.
The grants are designed to help businesses that are not eligible for other federal and state relief efforts, officials said. 
Only so-called "microbusinesses" with four or fewer employees are eligible. City officials said more than half of all city firms could qualify for the grants based on their size.
To be eligible for the grants, firms must have less than $250,000 in annual revenue, be at least a year old and have suffered a 25% decrease in revenue as a result of the pandemic.
The businesses must also be located within a low- or moderate-income area of the city, defined as any Community Area with at least 65% low- or moderate-income individuals, according to city officials.
Business Affairs and Consumer Protection Commissioner Rosa Escareño said that while most businesses have an average of 26 days of cash on hand, most businesses in Englewood have only six days of cash on hand, placing them in immediate peril of closing.
The grants could allow some businesses to stay open an additional month, Escareño said, and they will also be available to businesses that do not have bank accounts.
Lightfoot also created a $100 million Small Business Resiliency Loan Fund to help Chicago businesses weather the pandemic. The fund, which is no longer accepting applications, has made 232 loans, with more than 300 additional loans in progress, officials said.
Contact Heather Cherone: @HeatherCherone | (773) 569-1863 | [email protected]
---