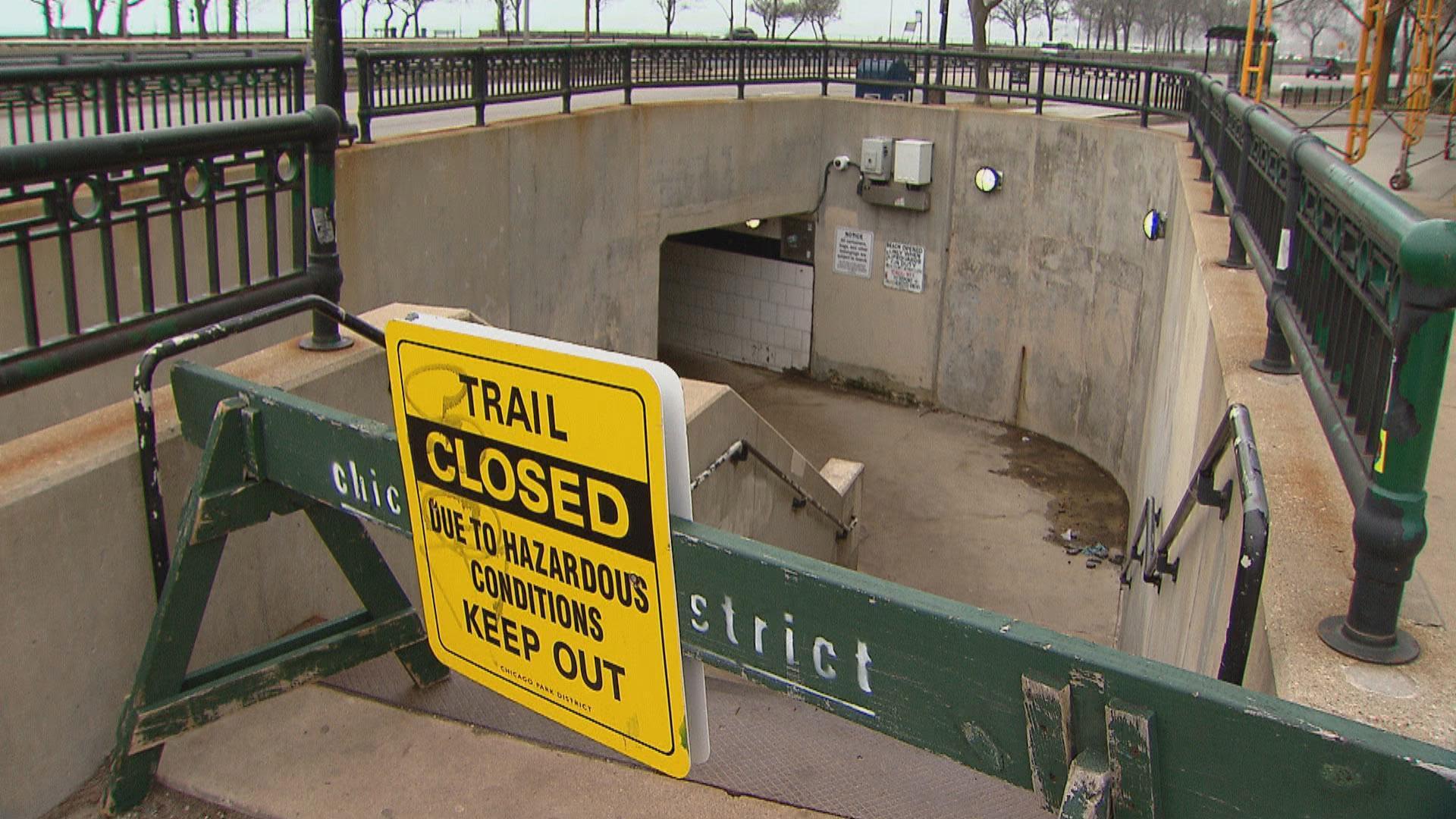 A scene along Chicago's lakefront on Thursday, March 26, 2020. (WTTW News)
Even though state parks are set to reopen May 1 with restrictions, Chicago's lakefront will remain closed, Mayor Lori Lightfoot said.
"The Mayor's order to close the lakefront remains in effect until further notice, and [the] city will continue to follow the data and guidance of health officials when making a determination about when to reopen these locations, which tend to attract a large number of people in close quarters," according to a statement from the mayor's office.
The governor's executive order extending closures allows local officials to impose additional restrictions.
All parks east of Lake Shore Drive are also closed, and will remain so, according to the mayor's office.
In Northeastern Illinois, Chain O'Lakes State Park, Illinois and Michigan State Trail, Kankakee River State Park, Moraine Hills State Park and North Point Marina are set to reopen, according to the Illinois Department of Natural Resources.
Parks will be open sunrise to sunset. Visitor centers, campgrounds, beaches and concession stands will remain closed, according to state officials. 
Visitors must stay at least six feet away from those who are not members of their households and leave an area if they arrive at a park and crowds are forming, according to state officials, who also recommended that people visit parks closest to where they live with only members of their households.
Lightfoot closed the Lakefront Trail, the 606 Trail and the Riverwalk on March 26, one day after the first warm day of spring sent hundreds of stir-crazy Chicagoans flocking to the trails.
Earlier this week, Lightfoot acknowledged city officials also blocked off parts of Lincoln Park that saw large crowds on nice days.
Those who violate the closure face a $500 fine, officials said.
Cook County Board President Toni Preckwinkle announced Friday that six parking lots in the Cook County Forest Preserves would be closed on Fridays, Saturdays and Sundays to reduce crowding.
The crowds are "unacceptable," Preckwinkle said, adding that she is working to keep the forest preserves open.
Crowds cannot be allowed to continue to gather at Busse Woods, Maple Lake, Catherine Chevalier Woods, Saganashkee Slough, Labagh Woods and Bunker Hill, Forest Preserves General Superintendent Arnold Randall said.
Forest Preserve Police will cite those not following the rules, after issuing a warning. Visitors must wear masks.
All public buildings, nature centers, campgrounds, bathrooms and the Swallow Cliff stairs have already been closed.
Preckwinkle said the preserves' 300 miles of trails will remain open, as long as visitors follow the rules.
The "overwhelming majority of our preserves remain open. Choose those," Preckwinkle said.
Contact Heather Cherone: @HeatherCherone | (773) 569-1863 | [email protected]
---