With Chicago's‌ ‌typically‌ ‌bustling‌ ‌streets‌ now‌ ‌mostly empty‌ ‌due‌ ‌to‌ ‌the‌ ‌stay‌-at-home order, photographer‌ ‌Mark‌ ‌Hersch‌ ‌decided‌ ‌to‌ ‌take advantage of the times. ‌
He's now giving old photos new life with a practice called "rephotography," which he describes as "‌taking‌ ‌a‌ ‌picture‌ ‌of‌ ‌the‌ ‌same‌ ‌subject‌ ‌at‌ ‌two‌ ‌different‌ ‌points‌ ‌in‌ ‌time. 
"Most‌ ‌times,‌ ‌those‌ ‌images‌ ‌are just‌ ‌seen‌ ‌side‌ ‌by‌ ‌side," he said. "‌I‌ ‌wanted‌ ‌to‌ ‌take‌ ‌it‌ ‌one‌ ‌step‌ ‌further‌ ‌and‌ ‌merge‌ ‌the‌ ‌two‌ ‌images‌ ‌together‌ ‌to‌ ‌really‌ ‌provide‌ ‌a‌ ‌mind‌-blowing‌ ‌opportunity‌ ‌to‌ ‌see‌ ‌these‌ ‌two‌ ‌eras‌ ‌side‌ ‌by‌ ‌side‌ ‌in‌ ‌the‌ ‌same‌ ‌image."
His‌ ‌photos‌ ‌contrast‌ ‌the busy streets‌ ‌of the‌ ‌early‌ ‌1900s‌ ‌with ‌the‌ ‌empty‌ ‌streets‌ ‌today‌ ‌to‌ ‌fully‌ ‌capture‌ ‌Chicago‌ ‌in‌ ‌the‌ ‌age‌ ‌of‌ ‌the‌ ‌pandemic.‌ ‌
We‌ ‌hit‌ ‌State‌ ‌Street‌ ‌to‌ ‌see‌ ‌exactly‌ ‌how‌ ‌he‌ ‌does it.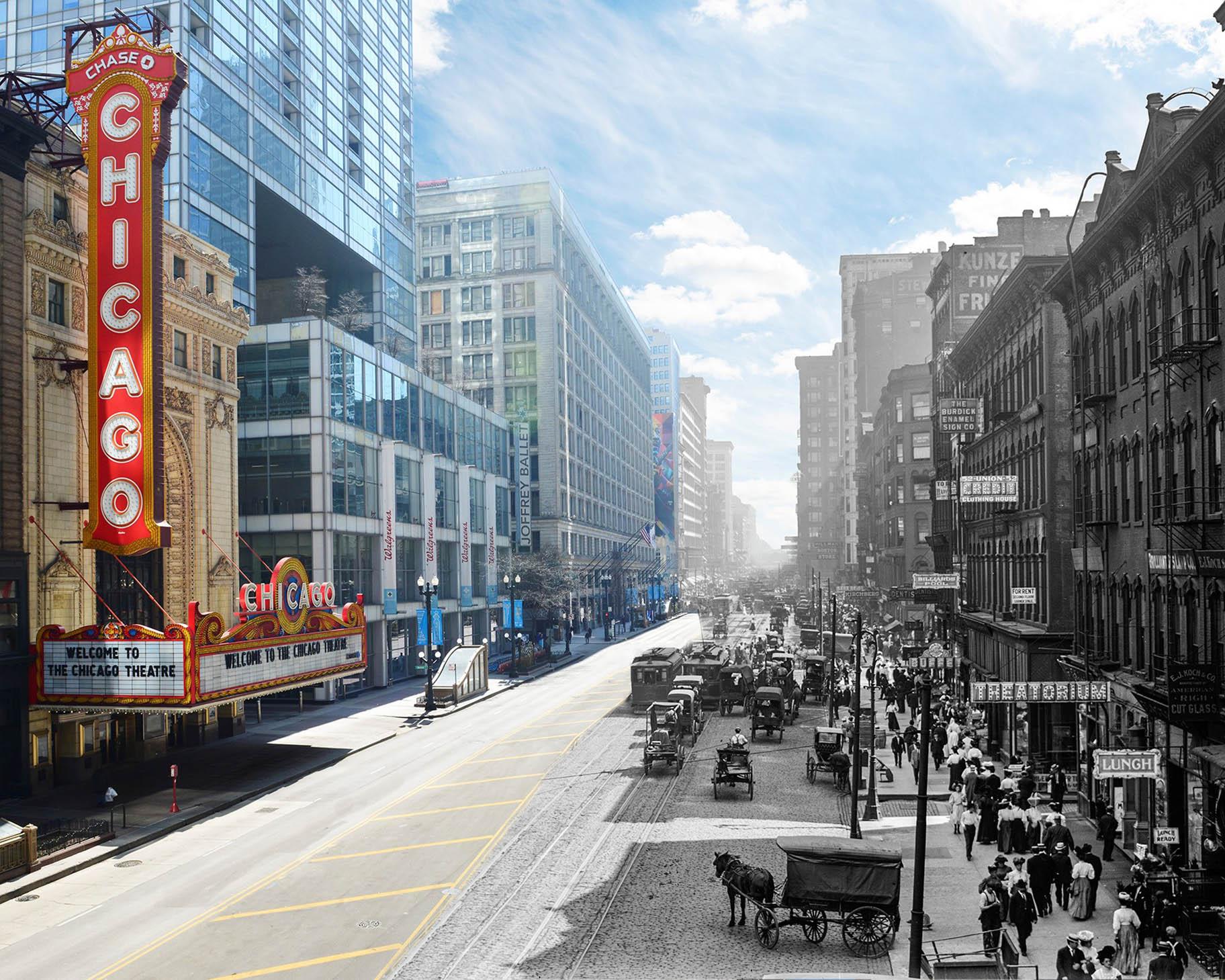 (Credit: Mark‌ ‌Hersch‌)
"I‌ ‌really‌ ‌wanted‌ ‌to‌ ‌recreate‌ ‌this,‌ ‌but‌ ‌for‌ ‌the‌ ‌life‌ ‌of‌ ‌me‌ ‌I‌ ‌couldn't‌ ‌figure‌ ‌out‌ ‌how‌ ‌to‌ ‌get‌ ‌this‌ ‌shot‌ ‌because‌ ‌it‌ ‌was‌ ‌taken‌ ‌from‌ ‌an‌ ‌elevated‌ ‌position," Hersch said.‌ "‌It‌ ‌wasn't‌ ‌until‌ ‌I‌ ‌came‌ ‌out‌ ‌here‌ ‌to the location and‌ ‌realized,‌ 'Well‌ ‌of‌ ‌course‌ ‌it's‌ ‌taken‌ ‌from‌ ‌the‌ ‌State‌/Lake‌ ‌overpass‌ ‌over‌ ‌State‌ ‌Street‌ ‌on‌ ‌the‌ 'L' ‌line.'"
Using‌ ‌images‌ ‌from‌ ‌the‌ ‌archives‌ ‌of‌ ‌the‌ ‌Library‌ ‌of‌ ‌Congress,‌ ‌Hersch's‌ ‌method‌ ‌provides‌ ‌a‌ unique‌ ‌intersection‌ ‌of‌ ‌history,‌ ‌photography‌ ‌and‌ ‌architecture.‌ 
"The‌ ‌city‌ ‌has‌ ‌done‌ ‌a‌ ‌pretty‌ ‌good‌ ‌job‌ ‌of‌ ‌preserving‌ ‌some‌ ‌of‌ ‌its‌ ‌architectural‌ ‌heritage," Hersch said.‌ ‌"‌I‌ ‌like‌ ‌to‌ ‌catalog‌ ‌and‌ ‌showcase‌ ‌what‌ ‌the‌ ‌city‌ ‌has‌ ‌done‌ ‌to‌ ‌preserve ‌that‌ ‌heritage. For‌ ‌purposes‌ ‌of‌ ‌showcasing‌ ‌the‌ ‌changes,‌ ‌I‌ ‌like‌ ‌to‌ ‌have‌ ‌images‌ ‌that‌ ‌show‌ ‌street‌ ‌scenes‌ ‌of‌ ‌people‌ ‌in‌ ‌their‌ ‌period‌ ‌dress,‌ ‌or‌ ‌the‌ ‌automobiles‌ ‌of‌ ‌the‌ ‌day‌ ‌or‌ ‌streetcars‌ ‌or‌ ‌trains‌ ‌or‌ ‌horse-run‌ ‌carriages‌ ‌that‌ ‌really‌ ‌speak‌ ‌to‌ ‌the‌ ‌era."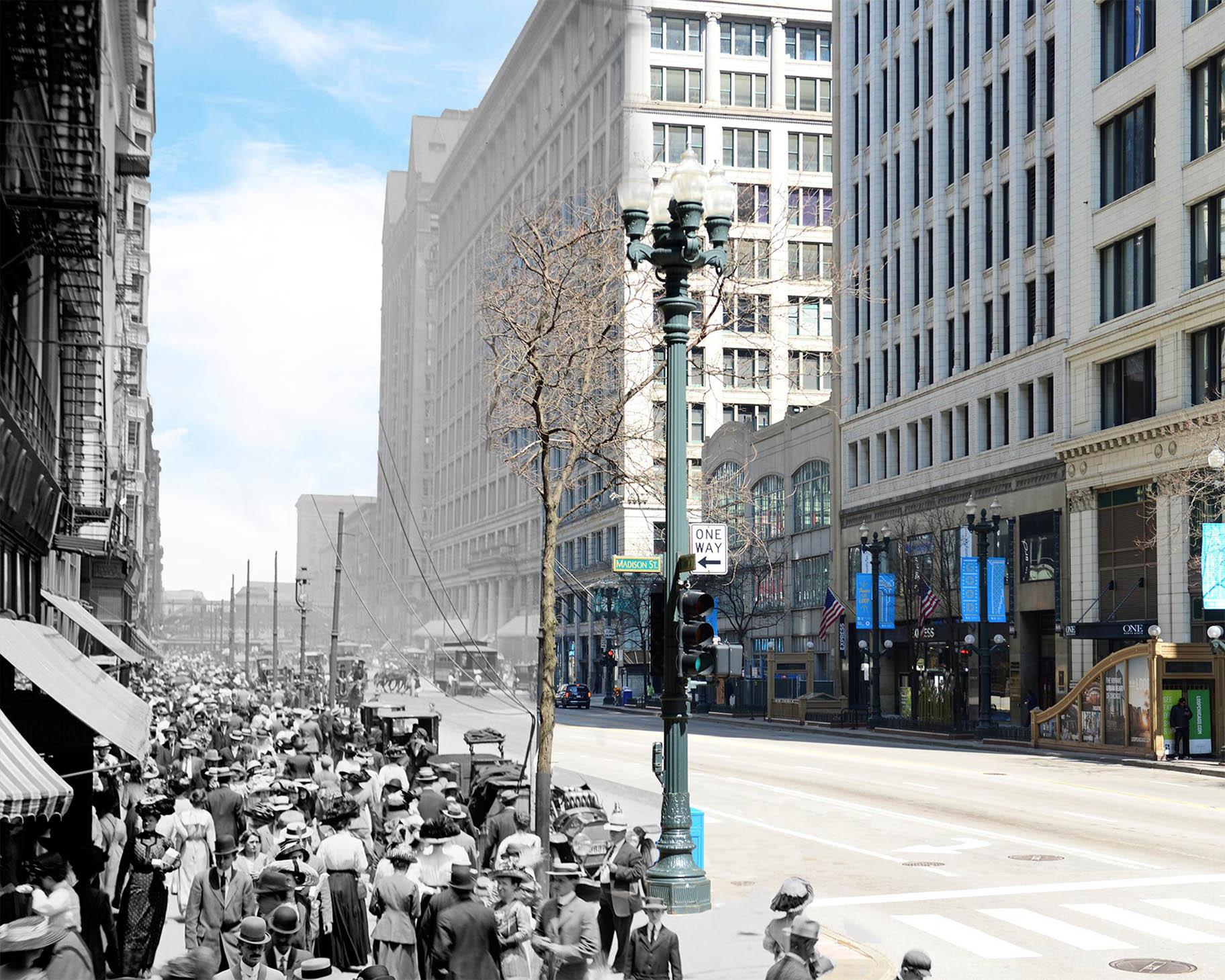 (Credit: Mark‌ ‌Hersch‌)
Hersch‌ ‌says he‌ ‌works‌ ‌hard‌ ‌to‌ ‌make‌ ‌sure‌ ‌he‌ ‌not‌ ‌only‌ ‌takes‌ ‌the‌ ‌images‌ ‌from‌ ‌the‌ ‌right‌ ‌angle,‌ ‌but‌ ‌at‌ ‌the‌ ‌right‌ ‌time‌ ‌of‌ ‌day.‌ ‌Every‌ ‌detail‌ ‌is‌ ‌vital, he says.
"I‌ ‌sort‌ ‌of‌ ‌look‌ ‌at‌ ‌this‌ ‌as‌ ‌part‌ ‌art part‌ ‌science," Hersch said.‌ "‌The‌ ‌science‌ ‌part‌ ‌is‌ ‌what‌ ‌we‌ ‌call‌ ‌in‌ ‌photography,‌ ‌getting‌ ‌the‌ ‌angles‌ and the focal lengths‌ just‌ ‌right so that everything matches up.‌ The‌ ‌art‌ ‌part‌ ‌is,‌ ‌which‌ ‌parts of each ‌image‌ ‌do‌ ‌I‌ ‌want‌ ‌to‌ ‌reveal? ‌That's‌ ‌my‌ ‌job‌ ‌to‌ ‌do‌ ‌that‌ ‌to‌ ‌tell‌ ‌a‌ ‌compelling story."
As‌ ‌Hersch‌ ‌zooms in on this once-in-a-lifetime ‌backdrop,‌ ‌he‌ ‌says‌ ‌he‌ ‌hopes‌ ‌his‌ ‌photos‌ ‌remind‌ ‌people‌ ‌the stay-at-home order will eventually end.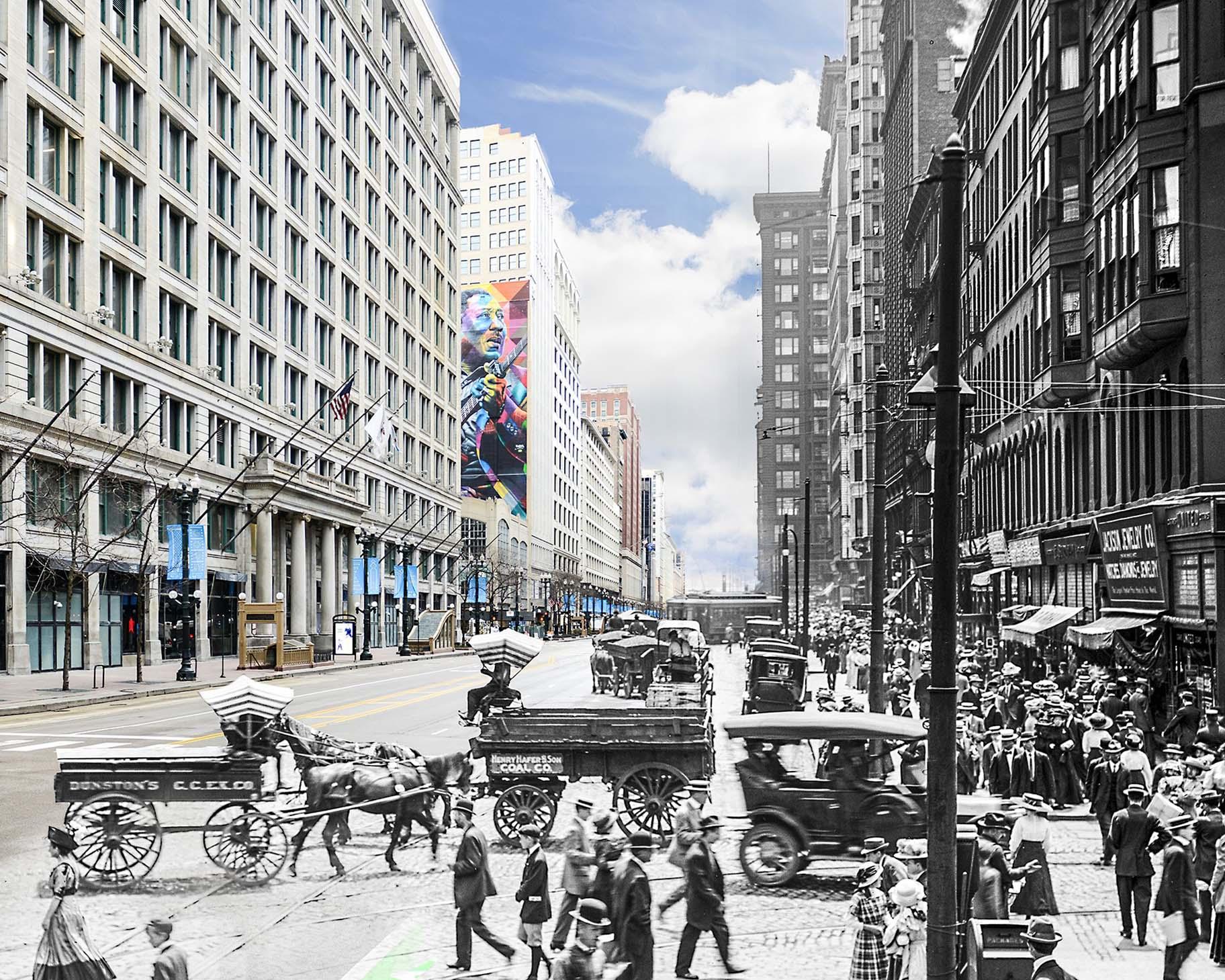 (Credit: Mark‌ ‌Hersch‌)
"I‌ ‌want‌ ‌my‌ ‌images‌ ‌to‌ ‌really‌ ‌provide‌ ‌a‌ ‌sense‌ ‌of‌ ‌hope," Hersch said. "‌That‌ ‌even‌ ‌though‌ ‌we're‌ ‌practicing‌ ‌social‌ ‌distancing and keeping our distance from people, we‌ ‌can‌ ‌look‌ ‌at‌ ‌these‌ ‌images‌ ‌and‌ ‌say‌ ‌someday‌ ‌these‌ ‌streets‌ ‌will‌ ‌again‌ ‌come‌ ‌to‌ ‌life‌ ‌just‌ ‌as‌ ‌they‌ ‌are‌ ‌and‌ ‌were‌ back ‌in‌ ‌the‌ ‌turn‌ ‌of‌ ‌the‌ ‌century."‌ ‌
Check out Hersch's full series, "Time After Time, Rephotography in the Midst of a Pandemic."
Follow Angel Idowu on Twitter: @angelidowu3
Angel Idowu is the JCS Fund of the DuPage Foundation Arts Correspondent.
---