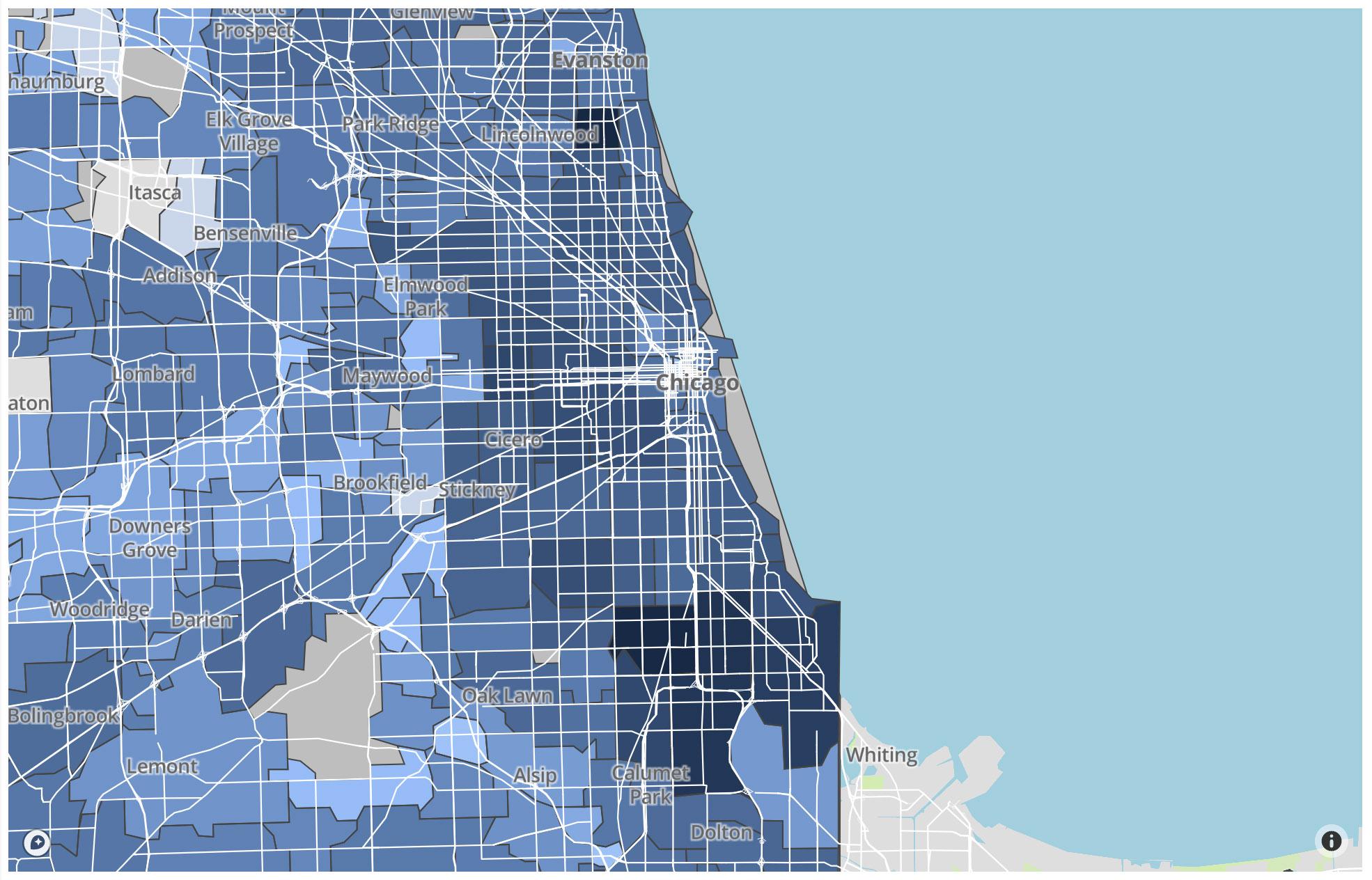 A map displays data confirmed cases of COVID-19 by zip code. Click to access the source. (Illinois Department of Public Health)
The West Ridge neighborhood on Chicago's North Side has the highest number of confirmed COVID-19 cases in Chicago, but a cluster of zip codes on the South Side are not far behind, according to data released Wednesday by the Illinois Department of Public Health.
In the 60645 zip code, which largely encompasses West Ridge, also known as West Rogers Park, there were 272 confirmed cases of the new coronavirus as of Wednesday. That's followed by 269 cases in the 60620 zip code (Auburn Gresham), 238 in the 60619 zip code (Chatham), and 229 cases in 60628 (Roseland).
In a statement, West Ridge Ald. Debra Silverstein, 50th Ward, said she didn't know why her ward was seen more confirmed cases than in other areas of the city.
"I have found that the people here are taking the outbreak and the social distancing guidelines very seriously," said Silverstein. "I can say that the city data does show that the 60645 zip code also has one of the highest levels of COVID-19 testing, which could contribute to the rate of confirmed cases. We also have many health care workers in the neighborhood and several large nursing homes." 
Silverstein said her advice to constituents has been repeatedly to "stay safe, stay healthy, and stay home!"
While West Ridge is one of the most diverse neighborhoods in the city, the other three Chicago zip codes with the highest number of confirmed cases are more than 90% African American, with median household incomes far below the city average.
"Years of systematic racism, lack of investment and high unemployment have left our community vulnerable to this pandemic," said Ald. Howard Brookins Jr., whose 21st Ward includes Auburn Gresham. "Hopefully this disparity will shock the consciousness of people of good will to work hard to close the health care gap that exists in the African American community."
Meanwhile, the areas with the fewest number of confirmed cases appear to be in the Loop and downtown, but that's likely to be a statistical anomaly because those downtown zip codes have relatively few residents. For example, the 60606 zip code that covers part of the Loop has just 11 confirmed cases, but according to the most recent census data (which, yes, is now 10 years old), that zip code has a population of 2,308 residents. By contrast, the 60645 zip code for West Ridge has more than 45,000 residents and the 60620 zip code for Auburn Gresham has more than 72,000.
In addition to high rates in West Ridge and on the South Side, analysis by the city of Chicago shows relatively high rates of infection in the 60644 and 60624 zip codes on the city's West Side, where populations are more than 90% African American.
The latest numbers confirm that a disproportionately large number of African Americans are becoming infected by the virus and dying from it. On Monday, the city reported that black Chicagoans made up 72% of COVID-19 deaths in the city, despite making up just 30% of the population.
Mayor Lori Lightfoot on Monday called that finding "a stark reminder of the deep-seated issues which have long created disparate health impacts in communities across Chicago" and said the city would do more to help the most vulnerable.
"We are determined to lessen the impact of COVID-19 by engaging communities that have traditionally been overlooked and that have suffered disinvestment and neglect for generations," said Lightfoot. "Data and science have been a critical tool in our public health response to COVID-19 from day one, and we will continue to rely on them to move resources where they are needed most."
Lightfoot also said testing would be ramped up in those communities.
As of Wednesday, there have been 15,078 confirmed cases in the state and 462 deaths, marking a single-day increase of 1,529 new cases and 82 new deaths.
---