"You deserve to be happy." That's the message muralist Myron Laban believes people really need to hear in the midst of today's uncertainties. 
"For some people, they are not necessarily in a place where they experience joy," Laban said. "Or maybe people forget what joy or happiness feels like, and this is just a gentle reminder that, 'Hey you do deserve to be happy, and this is something that you're worthy of.'"
Mental health awareness is at the forefront of every story Laban tells. Known for his Uplift character, his newest mural on the city's West Side promotes this same message.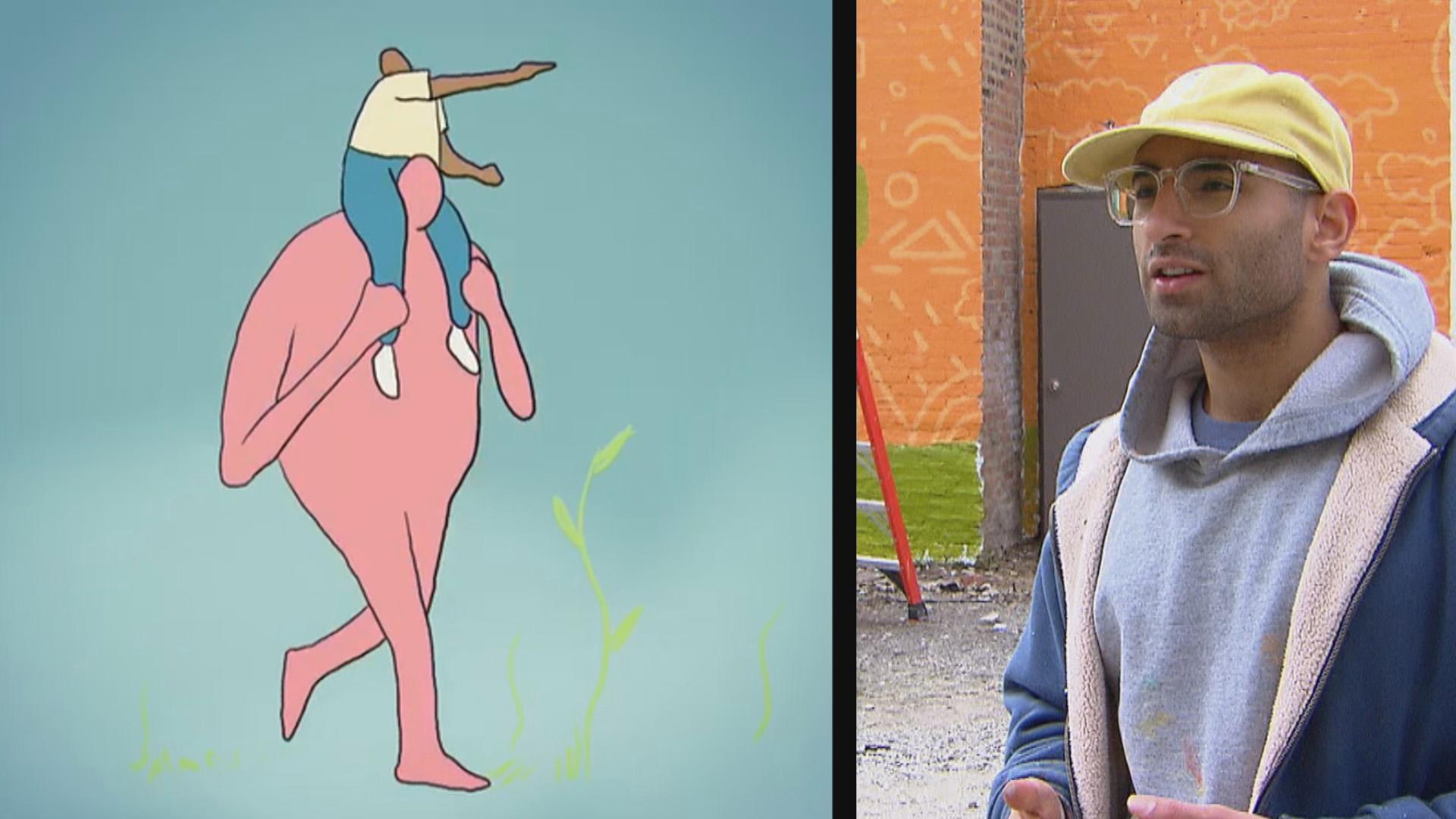 Myron Laban's Uplift character, left, and the artist. (WTTW News)
"The main character is the guy on the shoulders," Laban says. "The Uplift character is basically my mantra in life. It's just a reminder to keep moving forward. And even if things are hard you have to keep an optimistic outlook and always know that things are going to get better and have that sense of light at the end of the tunnel."
It's this sentiment that Laban wants people to remember as the stress and anxiety of the pandemic begins to take a toll on their mental health. 
And for Laban, art is not only a way to help people, but a way to heal. 
"Everyone has mental health and everyone goes through it in some sort of way," Laban said. "We all go through periods of depression and anxiety and life, right? Things happen and we have to respond to them, and the ways we respond is with our mental health. Through my own personal obstacles, art has always been a tool to help me get through it. "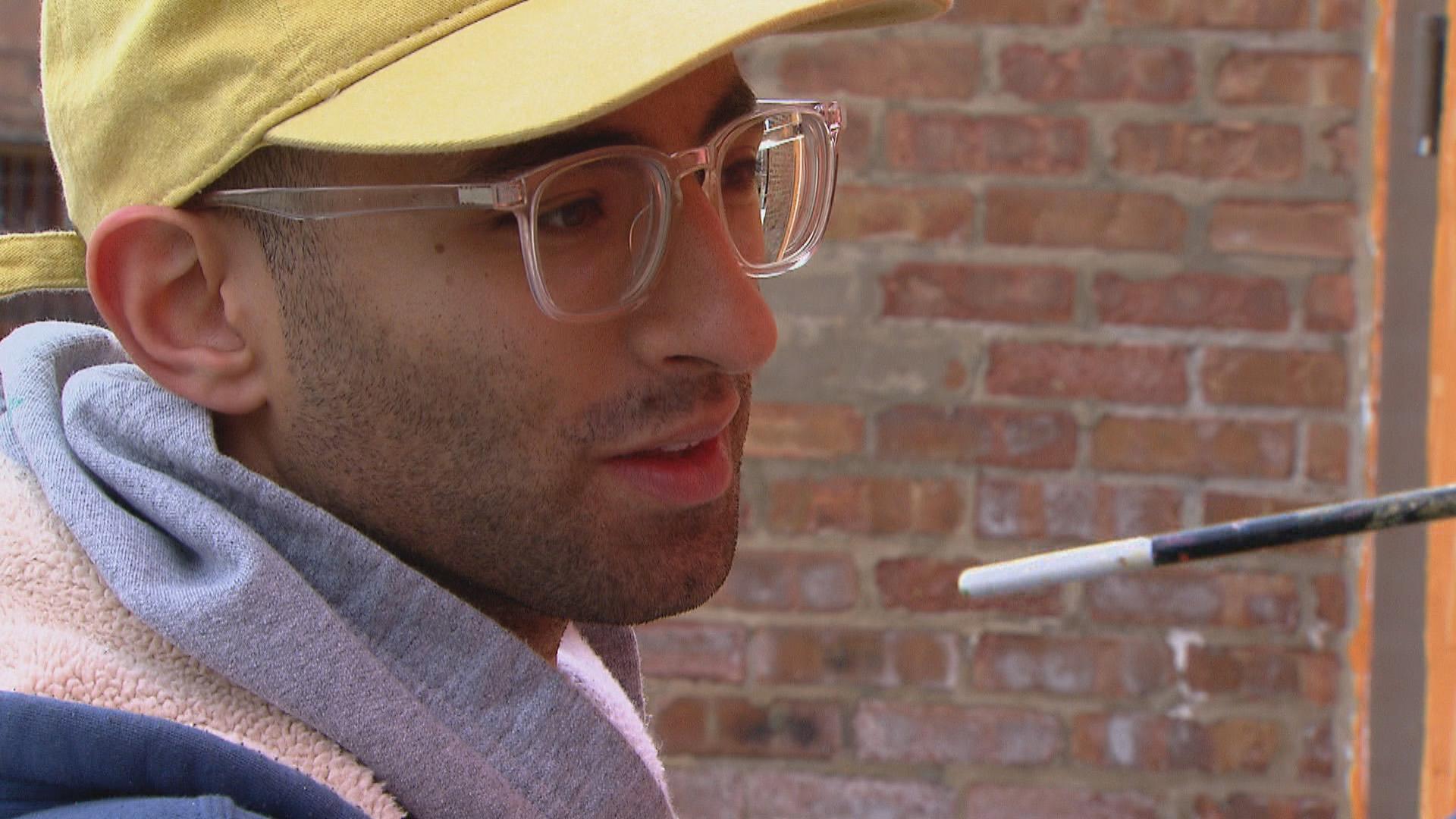 Myron Laban (WTTW News)
Laban also uses his platform to encourage people to seek help if they feel they need it. 
"There's a tab on my site called the Uplift campaign, and if you click it, you can put your name and address, I send you an Uplift print and on the print is free mental health resources," he said.
Laban believes his work is now more essential than ever, because art will not only help people process what they're feeling, but also let those feelings out.
"I think it's critical right now to express yourself, especially when you feel isolated, you feel like you're locked in," he said. "Sometimes people feel like they don't have many things to do. Ways that you can express yourself and get your emotions out is through art. It doesn't have to be painting, it can be playing the piano, playing your ukulele, or writing a poem. Art is just a productive way to let whatever you're going through out."
More on this story
Since we first brought you this story on April 9, Laban says he has gotten a lot of positive responses from the public. His latest mural is at an apartment complex at Roosevelt and Mozart; his next will be at Lawrence and Cicero — and he says he'll continue creating them as long as people reach out. 
The Centers for Disease Control and Prevention has this guide to managing stress and anxiety during the pandemic.
This story was originally published April 9, 2020. 
Follow Angel Idowu on Twitter: @angelidowu3
Angel Idowu is the JCS Fund of the DuPage Foundation Arts Correspondent.
---