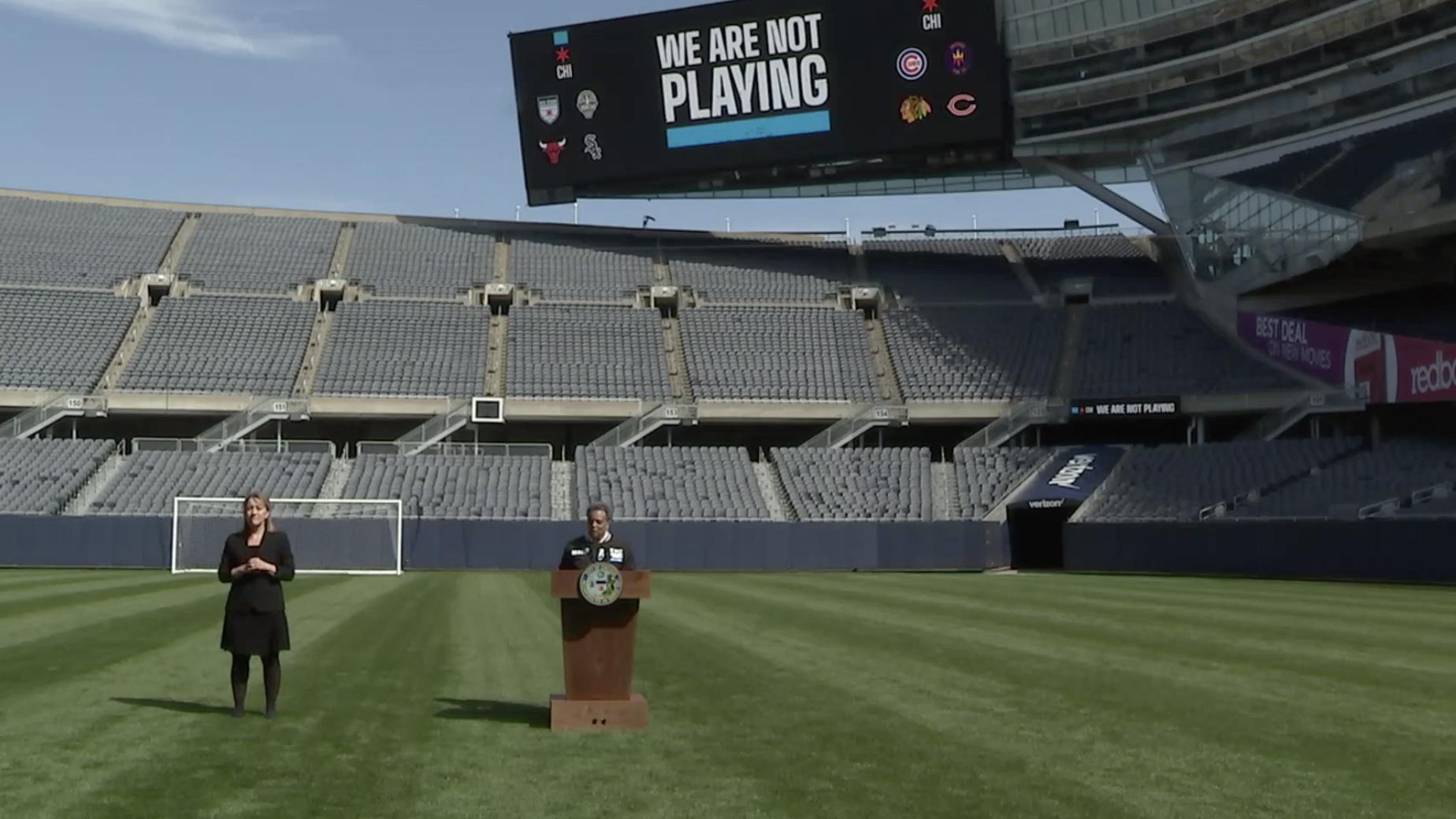 Mayor Lori Lightfoot teams up with the city's professional sports teams to launch a new campaign, "We Are Not Playing," to encourage residents to stay at home. Lightfoot announced the new campaign Monday in an empty Soldier Field. (Chicago Mayor's Office / Facebook photo)
Chicago Mayor Lori Lightfoot has joined forces with the city's professional sports teams to encourage people to stay home amid the COVID-19 pandemic.
"We love our sports in Chicago and we'd rather be here in Soldier Field, or Wrigley or Sox Park, or the United Center, or Wintrust cheering on our players and having a good time with our friends," Lightfoot said from an empty Soldier Field during a Facebook Live event Monday. "This crisis has changed almost everything and particularly our sports. Coming to these parks now would be dangerous and deadly to ourselves and to our city." 
The pandemic has sidelined sports, with leagues canceling or postponing seasons. "I'm proud to be joining Chicago sports teams to launch our new campaign, 'We Are Not Playing.' They're not playing and neither are we," Lightfoot said.
The goal of the campaign is to get people to comply with Gov. J.B. Pritzker's stay-at-home order by appealing to sports fans through the vast social reach of Chicago's sports teams and their players' influence, according to a press release from the mayor's office. The campaign will include digital billboards around Chicago and social media ads, including videos by celebrities and all-star players.
As of Sunday, there were 11,256 cases of COVID-19 across the state, including 4,614 in Chicago. Statewide, 274 people have died from the virus.
"This virus is truly deadly and it continues to spread. No one, no one is immune," Lightfoot said. "No matter how frustrating it may be at times, we all need to continue staying home and saving lives, and it's particularly true now as the weather starts to warm."
Lightfoot said the city will be stepping up its enforcement of the stay-at-home order as more springlike temperatures move in. The problem isn't that people are going outside, it's that they are congregating, Lightfoot said. "That's what we can't tolerate," she said. If police see people congregating, they'll issue dispersal orders, and, if necessary, issue citations and make arrests, she added.
"Yes, it's a beautiful day and the weather is getting warmer, (but) we need people to continue to comply," she said.
Contact Kristen Thometz: @kristenthometz | (773) 509-5452 |  [email protected]
---