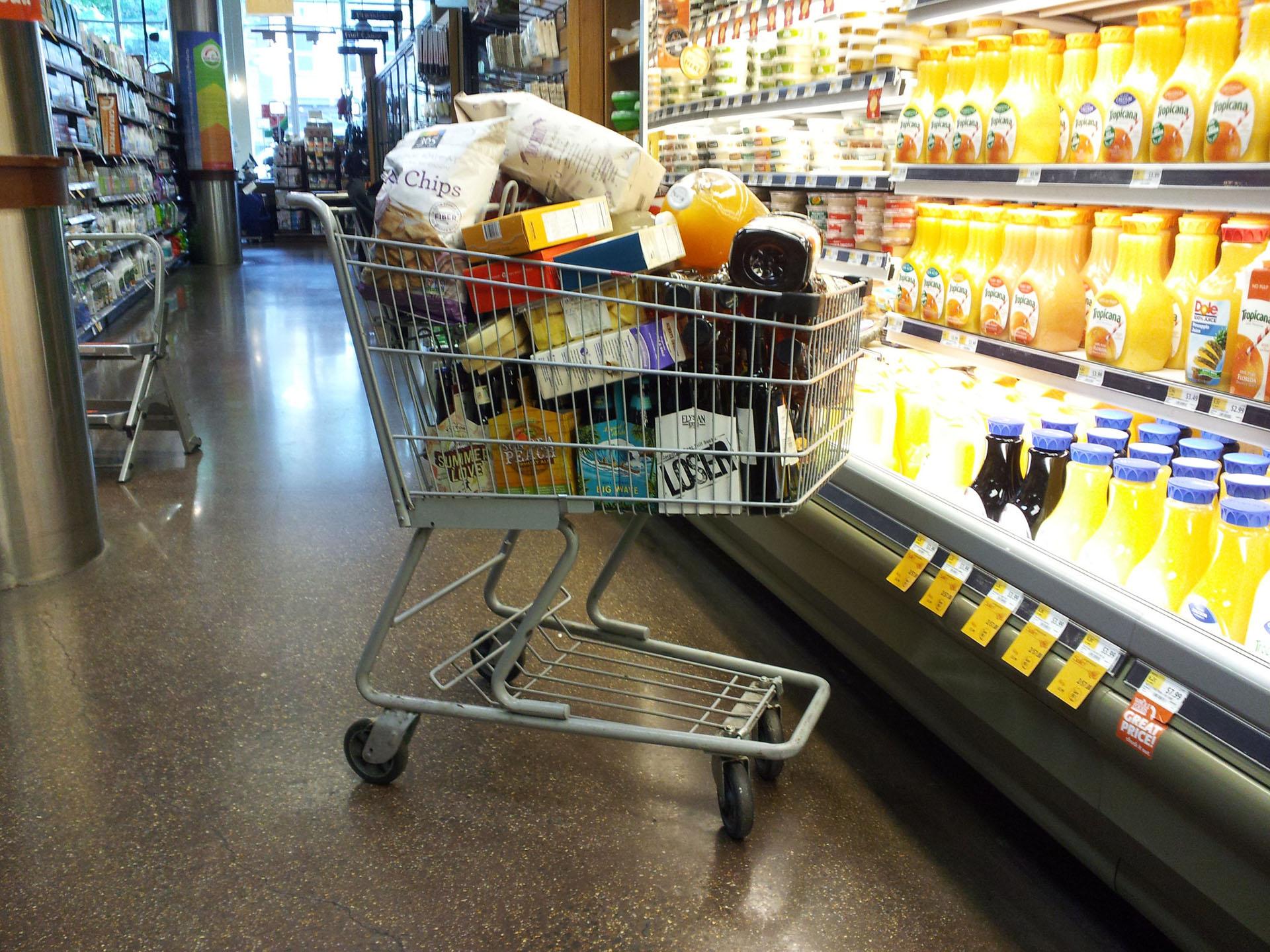 (Ben Schumin / Flickr)
Grocery shopping during the coronavirus pandemic can be overwhelming. How much food should you be buying per trip? How can you get what you need without hoarding supplies?
A Chicago dietitian shares her advice for grocery shopping in the age of COVID-19:
—Take stock of what you already have.
Before heading to the store, check the pantry, cupboards, fridge and freezer. "This is a good time to take inventory and to make sure we're reducing food waste," said Kirsten Straughan, a registered dietitian and director of the University of Illinois at Chicago's nutrition science, kinesiology and nutrition program. "See what you have and then plan meals around that. This is a nice time to use those pantry staples."
—Create a shopping list based on your meals, and stick to your list.
Not only does this reduce food waste, but it ensures you're only buying what you need, says Straughan. "Having a shopping list makes you more efficient and minimizes your time spent (at the store)," she said. A list may also help you resist the temptation to buy things just because other people are. "If you see other people engaging in hoarding behavior, you may be thinking, 'Should I be doing this too?' even though it's not a good idea," she said. "Having a shopping list helps you avoid those pitfalls."
—Buy only what you need.
You don't need a month's worth of groceries. Buy one to two weeks' worth of stuff at a time, says Straughan. "We want to think of what everyone else will need too – just as with social distancing, we need to have a public health view of grocery shopping habits as well."
—Slowly add to your supply of nonperishable goods.
Build up your stock of frozen foods, canned items and whole grains. "Don't buy too much of one thing," says Straughan. "Instead of getting one can of beans, get two or three cans. Or instead of one pasta, get two – you don't need six pastas."
If supplies of a particular item are low, only buy what you need for that week, she said. One way to add to your stockpile responsibly is to buy items that are well stocked at the store.
—Limit the number of people going to the store.
Not everyone in your home needs to go to the grocery store. Some stores have limits as to how many people are allowed to shop at once, so bringing the whole family could increase wait times for all shoppers, according to Straughan.
—Get your groceries delivered, if possible.
Skip the store and order your groceries online. "Not only does this help with recommendations for social distancing, but it also helps you plan better, and prevent some panic or impulse buying," Straughan said.
Contact Kristen Thometz: @kristenthometz | (773) 509-5452 |  [email protected]
---