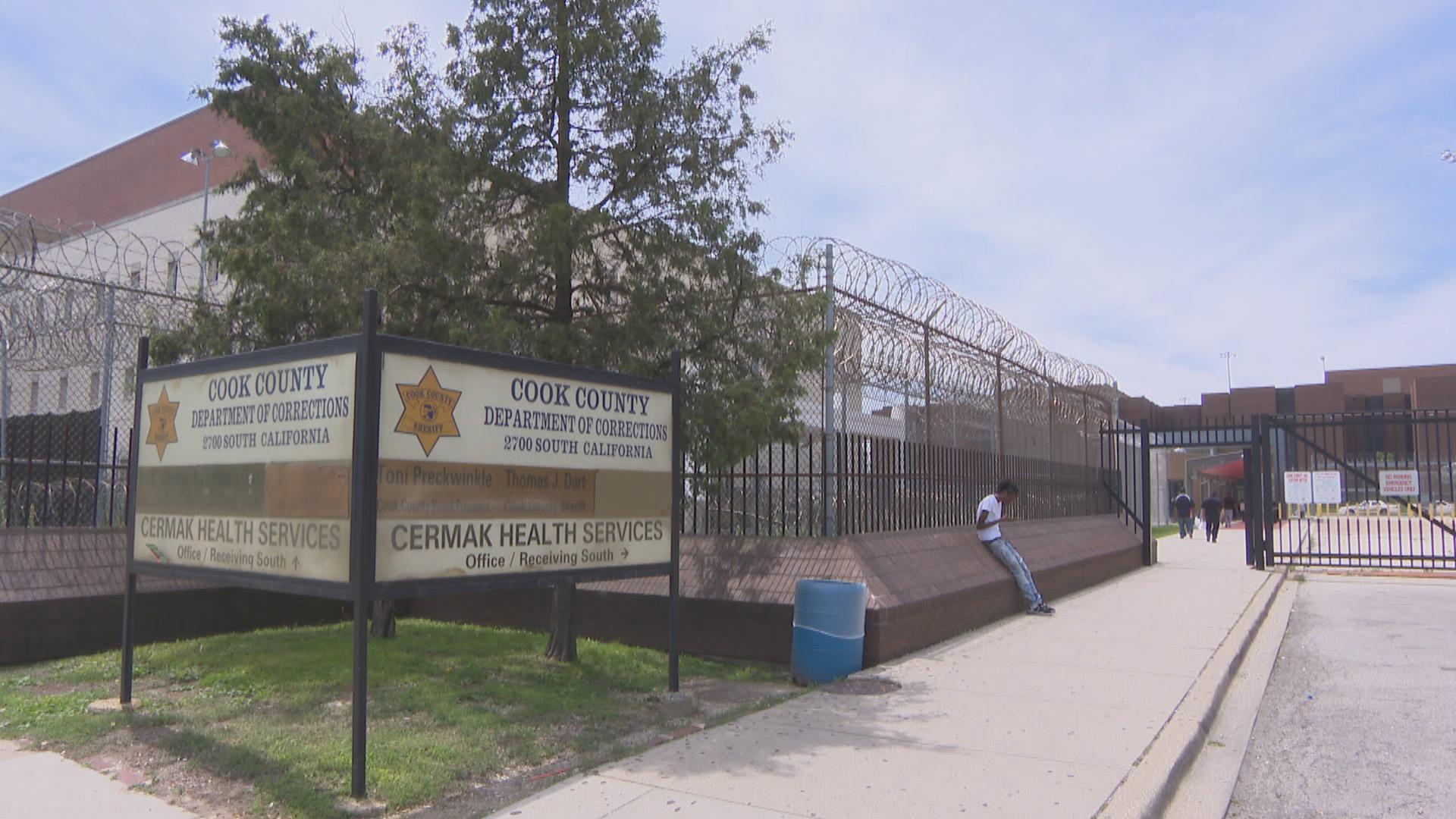 (WTTW News)
The first case of COVID-19 inside Cook County Jail was confirmed Sunday. By Monday, there were two more. On Wednesday, that number jumped to 22, and by Friday morning the total is close to 40.
Cook County Sheriff Tom Dart and County Board President Toni Preckwinkle on Friday discussed the rapidly changing circumstances at the jail and said they're working to "safely" reduce its detainee population.
"There's no question we're in a fight, and this is the fight of our lives and our friends lives and our family members lives and our sheriff's deputies lives, who are increasingly on the front lines of the pandemic," Preckwinkle said. "And right here at Cook County Jail it's a fight for the lives of those who are innocent until proven guilty. The marginalized."
As of Friday, there were just over 5,000 detainees in the jail. So far, 38 detainees have tested positive for COVID-19, along with nine sheriff's office employees. Dart said just six detainees have tested negative, while 123 others are awaiting their results.
Since Sunday, when the first employee tested positive, the jail's population has decreased by nearly 10%. The sheriff's office and court system this week have worked to provide expedited bond hearings for certain individuals who face an increased risk from the virus.
Those are specifically targeting nonviolent offenders who are elderly, pregnant or have underlying medical conditions that put them at a higher risk of death if they contract the new coronavirus.
Dart estimates about 20-30 detainees are leaving the jail per day due to that process, while the number of people being brought into the jail has dropped significantly, from about 200 people per day down to 60.
Connie Mennella, of the jail's Cermak Health Services, said her staff is currently able to test anyone who is symptomatic within the jail, as well as some who are asymptomatic. But she cautioned against testing people who have not yet shown symptoms, noting that a negative test doesn't mean that person does not have or cannot contract COVID-19.
Already, the sheriff's office has suspended detainee visits at the jail and created housing tiers for new inmates booked at the jail. It also added 500 beds of isolation housing in an "inmate bootcamp" located away from the main jail campus to help relieve pressure on Cermak Hospital.
But Dart said the jail can't simply close its doors and say it's not accepting new detainees. Gov. J.B. Pritzker this week issued an order doing just that at Illinois prisons, closing them down to new inmates amid the ongoing pandemic.
The sheriff blasted that decision Friday, saying "it makes no sense at all."
"We're working with them on that," he said. "But if somebody thinks that is proper, they need to get a new job. You can't do things like that."
Dart said he's spoken with Pritzker's office and understands there will be exceptions to the prison closures and he still intends to send detainees to those prisons as needed.
There appear to be no immediate plans for the mass release of detainees that groups of activists have been calling for to reduce the spread of the virus in the jail. Dart estimated that 70% to 75% of detainees are being held on a violent charge, so they cannot be released safely into the community.
For them, Dart said his office is trying to come up with ways to adhere to social distancing guidelines within the jail, such housing one detainee per cell rather than two.
"We have to be under no illusions here that there's no notion we're going to be able to empty the jail," he said. "There's violence in our community, yes, and there's people who commit violent acts and there's bad people in this world. And those people cannot be released."
Contact Matt Masterson: @ByMattMasterson | [email protected] | (773) 509-5431
---