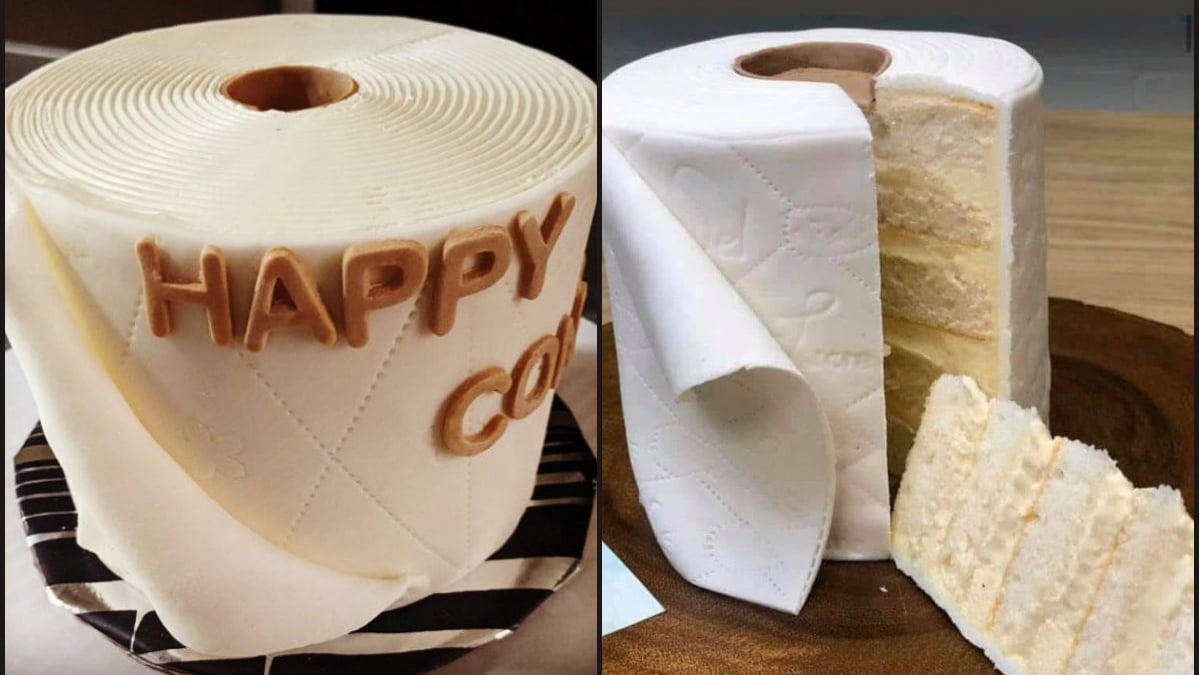 The toilet roll cake from TipsySpace is worth bingeing, not hoarding. This one, ordered for a child's 14th birthday, includes the message, "Happy COVID-14." (Courtesy of TipsySpace)
Naomi Levine is charging $50 for a roll of toilet paper. 
"Price gouging!" you say? 
Not quite. Hers are five layers of delectable cake, smothered in buttercream and coated in quilted fondant. 
That's right: Levine, owner of TipsySpace, a bakery/art gallery/event space that opened seven months ago in West Town, has created a toilet roll cake that's worthy of bingeing, not hoarding, and it's so authentic looking, customers have nearly mistaken it for the real thing on pickup.
It's a great sight gag but there's nothing funny about the fact that Levine says she needs to sell 500 of the cheeky cakes, per month, to make rent.
"When the governor said, 'No business,' I was terrified," Levine said of Gov. J.B. Pritzker's decision to close down bars, restaurants and event spaces like hers to slow the spread of the coronavirus. "I've never been so scared. I don't have another income. I can't work from home."
Her cash reserves were nonexistent given that she'd just spent months prepping to open TipsySpace, 1223 W. Grand Ave., and she had to refund event reservations. So like many of her fellow mom-and-pop operators, not just in Chicago but across the U.S., Levine immediately began brainstorming ways to rustle up business in the middle of a shutdown. Friends and family in her native Australia, who'd just experienced months of devastating brush fires, suggested selling "isolation meals" and toilet roll cakes. (Australians started the whole TP hoarding thing, Levine says.)
"I said, 'I've got to survive.' I got in there and got baking," said Levine, who moved to the U.S. in 1999. "We're all in masks, we're all in gloves."
So far she's received nine orders for the cake — "Only 491 to go," she said — without really promoting it. Kids are still having birthdays and people still need to laugh, Levine said.
For planning purposes and to ensure quality control, orders must be placed 48 hours in advance. "They have to be perfect," she said.
Between selling baked goods — Levine's coronavirus-themed pastries also include cookies decorated like face masks — and isolation meals, TipsySpace is white-knuckling it through the end of March. Meanwhile, Levine's waiting to hear from the city, state or federal government about further assistance for small business owners. An announcement of two months of deferred sales tax pales in comparison with payments of up to $100,000 that Australia is offering her counterparts Down Under, she said. 
In the absence of a nationwide bailout, Levine encourages Chicagoans to continue supporting neighborhood businesses. People are still consuming, she said, but a lot of those dollars have gone to major retailers like Costco and Walmart. 
"I'm hanging in there," Levine said. "Wish me luck."
Contact Patty Wetli: @pattywetli | (773) 509-5623 |  [email protected]
---