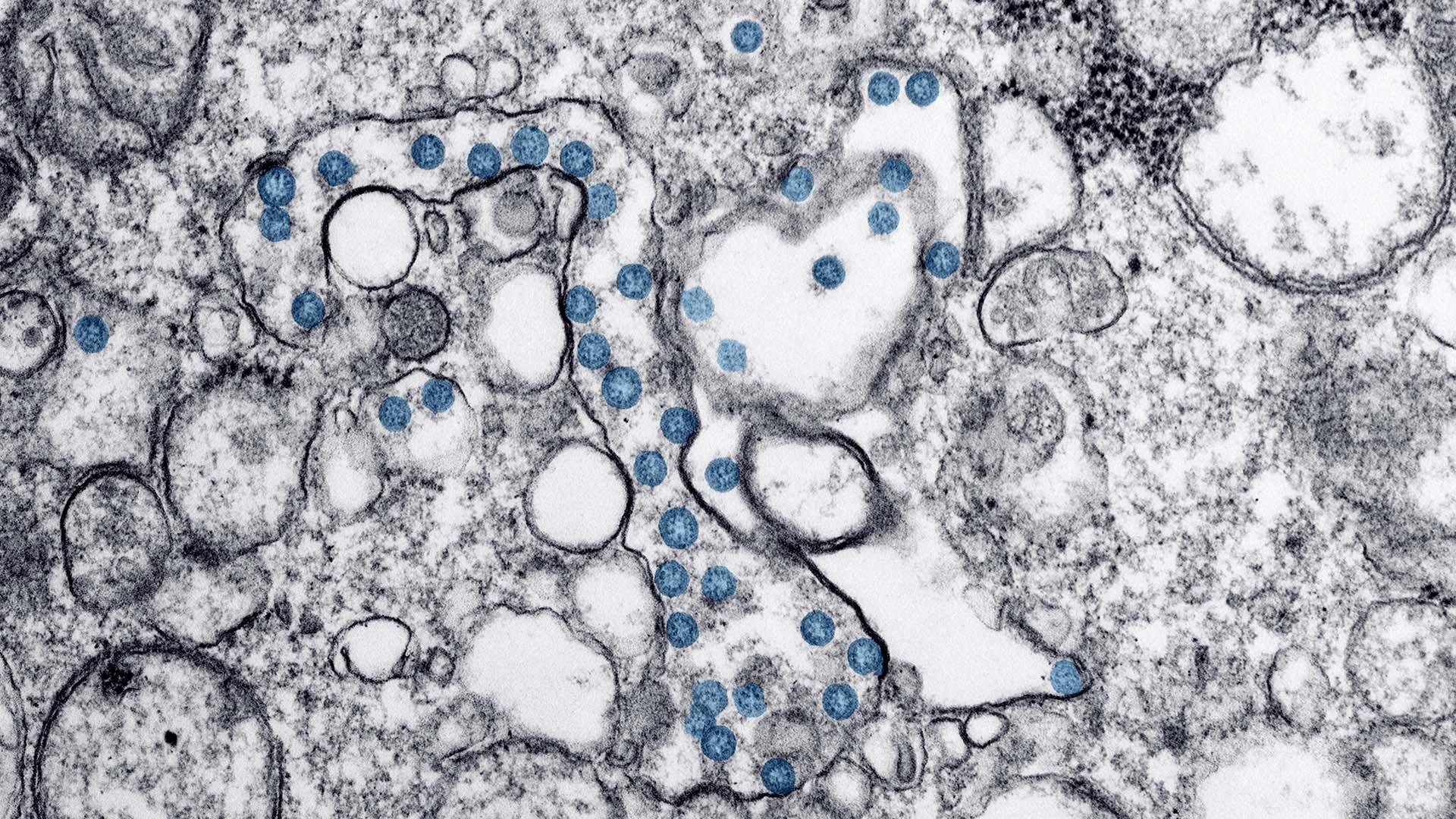 This image from a transmission electron microscopic image shows a sample from the first U.S. case of COVID-19. The spherical viral particles, colored blue, contain cross-sections through the viral genome, seen as black dots. (Image provided by the U.S. Centers for Disease Control and Prevention)
If trends continue, the number of confirmed coronavirus cases in Illinois could reach 3,400 by next Friday, according to the Illinois Department of Public Health.
The agency is basing that projection on data derived from other countries related to COVID-19 and other pandemics, in addition to the trajectory of cases in Illinois this week. But the IDPH says information is changing rapidly, so projected estimates are likely to change.
On Thursday, the IDPH reported that 422 patients have tested positive for COVID-19 in Illinois and four had died from the virus. 
Assuming that 20% of the projected 3,400 cases are severe, approximately 650 people would require hospitalization, according to IDPH.
The state health agency said social distancing measures, such as school closures, working from home and the closure of restaurants and bars to dine-in customers could change the projection, which was first reported by WBEZ.
All bars and restaurants in the state are closed to dine-in customers through March 30, though restaurants can still serve food via delivery or curbside pick-up.
Chicago Mayor Lori Lightfoot on Thursday announced CPS schools will remain closed until April 21. Public and private schools across the state were already due to be closed until March 31, per Gov. J.B. Pritzker's orders. But on Thursday, the governor said parents should plan for an extension beyond that date. 
Preventive measures to slow the spread of the virus include washing your hands for at least 20 seconds with soap and water, using hand sanitizer with at least 60% alcohol, sneezing or coughing into a tissue and then tossing it, limiting contact with people regardless of how you feel, and staying home when you are sick.
Since the incubation period of COVID-19 is 14 days, IDPH says any steps taken now to try to slow the spread of virus would take at least two weeks to show any effect.
For more information about the coronavirus, visit the state's COVID-19 website or IDPH's website, call its dedicated COVID-19 hotline (800-889-3931) or send an email.
Contact Kristen Thometz: @kristenthometz | (773) 509-5452 |  [email protected]
---