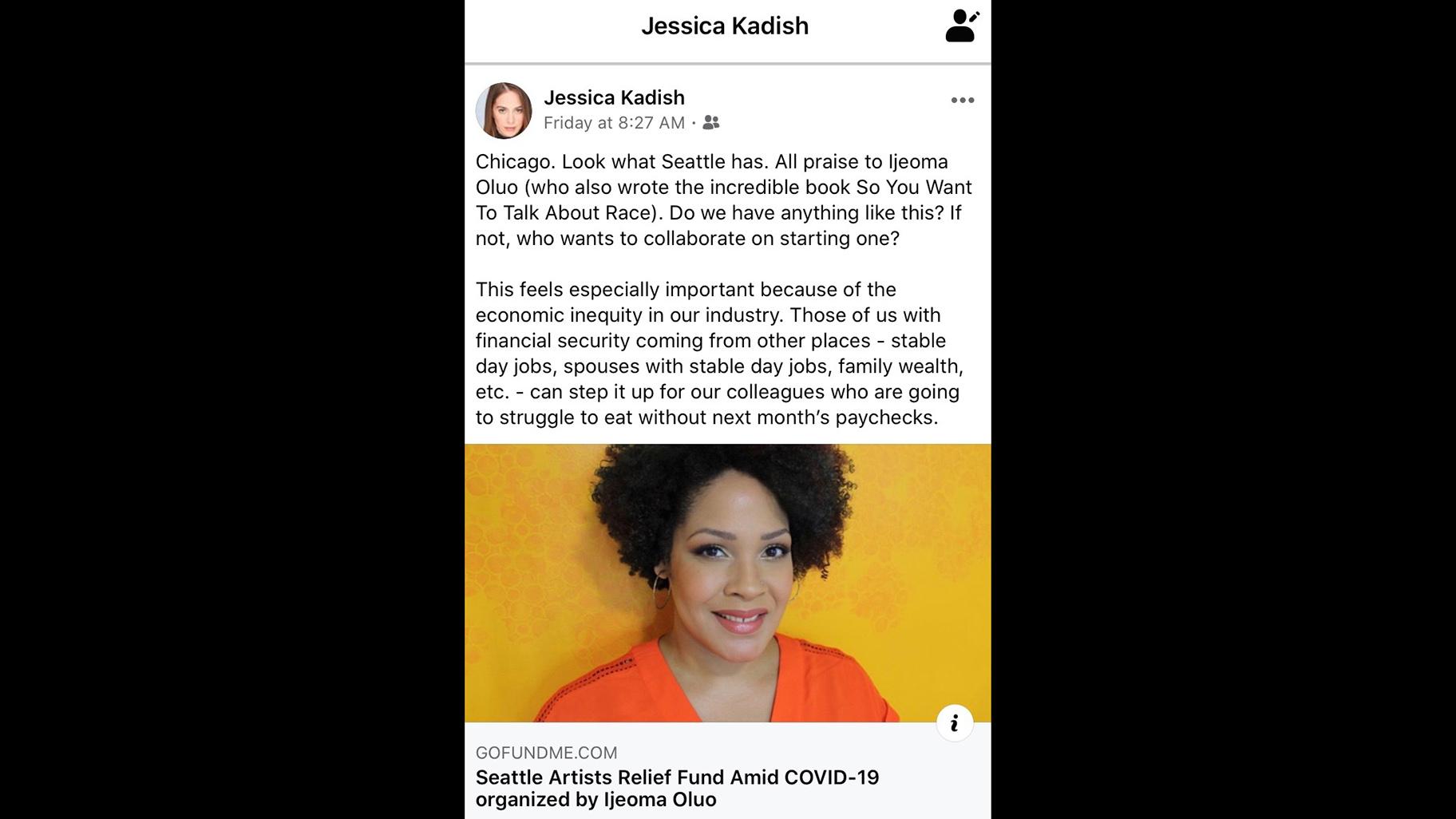 Cancellations and closings are affecting everyone, but they present a unique challenge for freelance artists, whose livelihoods are already dependent on an uncertain stream of income.
Now, a group of local artists is stepping in to help them stay financially stable with the Chicago Artists Relief Fund.
Chicago-based actor Jessica Kadish-Hernandez took to Facebook last week to see who would be interested in creating such a campaign after she saw a group of Seattle artists take action, led by activist Ijeoma Oluo.
Within a couple of hours of that Friday morning post (see photo, above), Kadish-Hernandez received multiple texts and direct messages. By Saturday afternoon, a group of nine Chicago artists who didn't previously know one another had a preliminary plan in place. In addition to Kadish-Hernznez, the group includes: Adelina Feldman-Schultz, Claire Stone, Cruz Gonzalez-Cadel, Elizabeth Blondel, Ellenor Riley-Condit, Hal Cosentino, Lindsay Hopkins and Michael McCracken.
The Chicago Artists Relief Fund is currently raising money through a GoFundMe campaign with a goal of raising $50,000 – for now.
"$50,000 is a soft goal and won't come close to touching the need," Kadish-Hernandez said. "We would love to see our campaign grow into six figures … our plan is to keep pushing to $50,000 and once we hit that, we'll push to $100,000."
Artists who apply for the fund must specify their needs based on rent, child care, groceries or utilities. They're also asked to sign a nondisclosure agreement so their information is kept confidential. The team is currently sifting through the first round of applications as it determines how to distribute the aid.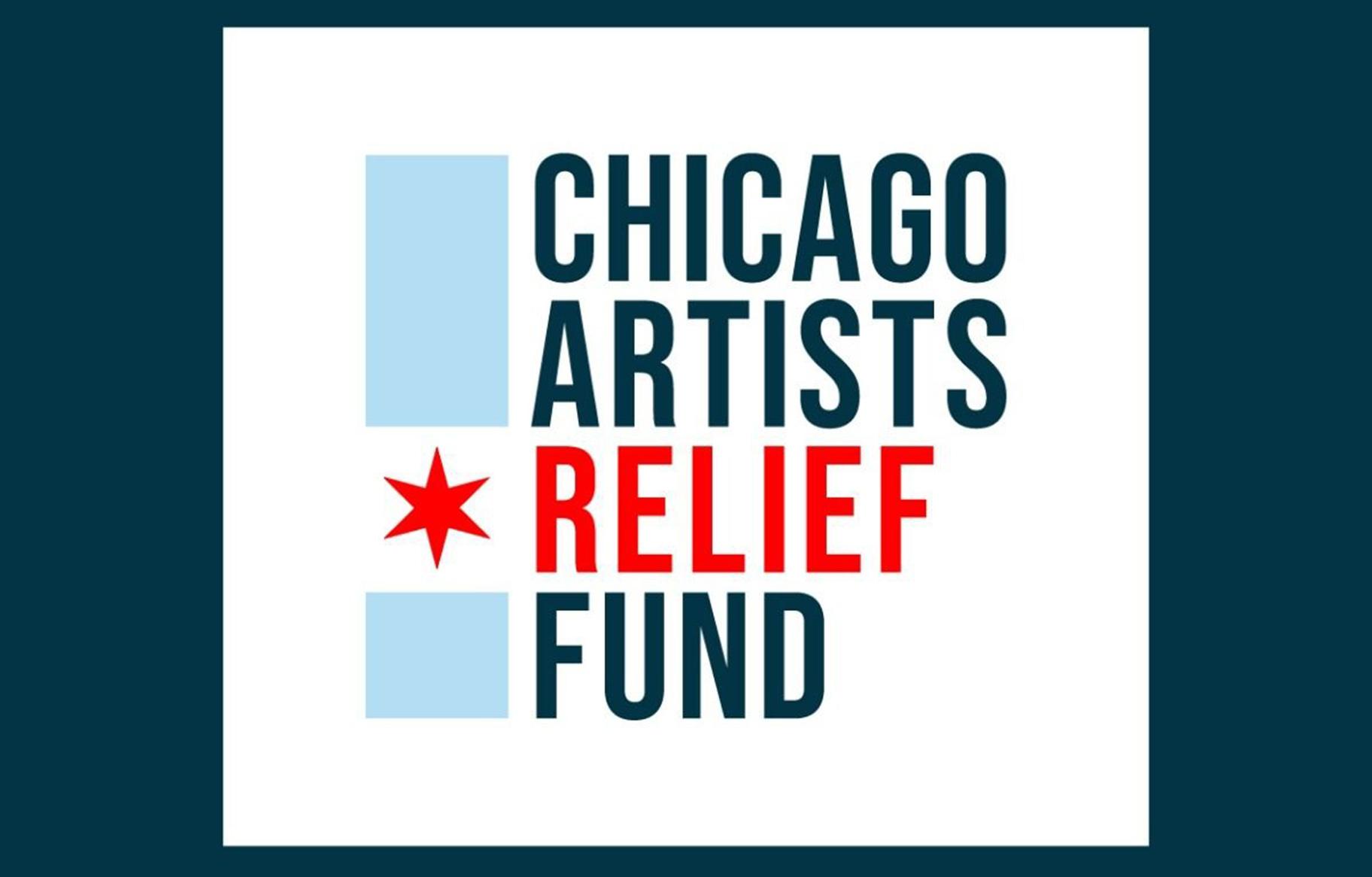 "We are working to establish quantifiable criteria for allocating the funds based on what folks have shared on the application," Kadish-Hernandez said. "What we want folks to feel confident in is that aid distribution isn't based on personal biases within the committee."
The fund already has some criteria in mind. According to a press release, "the Fund prioritizes artists who are Black, Indigenous, People of Color, Queer, Trans+, Non-Binary, and Disabled, but will endeavor to support as many Chicago artists as possible."
As administrators of the fund continue working on the best procedure for determining and allocating funding, they ask artists to be patient.
"It is clear the scope of the need is far beyond what we can provide. The more people that learn about the effort and donate, the more people we can help," Kadish-Hernandez said. "We want to create something that while it is a temporary and community resource, functions in a way that is sustainable."
Learn more about the Chicago Artist Relief Fund by visiting its GoFundMe campaign.
Follow Angel Idowu on Twitter: @angelidowu3
Angel Idowu is the JCS Fund of the DuPage Foundation Arts Correspondent.
---