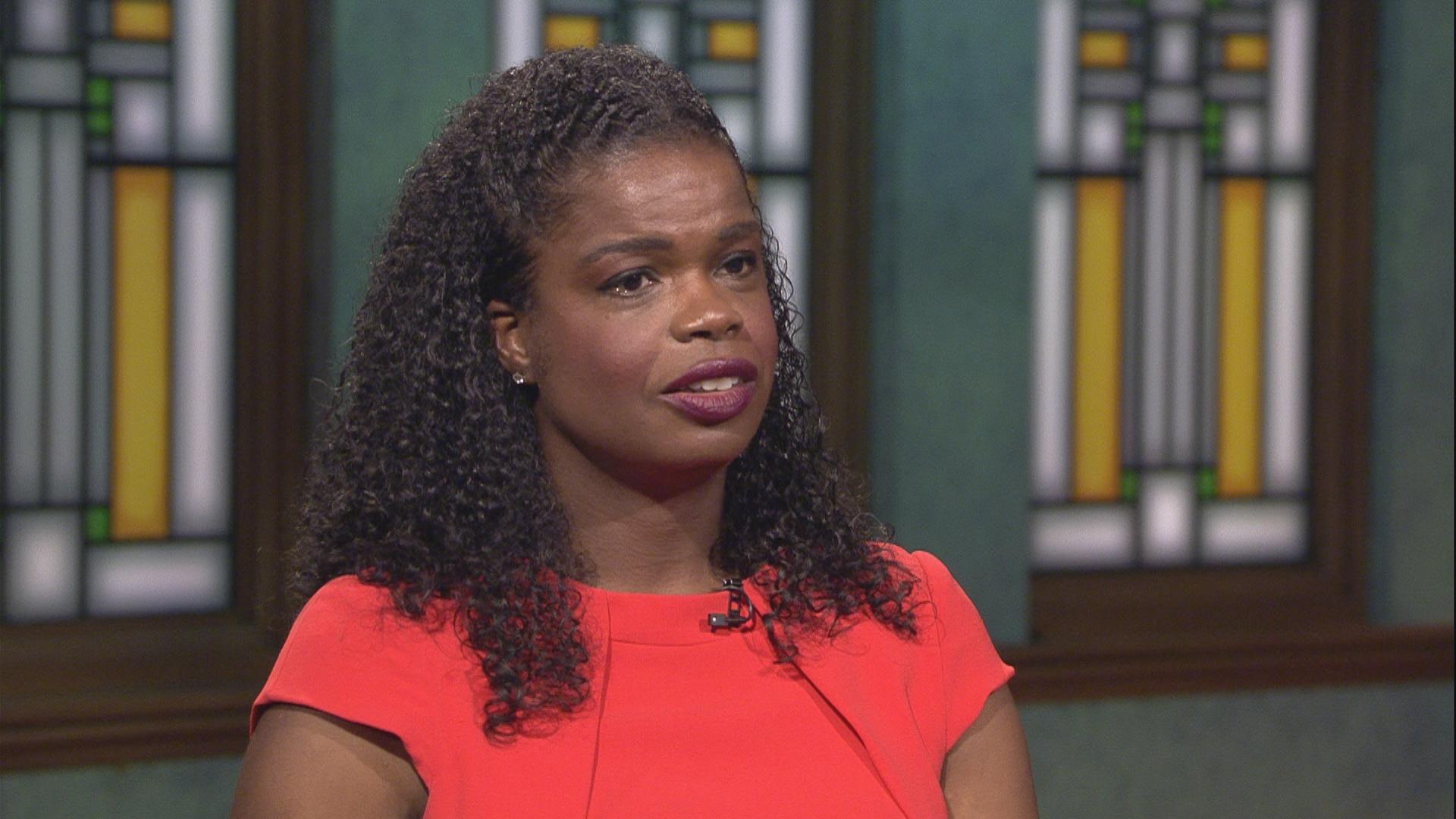 Cook County State's Attorney Kim Foxx appears on "Chicago Tonight" on Sept. 17, 2019. (WTTW News)
Cook County State's Attorney Kim Foxx bested three challengers to secure the Democratic nomination – virtually securing a second term, even as her first four years were marred by a high-profile case against actor Jussie Smollett that even Foxx conceded she didn't handle well. 
Standing on stage with her husband and daughters Tuesday night, Foxx thanked "everyone who rallied and made it bigger than one thing, one issue, who rejected the notion that we would talk about one singular case and not what matted to the people of Cook County."
The audience to watch her victory speech was sparse, as her campaign scaled back from holding a traditional party in order to comply with a coronavirus-prevention gubernatorial mandate that forbids gatherings of more than 50 people. 
"Tonight, the voters have once again spoken and are calling us to continue our mandate of criminal justice reform. They are calling us to continue to make Cook County, a model for this country," Foxx said.  "There was an effort to make this election, about one big case involving a celebrity. No voter have overwhelmingly put that fallacy to rest. The truth is, our office handles urgent cases every day."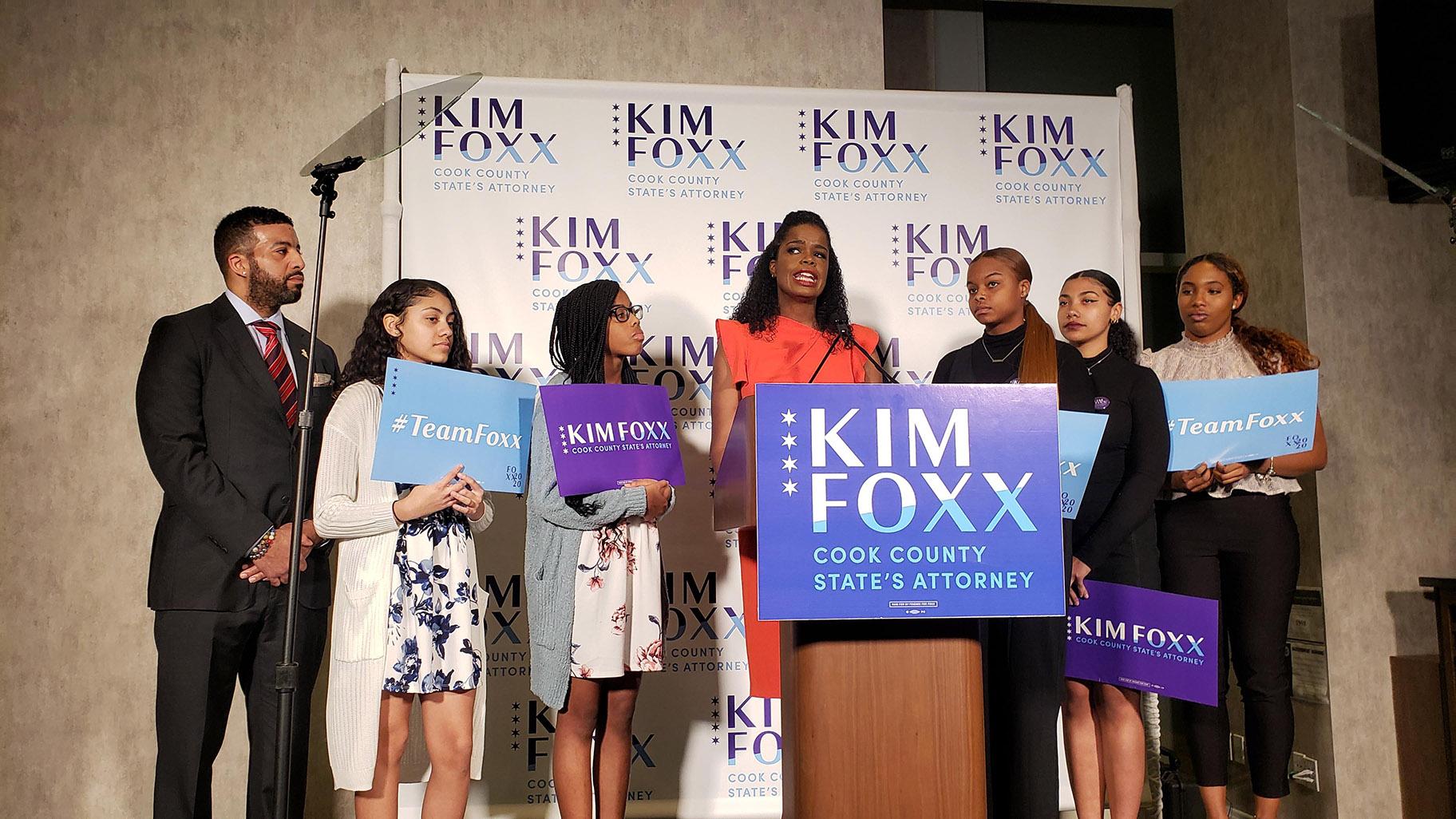 (Amanda Vinicky / WTTW News)
Foxx's approach to justice calls for focusing on the prosecution of the most violent crimes, and she has expunged records of those with marijuana convictions, vacated wrongful convictions and increased the threshold for felony shoplifting. 
Critics – the Chicago Fraternal Order of Police chief among them – say it's a soft touch that too easily lets criminals off the hook.
Four years ago, Foxx shellacked Cook County's incumbent state's attorney, Anita Alvarez, in the Democratic primary.
Many of those 2016 voters were livid with Alvarez for waiting to prosecute Chicago police Officer Jason Van Dyke for the murder of Laquan McDonald (Van Dyke was convicted in 2018 and sentenced last year to a seven-year prison term).
This time it was Foxx whose job was in peril due to her fumbling of another headline-grabbing scandal (albeit one that's not of mortal consequence): her office's decision to drop charges against "Empire" actor Smollett, who allegedly led Chicago police to believe he was the victim of a hate crime – a crime police came to believe he actually staged himself as if it were a scene in a TV drama.
Smollett is currently fighting a new set of charges filled by special prosecutor Dan Webb, whose 11-month investigation concluded that Foxx's office had erred by not pursuing the case.
"Someone got a free pass because he was able to pay money and because he was politically connected, and that's not right," Foxx challenger Bill Conway said in a recent forum about Foxx's light prosecutorial hand with Smollett.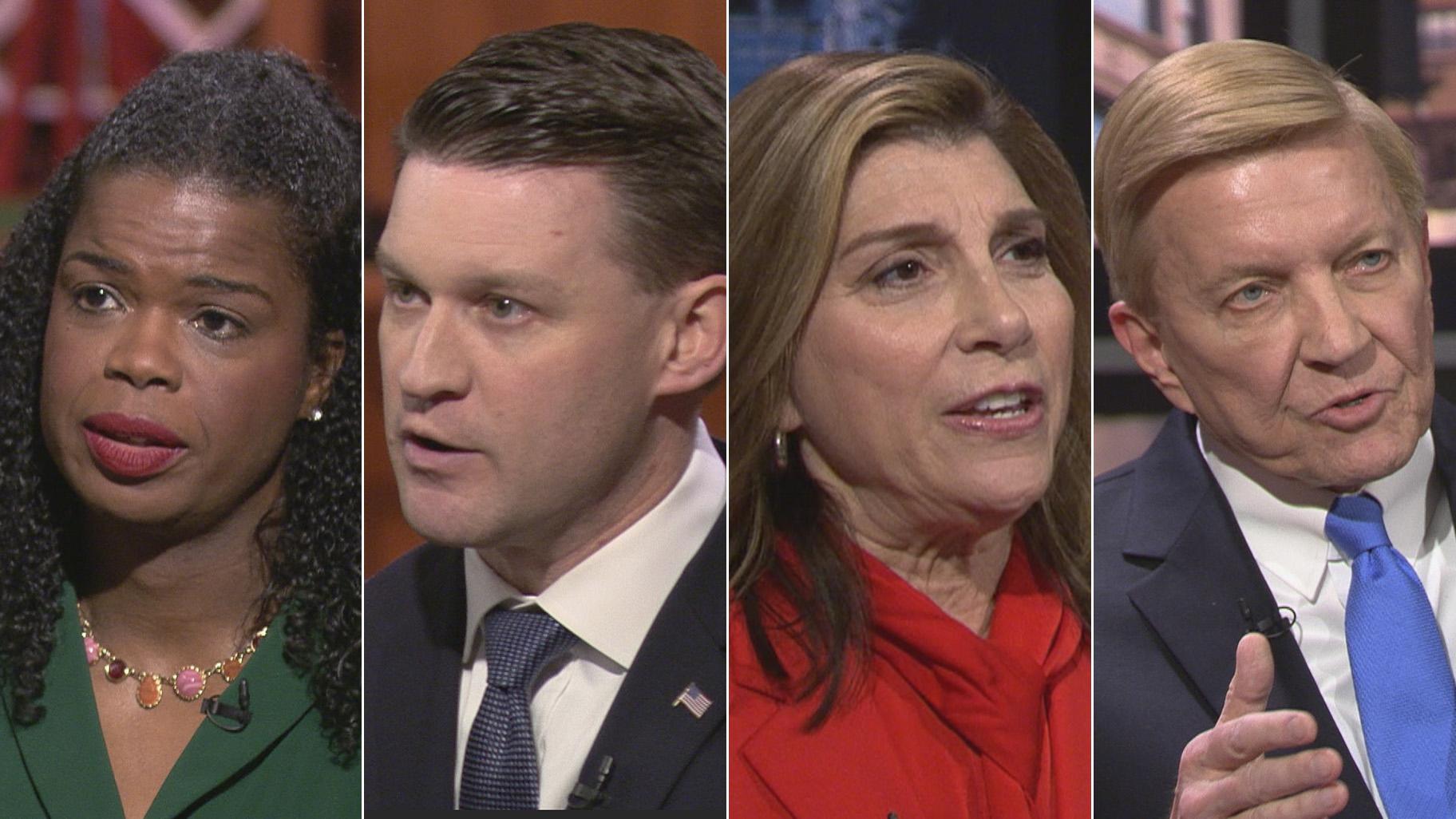 Democratic candidates for Cook County state's attorney, from left: incumbent Kim Foxx, Bill Conway, Donna More and Bob Fioretti appear on a "Chicago Tonight" candidate forum. (WTTW News)
Conway was the runner-up in the Democratic primary. The political newcomer's campaign was fueled by millions of dollars in campaign contributions from his wealthy father, a founder of The Carlyle Group investment firm.
The most recent state campaign finance reports shows as nearly $9.4 million cash on hand to spend on commercials to introduce himself to voters and to sully Foxx's name.
Former Chicago Ald. Bob Fioretti, who has been striving to win another public office since leaving the City Council in 2011, and lawyer Donna More, a former assistant Cook County state's attorney and assistant U.S. attorney, also ran for the Democratic nomination. 
Republican Patrick O'Brien, who previously was a Cook County judge, assistant state's attorney, and an assistant Illinois attorney general, for the Republican nomination, won the St. Patrick's Day GOP primary contest against Republican Christopher Pfannkuche.
Foxx and O'Brien will face off in November's general election, though it has been decades since a Republican held the position. 
Follow Amanda Vinicky on Twitter: @AmandaVinicky
---