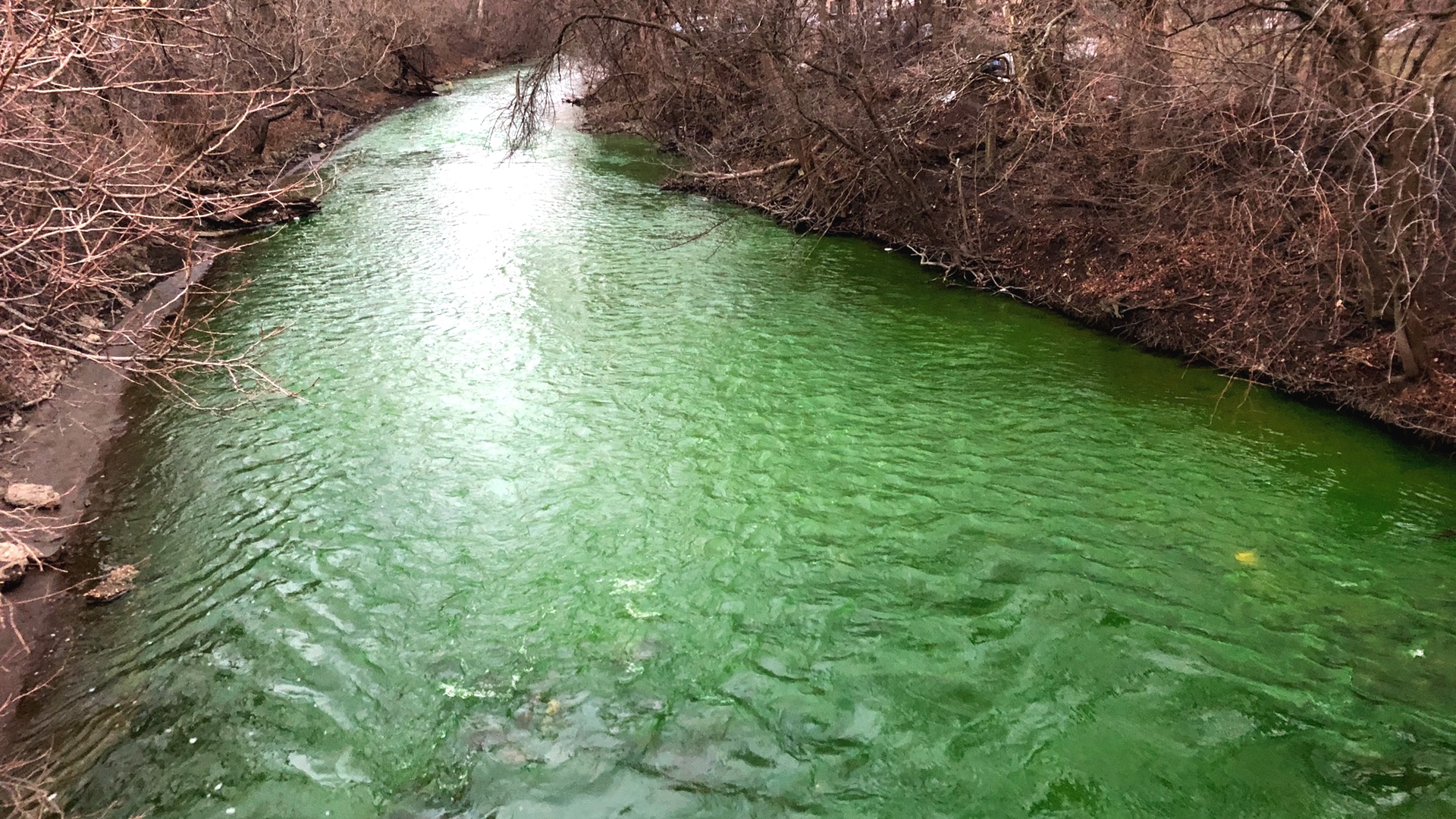 The Chicago River flowed green on its North Branch, as seen from Kedzie Avenue. (Patty Wetli / WTTW)
When Chicago pulled the plug on its official St. Patrick's Day festivities over concerns about the spread of the coronavirus, the beloved tradition of dyeing the Chicago River green, dating back to 1962, was among the casualties.
Or was it?
The North Branch of the waterway, upstream from the river's junction with the North Shore Channel, flowed a distinctive shade of emerald on Saturday, treating residents of neighborhoods like Albany Park and North Park to a St. Paddy's Day surprise. 
Who and how remains a mystery. Could have been the work of leprechauns but theories on social media pointed to rogue plumbers as the more likely potential culprits. 
Not everyone was charmed by the prank.
Margaret Frisbie, executive director of Friends of the Chicago River, said it's time to treat the river like a natural resource, not a plaything.
"Would you go, 'ha ha' if someone dyed the Grand Canyon blue?" Frisbie asked.
Though Friends of the Chicago River hasn't come out strongly in the past against the annual St. Patrick's Day river dyeing, it's time to rethink the practice, she said.
Fifty to 60 years ago, when the dyeing began, the river was in much different shape than it is now, Frisbie said. But after decades of environmental advocacy, the waterway is far cleaner and teeming with wildlife, particularly along the stretch of the North Branch that was colored over the weekend. 
"So many people still believe [the river] is really polluted, but it has come so far. We think the river has evolved enough. We need to stop abusing it," she said. "We need to celebrate the life of the river, not its destruction. There's a disconnect between using green dye and the state of the river."
Though those involved with the official dyeing of the river have long stated that the chemicals used are "vegetable based," Frisbie countered: "We don't know what they're using. You can have something that's natural that's not healthy."
To be clear, Friends of the Chicago River isn't against celebrating St. Patrick's Day along the river.
Imagine, Frisbie said, shamrock-shaped blocks of ice floating down the water. 
"It would be terrific if we could celebrate St. Patrick's Day differently," she said.
Come 2021, we suspect most Chicagoans will be thrilled to celebrate any which way that doesn't involve self-distancing.
Note: This story was originally published March 15, 2020. It has been updated to include comments from Friends of the Chicago River.
Contact Patty Wetli: @pattywetli | (773) 509-5623 |  [email protected] 
---