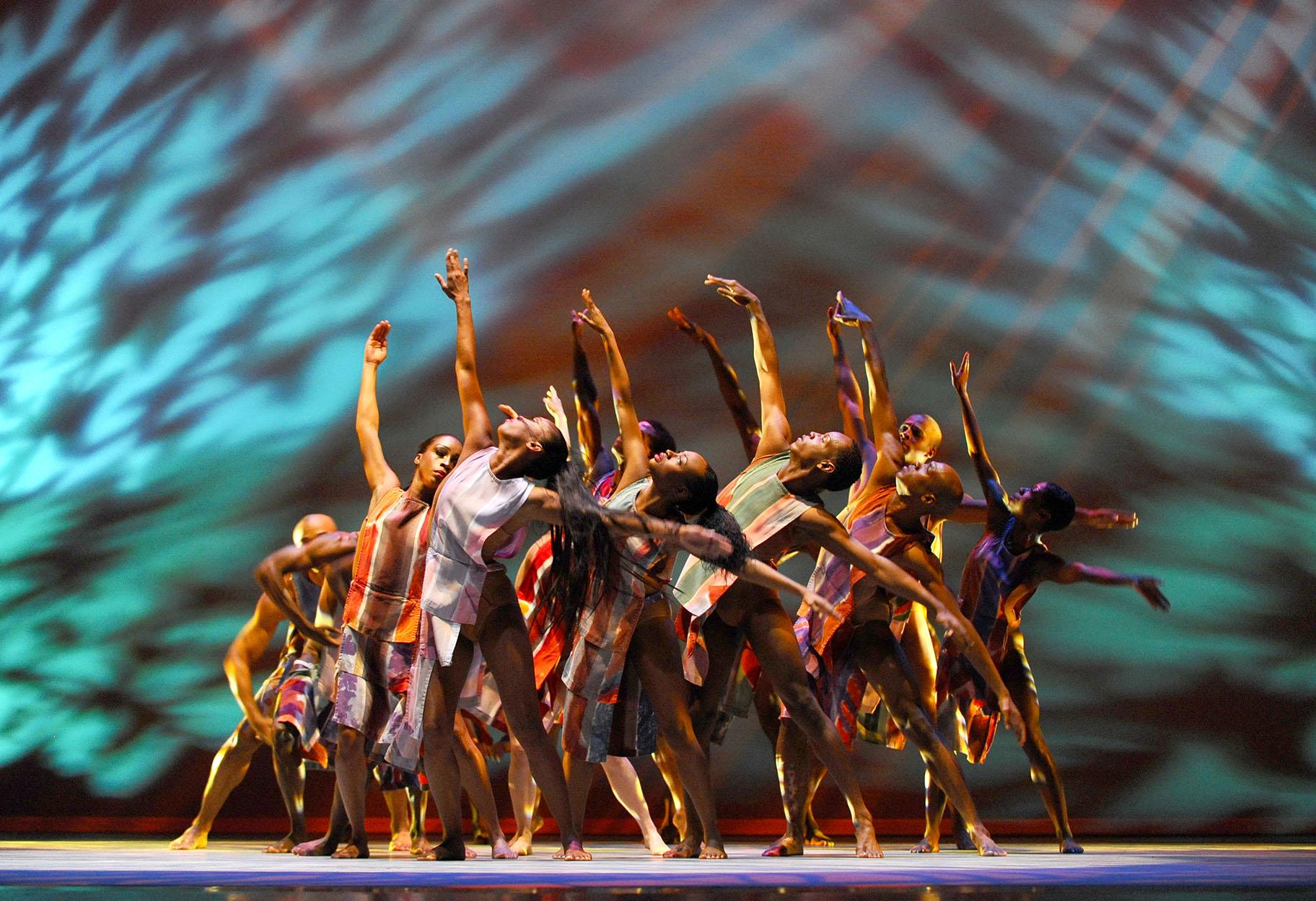 Alvin Ailey American Dance Theater in Judith Jamison's "Divining." (Photo by Nan Melville)
Chicago's dance card is full to bursting at the moment. And one of the city's most beloved "visitors" – the Alvin Ailey American Dance Theater – is now drawing its usual huge crowds to the Auditorium Theatre, where it will be performing several different programs through Sunday.
But before describing the beauty of Ailey, a brief look backward and forward. Last week, for example, Instituto Cervantes opened its annual Flamenco Festival with an evening of dance and music that featured the fiery footwork of dancers La Chimi and Briseyda Zarate from Huelva, the Andalusian city in southwestern Spain. And the Festival will present a slew of other performers through March 21, and then return in the fall, with performances in October and November. (For details, email [email protected].)
Also this past weekend, a different form of percussive dance came to the stage of the Auditorium Theatre by way of Chicago's stunning Trinity Irish Dance Company. Mark Howard, the troupe's founder and artistic director, not only oversees an ensemble of virtuosic dancers whose synchrony easily matches the Rockettes. He also possesses an exceptionally keen sense of theater as evidenced by the way he mixes works of pure Irish step-dancing (many of his own creation, often in collaboration with Chelsea Hoy, plus a fine world premiere by Colin Dunne), along with a wonderfully varied group of pieces that suggest the kinship between Irish dance and Indian kathak (by way of "Goddess," a fascinating piece by Sean Curran), and tap dance (the world premiere of "American Traffic" by Michelle Dorrance and Melinda Sullivan). Combine this with elaborate costumes, Al Crawford's artful lighting, and sensational performances by fiddlers Jake James and Liz Carroll, and musicians Christopher Devlin, Brendan O'Shea and Steven Rutledge, and, to borrow a song title, you have "The Reel Thing."
Now, on to the Ailey company.
Wednesday's opening night was a revelation, and I don't just mean Alvin Ailey's 1960 masterpiece, "Revelations," which concludes every performance. It was two other riveting works on the program – both danced in Chicago for the first time – that created the real sensation.
Alvin Ailey American Dance Theater in Aszure Barton's "Busk." (Photo by Paul Kolnik)
First up was "Busk," a wildly eccentric, stunningly original piece by the Canadian-bred choreographer Aszure Barton that comes with a brilliantly collaged score by multiple composers including Marcus Vinicius da Cruz de M. Morales, Lev "Ljova" Zhurbin, Saint-Saens and others. Driven by both a high sense of theatricality and subtle mystery, it features dancing of pure magic.
While the work's title calls to mind buskers (street performers), and the piece opens with an elaborate, lyrically acrobatic riff on a vaudeville-like entertainer in top hat, white gloves and tails (danced by the dazzling Chalvar Monteiro), it feels as if Barton was drawing far more on the old European root of the word busk, meaning "to seek." Then, as music that calls to mind Carl Orff's "Carmina Burana" begins to play, it does quite an about-face as a group of monks in hooded brown robes begins to swirl around the stage, searching for something elusive yet at the same time earthly and heavenly.
There is something of the madhouse about it all, with its crazy jumps and exquisite folding and unfolding of the hooded seekers, and more than a touch of genius, too. And to watch the ensemble of 13 dancers (with outstanding turns by Chalvar Monteiro, James Gilmer and the playfully seductive Jacquelin Harris) is to be transfixed and transported as you craft your own explanation of what it all means.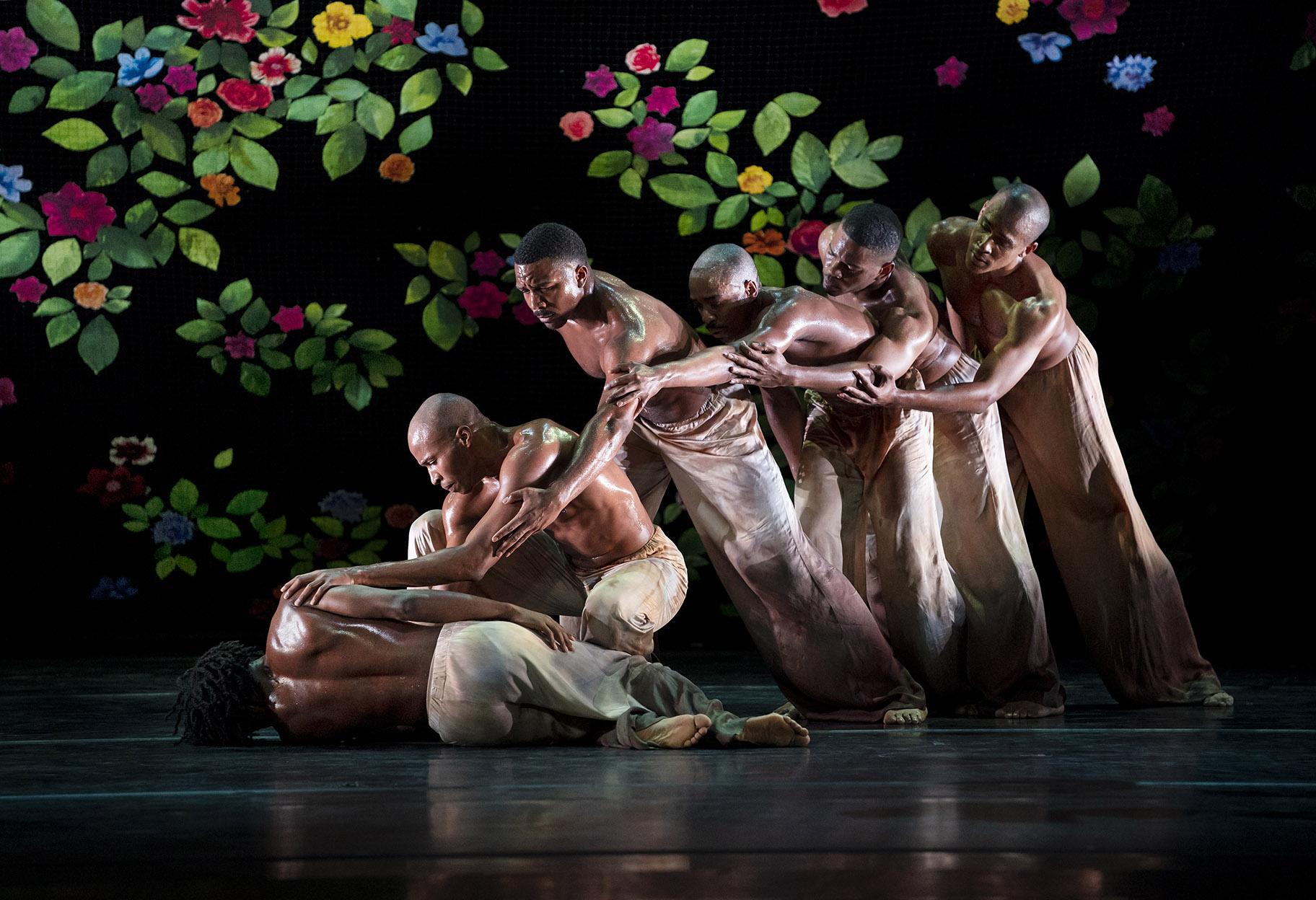 Alvin Ailey American Dance Theater in Jamar Roberts' "Ode." (Photo by Paul Kolnik)
Next up was "Ode," a profoundly powerful work by veteran company dancer Jamar Roberts, who was named the first Ailey resident choreographer in 2019. It's a beauty – set to a stunning score by the American jazz pianist Don Pullen that is at turns lyrical, mournful, fiercely agitated and dissonant, and ideally suited to Roberts' subject.
As a program note explains: "'Ode' is a flower on the graves of the innocent victims of gun violence, and a meditation on the beauty and fragility of life." What sets this work apart is the mesmerizing grace, gentleness and sense of brotherly love that unifies the six men who move as if they were one. Against a vivid floral backdrop designed by Libby Stadstad, the dancers, with their magnificently sculpted bare torsos and fluid cream-colored jersey pants (they included Jeroboam Bozeman, Chalvar Monteiro, Yannick Lebrun, Michael Jackson, Jr., Renaldo Maurice and Solomon Dumas), support and embrace each other in a way that never sensationalizes the matter at hand but instead pulls you into the men's hearts and souls. This is deeply moving dance poetry at its best.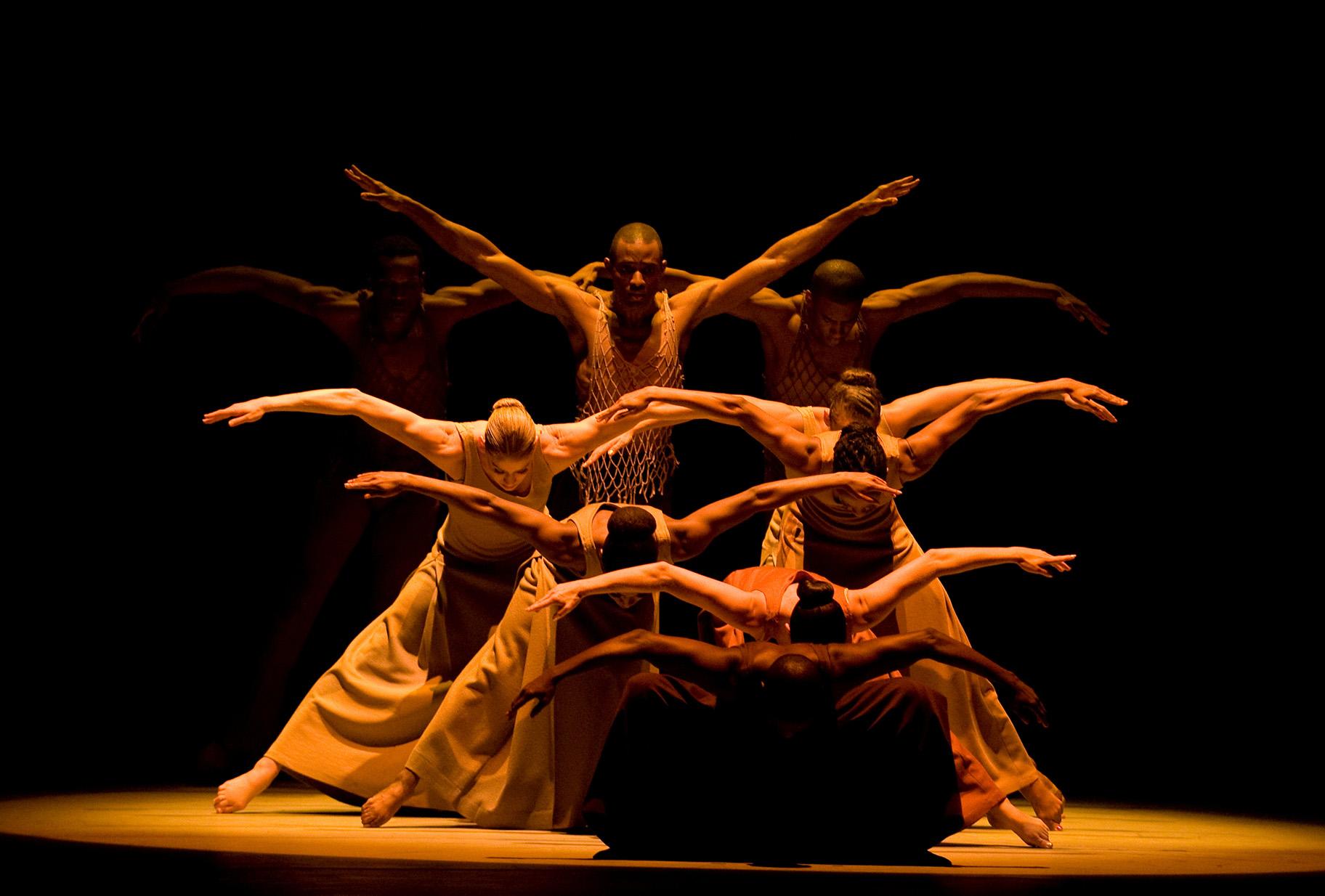 Alvin Ailey American Dance Theater performs "Revelations." (Photo by Nan Melville)
Finally, the real "Revelations" – one of the rare works of dance that has the audience clapping at the first sound of its music and then again at the finale, as the church ladies – with their bonnets and fans, and partnered by their courtly spiffed up gents – gather for the rousing "Rocka My Soul in the Bosom of Abraham." Along the way there was standout work by Sarah Daley-Perdono, partnered by Jamar Roberts in "Fix Me, Jesus," and high-flying dancing by Solomon Dumas, Chalvar Monteiro and Kanji Segawa in "Sinner Man."
Note: The Ailey programs will showcase a variety of different works but all conclude with "Revelations." Here is the lineup:
• March 5 at 7:30 p.m. and March 8 at 3 p.m.: Judith Jamison's "Divining" and "A Case of You," and Lar Lubovitch's "Fandango."
• March 6 at 6:30 p.m.: Darrell Grand Moultrie's "Ounce of Faith," and Donald Byrd's "Greenwood."
• March 7 at 2 p.m.: Aszure Barton's "Busk" and Jamar Roberts' "Ode."
• March 7 at 8 p.m.: Ronald K. Brown's "The Call," Robert Battle's "Ella," and Jamar Roberts' "Ode."
Performances are at the Auditorium Theatre, 50 E. Ida B. Wells Drive. For tickets call (312) 341-2300 or visit AuditoriumTheatre.org.
And one more thing: Mark your calendar for the following dance companies heading to Chicago stages:
• Hubbard Street Dance Chicago in Ohad Naharin's "Decadance/Chicago" (March 12, 14 and 15 at the Harris Theatre for Music and Dance).
• American Ballet Theatre in a mixed bill (March 19-22 at the Auditorium Theatre).
• Giordano Dance Chicago in a mixed bill (April 3 and 4 at the Harris Theatre for Music and Dance).
• Tanztheatre Wuppertal Pina Bausch in "Palermo Palermo" (May 1-3 at the Harris Theatre for Music and Dance).
• The Bolshoi Ballet in "Swan Lake" (June 10-14 at the Auditorium Theatre).
Follow Hedy Weiss on Twitter: @HedyWeissCritic
---