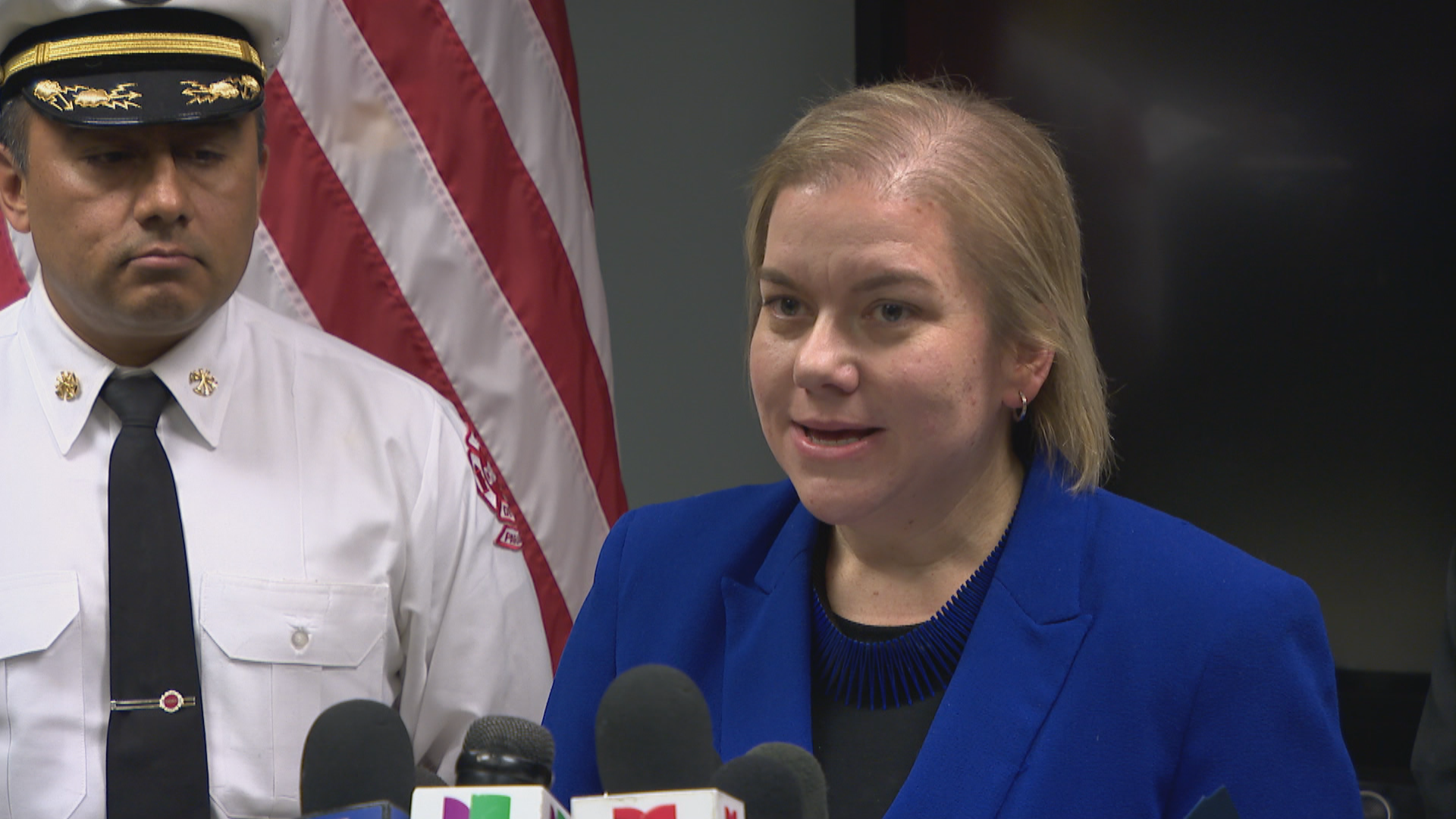 Chicago Department of Public Health Commissioner Dr. Allison Arwady speaks at a Wednesday, March 4, 2020 press conference about the novel coronavirus. (WTTW News)
There have been four confirmed cases of coronavirus in Illinois, but health officials expect that number to rise as the state expands its capacity to test for the virus.
Still, the immediate risk to Chicagoans is low, said Chicago Department of Public Health Commissioner Dr. Allison Arwady.
"There remains no need at this point for people in Chicago to be wearing masks. There remains no need to be canceling large events," Arwady said at a press conference Wednesday afternoon.
Three labs across the state – one each in Chicago, Springfield and Carbondale – can now test for COVID-19. In addition, the state will begin testing patients with flu-like symptoms for the virus at select hospitals as a precautionary measure.
Coronaviruses are respiratory viruses that range from the common cold to more serious illnesses, like SARS and MERS, and are generally spread via droplets in the air when people cough or sneeze, as happens with the common cold. There is no treatment or vaccine for the virus.
To date, more than 120 Illinois residents have tested negative for COVID-19, including a person who was admitted to the University of Chicago Medical Center earlier this week. Arwady said that the department will continue to share news of confirmed cases of coronavirus with the public, but noted that talk of suspected cases can "really drive rumors and really drive fear."
This week, the number of people in Illinois who have tested positive for COVID-19 rose to four after a couple in their 70s were confirmed to have the virus. Illinois reported its first case in January after a woman in her 60s returned from Wuhan, China, the epicenter of the outbreak. She infected her spouse, a man in his 60s, who didn't travel to China, according to health officials. Both have made a full recovery.
When those first cases emerged, Arwady said the CDPH spent $150,000 a week on staff, overtime, supplies and quarantine facilities as part of its response, and the department is "ramping back up again" as it expects an increase in confirmed cases. According to Arwady, those costs have been covered by the city and funding from the Centers from Disease Control and Prevention. "We've been advocating very hard at the federal level for reimbursement of costs," she said.
Since December, the Chicago Fire Department has responded to nine people suspected to have the coronavirus, all of whom tested negative for the illness, according to CFD District Chief Juan Hernandez.
"If (the public) has to call 911, please inform our call takers at the Office of Emergency Management and give them information about what their symptoms are. That way when our firefighters and paramedics respond, they can be appropriately dressed," Hernandez said, adding first responders will be dressed in gowns and masks. "Communication is vital."
According to Arwady, public health officials have been in communication with Chicago Public Schools about the virus should it spread, including the possibility of school closures. "I think it is possible at some point in the future – not tomorrow, not next week," she said. "Certainly at this point, we are nowhere near that point here in Chicago."
Health officials encourage people to get the flu shot if they haven't already and to take daily preventive measures to slow the spread of the virus, such as frequent handwashing, routine cleaning of frequently touched surfaces and objects, and covering coughs and sneezes. People should stay home when they are sick.
For more information about the virus, visit CDPH's website, call its dedicated COVID-19 hotline (312-746-4835) or send an email.
Contact Kristen Thometz: @kristenthometz | (773) 509-5452 |  [email protected]
---