Members of the Funk family have been producing maple syrup since 1824, when Isaac Funk settled in what would become Funks Grove, located about 150 miles southwest of Chicago.
Four Funk generations later, Mike Funk runs Funks Grove Pure Maple Sirup. In a good season, the 500-acre operation produces about 2,000 gallons of maple syrup.
Mike Funk plans to leave the family business to his son Jonathan, but erratic weather spurred by climate change has filled the multigenerational business with uncertainty about the future.
"The change that I'm seeing most consistently is the inconsistent expectations of how to plan ahead for the year," said Jonathan Funk. "You don't know how long of a season you're going to have due to unpredictable weather and it feels like things are getting warmer more quickly."
The maple syrup process starts with tapping a maple tree for sap, which is collected and boiled down to remove most of its water content while concentrating the sap's sugar content, turning it into syrup.
It takes about 40 gallons of tree sap to produce one gallon of syrup.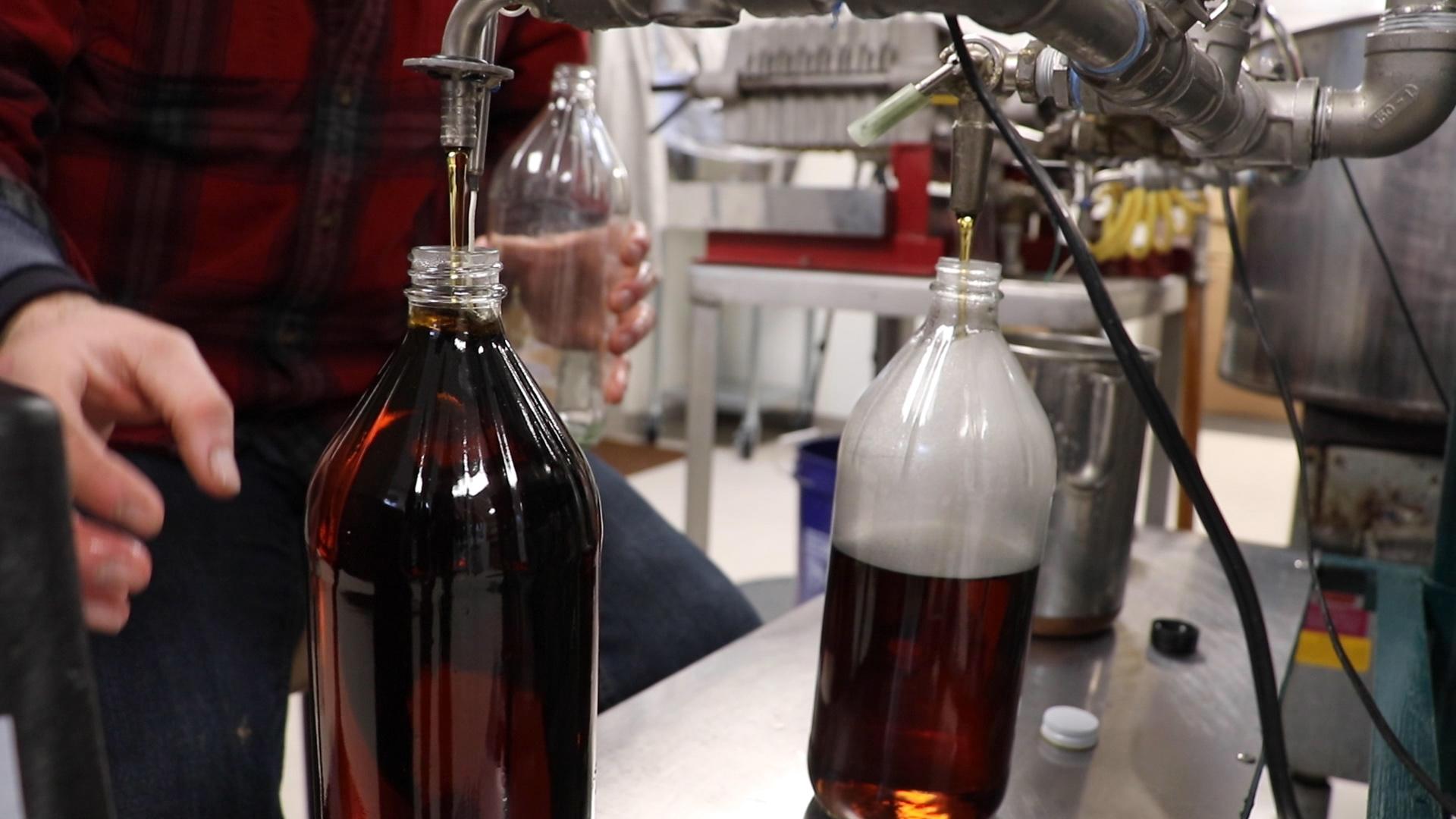 Maple syrup is bottled piping hot in the Funks Grove fishing room. The Funks say the hot liquid sanitizes the container. (Evan Garcia / WTTW News)
In order to collect the sap, maple syrup producers rely on a consistent freeze-thaw cycle that sends the sap up unto the tree and flowing back down after thawing. But unpredictable weather has disrupted their season, which usually happens around early to mid-February.
"We just don't know," said John Funk, who's run the business for more than 30 years. "Sometimes we don't have winter until late January and it hasn't even started yet and then you'll have cold weather, big up and down swings in temperature, all the way until April." 
Joshua Rapp is a scientist with the Massachusetts Audubon Society. While he was a researcher at Harvard University's Harvard Forest department, he studied the impact climate change is having on the North American range of sugar maple trees, from southern Virginia to Quebec, by taking sap samples from six regional sites, analyzing historical climate data and using several climate projections.
A 2019 study he co-authored predicts syrup production of maple trees will essentially move northward in the next several decades, at the detriment of maple syrup producers living in the Funks Grove region and elsewhere.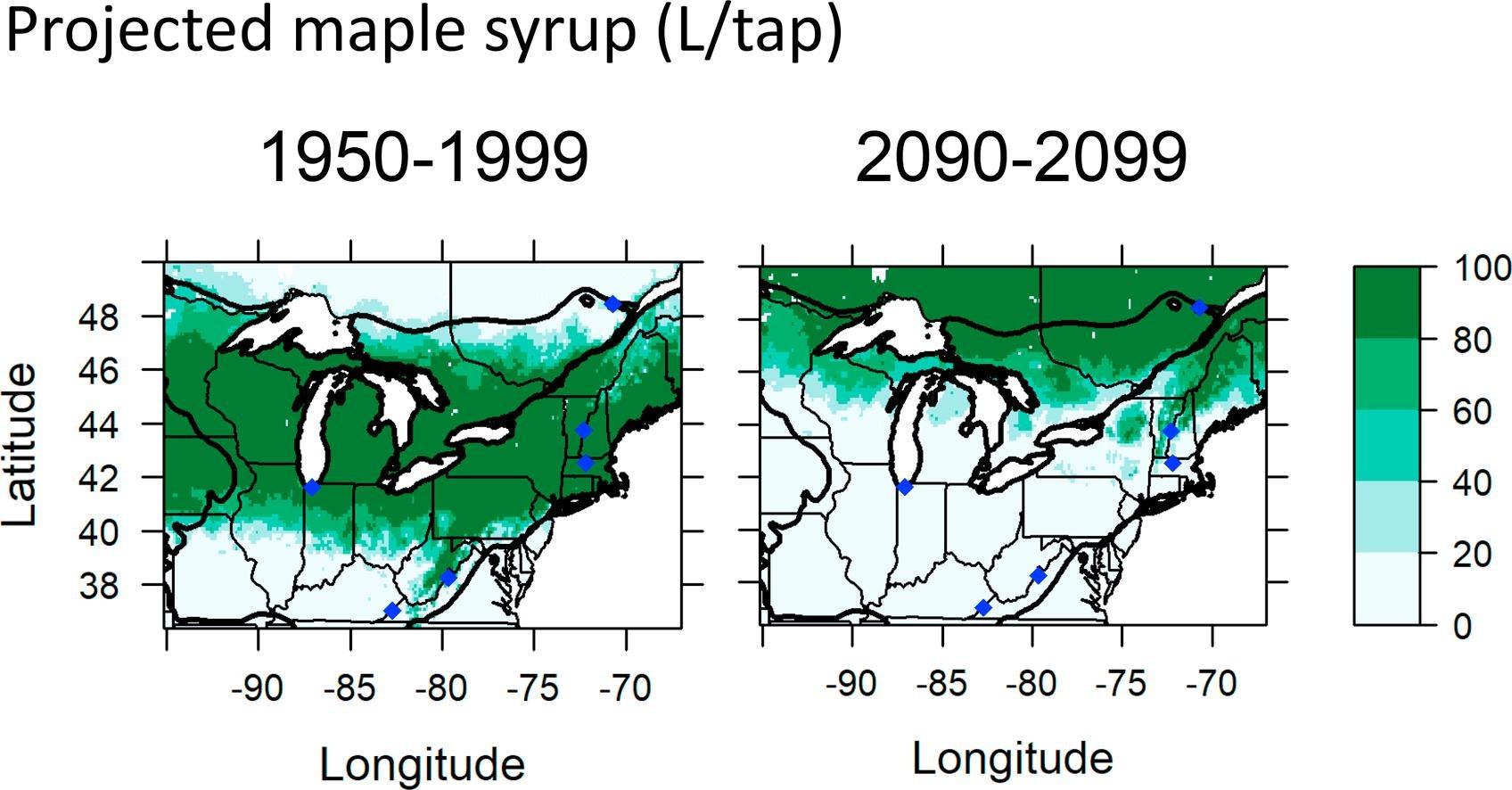 A 2019 study in the journal Forest Ecology and Management shows a steep decrease in maple syrup production for maple trees in the species' southern North American range, including Illinois, by 2100. (Courtesy Joshua Rapp)
"Sites in Virginia and Indiana were projected to produce almost no syrup by the end of the century, while sites in Massachusetts and New Hampshire were projected to produce half as much as in the historical period on average," the researchers wrote in the study. "Only at the site in Quebec site do projections support an increase in syrup production, with a doubling occurring by the end of the century on average."
The National Oceanic and Atmospheric Administration says the past five years have been the warmest since it began recordkeeping 140 years ago.
For now, the Funk family is combatting climate change by using new technology and tapping methods, staying as prepared as possible and hoping for a little luck.
---
More on this story
If you're wondering about their Funk family's unique "sirup" spelling – it's an homage to Hazel Funk Holmes, who took over Funk Maple Pure Maple Sirup Grove in the early 1920s and protected its 500 acres via land trust for future Funk generations. 
In her day, pure maple sirup, without sugar added, was spelled with an "i" whereas syrup spelled with a "y" referred to fruit juice with sugar added to it.
Follow Evan Garcia on Twitter: @EvanRGarcia
---