The scene is disturbingly realistic: Two men lie on the floor with very convincing fake blood pooling around them. Others in the room are screaming in fear. A siren is heard in the distance. Several men and women arrive with stretchers and medical gear to treat the "wounded," while two men pose as police to attend to the upset onlookers, who shout, "That's my friend!" and "You're not working fast enough!"
This is just one of the scenarios that the Black Fire Brigade's EMT program uses to prepare students for work on the job.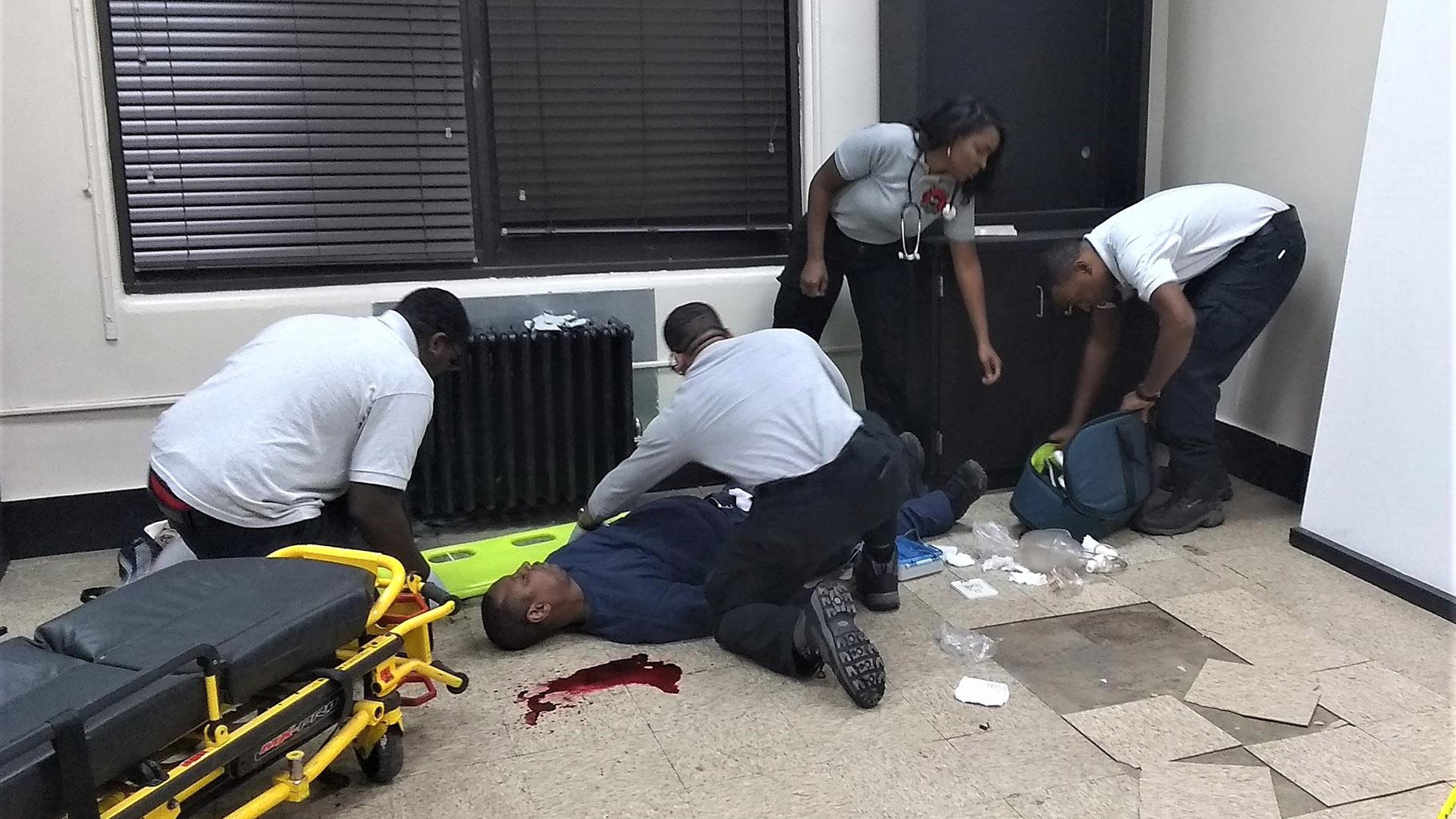 Black Fire Brigade EMT students participate in a gunshot scenario. (Matthew Carnero Macias / WTTW News)
"This is what they're gonna see," explains Stanley Williams, a 34-year Chicago Fire Department veteran and director of education for the Black Fire Brigade. "If we just show them a couple videos they probably will get on the scene and they could freeze up on you. Because it's pretty dramatic. You have dogs running through the scene, sirens, noises. We're just really trying to give them a taste of what to expect. We want to turn out the best people."
"The Black Fire Brigade is the first of its kind in this country," said co-founder Quention Curtis, a 32-year veteran of the Fire Department. "It was built around getting young people off the street away from gun violence, and things of that nature, and so our motto became: 'If you teach a kid to save a life they'll be less likely to take a life.'"
The Chicago-based nonprofit is also working to increase the ranks of African American firefighters, EMTs and paramedics.
The Chicago Fire Department has long been overwhelmingly white – and has paid out millions in racial discrimination lawsuits.
Today the force is still just 17% black and 16% Hispanic.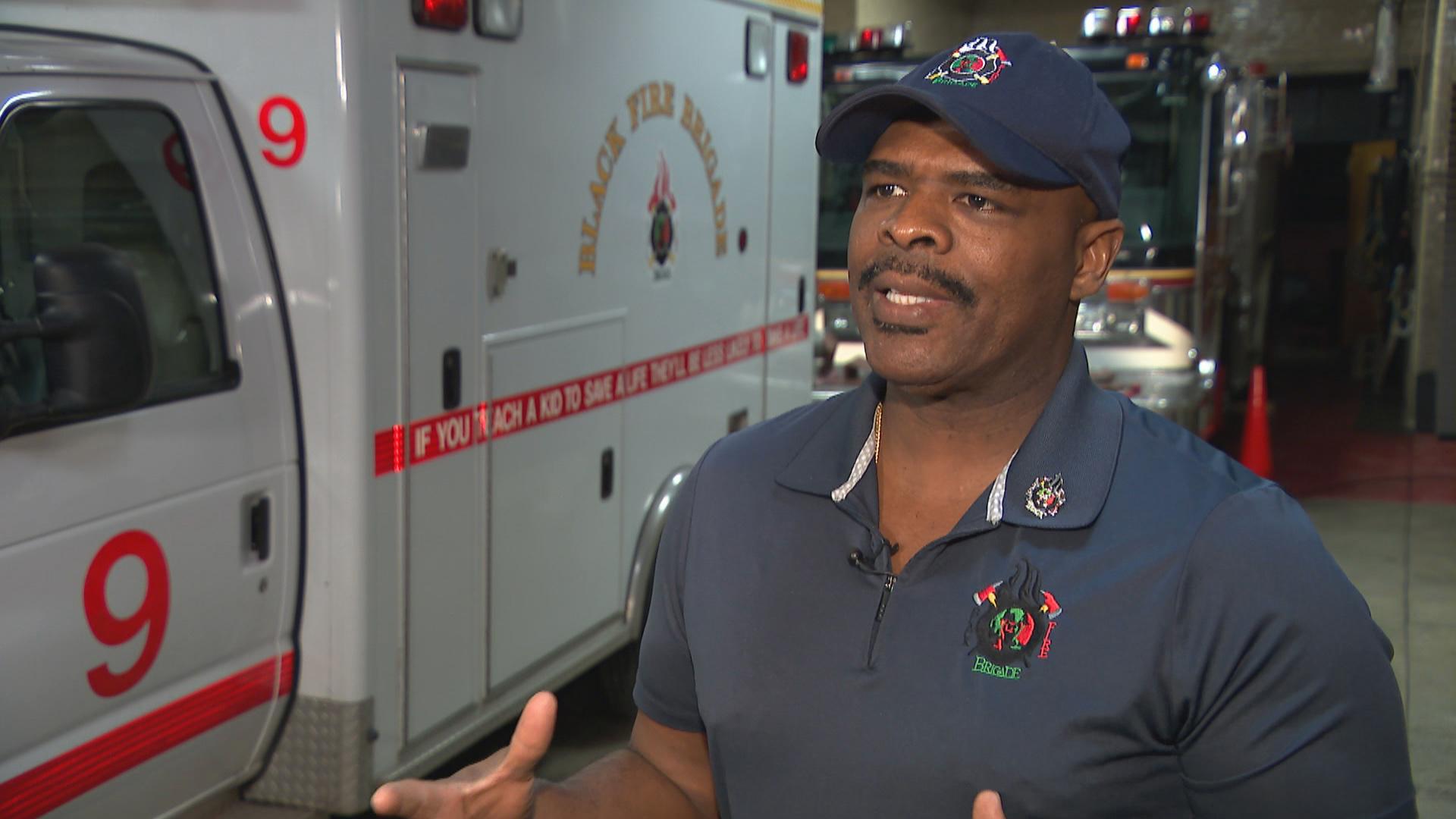 Quention Curtis (WTTW News)
"I'm trying to change that narrative so young kids can actually see us working, see us productive in the community, and see us saving lives," said Curtis.
All of the students in the program are between the ages of 18 and 30. They get their primary EMT training at area schools or ambulance companies.
But the Black Fire Brigade helps them every step of the way, with tuition for those programs if needed, additional training like the gunshot scenario we described, test prep and job placement. Most EMT students plan to become paramedics and firefighters, and the Black Fire Brigade offers similar support and training for those careers.
The Black Fire Brigade started in June 2018 and in the first 18 months put more than 250 people through the program, including 60 single moms and three homeless students.
"We have EMTs that work for every ambulance company in Cook County," said Curtis, proudly. "We have EMTs that are EMT techs in the emergency room at Loyola, Northwestern hospital and constantly moving into more hospitals now too."
The Black Fire Brigade is 100% volunteer run and supported by donations.
"The cost to the students is zero," Curtis said. "The students pay for absolutely nothing. We even provide their uniforms."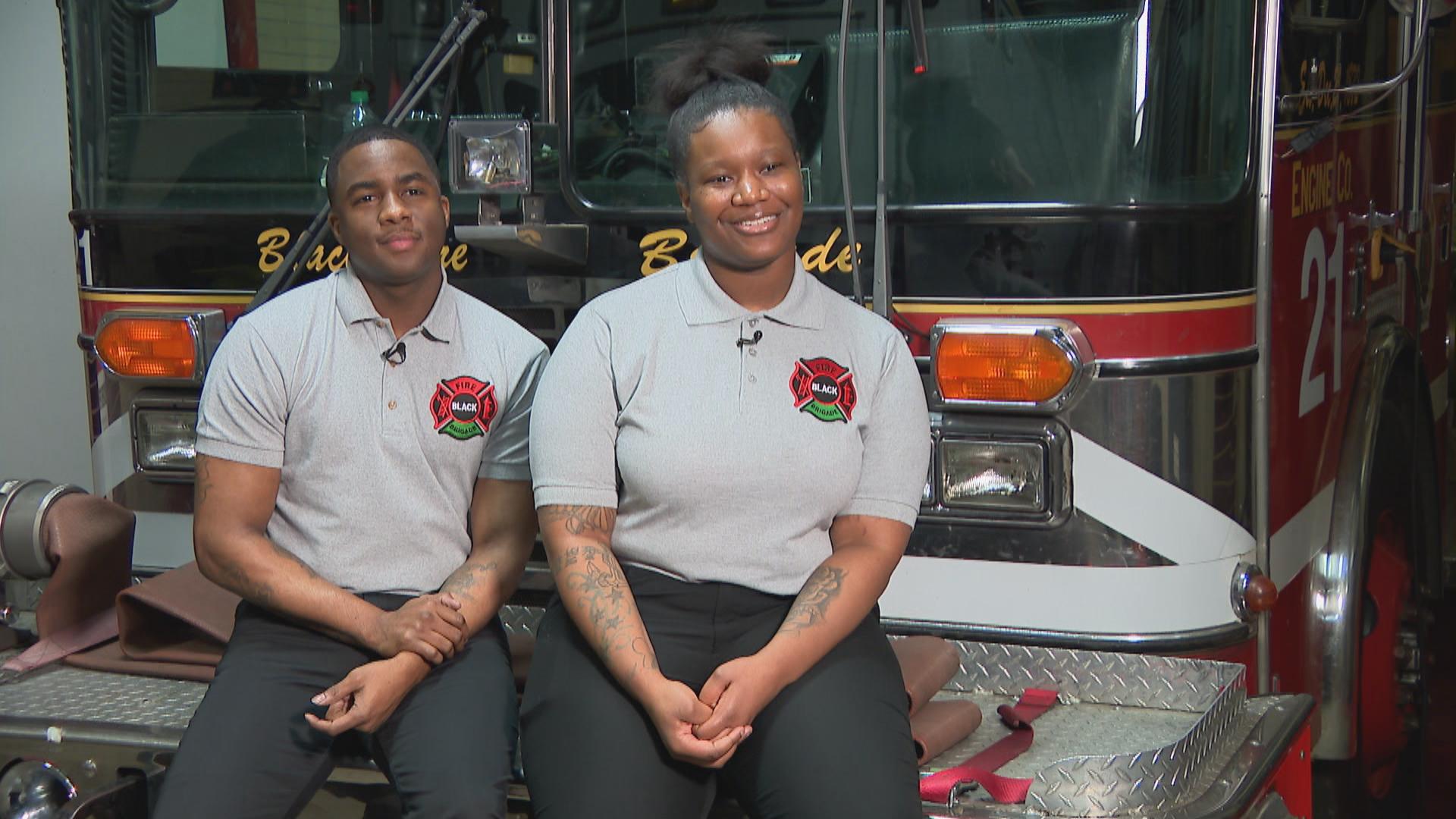 Marlon Sykes and Tabbitha Dorsey (WTTW News)
And just as importantly, they say, they provide students with a meaningful career and a chance to be role models themselves going forward.
Student Tabbitha Dorsey first got the idea to become an EMT when her son broke his arm. "We rode in an ambulance. It was my first time in the back and I thought, 'This would be cool!'" Now, she says, her kids are proud of her new goal. "They think I'm cool!" she laughs, explaining that now her son wants to be an ambulance driver. "It's his dream job forever."
---