Chicagoans have long taken pride in the city's history and architecture.
As areas of the city are redeveloped, it's inevitable that some of that is lost. But one man is doing all he can to rescue treasures from the earliest days of Chicago.
His name is Jimmy Nuter, and you may remember him from a story by Jay Shefsky about one of his incredible finds – in a Chicago attic.
Nuter is in the business of architectural salvage – but for him, it's more than a business. It's what defines him.
"My grandfather helped build some of these skyscrapers in Chicago and growing up I just had an affinity and almost had a history tour as a kid of what this was and when it was built. And you see it disappearing you kind of feel something," Nuter said.
He says there are only a small number of people doing the kind of work he does, and that most of them "are in for the quick grab and the maximum money. I will focus on something as small as a marble or as big as the Division Street Bridge."
Nuter originally intended to be an artist. He studied painting and printmaking at the School of the Art Institute and photography at Columbia College, but after working as a carpenter, his passion for architectural artifacts took over.
"My eye is programmed to see things that are just a little bit different. Fleeting things. Things that are not common," Nuter said. "What I'm really most passionate about is the earliest of Chicago. And what there is left of that, much of that would be from right after the fire until about 1885."
Nuter says that for him, part of the challenge is to simply figure out how to save some of these artifacts. An example is an 8-foot-tall old zinc weathervane he found atop a small old farmhouse.
"A lot of these things are math puzzles to solve. You have no idea how you are going to accomplish something," Nuter said. "I listen more with my ears than most people could see with their eyes. The strengths and weaknesses of a piece. How far you can push it or bend it, pry on it."
Nuter has also salvaged items of greater historical significance, including a window and doorway from the balcony of the now-demolished Cedar Street studio once used by Frank Lloyd Wright (below). In 2014, he even helped dismantle and save the Division Street Bridge.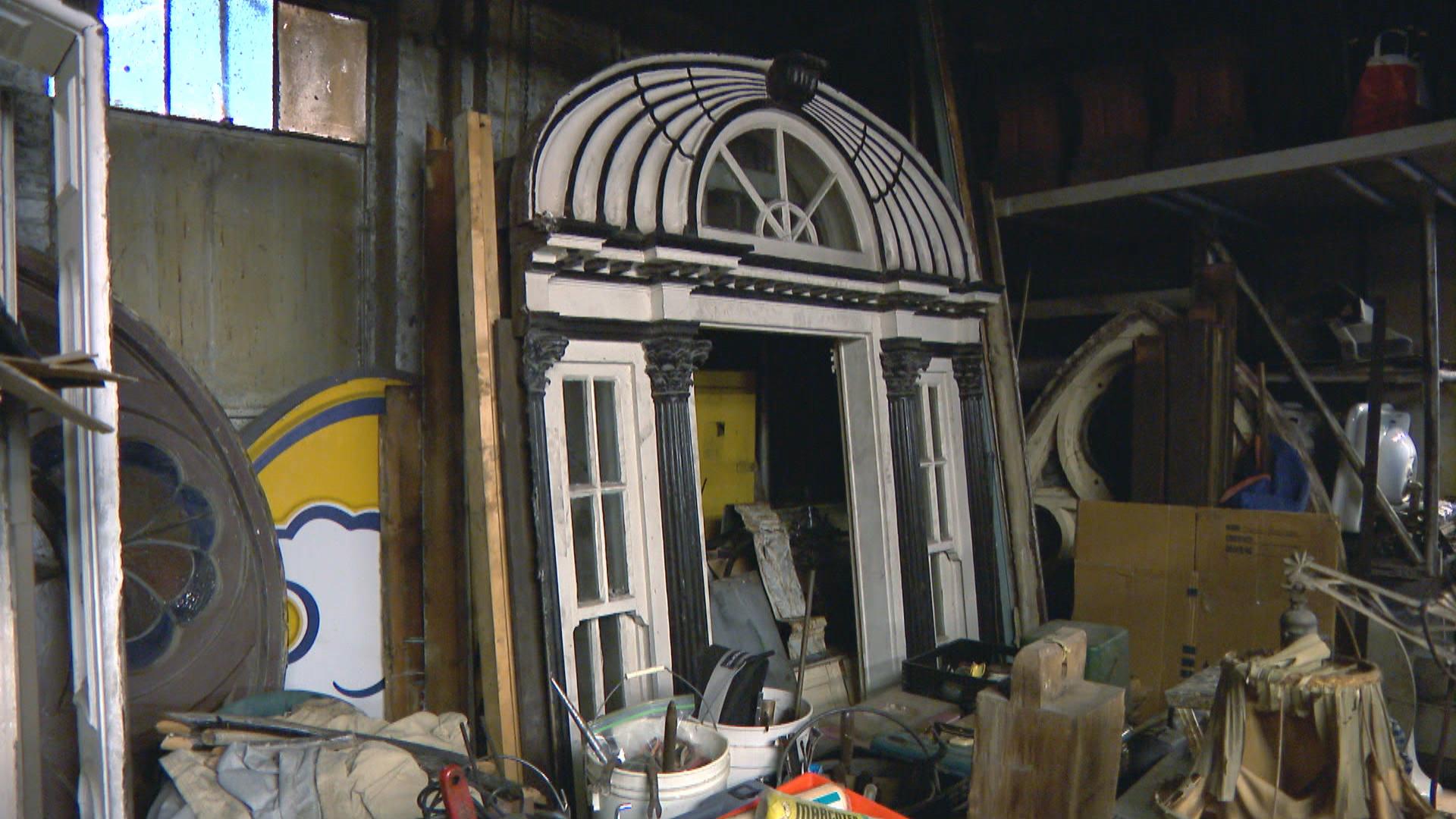 (WTTW News)
Among his most treasured finds is his dog Skeeter.
"He was abandoned in a house for 11 days, boarded up before I got him," Nuter said. "That right there is a prize find in the architectural salvage business. He's been a great companion."
But Nuter's business, American Vintage Reclamation, is now threatened by a dispute with his landlord, who acquired the warehouse he rents in 2019, and which could ultimately force him to vacate the space. The matter is now in the courts.
And as he battles to preserve his business and Chicago's fast-disappearing history, Nuter draws on the strength of his immigrant grandfather, Augie, who literally had to fight to keep his job as an ironworker.
"He'd be up in a building laying the girders and every day he would come down and there would be a group of people waiting to work the next day. So they'd target you if you were small and beat the tar out of you and put you out of commission," Nuter said.
"So he decided one day having lunch up on those girders he was tired of getting in fights so he decided to put his sandwich down," Nuter said, "walk a handstand about 20 feet down that beam, turn upside down and hang from his toes spread-eagle for about 15 seconds to let everybody see that this guy wasn't anyone to mess with and he certainly wasn't scared of anything."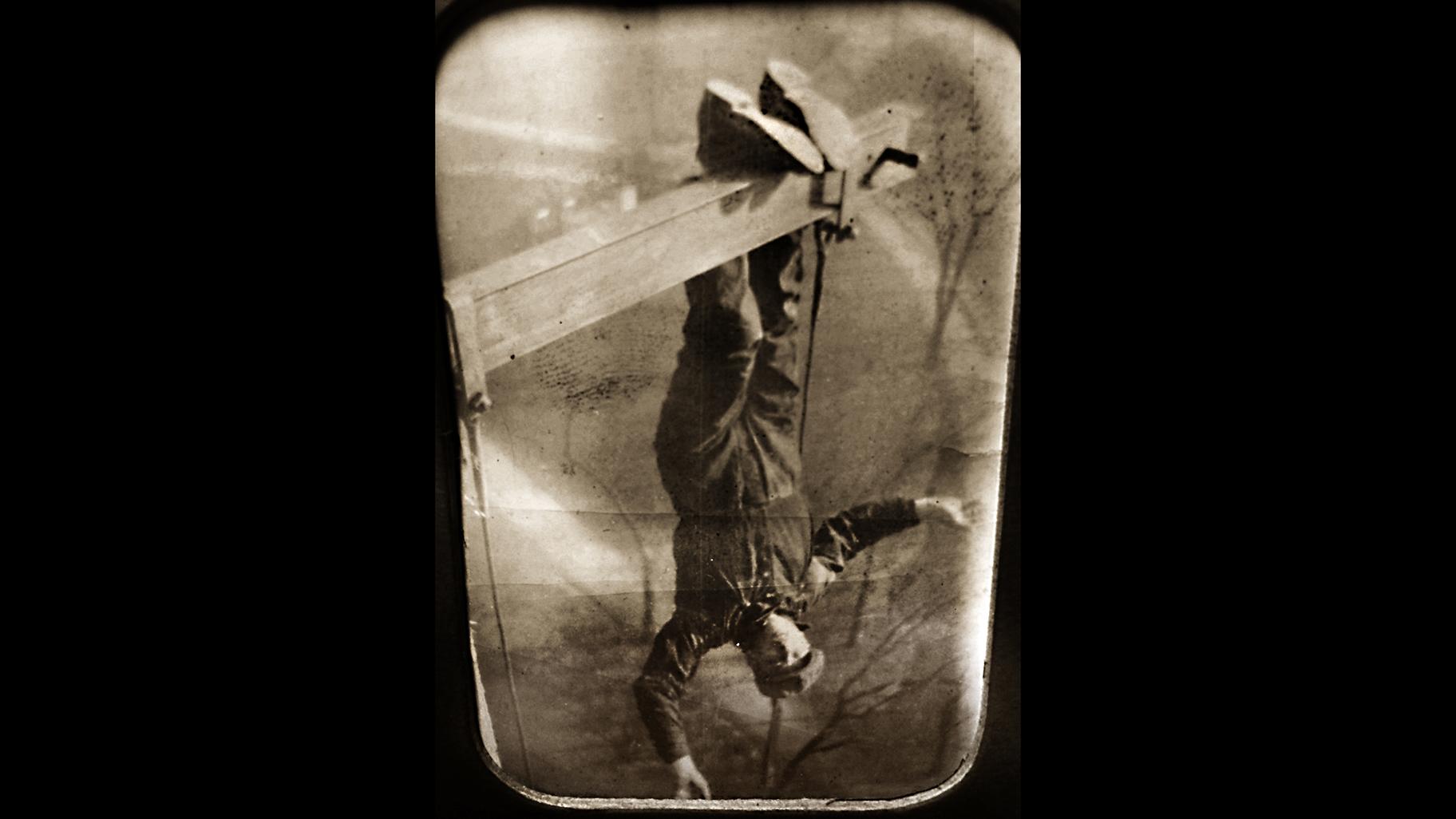 (Courtesy Jimmy Nuter)
And Nuter says he has carried the spirit of his grandfather with him ever since a moment of fear he felt high up on a slippery roof.
"My knees were wobbling and I was just overwhelmed with danger and fear and I sat down and had a cigarette," Nuter said. "And I got to the realization that I'm in a really high, privileged perspective. This is a really beautiful place to be. The sun was just coming up and I thought back for a second at what my grandfather had to endure being that ironworker and how much fear he had to overcome to do his job – and the calm set over me and I realized I am that and there's nothing for me to fear because I know my balance. I know where I came from. I'm privileged to be here. And from that point forward he's been with me every day."
---