On Wednesday, former Illinois Gov. Rod Blagojevich will have the chance to sit down for dinner with his family for the first time in eight years.
President Donald Trump made him a free man Tuesday by commuting his 14-year prison sentence on various corruption charges. Public sentiment is still divided over the disgraced former governor. Some see him as the face of political corruption in Illinois. Others sympathize with Blagojevich, who described himself Wednesday as a "freed political prisoner."
"I truly believe that Rod (Blagojevich) believed he was operating in the political sphere in a way that was not illegal," said his former defense attorney, Lauren Kaeseberg. "When you hear the whole picture, this is a man who was talking to so many people about so many things and the government cherry-picked what they let the jury and the public hear. This is about money in politics and I don't see a whole lot of effort to change that. This is not a corrupt person who was padding his own pockets. At the end of the day, Rod's not putting on a performance. He truly believes he was wronged."
But Connie Mixon, associate professor of political science and director of the Urban Studies Program at Elmhurst College, has little sympathy for the impeached former governor.
"It's true that many politicians have done this, but it doesn't make it right," she said. "Given that he was coming on the heels of George Ryan, another convicted governor, he really should have known better. Blagojevich even sold himself as the anti-corruption candidate when he was running. Yes, the sentence was tough. It was used to send a message, but he shouldn't have been surprised by it."
Trump didn't seem to think it was a fair sentence. "That was a tremendously powerful, ridiculous sentence, in my opinion," Trump said Tuesday.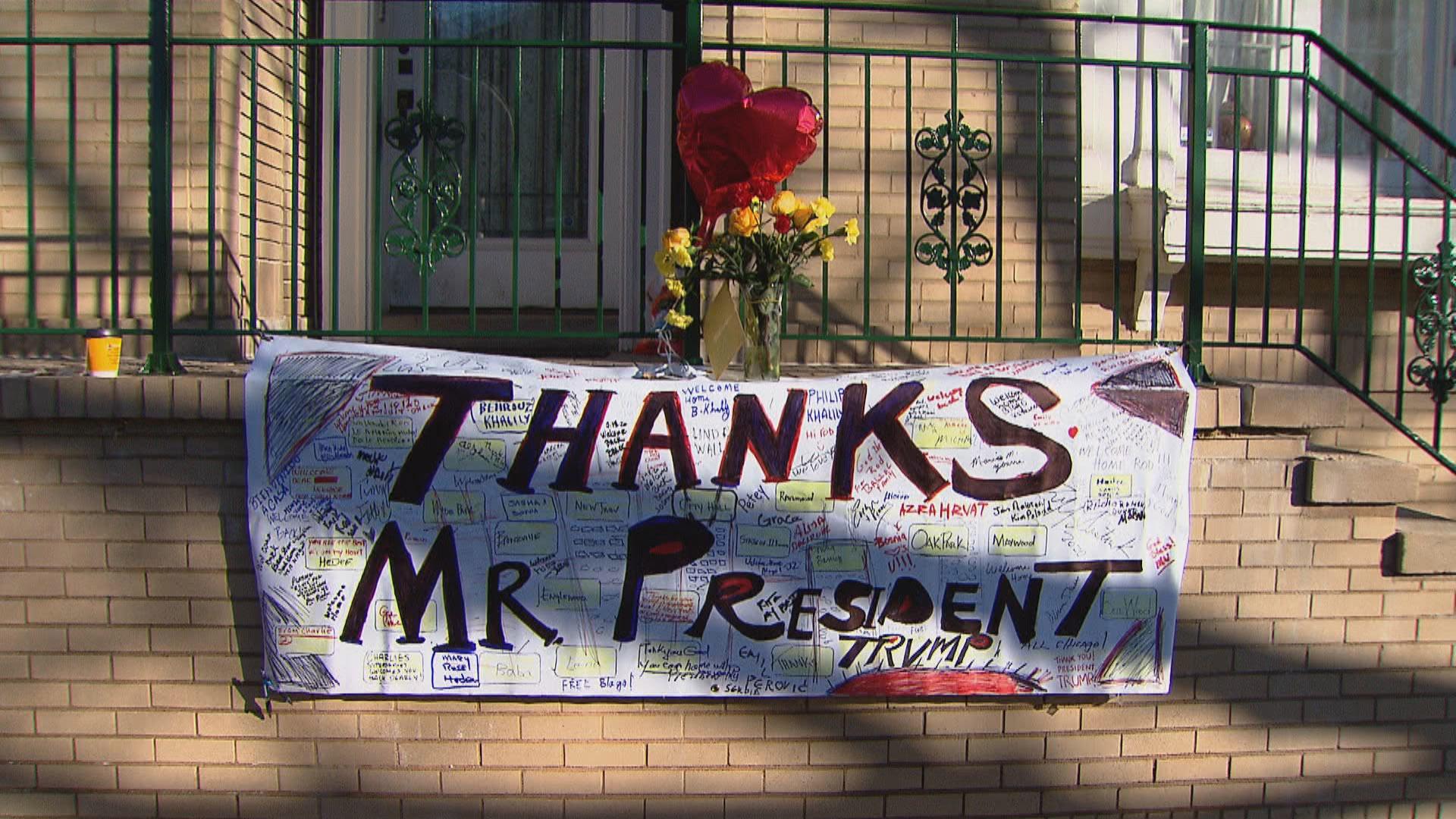 A banner on the Chicago home of Rod Blagojevich thanks President Donald Trump for commuting the former governor's 14-year prison sentence. (WTTW News)
Kaeseberg thinks the president may have viewed Blagojevich as a model prisoner. "Some 100 other prisoners wrote letters of support. I also think his wife Patti's efforts to get the president's attention were important. As an attorney, when I represent someone on a clemency, you do whatever you can to get attention for your client, and that's what Patti did," she said.
Blagojevich's homecoming was a chance for him to reunite with his wife and two daughters, Amy, 23, and Annie, 16. It's unknown whether he will reconcile with his brother, Robert, who also faced criminal charges over fundraising efforts for his brother. Charges against Robert Blagojevich were ultimately dropped, yet the brothers still have not spoken since the trial.
"Robert wrote him, tried calling him, even flew out to the Colorado prison he was at but wasn't put on the visitors list," said Michael Ettinger, former defense attorney for Robert Blagojevich. "Robert loves his brother and is thankful that he's out of prison. He won't be trying to call him again, but he'd be open to connecting with him if Rod tried to reach him."
---