Beijing's Winter Games – and that singular sport, curling – won't awe and inspire spectators for another two years. But there's plenty of curling happening now in Chicago's western suburbs, where enthusiasts are sliding and sweeping stones in an unlikely setting.
"This was actually the Illinois Department of Health Services, so it was cubicles all behind me and so it was completely [demolished]," said Windy City Curling Club Vice President Tom Arra. "And then we started from pretty much scratch."
The Windy City Curling Club kicked off its first league games in April 2014 and held matches and learn-to-curl sessions in different hockey rinks until January 2019, when the club purchased a former government office in a Villa Park shopping center and turned it into an ice arena.
Inside the chilly curling area are three sheets of ice measuring about 140 feet long with a bullseye-looking target called a "house" on each end.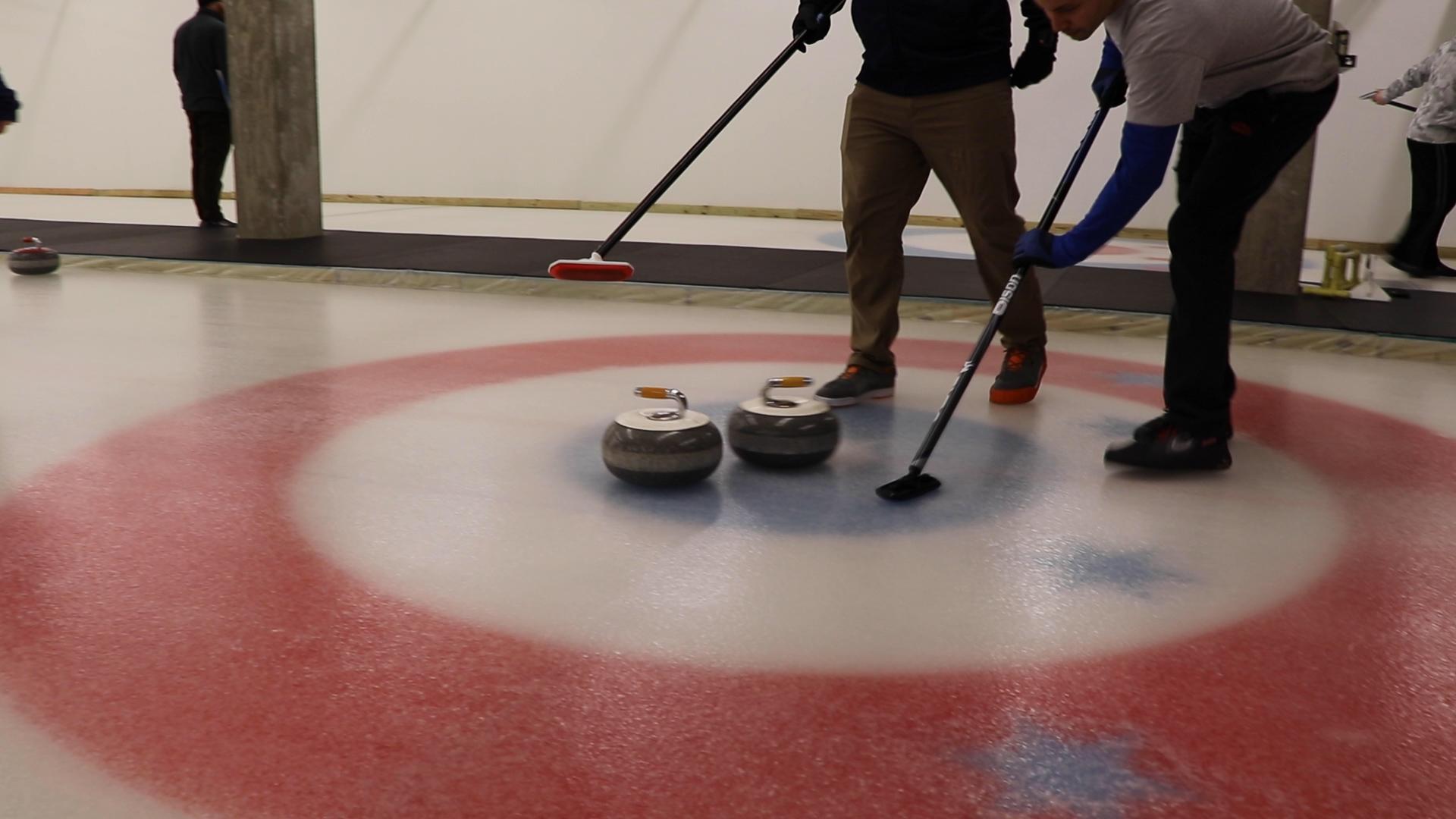 Curlers score when they slide their stone closer to the house's center compared to their opponent. (Evan Garcia / WTTW News)
On each sheet of ice, two teams of four players compete by sliding granite stones weighing 42 pounds as close to the center of the house as possible.
A game is typically composed of eight "ends" – similar to baseball innings – in which each team throws eight stones. Whichever team has more stones closer to the center of the house wins that end.
"I've heard shuffleboard on ice, but I feel chess on ice is a little closer," said club member Jim Sikma. "There's a lot more strategy to it than most people realize."
There are three roles in each curling team. A shooter glides down the ice and sends the stone sliding. Two sweepers can speed up and straighten a stone's trajectory by sweeping ahead of its path – the stones naturally "curl" on the ice, hence the sport's name. And the skip stands at the opposite end of the ice near the house and yells directions to the sweepers.
At a February rookie league session, Arra instructed novice curlers to never run on the ice, keeping one foot planted down at all times.
"If you feel like you need to run, more than likely, you catching up with the stone isn't going to matter because it's going too fast," Arra said.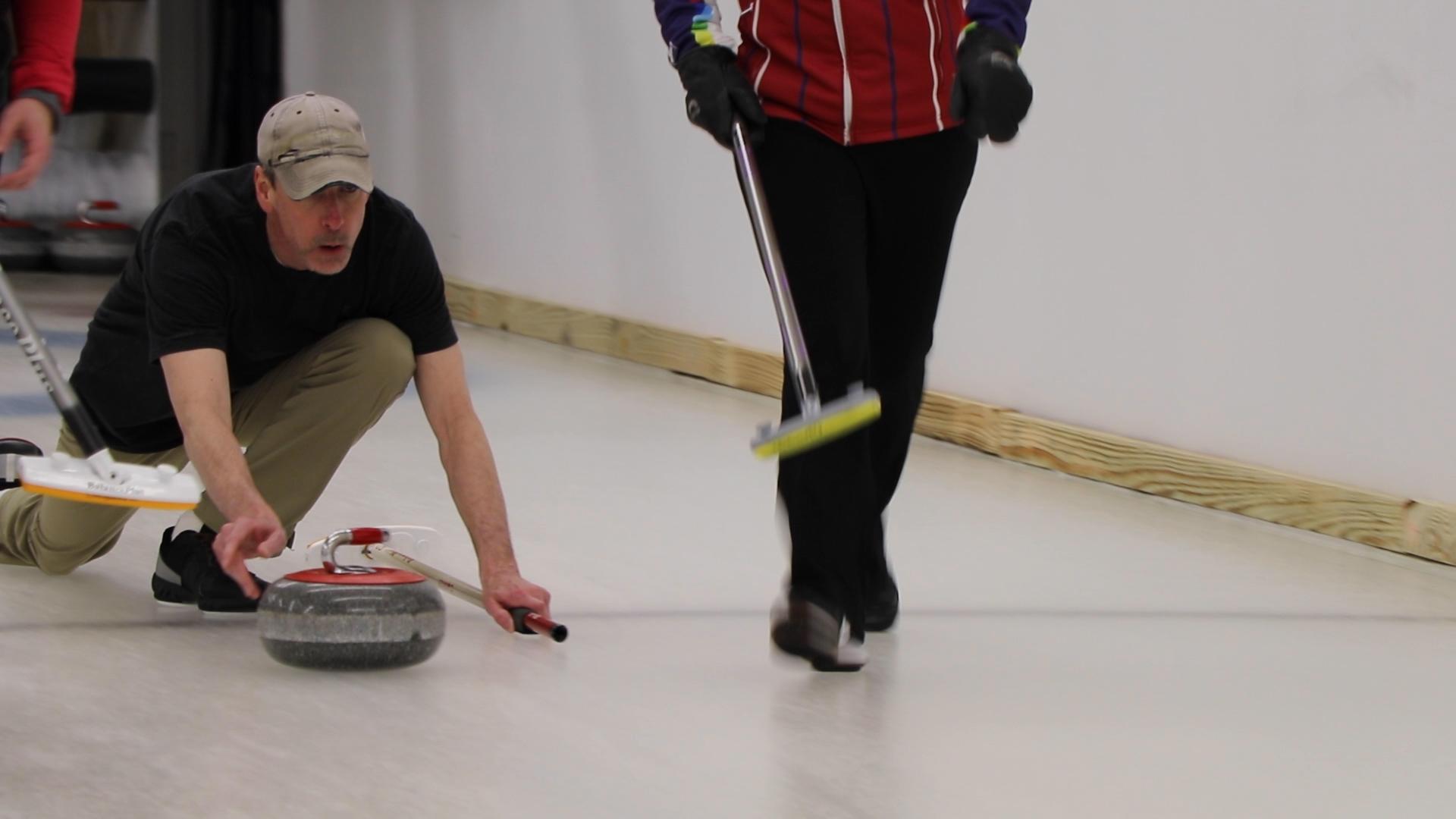 A shooter sends the 42-pound granite curling stone down the sheet of ice. (Evan Garcia / WTTW News)
Newcomer Stacy Klepper said she was still getting used to the ice.
"It's scary a little bit because of course you try to do your best not to slide on ice," Klepper said. "But in the game, the better you get at balancing while sliding, it certainly works out to your advantage."
The sport is known for its camaraderie – it's a tradition for curlers to sit together after a game and discuss strategy or socialize. Arra said purchasing a liquor license and setting up a bar in the club was essential.
"It's pretty to common to share a beer or some other beverage, so we have to have our own bar here," Arra said. "I don't think there's any curling club that you would go to that doesn't have a bar attached to it."
Arra said the club has between 90 to 100 members and their season runs from the middle of September to late May. Visit the Windy City Curling Club's website to learn more about the club schedule and membership fees.
Follow Evan Garcia on Twitter: @EvanRGarcia
---