Tonika Johnson wants to change misconceptions about certain neighborhoods in Chicago. So she created the Folded Map Project.
"Folded Map is a visual investigation of disparity and inequity in Chicago using it's mapping system," said the social justice artist. 
"I have photographed addresses that are similar on the same streets, like 6720 N. Ashland and 6720 S. Ashland, and compare them," Johnson said. "It helps people understand that there's a difference in investment in city resources and infrastructure. When people look at those photos, they're able to see the difference in the sidewalks, the landscape, sometimes even just the streets themselves and the maintenance of the buildings."
Johnson's project started with photos, which soon turned into conversations. Next, she began reaching out to what she referrers to as "map twins."
"The first iteration of Folded Map just focused on the North and South sides," Johnson said.
"Specifically, the neighborhoods that if you were to fold Chicago's map at it's zero point it would touch Englewood. Englewood was the South Side neighborhood that I focused on because it's so large and a lot of people don't know it's like the third largest neighborhood in Chicago."
And just like that, the first set of map twins were born. Englewood resident Carmen Arnold-Stratton quickly realized the city offers more than her neighborhood when Rogers Park resident Bridghid O'Shaughnessy was describing her home.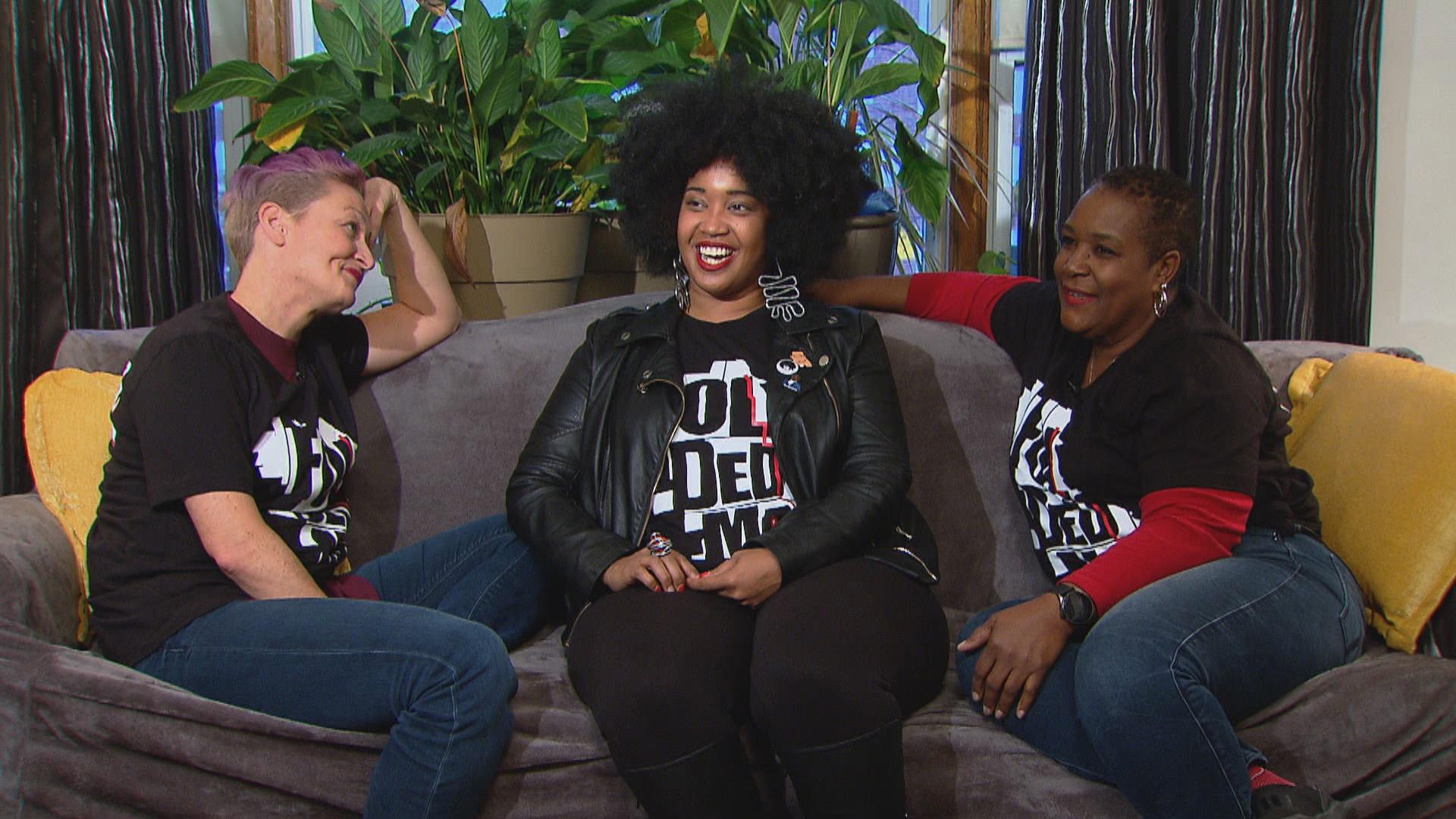 Tonika Johnson, center, with "map twins" Carmen Arnold-Stratton, right, and Bridghid O'Shaughnessy, left. (WTTW News)
"When she said her neighborhood was a global mecca, I was like, OK, I need to venture out more and not have that stigma of my neighbors that I grew up with of, 'Oh we're not going there,'" Arnold-Stratton said.
The pair say their relationship has only grown since meeting.
"We have to show up for each other," O'Shaugnessy said.
"I feel like, yes there was the first moment we met and it was meaningful, but to me it was like how else can I invest in her as a person? The more we know each other, the more we care. And the more we care, the more we're willing to fight for each other."
Johnson says this developed empathy is one of the many goals of the project. That's why she housed an exhibit highlighting her research at the local shop, Englewood Branded.
"The current exhibit is the first example of it making a specific local difference because people have been coming to Englewood Branded that had never been there before, of all races," she said.
The Folded Map Project includes more than 10 sets of map and address twins, depicted through both videos and photos.
We sat down with twins from the city's North and West sides who Johnson says are the first pair to really talk about gentrification in the city.
"I realized when she said that gentrification isn't the only process here that causes people to live separately and in a segregated way," Joe Bristol said. "It's happening as a result of economics more than anything."
After visiting Bristol's home in Logan Square, Garfield Park resident Que Billah says he learned he has more control over the changes within his neighborhood than he realized. 
"It made me want to look more into real estate and investigate and see if that's something that I want to do and can do financially," Billah said.
"It's not about being pushed out or white people taking over. You have to take initiative to learn and educate yourself about what's going on and then if you want a piece of your neighborhood, you can buy it," he said.
As Johnson continues to publicize the Folded Map Project, she says she's grateful for not only the relationships that have developed, but the necessary conversations they have started.
"Also for the public, answering basic questions can help you understand not only how to connect to someone, but really provide you a deeper understanding about our city and how people experience it differently based on where they live," Johnson said.
Johnson's exhibit of the Folded Map Project at Englewood Branded has since come to a close, but the conversations are continuing. Her next Folded Map exhibit will be on display at Woman Made Gallery in Pilsen in June.
Follow Angel Idowu on Twitter: @angelidowu3
Note: This story will be updated with video.
Angel Idowu is the JCS Fund of the DuPage Foundation Arts Correspondent.
---