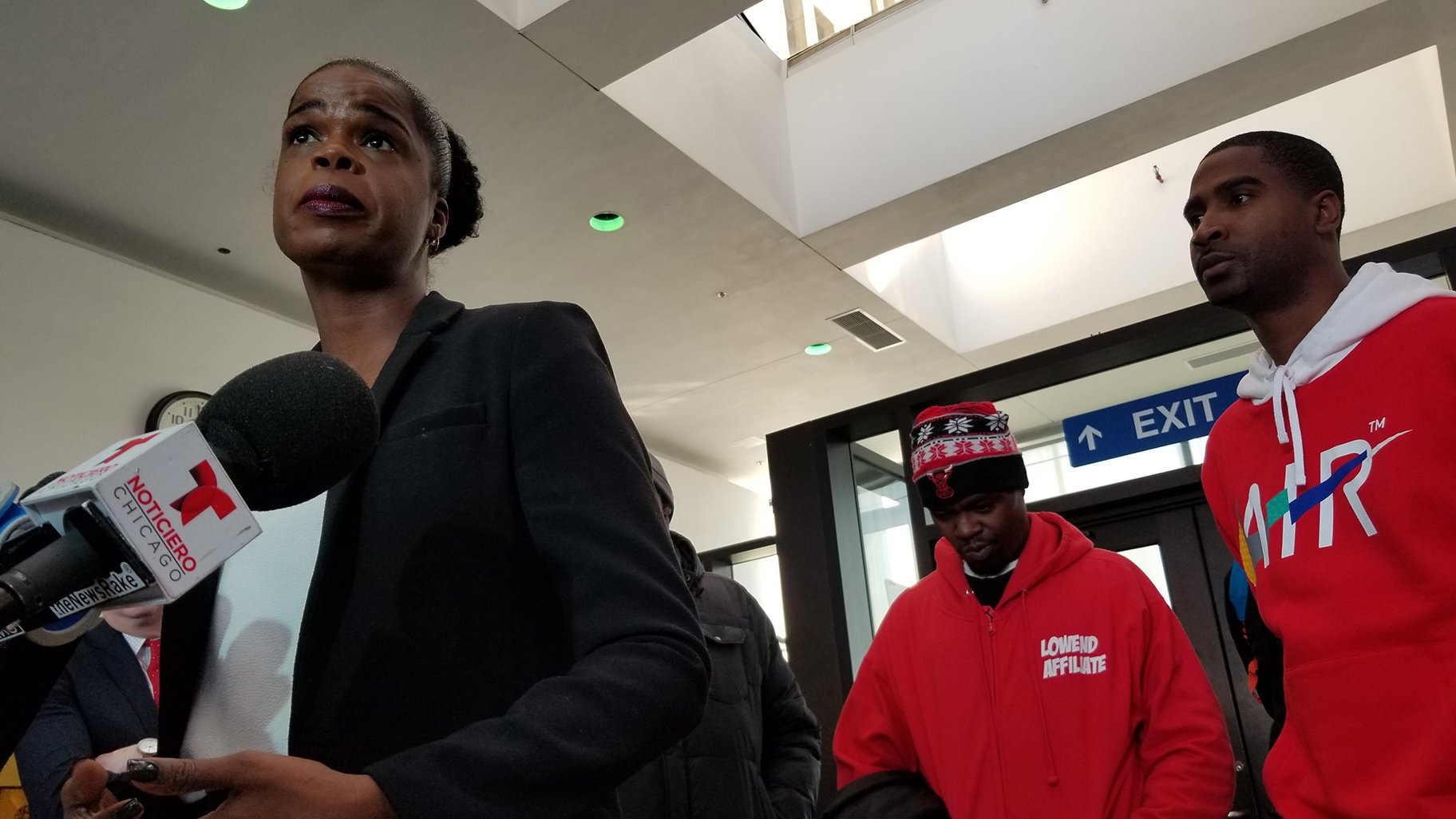 Cook County State's Attorney Kim Foxx speaks with reporters following a hearing inside the Leighton Criminal Court Building on Tuesday, Feb. 11, 2020. (Matt Masterson / WTTW News)
A dozen more men who say they were framed by a disgraced former Chicago police sergeant and his team have had their felony drug convictions dismissed after they collectively served decades in prison on the false charges.
Cook County State's Attorney Kim Foxx appeared at a Tuesday morning hearing at the Leighton Criminal Court Building to offer an apology to the men, who had a total of 13 drug convictions tossed out in the latest mass exoneration tied to ex-Chicago Police Department Sgt. Ronald Watts. 
"So once again to these men and women who have endured a criminal justice system that has failed them, I offer my sincerest of apologies on behalf of the system and work feverishly every day to make sure that we right the wrongs of the past," Foxx told reporters after the hearing. "It's an apology but it will never be enough."
The men – who are represented by the Exoneration Project and the Law Offices of Kenneth N. Flaxman – were each arrested and charged by Watts and his team at the Ida B. Wells housing project in Bronzeville or the surrounding area.
Including the latest cases, 75 men and women have had a total of 95 convictions that were tied to Watts dismissed over the past four years, according to Exoneration Project attorney Josh Tepfer.
Watts, Officer Kallatt Mohammed and others on their CPD tactical team have been accused of routinely extorting residents and guests at the housing project for more than a decade. If they didn't pay up, the cops would then allegedly plant felony-level drug amounts on them and lie about it under oath.
"All the cases are different, but in some ways they're all the same," Tepfer said. "These were individuals who were visiting loved ones, hanging out, living their lives and they were wrongfully detained for no reason by Watts and (his) team. They weren't doing anything wrong. They were physically harmed, at times, and ultimately they had drugs planted on them."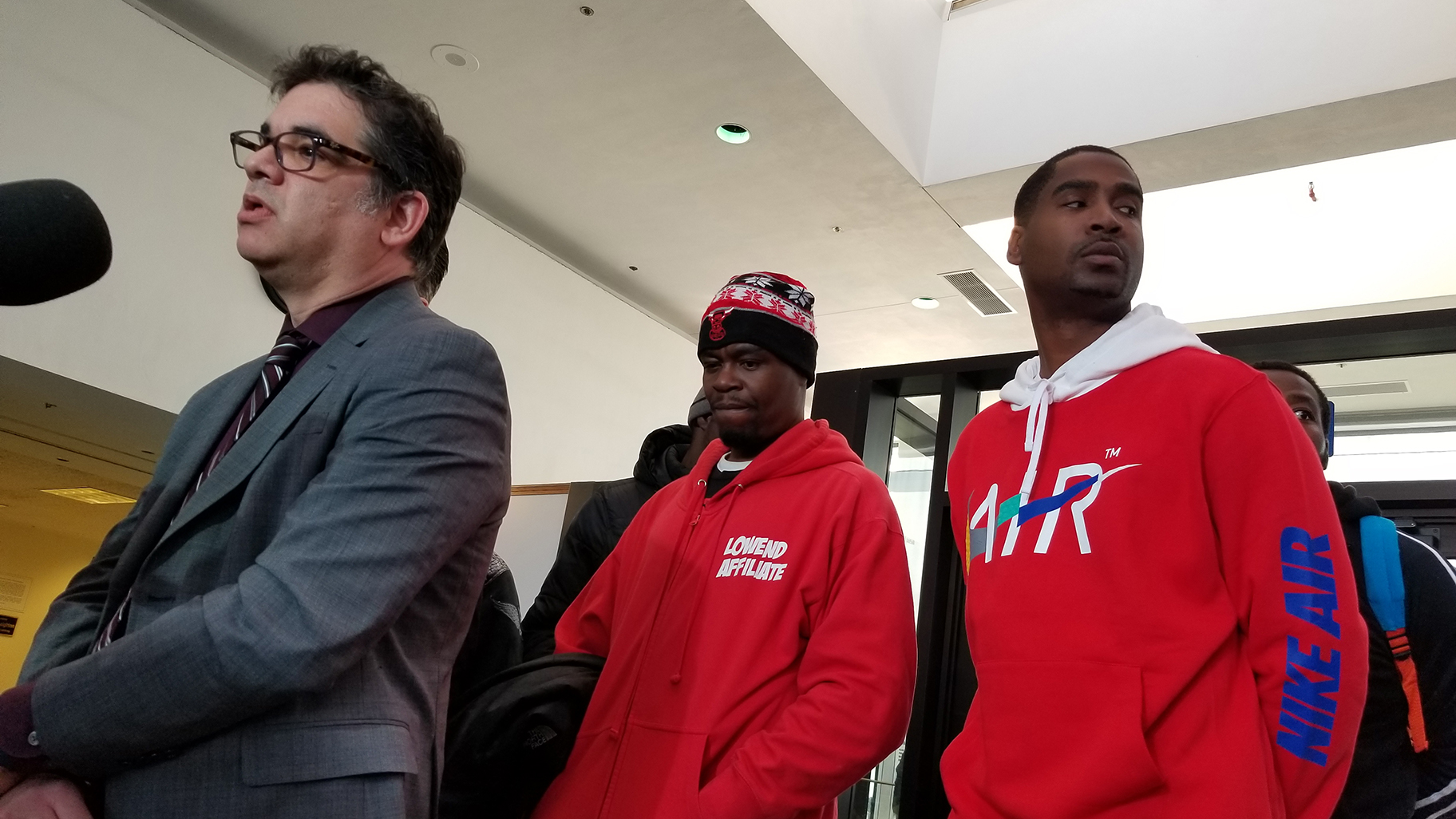 Attorney Josh Tepfer stands beside some of the men who had felony drug convictions vacated Tuesday during a hearing at the Leighton Criminal Court Building. (Matt Masterson / WTTW News)
In 2012, Watts and Mohammed were federally indicted and later pled guilty to taking a bribe from an informant. Law enforcement documents have since revealed that Watts and members of his team were running a "protection racket" for more than a decade, planting evidence and fabricating charges against South Side residents while facilitating their own drug and gun trade.
The men whose drug convictions were dismissed Tuesday are: Demetris Adams, Chauncy Ali, Christopher Farris, Stefon Harrison, David Mayberry, Antony Mays, Gregory Molette, Terrence Moye, Jajuan Nile, Hasaan Potts, Calvin Robinson, and Alhummza Stokes. Harrison was the only man in this group who had more than one conviction thrown out.
All told, Tepfer said, their sentences totaled around 30 years of prison time.
His team has worked with Foxx's Convictions Integrity Unit to identify potential cases for exoneration. Foxx said that's an ongoing process. Tepfer claimed he has another 96 cases awaiting review.
"It's really a stain on the city that this was allowed to go on for as long as it has," he said.
None of the exonerees who appeared in court Tuesday chose to speak with reporters following the hearing, as Tepfer said they have continued to face retaliation for speaking out about their cases.
Foxx denied that she announced the exonerations Tuesday as a political move leading up to a Democratic primary election where she'll face off against three challengers next month. She said the exonerations came as her office "acknowledge(d) harms that have been caused and actively work to not repeat this again."
"The time is always right to do the right thing," she said, "and we've been doing that."
Contact Matt Masterson: @ByMattMasterson | [email protected] | (773) 509-5431
---