Steppenwolf Theatre is currently infested by a new production of "Bug" – the paranoid romantic thriller that helped make the reputation of Tracy Letts, the Pulitzer Prize-winning writer of "August: Osage County." He's also a screen actor of growing stature and appeared in two movies nominated for best picture at Sunday's Oscars.
The revival of his 1996 play "Bug" stars his wife, Steppenwolf ensemble member Carrie Coon. We spoke to the creative team right before opening night.
TRANSCRIPT
Brandis Friedman: "Bug" is a fever dream of a play that is famously tough on its cast.
Carrie Coon, Steppenwolf Ensemble: It's the hardest play I've ever done.
It's very tautly constructed, it's very well written and any extraneous beat just ruins the trajectory of the piece. I found it to be – you have to be very direct and very clean. Even though there is a lot of chaos, seemingly in the show, it's actually quite finely wrought. I'm not just saying that because he is sitting here.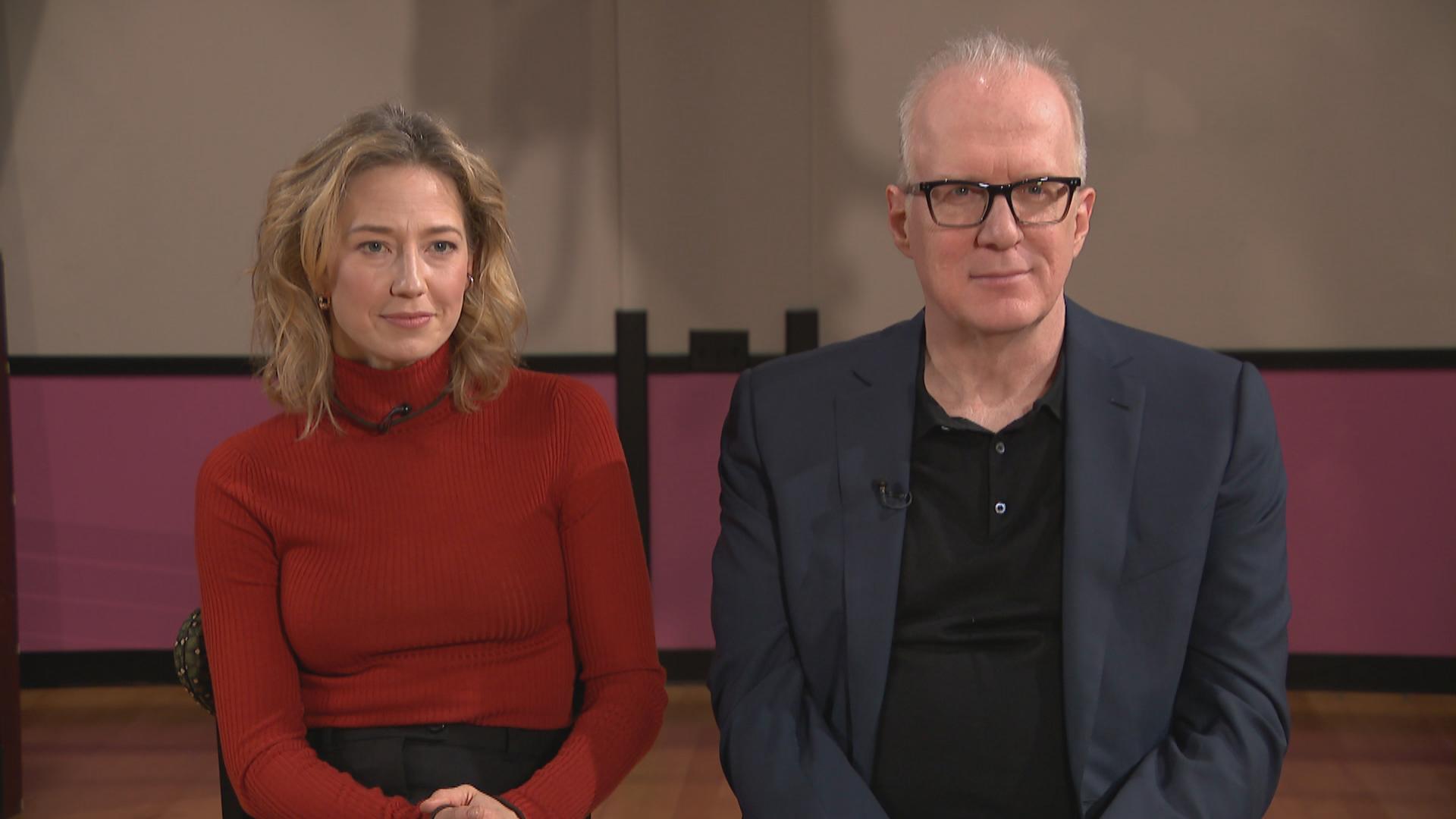 Carrie Coon and Tracy Letts talk "Bug" with WTTW News.
Friedman: The play follows a couple's descent into a chaos of conspiracies when they start seeing bugs everywhere.
Namir Smallwood, Steppenwolf Ensemble: One person's delusion becomes the other person's delusion. One person's problems become the other person's problems, much like a love affair.
Coon: I've always felt that actors are healthy, because we actually get invited to smash things and scream and jump on beds, and kiss people at work. Once you're done, you're done. I just wash the blood off and go have a snack.
Friedman: The play's cult status was cemented with a film version directed by William Friedkin from a screenplay by Tracy Letts.
The movie starred Ashley Judd and Michael Shannon, in a role he first played at Red Orchid Theatre in Chicago.
The playwright, a native of Oklahoma, told us how he first hatched "Bug."
Tracy Letts, playwright, "Bug": In the mid '90s, when I wrote this, it was partly inspired by the bombing of the Murrah Federal Building in Oklahoma City, and an interest in what had drawn this person through conspiracy theory into this very dark place that he committed this horrible act. And so, at the time when I started writing the piece in the mid '90s the internet was new to us as consumers. The internet was new, and of course one of the first things that flourished in the internet was conspiracy theory. Unfortunately, it's just become, in the 25 years since I wrote the play, more and more ubiquitous and mainstream. Not the internet, conspiracy theory. It has really become mainstream. It's part of our political discourse and yeah, it's in the White House. We actually hear conspiracy theory reflected back to us from the president.
David Cromer, director, "Bug": Currently the conspiracy theorist-in-chief uses it as a weapon, uses it as an overt lie to control people, lie to people, and scare people.
The conspiracy theorists in this play need very badly to matter, and really desperately want an explanation.
I think those are two different things. We're bringing back the purity of the conspiracy theory with this production of "Bug."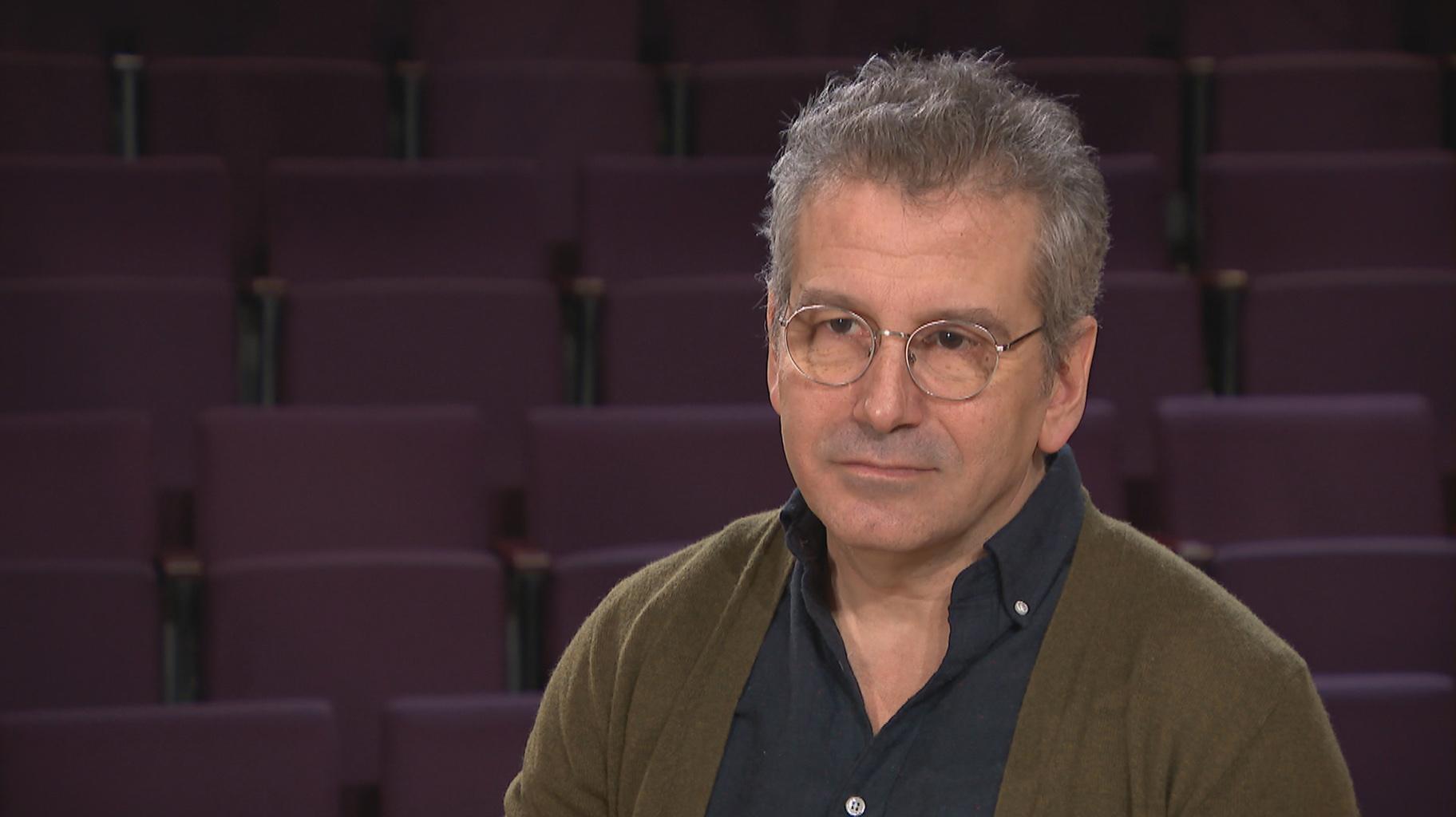 David Cromer
Letts: The reason you revisit a piece is not just because a number of years have gone by, or you think people want to see it again, the reason you revisit a piece is because you think the piece has something to say now.
Friedman: Next up, Letts opens his play "The Minutes" on Broadway in March. It premiered at Steppenwolf in 2017.
Letts will also be in the cast. It's the first time he's appeared in one of his plays.
And he was in two movies nominated for best picture this year – "Ford v Ferrari," where he portrayed Henry Ford II, and Greta Gerwig's "Little Women."
Coon: He's always in the Oscar clips, every year. Always the bridesmaid …
Letts: It's very strange. I'm very lucky. I got the chance to be part of couple of terrific movies, movies that I have no problem recommending to people to see, which is great, because sometimes you have to pick and choose who you recommend stuff to people but "Ford v Ferrari' and "Little Women" I have no problem saying, "Oh go see it, you'll love it."
Friedman: Carrie Coon will be featured in the summer reboot of the "Ghostbusters" franchise – in which her husband also appears.
They met in the cast of "Who's Afraid of Virginia Woolf" at Steppenwolf in 2010.
We asked this creative power couple if it's tricky to collaborate.
Letts: No. No. It's not, I mean we've done it many times now, we've collaborated several times, both as actors in a piece, onstage, actors in a film, actors on a TV series, playwright and actor. We've done it several times now and I think we're very comfortable with it. I like my wife and I like seeing her, not only at home, I like seeing her at work.
Coon: Sometimes, working together is the only way we can see each other, so we seek it out.  
---
More on this story
"Bug" runs through March 15 at Steppenwolf Theatre.
Tracy Letts and David Cromer both made their names in the Chicago theater community. We asked them to reflect on the factors that have created Chicago's worldwide reputation for making great theater.
Tracy Letts: I think it's a lot of things. I don't think it's any one thing. We have a real focus here on the work, on the storytelling. Because of that, we don't have a "star system" here in Chicago. We love our ensemble theater here in Chicago, so I think it makes for better work. And also, I have to say, our audiences are a big part of it. Audiences here in Chicago are really adventuresome. They're up for a new experience in the theater. If we do too many revivals here at Steppenwolf, we'll start to hear about it from our audiences. They want to see new work, they want to see new pieces. That's not true everywhere. It is a very unique theater environment here in Chicago.
David Cromer: A lot of people I know, we talk about this a lot. First of all, it's rich culturally. There's a lot of people here, lots of artists, and lots of ideas. And it is a place where creative people are drawn, but it is also a place where you can have access to the ability to do work. It is easier to make work and show work here than it is in New York. It is easier to find a space, to find people, to do it without bankrupting yourself. To do it while you're having to support yourself waiting tables. Because you can live here. The quality of life here is better, and so you have the opportunity to try and fail without being sort of pushed off the hill. New York, simply by its nature is sort of a game of king of the hill. There just is an opportunity, and if you do something ambitious, and you can do something in the store front, and you can do something in a bar, you can do something and it can be seen. That's what happened to me.
---