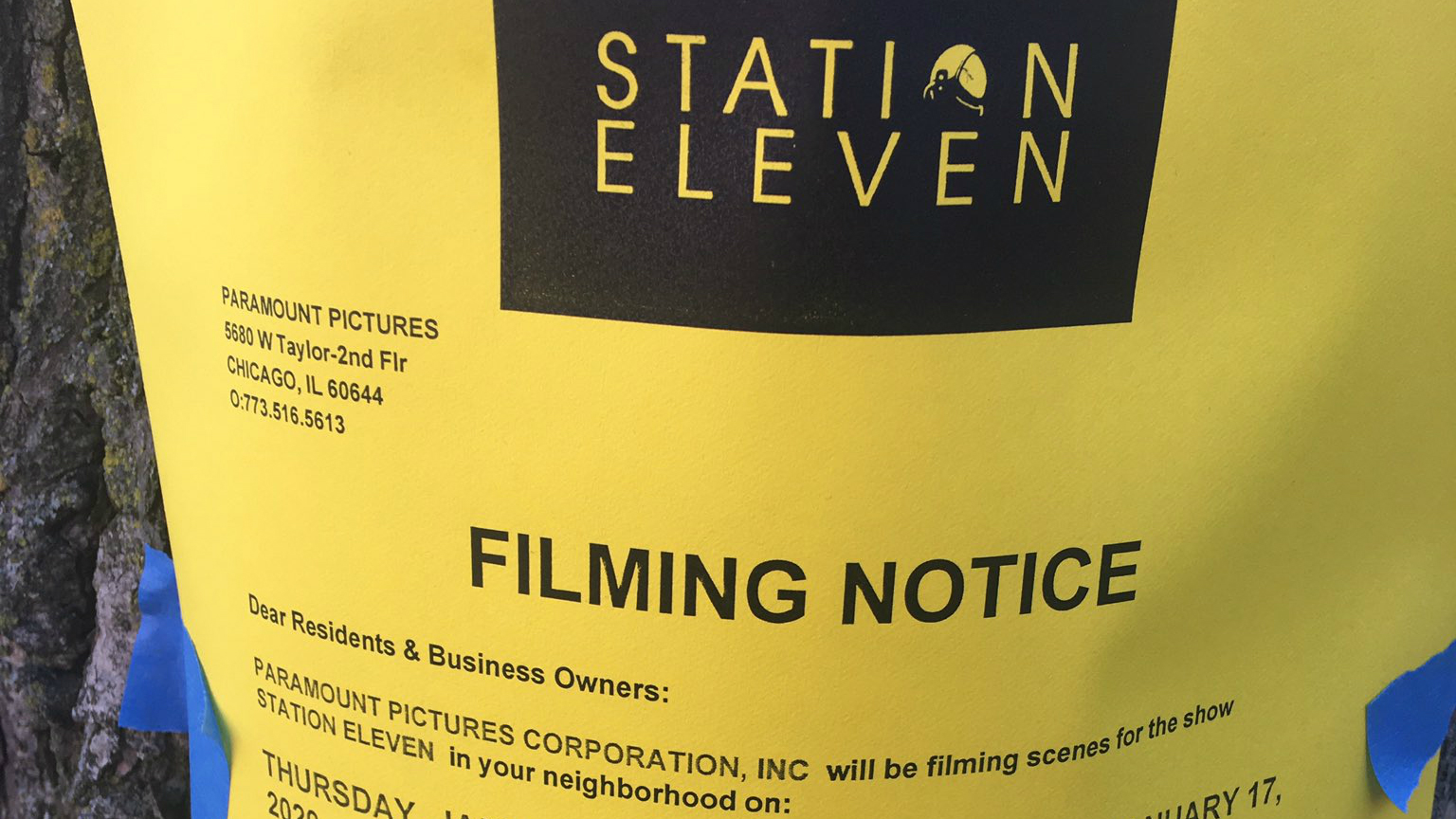 A photo of a filming notice for "Station Eleven" shared on Twitter.
Emily St. John Mandel's 2014 award-winning novel "Station Eleven," which tells the story of a swine flu pandemic that wipes out most of the world's population, is hitting close to home these days in more ways than one.
Plenty of fans of the book have noticed eerie parallels between Mandel's tale — classified as a work of science fiction by the publishing trade — and the current outbreak of the coronavirus.
Everyone read #stationeleven and prepare accordingly https://t.co/jQyvxNzSSY

— Kat Klosek (@Kat__JK) February 5, 2020
---
Isn't this the beginning of #stationeleven? pic.twitter.com/991lIawfHZ

— Ali Littman (@AliMcShpiel) February 4, 2020
---
Even the author admitted that the line between fact and fiction felt uncomfortably blurred.
To all the distressed readers in my mentions: we're in agreement that it just wasn't a great week to start reading Station Eleven, and I don't like to think about the coronavirus either.

— Emily St. J. Mandel (@EmilyMandel) January 26, 2020
---
But here's where things get even weirder. In what can only be termed as the mother of all coincidences, a 10-episode television adaptation of "Station Eleven," announced by HBO Max in summer 2019, began filming in Chicago in mid-January, the same week the first case of coronavirus was confirmed in the U.S.
The announced cast includes Gael Garcia Bernal ("Y Tu Mama Tambien"), Mackenzie Davis ("Terminator: Dark Fate") and Himesh Patel ("Yesterday"). Patrick Somerville, creator of Netflix's limited series "Maniac," is on board as a writer and executive producer, with Hiro Murai ("Atlanta") tapped to direct.
I don't know how I feel about #HydeParkChicago being the post-apocalypse pic.twitter.com/ecXTKymYDs

— Hyde Park Trish (@HydeParkTrish) January 23, 2020
---
"Station Eleven" is filming Friday in Uptown. @filming_chicago pic.twitter.com/YtHNldVtII

— Robert Loerzel (@robertloerzel) January 30, 2020
---
That moment you get home and catch @HimeshJPatel filming his new series STATION ELEVEN in your building!

I love living in Chicago. pic.twitter.com/We02U2mPda

— Jake Hamilton (@JakesTakes) January 20, 2020
---
@HBO BTS | #StationEleven #Chicago #HBOMax pic.twitter.com/QVzkcrQjzV

— Vallen Alexander (@TheValAlexander) February 2, 2020
---
If you want a peek at what the post-apocalypse looks like, @filminginchicago is a great place to track shooting locations.      
Station Eleven. Apparently our apocalyptic future contains a lot of really nice greenery. https://t.co/pZvoU2hlP5

— Filming in Chicago (@filming_chicago) January 25, 2020
---
Of course, this being Chicago, director Murai quickly discovered that when it comes to bleak environments, pretend pandemics have got nothing on winter. 
Contact Patty Wetli: @pattywetli | (773) 509-5623 |  [email protected]
---