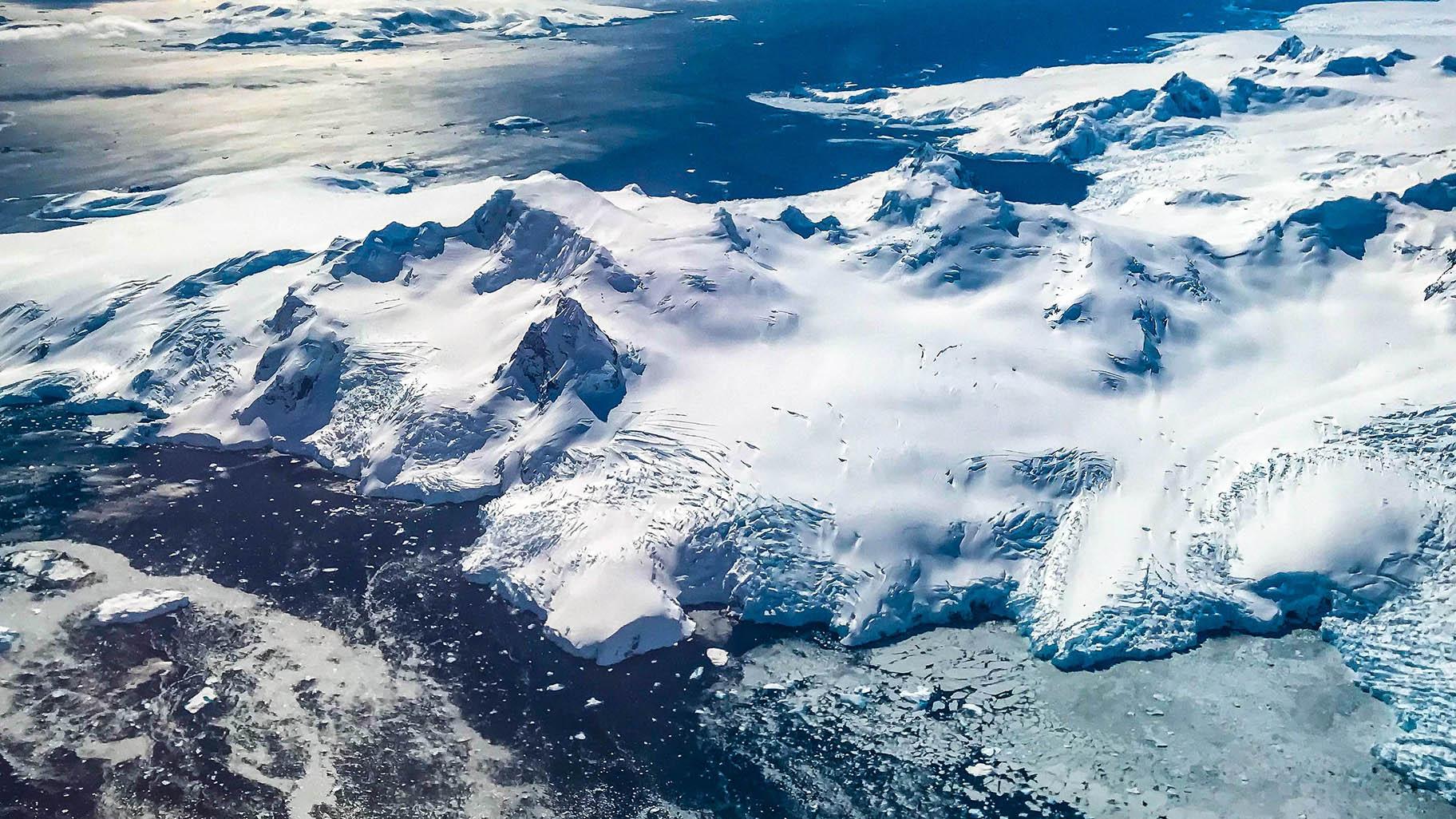 Photo from a 2017 NASA flight over Antarctica. (NASA Goddard Space Flight Center / Flickr)
One of the most significant events of 2017 took place when no one was looking. A massive iceberg the size of a small U.S. state tore free from an Antarctic ice shelf, and the only witness was the ice itself.
"It broke off in the dead of polar night, in a vacuum of human experience," University of Chicago glaciologist Doug MacAyeal told WBEZ Radio in a 2017 interview.
But in a unique partnership with a pair of experimental Chicago-based artists, Petra Bachmaier and Sean Gallero (collectively known as Luftwerk), MacAyeal was able to give the ice a voice and thereby humanize an aspect of climate change that can otherwise seem unknowable.
MacAyeal, who's studied glaciers for more than 40 years (and even has an Antarctic ice stream named in his honor), provided Luftwerk with recordings of seismic vibrations he'd collected from a previous Antarctic iceberg rupture, a process known as "calving." The duo turned this inaudible sonic data into frequencies humans could hear, and placed the resulting primal, animalistic soundtrack at the center of a 2017 installation at Riverside Plaza called "White Wanderer."
This weekend, the story continues.
Saturday at Millennium Park, the public will have an opportunity to hear a new musical composition, "Requiem: The White Wanderer" by Katherine Young, based on those same seismic vibrations collected by MacAyeal.
A pair of concerts featuring the composition, at 5 p.m. and 7 p.m. on the enclosed stage of Pritzker Pavilion, will be accompanied by a weekend-long sound installation and series of sound walks on the pavilion's lawn, designed to take visitors on an aural journey to a land few have ever seen.
"It allows the ice to speak for itself," MacAyeal said in 2017. "It's an old thing that's speaking, something large and old and stately."
Though an iceberg calved from an ice shelf doesn't itself contribute to a rise in sea level, the chipping away of Antarctica's numerous shelves is of concern. The shelves serve as a dam, and without them there's nothing to hold back glaciers from flowing directly into the sea. 
But the remoteness of Antaractica, more than 9,000 miles from Chicago and a world away from the urban experience, can make it difficult to create a connection between there and here.  
"White Wanderer," the original and its sequel, both aim to bridge that distance. 
Said MacAyeal of the value of the project, "Some aspect of Antarctica is being made accessible to the average person." 
Registration is recommended for Saturday's concerts, as seating is limited (click here). A small number of tickets will be set aside for walk-ups. The sound installation will run Friday through Sunday, 11 a.m. to 6 p.m.; the sound walk schedule is available online, with MacAyeal leading one at 8 p.m. Saturday.
Contact Patty Wetli: @pattywetli | (773) 509-5623 |  [email protected]
---
---