The Ramova Theatre in Chicago's Bridgeport neighborhood has seen better days.
Sitting vacant since 1986, the onetime movie house today looks like it belongs in its own horror film &dnash; minus the zombies and gore.
But while the Ramova has sat empty for decades, a group of neighborhood residents – including real estate agent Maureen Sullivan – have never quite let its memory go.
"I went to the Ramova when I was 4 years old to see Bambi, and was hooked ever since then," Sullivan said.
The Ramova played an outsize role in Sullivan's upbringing in Bridgeport, as it did for many others she grew up with.  
"As teenagers that's what we did," she said. "We hung around [the Ramova] pretty much all day, and hung out with our peers and people we had never met before from different places."
In 2005, Sullivan started organizing the Save the Ramova campaign to make sure the theater didn't get torn down – and maybe even one day restored. 
"We got in touch with Preservation Chicago and we started working with them on a petition, and shortly thereafter we had about 4,000 signatures and a lot of stories about what it meant to people around here," she said.
For the next 15 years there was a lot of talk, but not much action. That is, until late 2019, when a New York developer named Tyler Nevius arrived in Bridgeport with an ambitious plan to redevelop the space.
"I'd say the vision as far as what this will be is an 1,800-person music venue with a world class, independent craft brewery on the premises and a phenomenal, reimagined Ramova Grill," he said. 
Nevius – who works in the entertainment industry – plans to transform the decrepit old theater into a performance hub, which could host upwards of 100 shows a year.
Ald. Patrick Daley Thompson, 11th Ward, who represents most of Bridgeport, says the plan has so far been met with overwhelming support.
"We had about 300 or so people at a meeting for the Ramova, and I've never been involved in a meeting where it was unanimous – everybody in the office was excited," he said.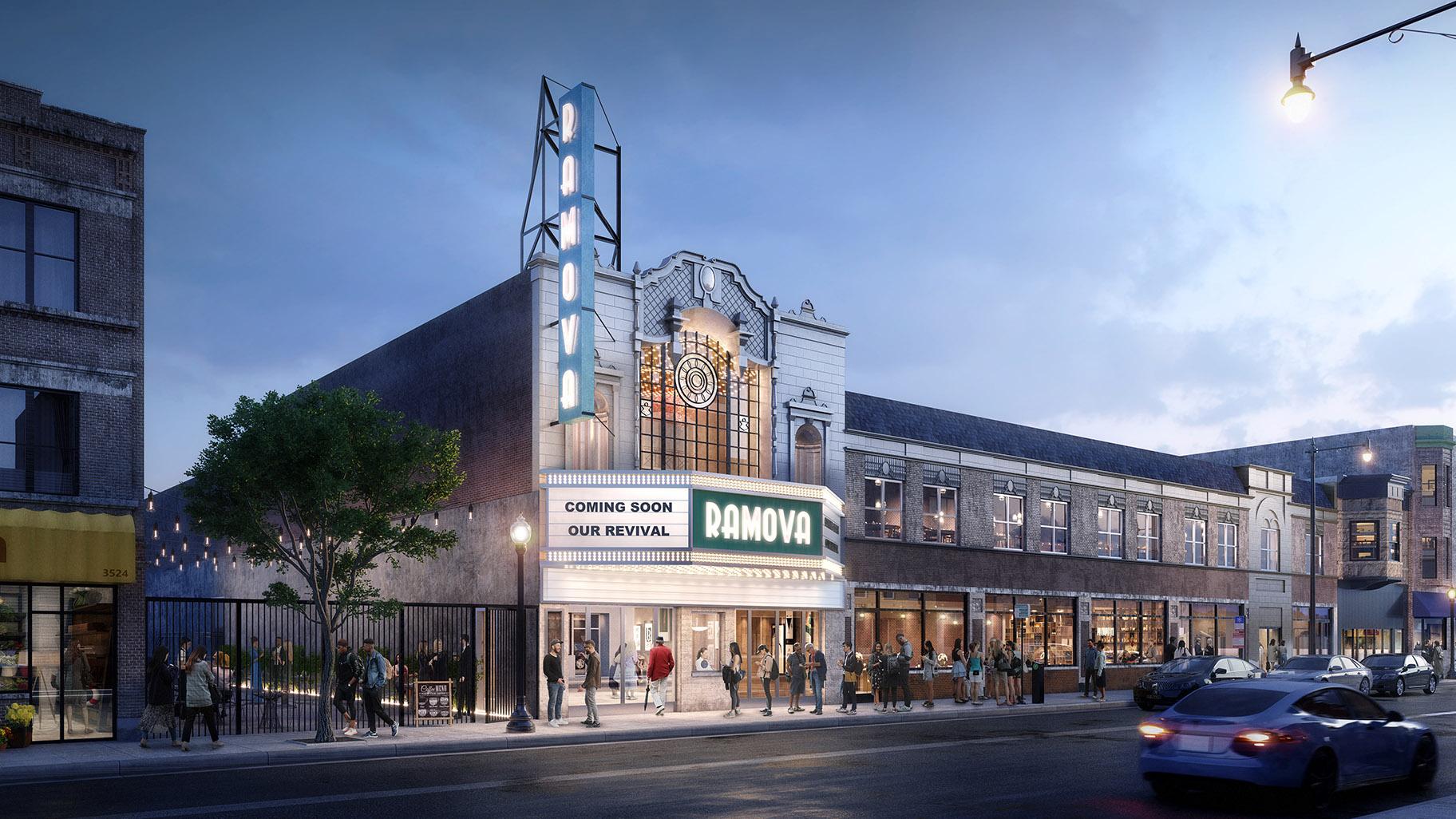 A rendering of the proposed renovation of the Remova Theatre in Bridgeport. (Credit O'Riley Office LLC)
Over the past few months, the redevelopment proposal has cleared some major hurdles – including approval by the city's Plan Commission last week.
But the theater is in rough shape, and the project is expected to cost close to $23 million – $6.6 million will come from Tax Increment Financing, or TIF, and another million from the state of Illinois. The city of Chicago is selling the property to Nevius for just $1. The rest will come from private investors and loans.
Thompson says the substantial amount of public money going to the project is well worth it; the theater will incentivize development along this stretch of Halsted Street.
"It'll absolutely be a tremendous engine for revitalization and redevelopment down here," he said.
Part of that revitalization will include the attached restaurant, an updated version of the long-running Ramova Grill, which closed a few years ago. 
That will be overseen by chef Kevin Hickey, a sixth-generation Bridgeport resident who owns the Duck Inn restaurant in the neighborhood. 
"We're going to do a fun chef-driven diner concept in homage to the original Ramova Grill," he said. "We'll also have a brewery, with a taproom, multiple bars throughout the venue, main bar at entrance, satellite bars depending on the kinds of events that we have."
Bands and performers at the new Ramova will be booked in-house -- and the owners say they're in the early stages of putting together a community benefits agreement.
If all goes according to plan – including approval from the full City Council in February – construction could begin as early as spring, with a goal of opening by summer 2021.
After years of advocating for restoration, Sullivan says she's cautiously optimistic the project will go forward – and absolutely thrilled at its potential.
"A building like this is something we can't build again, and once it's gone we've lost it forever. I'd really like to grow the neighborhood but I'd also like to preserve our history, and have those touchstones for us to remember where we came from," she said.
---