If you regularly check nutrition fact labels at the grocery store, you may have noticed some recent changes – namely, the addition of added sugars and realistic serving sizes.
Those changes and others went into effect Jan. 1 for food manufacturers whose revenues exceed $10 million annually per new Food and Drug Administration guidelines. Companies whose revenue is less than $10 million have another year to comply, as do single-supply manufacturers of items such as sugar and honey.
"Some deceitful food labeling practices of the past are being done away with," said Emmaline Rasmussen, a registered dietitian at NorthShore University HealthSystem, of the updated nutrition fact labels.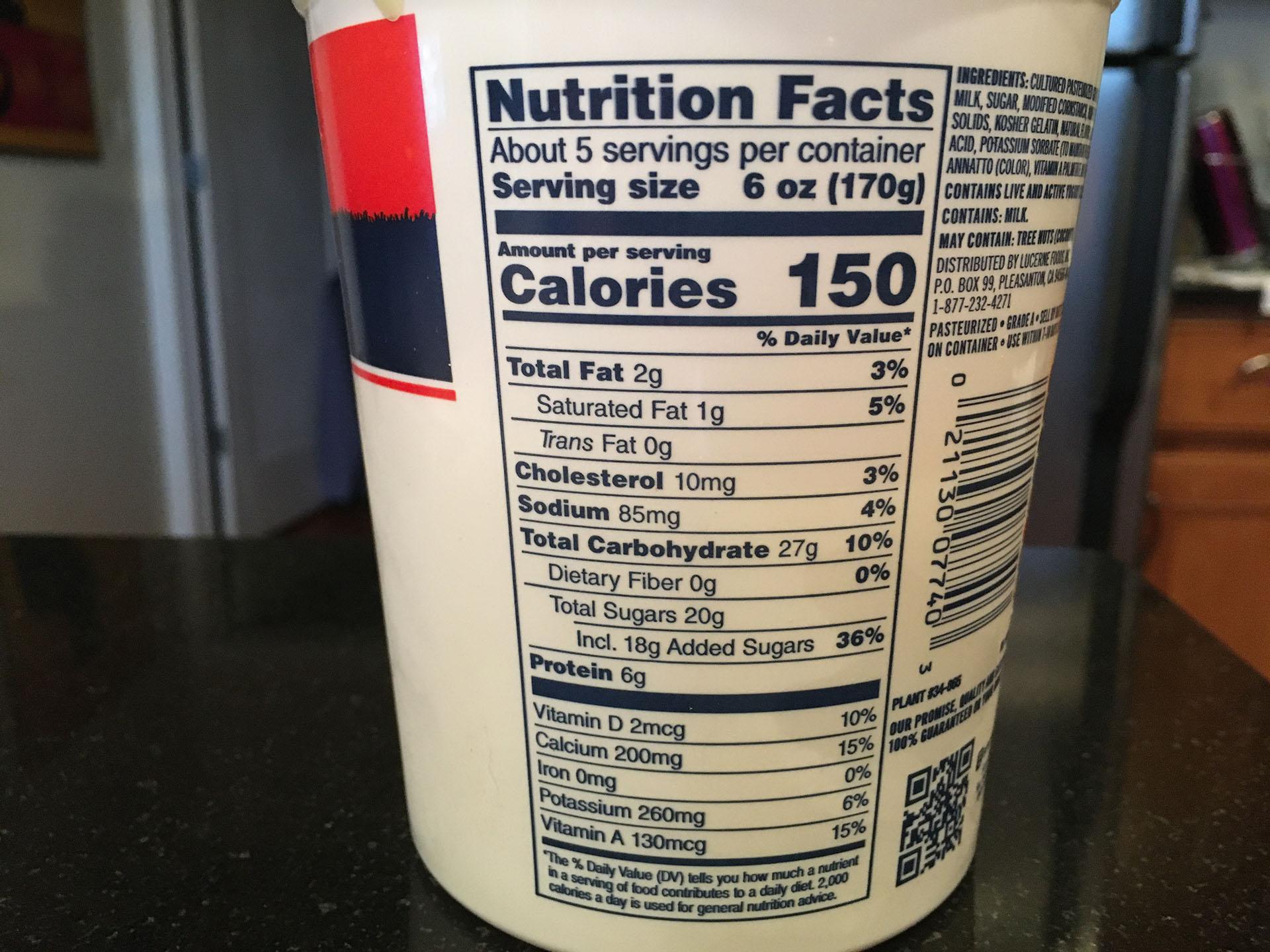 A nutrition fact label for vanilla yogurt shows a 6-ounce serving contains 20 grams of sugar – of which 18 grams are added sugars. (Kristen Thometz / WTTW News)
The most important change? Listing how much added sugar a product contains per serving, Rasmussen says.
"We're starting to realize how detrimental sugar is," she said. "These processed sugars might cause inflammation to the body, contribute to weight gain and other chronic health conditions, such as diabetes, cancers and Alzheimer's disease."
Providing information on added sugars allows people to better control the amount they consume, according to Rasmussen. Flavored yogurt, for example, often contains a lot of added sugar, and informed shoppers can make better choices.
"As products are now being labeled appropriately with added sugar, people will compare different brands based on their health goals," said Rasmussen. The best option, though – if you prefer a fruit-flavored yogurt – is to add fresh fruit to plain yogurt, which doesn't have any added sugars, she said.
Shoppers may also spot new serving size information – the most noticeable change to nutrition labels, says Rasmussen. "(Serving sizes) were previously written to make it look like you were eating less calories, and people would be more likely to buy a product if it was lower in calories, sugar and fat."
Now, serving sizes are more realistic, reflecting the amount a person would actually consume. For instance, a nutrition label for a large cookie now accounts for the entire cookie – in the past, it may have reflected half the cookie or a third of the cookie, according to Rasmussen. "This is giving people better nutritional information. It's not recommended to consume the entire large cookie in one sitting, but now people know this is how many calories you're getting from it."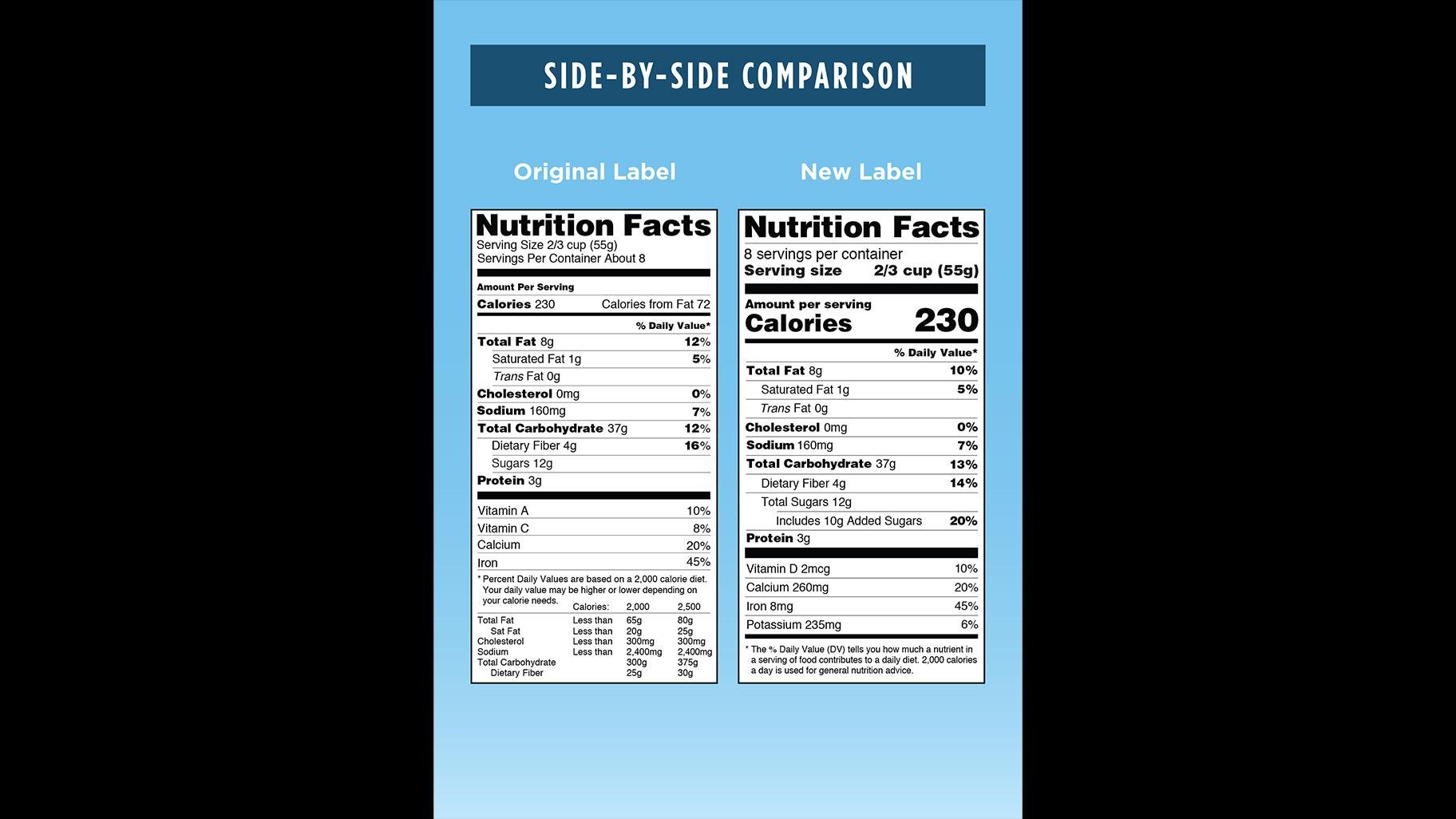 A side-by-side comparison of the previous label and new version. (Click to enlarge.)
Also new: dual column labels on packages that could be consumed in one sitting or in multiple sittings, such as a pint of ice cream or a 24-ounce bottle of soda. One column lists the number of calories and nutrients per serving, another lists nutritional information for the entire package.
"I hope by seeing the quantity of calories you get from an entire bag of chips, people will put less on their plate," Rasmussen said.
The new label also uses larger font sizes and includes the amount of Vitamin D and potassium products contain.
Overall, Rasmussen hopes the updated nutrition labels lead people to make healthier choices. "I hope they choose versions of the foods they like with the least added sugar and still focus on (buying) more whole foods than processed foods in general," she said. "A lot of the foods that are healthiest for us don't have labels because they're coming from the produce section of the store."
Rasmussen's advice for your next grocery trip: "Shop the perimeter of the store, where the whole food items are that don't have food labels."
For more information about nutrition fact labels, visit the FDA website.
Contact Kristen Thometz: @kristenthometz | (773) 509-5452 |  [email protected]
Note: This story was first published Tuesday, Jan. 21, 2020. It will be updated with video.
---