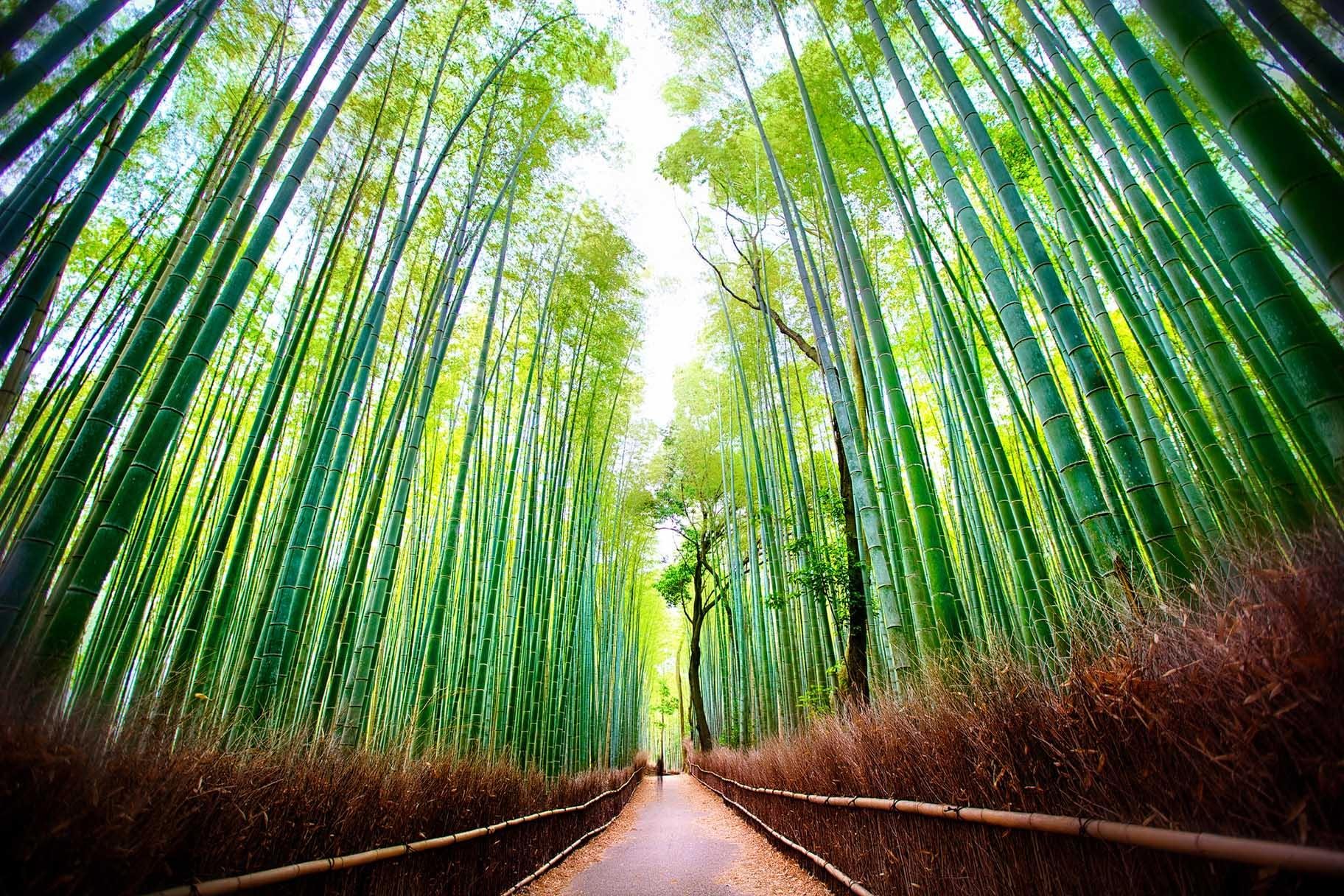 Arashiyama Bamboo Forest, Japan (Daniel Peckham / Flickr)
Instagram may have a reputation for presenting an unrealistic, filtered view of life, but there's nothing fake about the beauty of forests.
The folks at the travel service Taxi2airport.com tallied up the number of hashtags accumulated on the social media platform by the world's woodsy preserves and national parks and came up with an unscientific list of the "most Instagrammed forests."
Germany's Black Forest led the way with nearly 1.5 million hashtags (some of them, albeit, associated with Black Forest cake), followed by the Amazon Rainforest and England's Sherwood Forest. California's Sequoia National Forest and Washington's Olympic National Forest cracked the Top 10, facing stiff competition from Japan's zen-like Arashiyama Bamboo Forest and the enchanting lakes of China's Jiuzhaigou Valley.
But there's no need to travel outside of the greater Chicago area in search of a 'Gram-worthy forest. There are some breathtaking views in the city's own back yard.
First, the Top 10 Most Instagrammed:
The Black Forest, Germany | 1.5 million hashtags
The Schwarzwald is Germany's biggest nature park.
---
Amazon Rainforest, South America | 198,000 hashtags
The world's largest tropical rainforest, containing 1.4 billion acres of dense forests.
---
Sherwood Forest, England | 142,000 hashtags
AKA the "Robin Hood forest," Sherwood's main attraction is the Major Oak, the biggest oak tree in Britain, estimated to be 800 to 1,100 years old. Legend has it that Robin Hood and his Merry Men used the tree for shelter. 
---
Arashiyama Bamboo Forest (also called Sagano Bamboo Fores t), Japan | 84,000 hashtags
The grove of towering bamboo is one of the most photographed sights in Kyoto.
---
Mossy Forest, Malaysia | 65,000 hashtags
A moist tropical evergreen forest that grows at the highest elevations of mountain ranges across Malaysia.
---
Atlantic Forest, Brazil | 53,000 hashtags
Second only to the Amazon in terms of its diverse ecosystem, the Atlantic Forest once stretched for 386,000 miles along Brazil's coast. Only 7% of that forest remains.
---
Jiuzhaigou Valley National Park, China | 53,000 hashtags
This UNESCO World Heritage Site is often described as a "magical fairyland." Its breathtaking features include brilliant multicolored lakes.
---
Sequoia National Forest, United States | 50,000 hashtags (486,000 hashtags for Sequoia National Park)
Giant sequoias are the world's largest and longest living trees. The General Sherman Tree in Sequoia National Park is the largest living organism, by volume, on the planet.
---
Bialowieza Forest, Poland | 50,000 hashtags
Bialowieza is one of the last remants of a vast primeval forest that once stretched across the European Plain. It's home to 800 European bison, the heaviest land animal on the continent.
---
Olympic National Forest, United States | 43,000 hashtags (380,000 hashtags for Olympic National Park)
Situated on Washington's Olympic Peninsula, the forest's terrain ranges from ocean beaches to rain forests to mountain ridges.
---
Now for some local lovelies, which are mightier than their hashtag count. 
Indiana Dunes National Park; Porter, Indiana.
Come for the sand, stay for the forests. Or sometimes, both.
---
Cap Sauers Holding Nature Preserve, Cook County, near Palos Park
The Illinois Nature Preserves Commission has designated Cap Sauers one of the highest quality natural areas in the state. Its miles of trails lead to some of the most remote areas in Cook County.
---
Swallow Cliff Woods, Cook County
A 100-foot bluff and challenging fitness stair climb are the main attractions, which means a lot of people are missing out on a lovely walk in the woods, even in winter.
---
Harms Woods, Cook County
Hey, Jiuzhaigou, we can do mirrored images too.
---
LaBagh Woods, Cook County
It may not be primeval, but LaBagh does a good imitation of an ancient swamp when it floods.
---