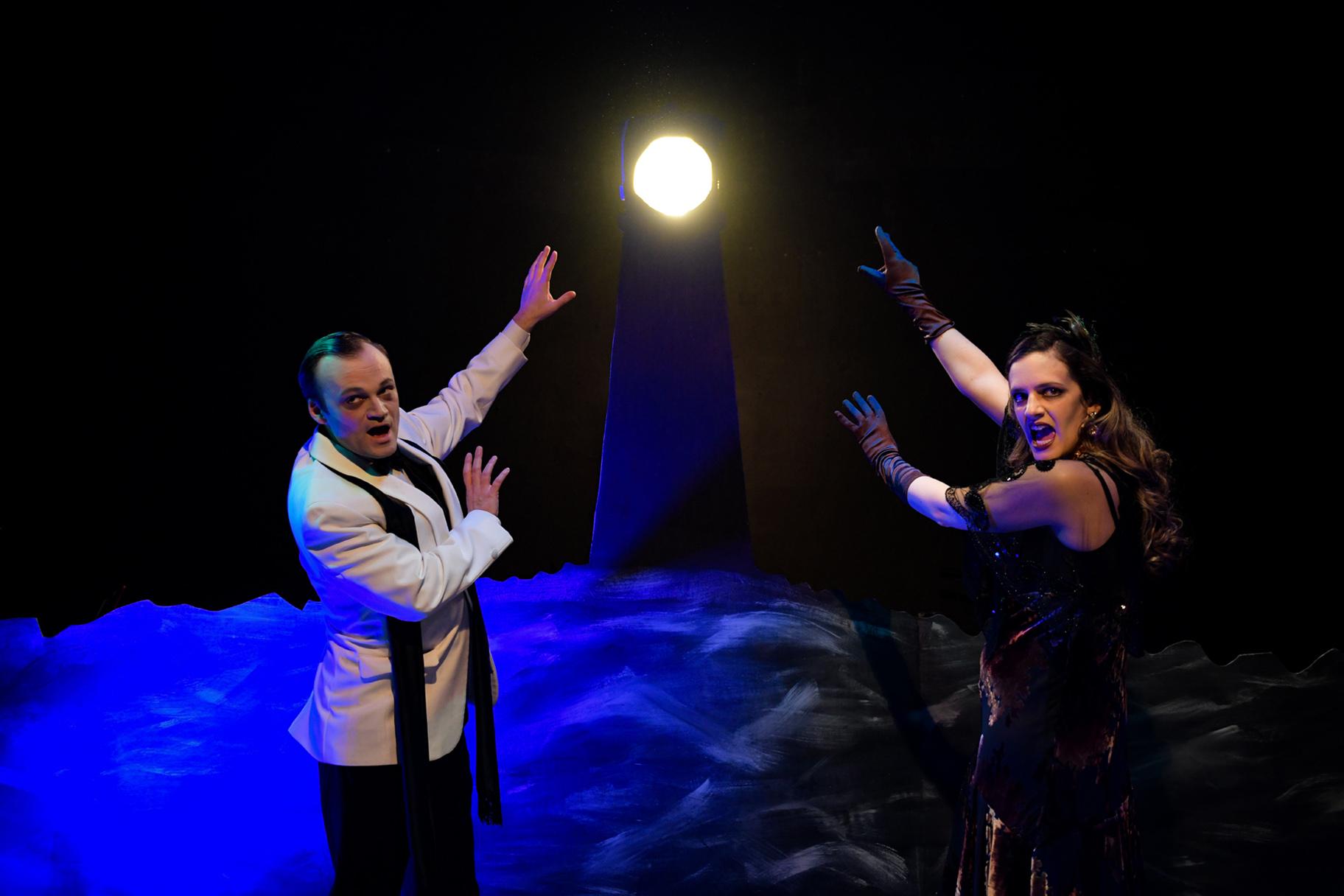 Kevin Webb and Mikaela Sullivan in Black Button Eyes Productions' Chicago premiere of "Whisper House." (Photo by Evan Hanover)
You know you are about to enter some very dark territory when the opening song of a musical suggests the characters you are about to meet might well be "better off dead." And for much of its ideally realized 90 minutes, this sentiment often seems like the best possible fate for the inhabitants of "Whisper House," the stylishly macabre, morally challenging show by Duncan Sheik (of "Spring Awakening" fame) and Kyle Jarrow. The show is now receiving its Chicago premiere by Black Button Eyes Productions, whose formidable director, Ed Rutherford (in collaboration with choreographer Derek Van Barham) continues to demonstrate his unique flair for dramatizing the more ghostly aspects of earthly existence.
"Whisper House" is about what war, and guilt, and fear, and loneliness, and death can do to people. It also is about the redeeming features of love and kindness and forgiveness. And be advised that the multiple refrains and variations on the song titled "Better To Be Dead" manage to be both unsettling and, at times, blackly comic.
The time is 1942, in the wake of the Japanese attack on Pearl Harbor, when the U.S. government instituted its policy of internment of Japanese Americans. The place is a lighthouse on the coast of Maine at a time when fear was building about German U-boats attacking U.S. ships in Atlantic coastal waters.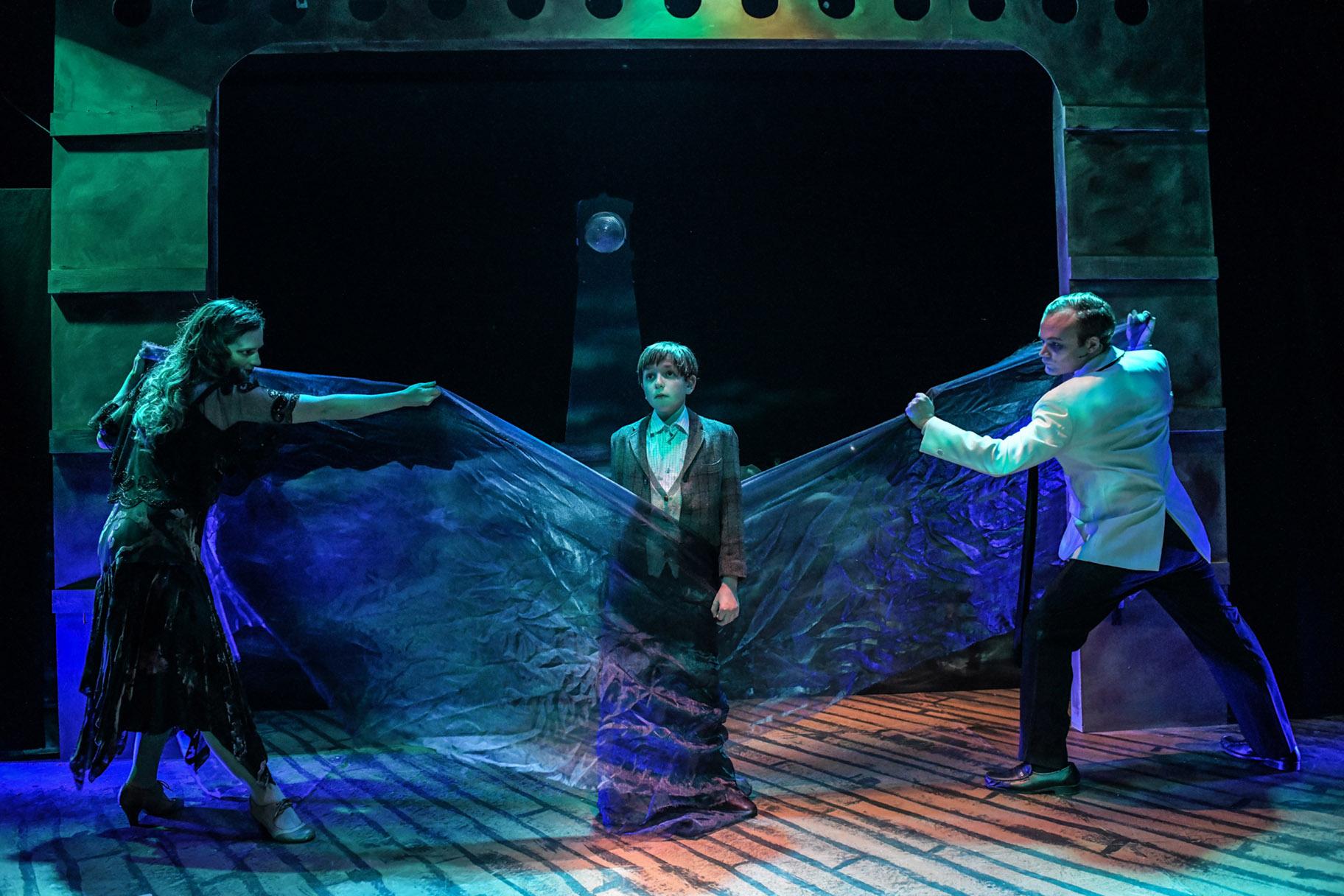 From left: Mikaela Sullivan, Leo Spiegel and Kevin Webb in "Whisper House." (Photo by Evan Hanover)
At the center of the story is Christopher (Leo Spiegel), a sensitive, precocious young boy who is sent to live with his aunt, Lily (Kate Nawrocki), after his father has been shot down and killed in a Japanese attack, and his mother has suffered a severe mental breakdown and been sent to a sanitarium.
Lily, who has a crippled foot, and has lived an isolated existence for many years as a kind of self-punishment for a terrible accident that resulted from an act of youthful carelessness involving her and her brother, has little sympathy for the boy. Her only friend is another loner – Yasuhiro (Karmann Bajuyo) – a man of Japanese heritage who serves as her invaluable engineer and superintendent, and lives in the lighthouse's bell tower.
Lost, lonely and desperate to return to his mother, Christopher hears ghostly sounds in his new environment. They might well be the voices of the two fashionably dressed Ghosts who serve as the droll narrators of the musical, have their own backstory related to the lighthouse, and are played in fine cabaret style by the golden-voiced Mikaela Sullivan and Kevin Webb, a gifted veteran of Black Button Eyes' shows.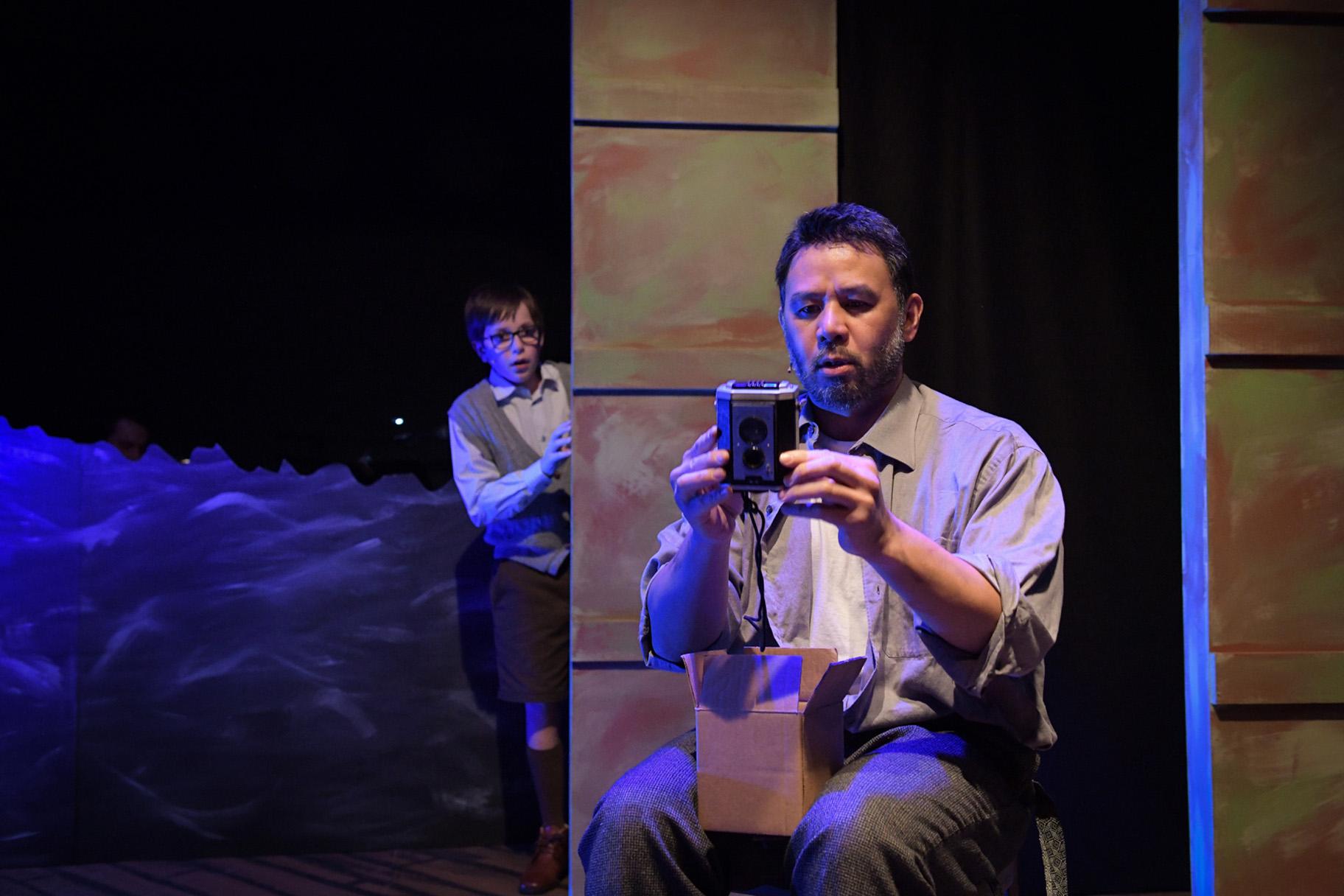 Leo Spiegel, left, and Karmann Bajuyo in "Whisper House." (Photo by Evan Hanover)
A tense friendship gradually develops between Christopher and Yasuhiro. But it is abruptly upended after the town sheriff (T.J. Anderson) demands Yasuhiro be turned in as an enemy alien. The sheriff uses Christopher's allegiance to his dad to appeal to the boy's "heroism" and patriotism, and this results in a complex act of betrayal and loss of innocence.
Spiegel, who acted in the productions of the (recently shuttered) Emerald City Theatre since the age of 3, gives a most winning and quietly sophisticated performance as Christopher. Nawrocki expertly captures Lily's hard shell and suppressed yearning. And Yasuhiro deftly suggests the pain of a man who can never feel fully at home.
Music director Micky York (on keyboard and harp) does full justice to the Sheik/Jarrow score, with its alluring music and slyly biting lyrics. The fine band also includes Gordon Gest (reeds), Evan Pinter (guitar and bass), Sarah Younker (horn), Cali Kasten (drums) and actor T.J. Anderson (trumpet) doing double duty.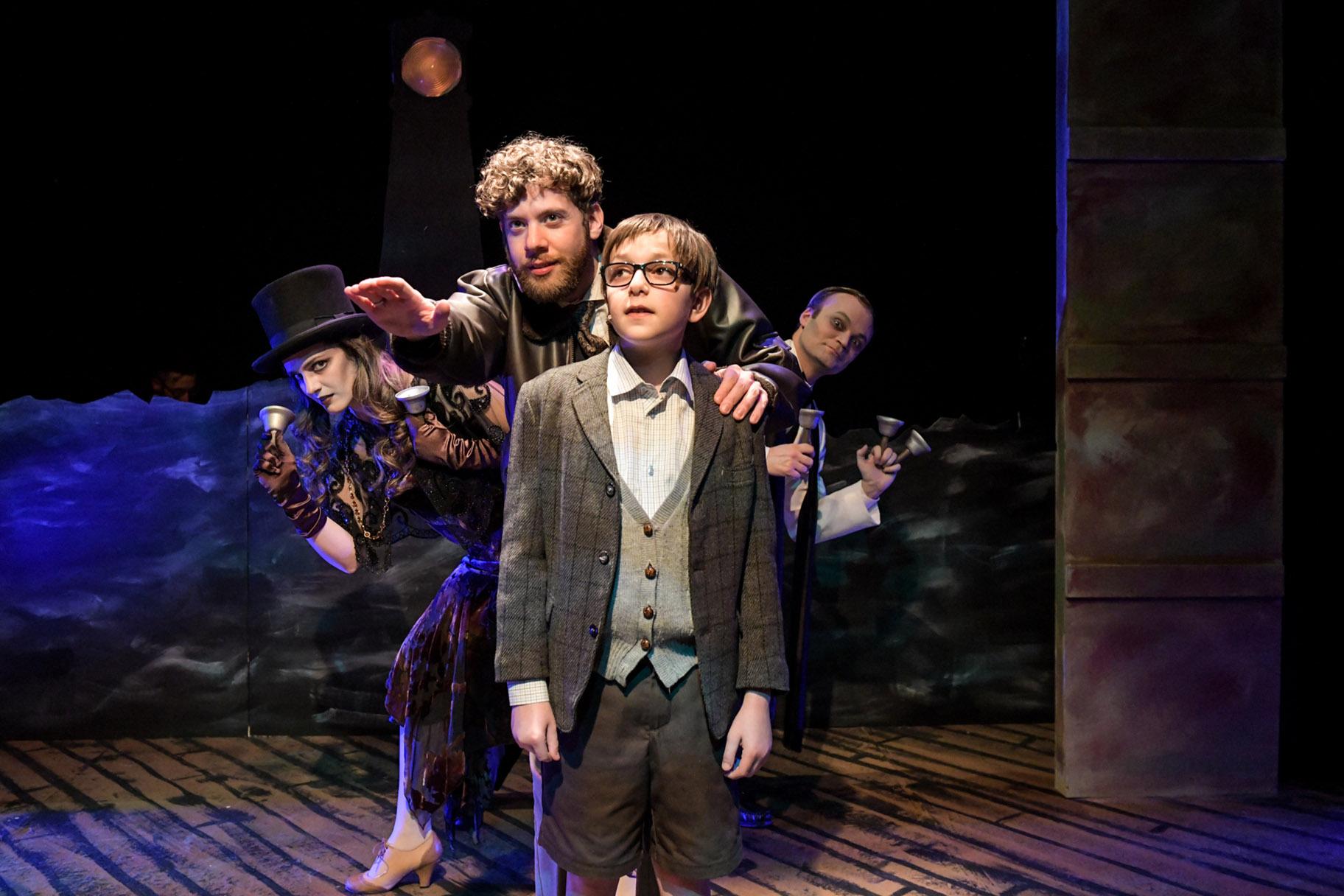 From left: Mikaela Sullivan, T.J. Anderson, Leo Spiegel and Kevin Webb in "Whisper House." (Photo by Evan Hanover)
The onstage musicians are cleverly hidden by Nikolaj Sorensen's evocative set and Liz Cooper's lighting. And Rachel M. Sypniewski's costumes supply just enough high style for the Ghosts with real-life basics for the rest.
The musical, which debuted at San Diego's Old Globe Theatre in 2010, will have its off-Broadway debut in March in a production by The Civilians at the 59E59 Theaters. But the intimacy, raw truth and knowing style of Chicago's Black Button Eyes production will be hard to beat.
"Whisper House" runs through Feb. 15 at the Athenaeum Theatre, 2936 N. Southport Ave. For tickets ($30) call (773) 935-6875 or visit athenaeumtheatre.org. Running time us 90 minutes with no intermission.
Follow Hedy Weiss on Twitter: @HedyWeissCritic
---