Circus arts, comedy and cabaret come together at Teatro ZinZanni.
Six months into its run, the show has completely juggled its cast. New performers include two people with Chicago ties but very different backstories. One came from a West African school for acrobats; the other grew up in Peoria, Illinois, and wound up a protégé of Prince.
TRANSCRIPT
Paris Schutz: An acrobatic strongman rehearses his gravity-defying act.
His name is Alseny Sylla, and he moved to Chicago in 2016.
Alseny Sylla, Teatro ZinZanni: I'm from Guinea, West Africa.
I came when I was young with the company so I started circus when I was 9 years old.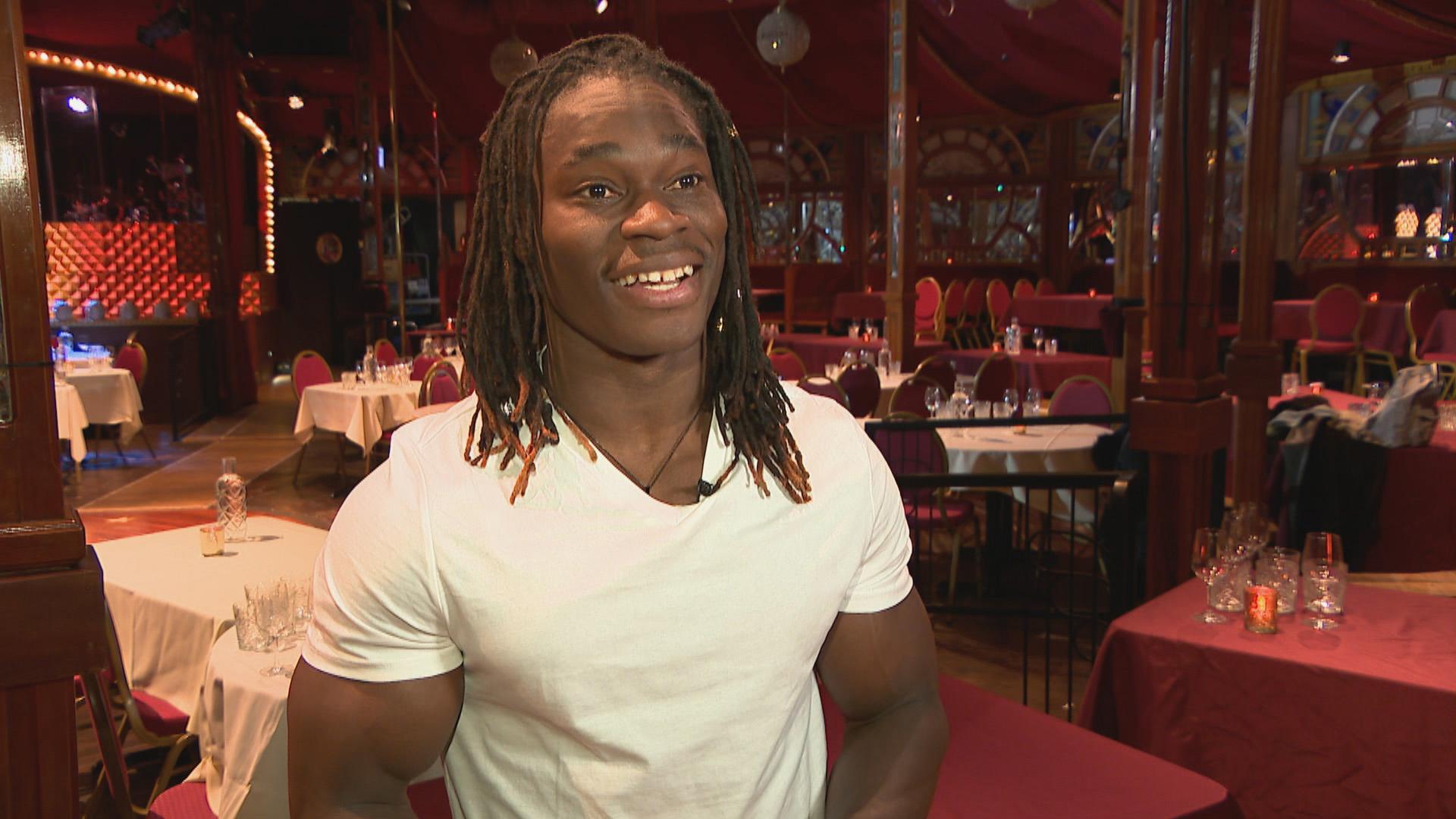 Alseny Sylla (WTTW News)
Schutz: Though he lives and works in Chicago, Sylla is in demand all over the world.
He first studied his craft at the Center for Acrobatic Arts in his hometown of Conakry, Guinea.
Sylla: In my country, we have a lot of circus community over there. We do a bunch of like tumbling, human pyramid.
Schutz: He moved to Canada, then to Chicago, and he had to adjust to the local weather and culture.
Sylla: The weather, the culture, everything was different so I had to try to get used to. Canada was colder than Chicago, but Chicago's more windy.
Schutz: He also teaches acrobatics and works as a personal trainer.
When training, he told us, he does not use weights.
Sylla: I don't lift weight, so most of my training is bodyweight training and calisthenics. Lifting your own weight and also building the strength and core.
Schutz: Sylla is one of a slew of new acts at Teatro ZinZanni – the ever-evolving show where Vegas meets vaudeville and dinner is served.
Another new hire is the singer Liv Warfield.
Liv Warfield, Teatro ZinZanni: I'm a native of Peoria but I've been living here in Chicago for about four years now.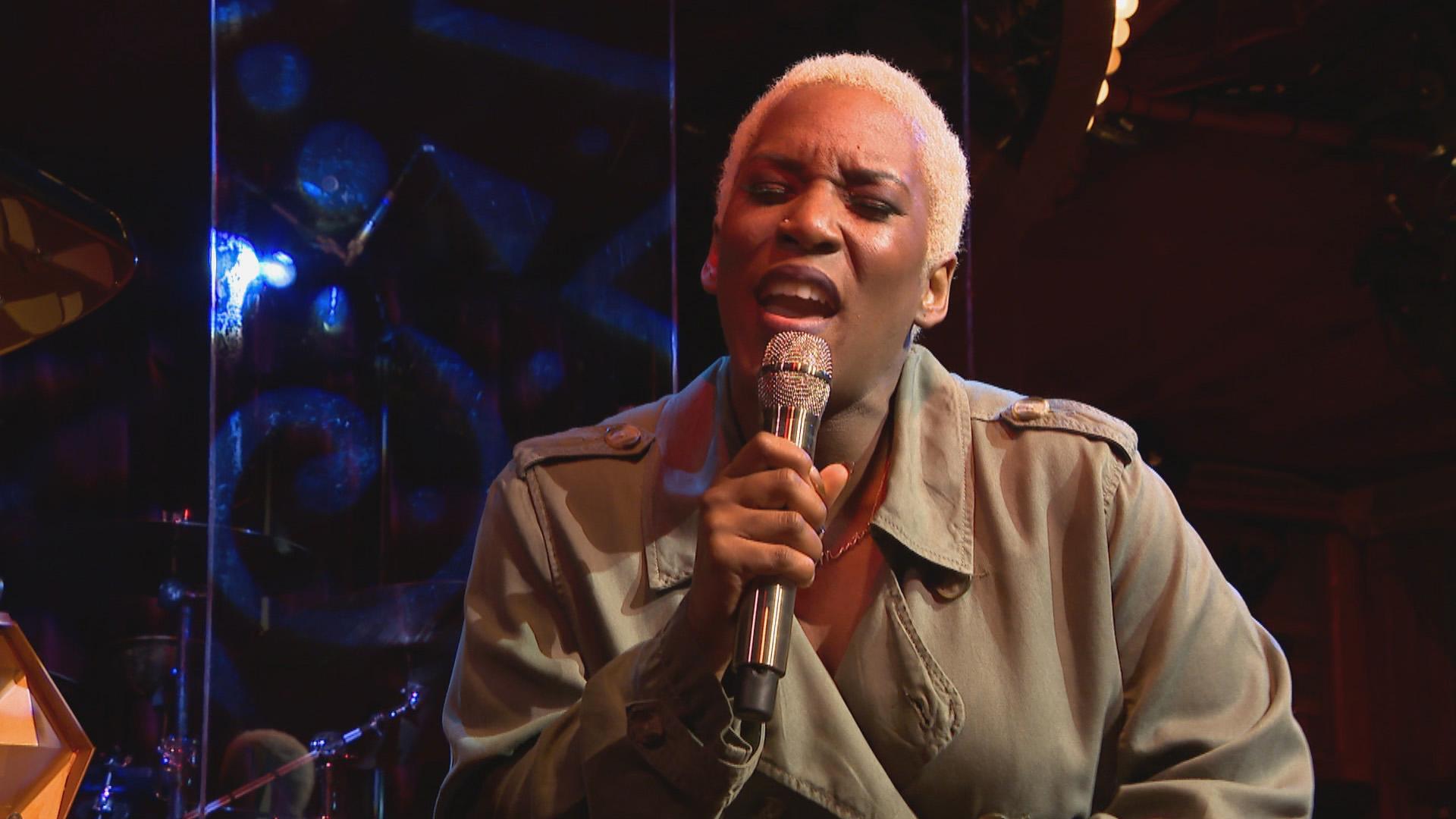 Liv Warfield (WTTW News)
I started my own band and after that I actually got discovered by Prince, and I was part of New Power Generation for about eight years and then started my own career.
And now I'm here in the circus!
Schutz: She toured with Prince, and he was executive producer of her album "The Unexpected." We asked her what it was like to be in Prince's orbit.
Warfield: He was a supernova. He was constantly telling us to create, and constantly telling us to be our authentic selves.
I really am so thankful to him for that because he was constantly pushing me at a time when I was still trying to figure out who I was in the music industry, on stage, and he just always allowed me that chance to find out who I was, where he's this superstar, but he was always just … he was selfless, and he always really pushed us to create, just really be able to create, yeah.
Schutz: Warfield has high marks for her fellow artists in Teatro ZinZanni.
Warfield: We have a crazy cast.
There are all kind of feels you get from this place. You can cry, you can laugh.
When you come here into this tent you just have to surrender yourself to it and know that you're gonna expect the unexpected, basically.
Schutz: Sylla told us that the audience is an important part of the show.
Sylla: The first thing that I want to make audience feel like, I want them to feel like we do it together. I want them to feel like I'm inside of them and we all do it together. I like to see them happy and for me to see that face when they're happy, it's kind of responding to me, so I get more energy.
---
More on this story
Since we first aired this story on Jan. 13, 2020, Liv Warfield has moved on to do a tour. Check out her latest band here.
Learn more about Alseny Sylla here.
Teatro ZinZanni's new cast performs six days a week in a show called "Love, Chaos and Dinner." They perform on the 14th floor of the Cambria Hotel in the Loop.
---