It's extremely rare for coyotes to attack humans, experts say, but on Wednesday, two people – including a 6-year-old boy – were bitten in separate events in Chicago just hours apart, the Chicago Tribune reports.
Between 3,000 and 4,000 coyotes live in Cook County, and hundreds if not thousands live in Chicago, according to Seth Magle, director of the Urban Wildlife Institute at Lincoln Park Zoo. "Most animals live around us all the time and never create these kinds of problems," he said. "Attacks are very, very rare. They are scary and sad when they do happen."
Magle doesn't know what prompted the attacks Wednesday, but believes a lone coyote is likely responsible, given the incidents happened within several hours and close proximity. (The 6-year-old boy was reportedly bitten on the head near the Peggy Notebaert Nature Museum; later on Wednesday, a 32-year-old man was bitten in the buttocks while walking on a sidewalk in the 700 block of North Fairbanks Court, according to the Tribune.)
(Courtesy of Urban Wildlife Institute / Lincoln Park Zoo)
"When these kinds of events happen, often it's the result of a few things. One could be people are hand-feeding these animals. When animals are hand-fed, they associate humans with food and that can lead to attacks," Magle said.
Illnesses and stress could also prompt coyotes to become aggressive and approach humans. "This is certainly not normal behavior. It's concerning, and I suspect it's a relatively isolated incident," he said.  
Coyote encounters with humans usually result in the animal running away or igorning the people and continuing to go about its business, Magle said, adding there is no need to report such instances. "If I see a coyote walking around, I like to get a picture of it on my phone because I think they're fun and cool to watch," he said.
But aggressive behavior from coyotes, such as growling or snarling, is not normal behavior, Magle said. Nor is it normal for them to directly approach a person. "If a coyote is behaving unusually, approaches you or is acting aggressive, call 311 and Animal Care and Control," Magle said. "And if a coyote is directly approaching you and it's on your property, you can haze them – make a lot of noise, bang pots and pans."
While coyote attacks are rare, they are more likely to occur this time of year because animals are moving around more in their search for food, which may be in limited supply, according to Magle.
Even a mild winter, such as this one, could lead to food shortages. "We don't know what's happening with the rabbit population or the squirrel population, so even in a mild winter, we could still expect food to be the most scarce," Magle said.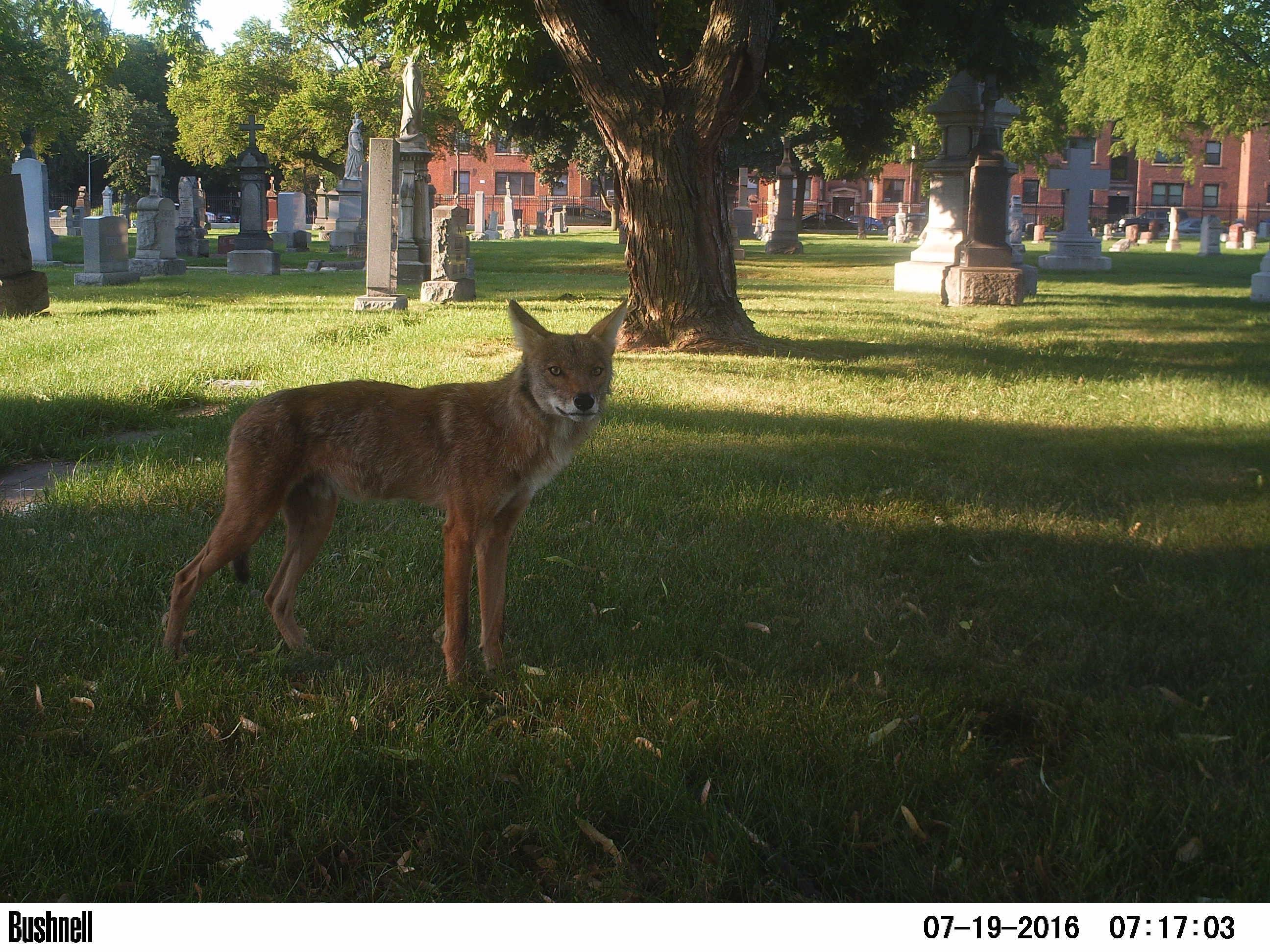 A coyote in Chicago. (Courtesy of Urban Wildlife Institute / Lincoln Park Zoo)
In Chicago, coyotes are most active between midnight and 3 a.m., but incidents involving humans, such as the two attacks Wednesday, are more likely to occur around dawn and dusk, according to Magle. "I'm not sure why that's the case, but that tends to be when events (like these) tend to spike," he said.
To avoid a potential coyote encounter, people should be mindful of their environment and keep a close eye on children and dogs, which should be kept on a close leash when walked, according to Magle. Keeping garbage securely contained is also a good idea, so animals don't associate human garbage with food.
"I don't think people need to be panicked or alarmed," Magle said. "It's a good opportunity to remind ourselves we live in a city with wildlife."
Contact Kristen Thometz: @kristenthometz | (773) 509-5452 |  [email protected]
---