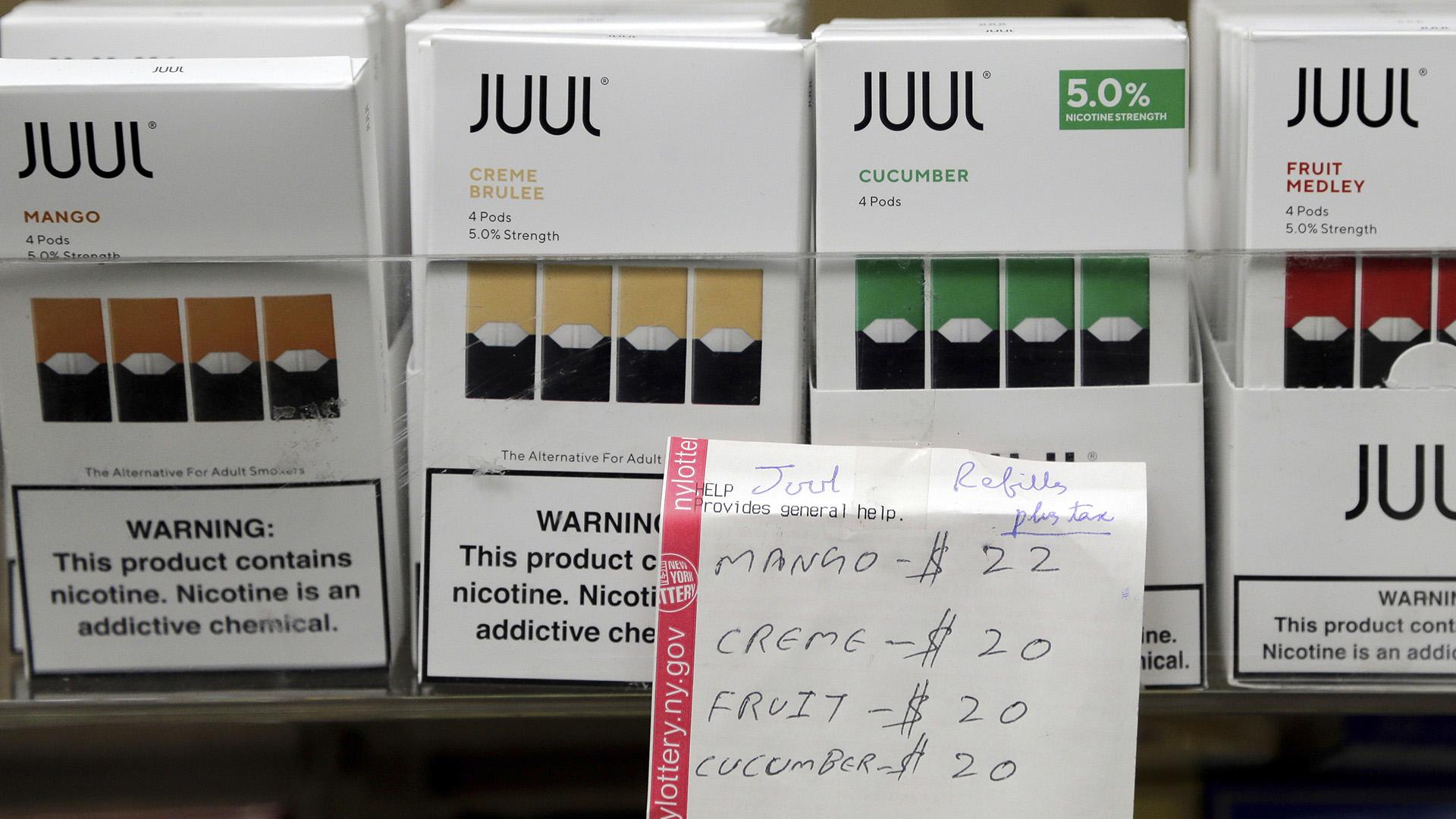 In this Thursday, Dec. 20, 2018 file photo, Juul products are displayed at a smoke shop in New York. (AP Photo / Seth Wenig)
Starting in early February, the Food and Drug Administration will prohibit the sale of some flavored e-cigarette cartridges, including fruit, mint and candy flavors. 
The agency on Thursday announced the shift in policy, which it says is not a ban, as part of an effort to curb the use of e-cigarettes by young people.
According to the National Youth Tobacco Survey, more than 5 million American students reported using e-cigarettes in 2019, up from 3.6 million in 2018. The majority of those students used flavored tobacco products, according to the survey.
Menthol and tobacco-flavored e-cigarettes will remain on the market. Officials say data shows youth are less likely to use those flavors, which serve as an alternative to traditional cigarettes for adults.
"Protecting American youth from the dangers of addiction is one of the most important public health duties we have," Health and Human Services Secretary Alex Azar said. "We will not stand idly by as this crisis among America's youth grows and evolves, and we will continue monitoring the situation and take further actions as necessary."
The new rules will also exempt large, tank-based vaping devices, which are primarily sold in vape shops that cater to adult smokers. Companies that do not stop making and distributing restricted products under the new policy risk penalties by the FDA, including fines and seizures.
U.S. Sen. Dick Durbin, who called on the FDA to take action to curb the vaping epidemic in September, said Thursday's announcement was a "positive step," but more needs to be done.
"While today's announcement is a step in the right direction, this policy still has a number of gaping holes. For instance, we should be removing all e-cigarette flavors from the market – including menthol – as was promised four months ago," Durbin said in a statement. "And we should not be exempting flavored nicotine products that kids can access in vape shops. There is simply no public health benefit to allowing cotton candy and gummy bear nicotine flavors to remain on vape shop shelves."
Officials say all electronic nicotine delivery systems currently on the market, including e-cigarettes and e-liquids, are illegal because none of them have received premarket authorization by the FDA. "E-cigarettes have remained on the market because we have been expressing enforcement discretion," Azar said.
But starting next month – an exact date is TBA – the FDA will prioritize enforcement against illegally marketed products by focusing on flavored cartridges (other than tobacco or menthol), as well as products that target youth or are likely to promote youth use. The FDA policy also requires manufacturers to take adequate measures to prevent minors from accessing illegally marketed products.
"While we expect that responsible members of industry will comply with premarket requirements, we're ready to take action against any unauthorized e-cigarette products as outlined in our priorities," said FDA Commissioner Dr. Stephen M. Hahn, in a statement. "We'll also closely monitor the use rates of all e-cigarette products and take additional steps to address youth use as necessary."
The FDA is not permanently halting the sale of all flavored products or cartridge-based vaping products. According to officials, the agency has already started reviewing applications for flavored vaping products. If a company can demonstrate to the FDA that a specific product meets the applicable standard set forth by Congress in the Tobacco Control Act, including considering how the marketing of the product may affect youth initiation and use, then the FDA could authorize that product for sale.
The Associated Press contributed.
Contact Kristen Thometz: @kristenthometz | (773) 509-5452 |  [email protected]
---