A new program at Cook County Jail teaches inmates how to make biodiesel fuel from cooking oil used in the jail's dining halls.
Two of the Cook County sheriff's utility trucks, which transport supplies throughout the county, run exclusively on the biodiesel produced at the jail.
Unlike petroleum diesel, which is made through a process of refining crude oil, biodiesel is a clean-burning and renewable fuel made from vegetable or animal-based fats.
Corrections officer Tony Lordo first explored the idea in January, when he began processing the fuel with a homemade kit.
After months of research and experiments, the jail invested $11,000 in a biodiesel processor in November and started its first class soon after in the jail's Mental Health Transition Center.
"We started out by making small batches. We didn't have this processor up until a few months ago," Lordo said. "Prior to that, I had to scavenge pieces and bits and baubles throughout the county in order to make my own processor and this just makes it so much easier."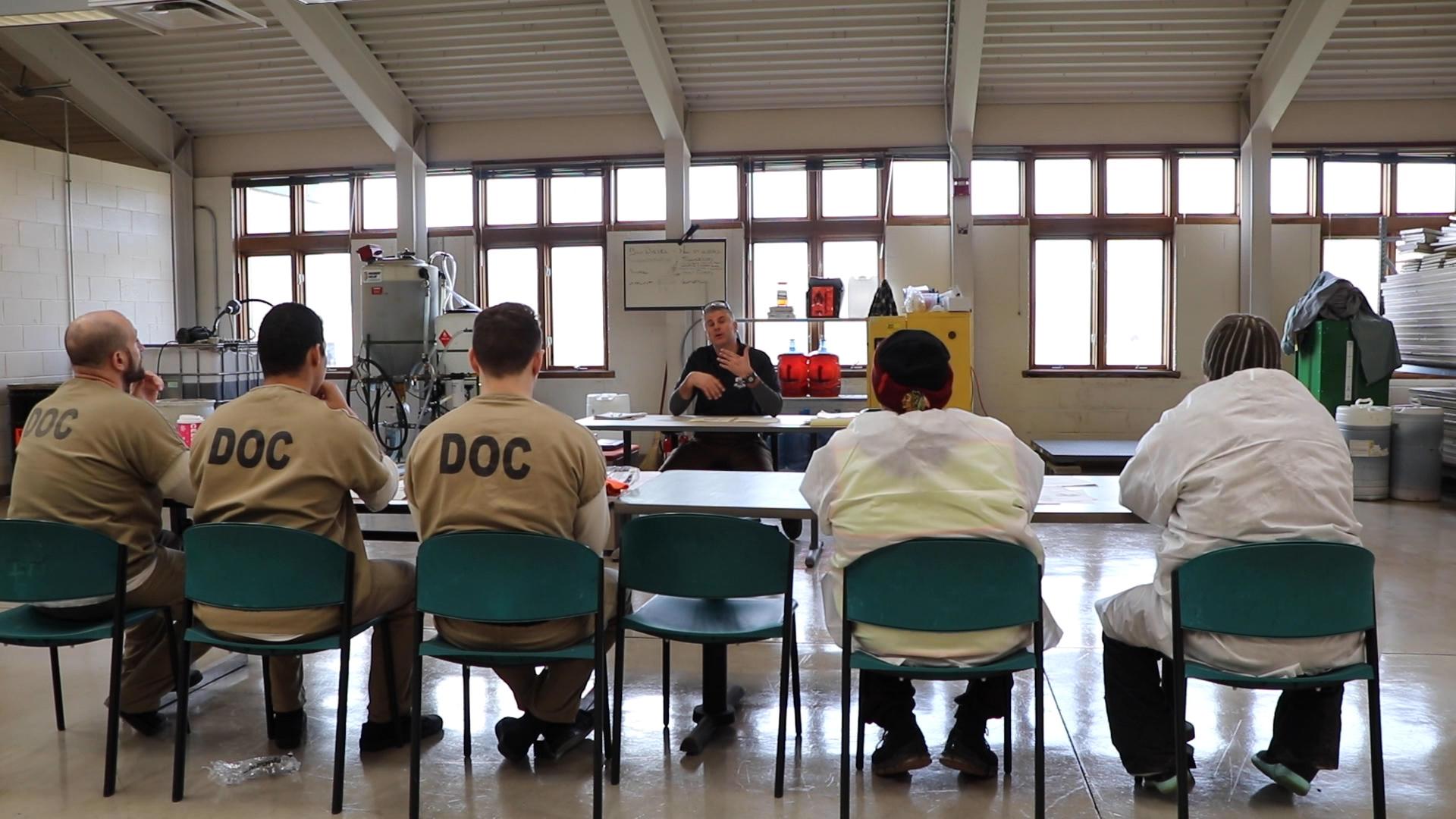 Corrections officer Tony Lordo speaks to Cook County Jail's first biodiesel program class, which meets at the jail's Mental Health Transition Center. (Evan Garcia / WTTW News)
Lordo's first class has five students: three are inmates within the MHTC, which offers therapy and job training; another is on probation and the fifth participates in the jail's work diversion program.
"The whole point is to maybe get you to look past last indiscretions," Lordo told the class during a recent visit by WTTW News. "Things happen, life goes on, but I want you guys to move forward – life is awesome and it's big and it's beautiful and there are a lot of cool avenues to go. 
"No matter how far down we fall, we always look to go forward. We don't want to go back, OK?"
The process starts with week-old vegetable oil used to fry food in the jail's officer dining hall or the county's juvenile detention center. The waste is transported to the MHTC, where it's strained to remove excess bits of food.
"The material is there – the county has to purchase the oil in order to cook the food to begin with, throughout all the county facilities that have kitchens," Lordo said. "If we could reclaim that oil and process it into fuel, it's a win-win."
Next comes transesterification: an important chemical reaction that takes place within the processor.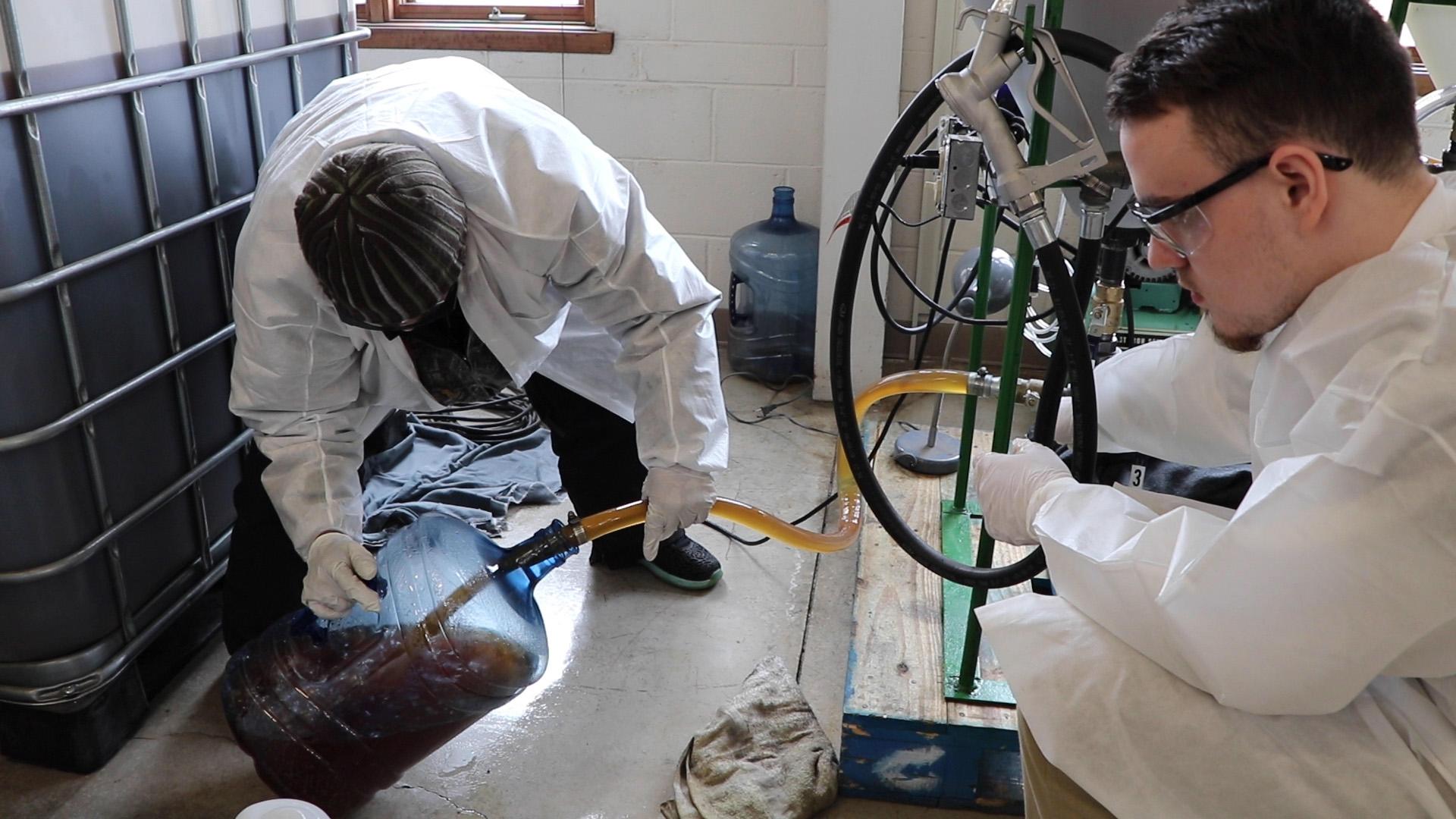 Biodiesel fuel is bottled up at the end of the transesterification process. (Evan Garcia / WTTW News)
Vegetable oil contains triglycerides – chemical compounds composed of three fatty acids and a glycerol. When the vegetable oil reacts with methanol, i.e. alcohol, in the presence of a catalyst – in this case, potassium hydroxide – the chemical reaction produces biodiesel and glycerin, which sits at the bottom of the 40-gallon tank.
The glycerin is separated and drained – Lordo said the jail has plans to turn it into fertilizer and hand soap.
What's left is biodiesel, which is bottled up and ready to fill in a truck's diesel fuel tank. Most diesel engines can run on biodiesel, although in colder weather the fuel can thicken.
The sheriff's office said the program has produced 400 gallons of biodiesel since Lordo started processing the fuel in January. 
Cook County Sheriff Tom Dart estimates the program will save the jail $15,000 to $20,000 a year in diesel fuel costs, but underscored its rehabilitative value on inmates who return home after serving time.
"It's giving people this view of their ability to impact the environment," Dart said. "That you alone can do something here that's going to bring back all these benefits to our communities around us."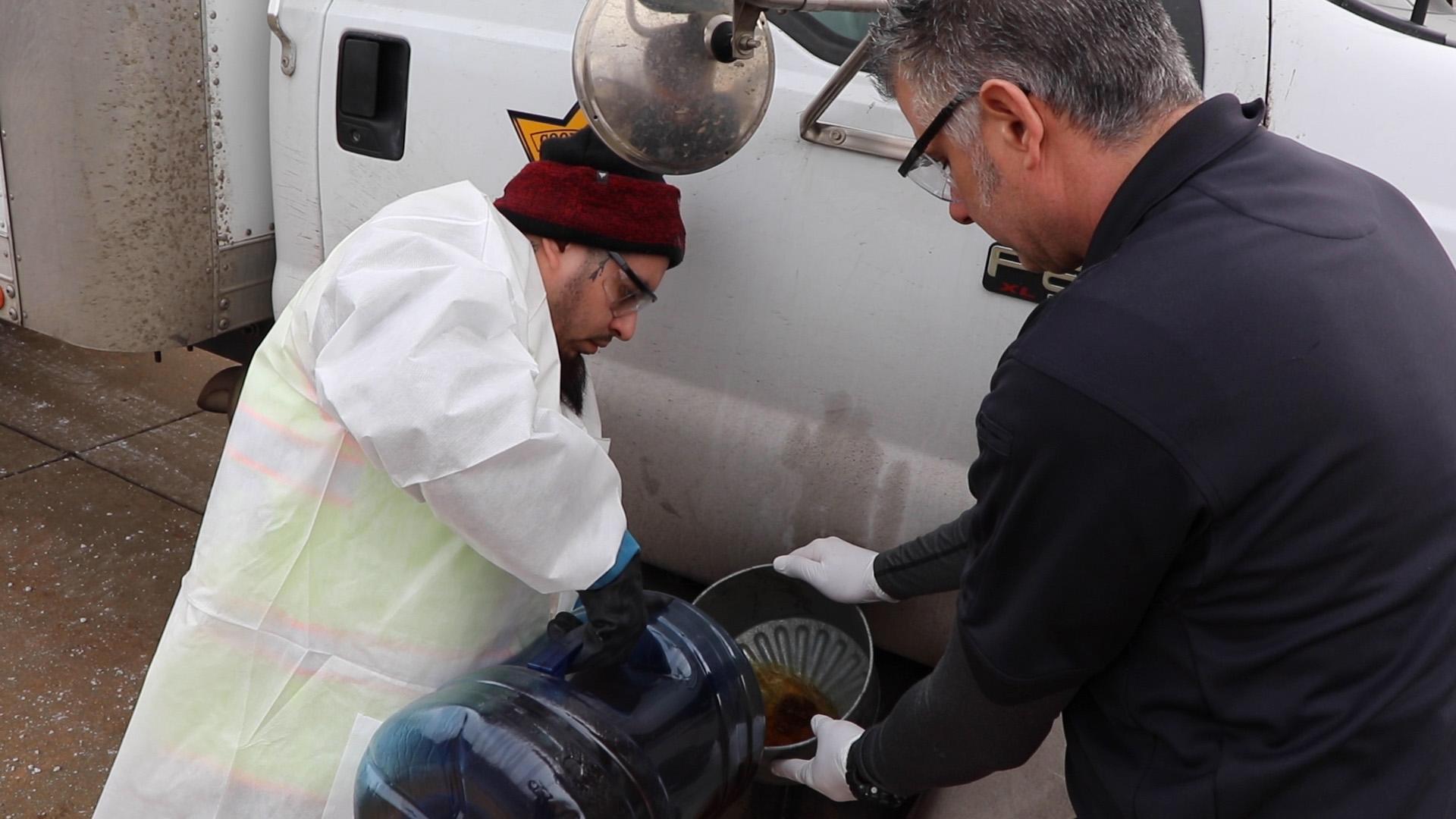 A Cook County Jail utility truck is filled with biodiesel fuel. Two trucks run exclusively on biodiesel fuel and the jail plans to switch two more trucks from petroleum diesel to biodiesel within the next few months. (Evan Garcia / WTTW News)
Harris Coteus plans to put the education and experience towards future job or entrepreneurial prospects.
"It's awesome to learn something like this that I can use when I get out of here," Coteus said. "I work in restaurants and I would like to get into doing a food truck business and this is something I could use in the future."
The jail makes B100, which is 100% biodiesel that's not mixed with petroleum diesel. Argonne National Laboratory found that B100 reduces carbon dioxide emissions, which contribute to global warming, by 74% compared to petroleum diesel.
Follow Evan Garcia on Twitter: @EvanRGarcia
Note: This story was first published Dec. 18, 2019.
---
Related stories:
Beekeeping Behind Bars: Inmates Raise Bees at Cook County Jail
'Labor of Love' Drives Meticulous Stivers Coffee Operation in Pilsen
Preservationists Rally Around Thompson Center as Pritzker Prepares for Sale
---