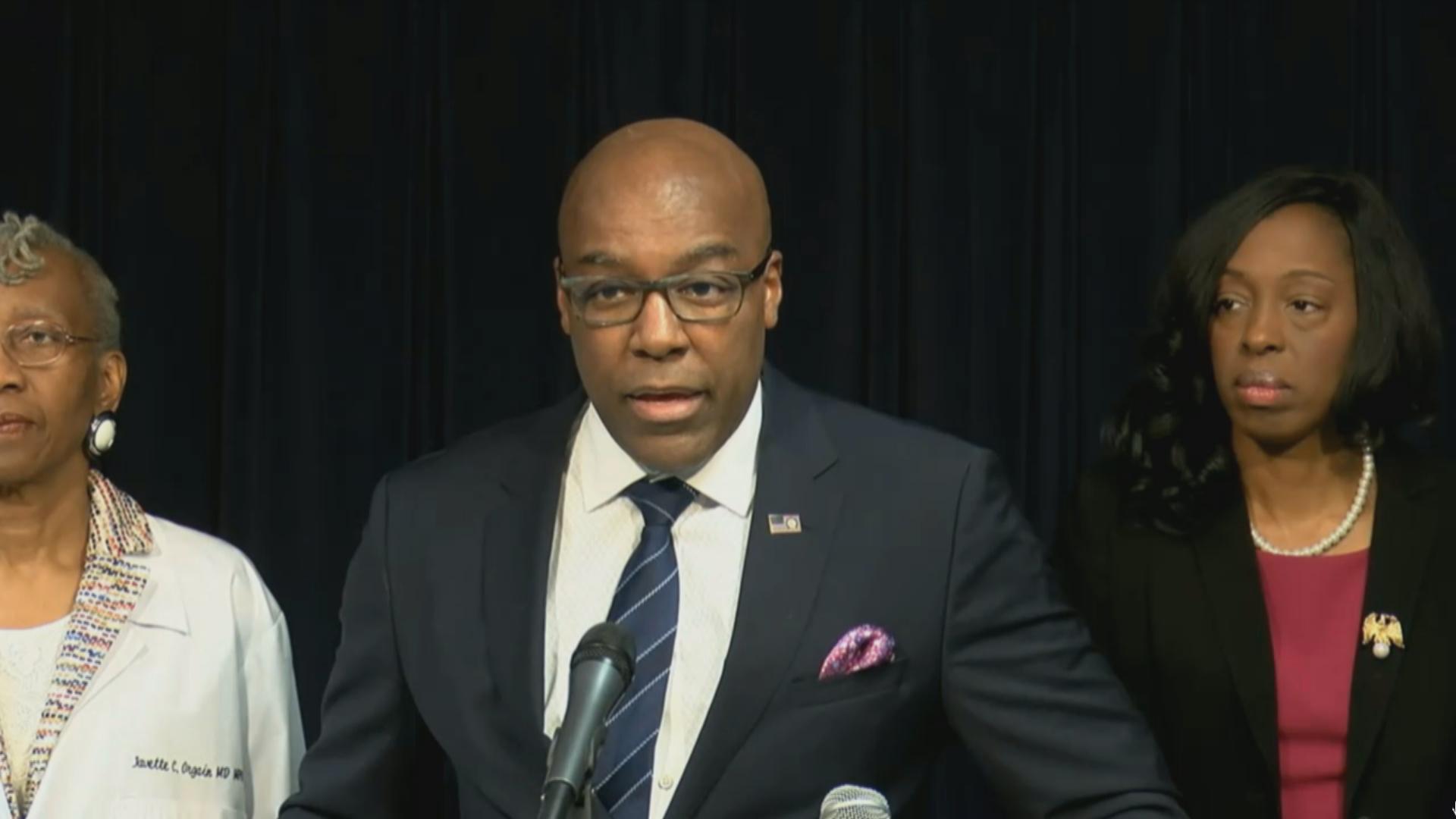 Illinois Attorney General Kwame Raoul speaks to the media Thursday, Dec. 12, 2019. (WTTW News via BlueRoomStream)
Illinois Attorney General Kwame Raoul has filed a lawsuit against the largest manufacturer of e-cigarettes in the nation.
Juul Labs, Inc. intentionally marketed its products to minors, misrepresented the potency of nicotine in its products and misrepresented its products as smoking cessation devices, according to the lawsuit filed Thursday in Cook County Circuit Court.
"As attorney general and as a father, I'm particularly concerned about the impact of this epidemic. If you visit any high schools or even middle schools in your neighborhoods, they are now referring to the restrooms as vaping rooms," Raoul said at a press conference Thursday. "What can begin as kids sneaking into school restrooms to vape fruity or candy flavors, which is troubling on its own, that can lead to minors using other forms of tobacco and to addiction challenges that go beyond the use of tobacco."
In the lawsuit, Raoul alleges Juul targeted minors with its sleek, easy-to-conceal design and a variety of sweet and fruity flavors, as well as a less harsh nicotine solution that is more palatable to nonsmokers. Juul marketed its youth-friendly products through social media marketing campaigns that used bright colors, celebrities and influencers using its product, according to the lawsuit.
While Juul maintains its products are for adults who are trying to quit smoking cigarettes, Raoul disputed that notion. Opening a brand-new Juul package, Raoul said the manufacturer's own instructions on how to use the device implied they were targeting nonsmokers.
"'First take a small puff to get a feel for the vapor. Then ease into inhaling. Like any new experience, Juul may take some getting used to.' And in bold, 'If it feels too harsh, try inhaling less and puffing more gently. Don't give up. You'll find your perfect puff,'" Raoul said, reading from the device's instructions.
"Clearly, those aren't words (that) accompany (a product) trying to get people to stop a bad habit. Those are words of trying to entice people, in particular young people to start bad a habit," he added.
The Food and Drug Administration has not approved Juul products as smoking cessation devices, according to Raoul, but the company continues to market its products as such.
The lawsuit also alleges that Juul's special nicotine blend contains a much higher nicotine content than cigarettes and other tobacco products but that the nicotine flavor is masked by other flavors, such as mint, menthol and mango.
"The lawsuit is one part of what must be a multifaceted approach to addressing the epidemic levels of e-cigarette usage," he said, adding his office is also working on policy changes and enforcement actions.
"Holding the industry accountable for its role in undoing the work that has been done to lower youth smoking rates must be part of a comprehensive solution. Today, we are starting with Juul," he said.
As part of its investigation into the e-cigarette industry, Raoul says his office has been following developments of lung injuries associated with vaping. As of Thursday, 201 Illinois residents have been hospitalized with lung injuries associated with vaping and five have died, according to state health officials.  
Contact Kristen Thometz: @kristenthometz | (773) 509-5452 |  [email protected]
---
Related stories:
Officials List Pot Vape Brands Reported in US Outbreak
Survey: Half of US High School Students Report Having Tried a Tobacco Product
More Clues Point to Chemical Compound in US Vaping Illnesses
---