Some aldermen say the mayor is publicly shaming them for not voting "yes" on the city budget that passed last month. A new independent expenditure campaign committee supporting the mayor and her allies – called Light PAC – went up last week with the new website Chicagobudgetvotes.com. The 39 aldermen who voted "yes" were spared criticism and even praised.
But, for the 11 who voted "no," which includes many of the progressive and self-styled democratic socialist aldermen – there are some choice words.
Ald. Daniel La Spata, 1st Ward, was one of those "no" votes. The website says he "voted NO on a progressive, responsible budget that maximizes the efficiency of our city's government. Alderman La Spata offered no viable alternatives to comprehensively close an historic $838 million budget gap …"
The website also invites users to click a link to send an email to La Spata, to tell him "Chicago needs a fair minimum wage and more resources for affordable housing, mental health, homelessness, and violence prevention."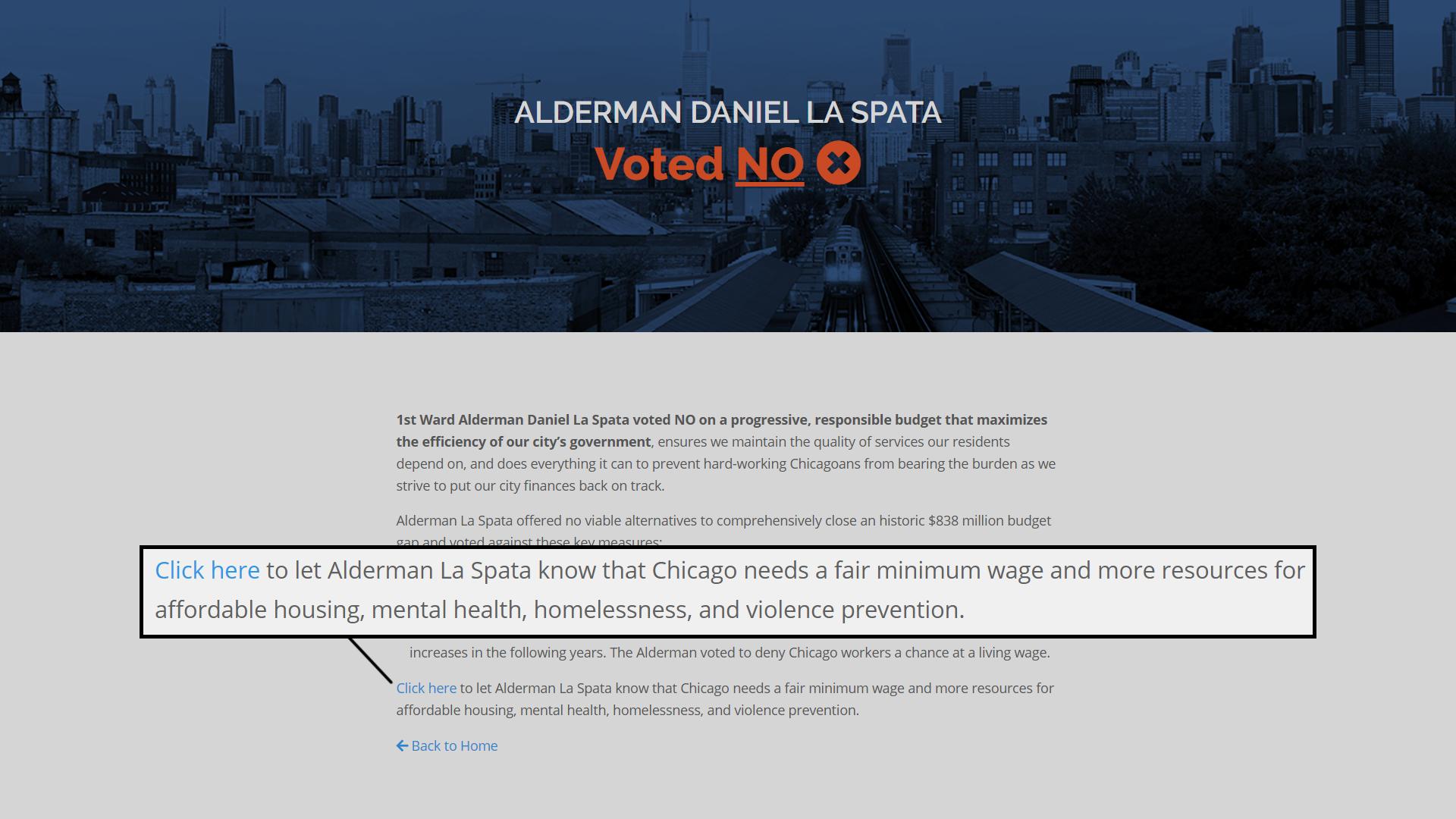 The same things are said about each aldermen who voted "no" on the city budget.
The treatment has angered that progressive group of aldermen – some of whom say they feel Lightfoot is poisoning the well rather than offering an olive branch.
"We don't have time to engage in petty discussions or arguments," said Ald. Rossana Rodriguez-Sanchez, 33rd Ward. "We have work to do, and that's what we're going to do."
"For me, I'd much rather find out what the neighbors want, and that's who we advocated for in our votes," said Ald. Andre Vasquez, 40th Ward. "I know who my boss is, it's the people who got us into office."
Meanwhile, La Spata takes exception to the website's claim that there were "no viable alternatives" offered on the budget, when he and other progressives publicly and privately campaigned for a corporate head tax to help close the gap.
"We were putting a lot of revenue options on the table, options four-five months back we were willing to fight for," La Spata said. "We can disagree on the budget, but to say we didn't put forth alternatives is not truthful."
Light PAC is chaired by a supporter named Laurel Lipkin. It has reported a little over $120,000 since its formation, the biggest contributions coming from trade unions. A Lightfoot campaign spokesperson said the campaign simply wanted to inform the public of the gravity of the budget situation and what aldermen were up to.
"Aldermen who supported this budget worked very hard to close the $838 million budget gap," said spokesperson Dave Mellet. "Taxpayers have dealt with a lot over the last several years, and the alternatives proposed were not viable."
In one final bit of irony, a certain aldermen who has been no ally of Lightfoot's gets praise on the new website: Ald. Ed Burke, 14th Ward. The website likewise encourages visitors to send emails to Burke's office thanking him for his "yes" vote on the budget.
Follow Paris Schutz on Twitter: @paschutz
---
Related stories:
The City Council Battle Over Lightfoot's Budget
Chicago Parking Fees Increasing, But City Set to Save Millions
Chicagoans Avoid Major Property Tax Increase as Lightfoot's 1st Budget Passes
---