When he signed a law that will make it legal for adults to use marijuana starting in 2020, Gov. J.B. Pritzker proclaimed it to be the most equity-centric in the nation. 
The law allows for the expungement of certain drug-based criminal records, establishes a fund for restoration grants, and aims to give a leg up to people of color and others "disproportionally impacted" by the war on drugs. 
But early on, there's skepticism it will meet that final goal – so much so that Chicago's black aldermen want to delay marijuana sales within the city until July, after it's apparent how many of the 75 new statewide marijuana dispensary licenses are awarded to people of color.
The state is scheduled to award those licenses in May.
The only places to legally buy cannabis in Illinois starting in January are those that years ago won state licenses to sell medical marijuana; the new law allows each of those operations to also open second locations (the city held a lottery last Friday to parcel out within which of seven city-drawn zones those shops can open).
"We just want to make sure we have the industry locked own," and that it's safe, Pritzker said at an unrelated event Wednesday as to why the established shops get to sell to recreational users first.
That priority to medical marijuana dispensaries means the first waves of Chicago's pot shops are all white-owned, according to Black Caucus Chairman Ald. Jason Ervin.
"We are concerned about the lack of African American participation, which stands currently at zero. And we've not heard any plan from the state or from anyone to change that … so I think as a city that is a majority minority, to see that a half a billion dollar industry has no participation from two of the city's largest communities I just think is wrong," Ervin said. "The reality is that today I think that the state should create a system that would ensure African American ownership from the start … They want us to participate in the consumption but don't want us to participate in the growing and the distribution of it."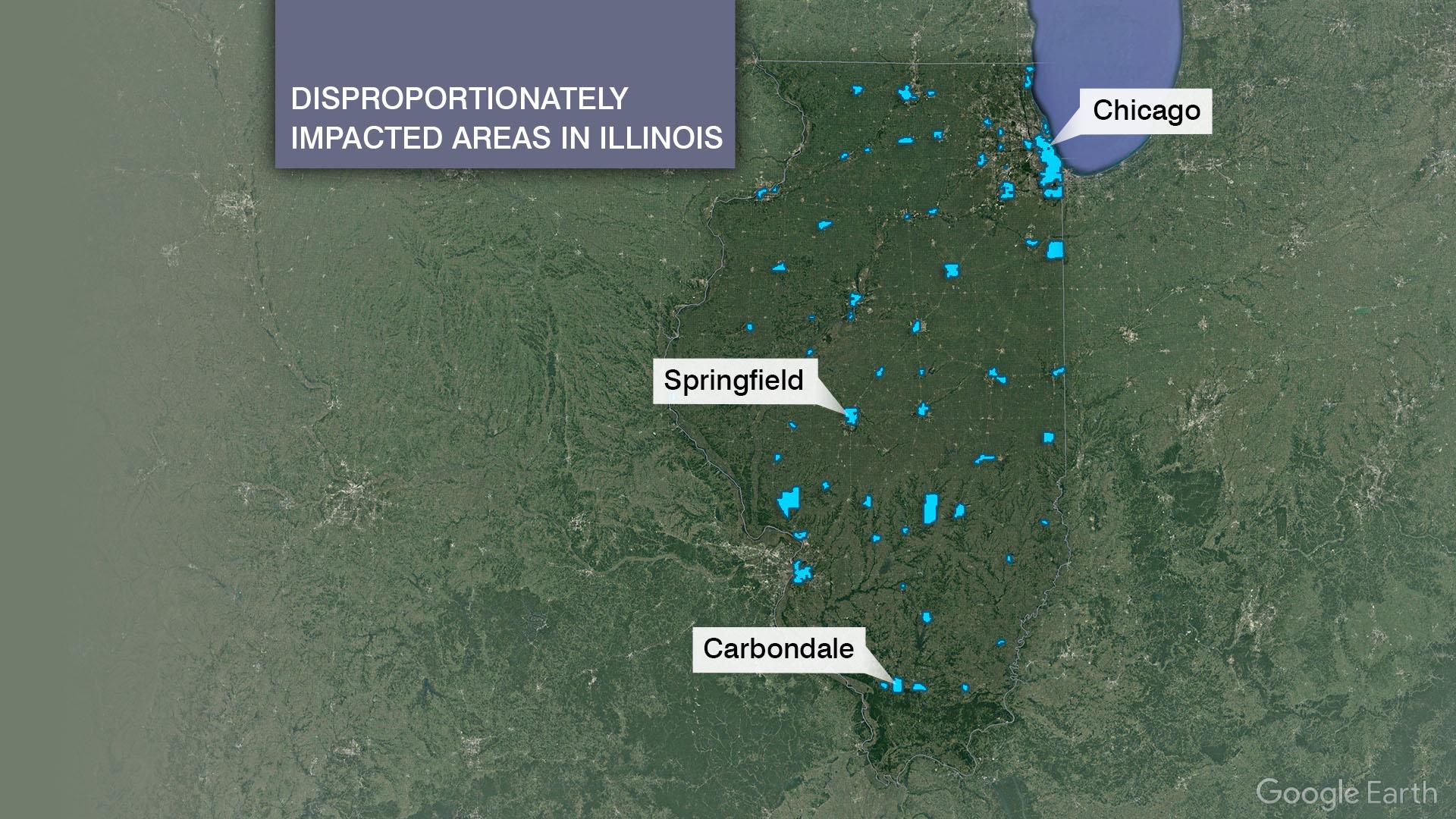 Getting a coveted state marijuana license is sure to be a competitive process, and Illinois law aims to give a boost to applicants for social equity. As regulators score applications, a set of points will be awarded to those who either live in a designated "disproportionally impacted area," have a low-level drug record or have a close relative with one, or are able to prove that employees hired meet those criteria.
Ron Holmes and Kareem Kenyatta established their business, The Majority-Minority Group, to help applicants navigate the complicated – and expensive – process.
"Social equity kind of a buzzword that's floating all over the country. Everyone's going to have a different definition. For me it just means that the black corner boy can have the same opportunity that the white VC guy with the corner office can have," Holmes said. "We want to make sure that we're providing not just an equal amount of licenses to folks but also trying to repair and restore communities that have been disproportionally impacted by the war on drugs."
Holmes isn't completely sold on how Illinois is going about it.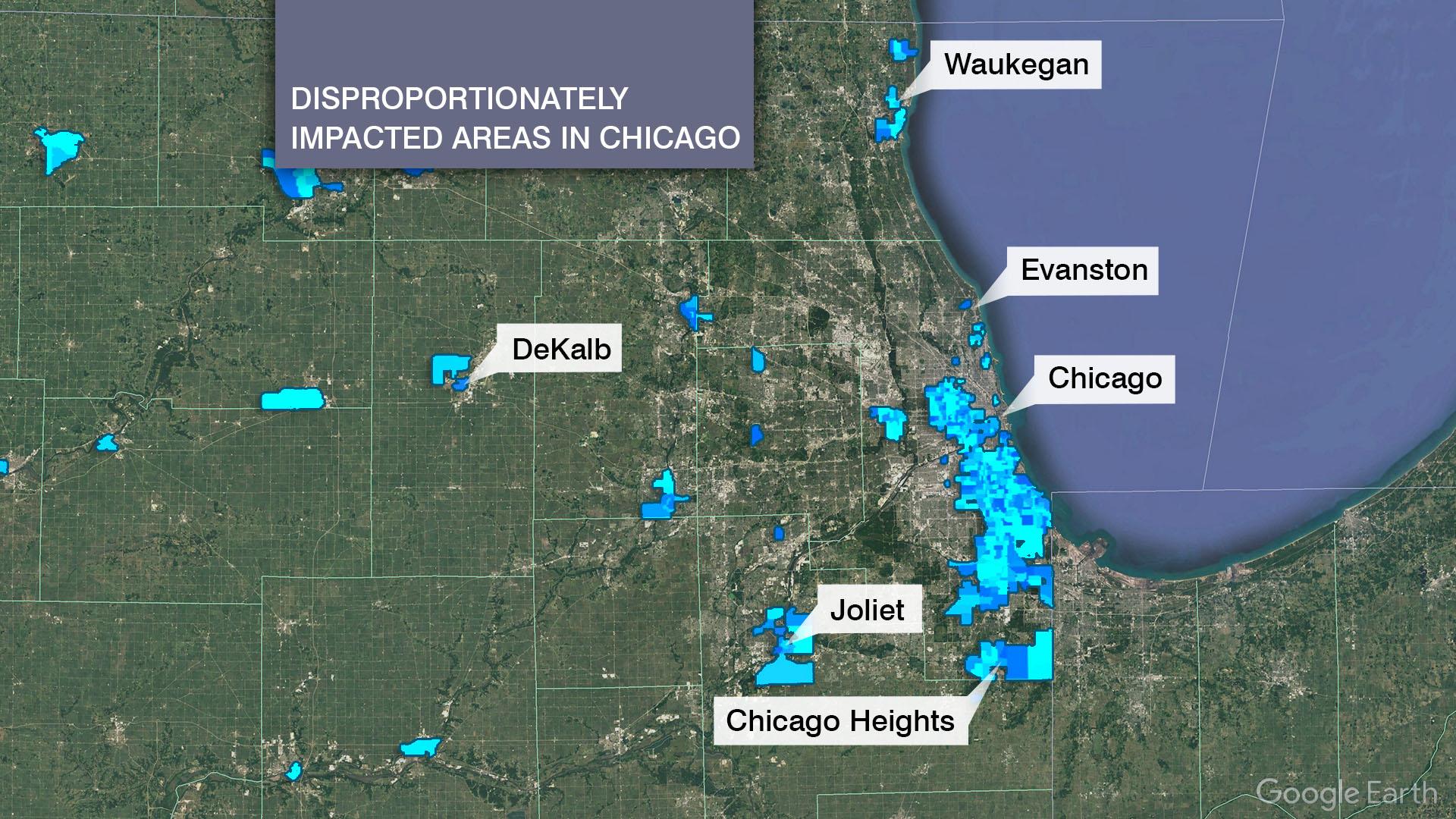 "The reality is we talk a lot about social equity but this is the hardest application in the country if you talk to any application writer. Which means that the fees for consultants obviously go up," he said. "It's a long application. Everything from security plans to quarantine plans to operating plans to environmental plans, Labor Peace Agreements."
While an applicant is not required to hire a consultant, established cannabis companies that have multi-state operations surely have teams of lawyers working on theirs. Consultant fees can run into the tens of thousands of dollars.
There's also the question of whether Illinois' third way to score social equity points – through a hiring plan – will end up pushing out local entrepreneurs in favor of the more well-heeled cannabis companies.
"Being an employee is one thing but actually owning and having equity in a cannabis business is the goal of the social equity provisions," Kenyatta said.
Applications are due from early December through early August.
One of The Majority-Minority Group's clients, Luz Maria Cortez, said she's hopeful regulators will award her a license, based on her business plan and her commitment to giving back to the community.
She should be awarded the social equity points because she lives in Chicago Lawn/Marquette Park on the Southwest Side.  
"There's not many people like me that come from the South Side, that come from low-income communities," she said. "Black and brown communities were the hardest hit with the war on drugs. We need your support to move forward and get something out of it."
Follow Amanda Vinicky on Twitter: @AmandaVinicky
---
Related stories:
Driving While Stoned: Police Still Lack Reliable Test
State Sen. Toi Hutchinson Takes on New Role as Illinois' 'Cannabis Czar'
Cannabis Tourism: Will Legalized Marijuana Bring Reefer Madness to Illinois?
Kim Foxx Hopes to 'Right Wrongs of the Past' With Pot Expungements
---