A 9-year-old boy will return to court Friday to face five counts of first-degree murder and various arson charges after a fire in April killed two adults and three children.
The fire that erupted at Timberline Mobile Home Park home in Goodfield, Illinois, just east of Peoria, took the lives of the boy's grandmother, his mother's boyfriend, two half siblings and a 2-year-old cousin.
"It's a very rare charge," said Elizabeth Clarke, president and founder of the Juvenile Justice Initiative. "You read about it in the paper, but you read about it in the paper because it is so unusual.
"We are the only developed country that charges young children criminally," she said. "It's actually prohibited under international law. You're supposed to set a reasonable minimum age of prosecution that's recently been defined as 14. So this is way outside the international norm and very unusual for the U.S."
"I've never seen anything like it before," said Chicago Tribune reporter Peter Nickeas, who was in the courtroom when the boy was charged.
"They cleared the courtroom. Members of the media were allowed to attend. And they walked this kid out and he looks like he's going to church on Sunday. He's got the shirt tucked in and his hands in his pocket and goes and sits at the table with his attorney," Nickeas said. "It precedes like a regular court hearing. Except this kid doesn't understand what's going on. And he says as much."
Because there is a gag order on the case, Woodford County State's Attorney Greg Minger has not explained why his office took the unusual step in charging the boy with murder.
"That's a good question that we do not have an answer to," said Nickeas.
"It was a poor decision on the part of the prosecutors," said Clarke. "There's no advantage in terms of services."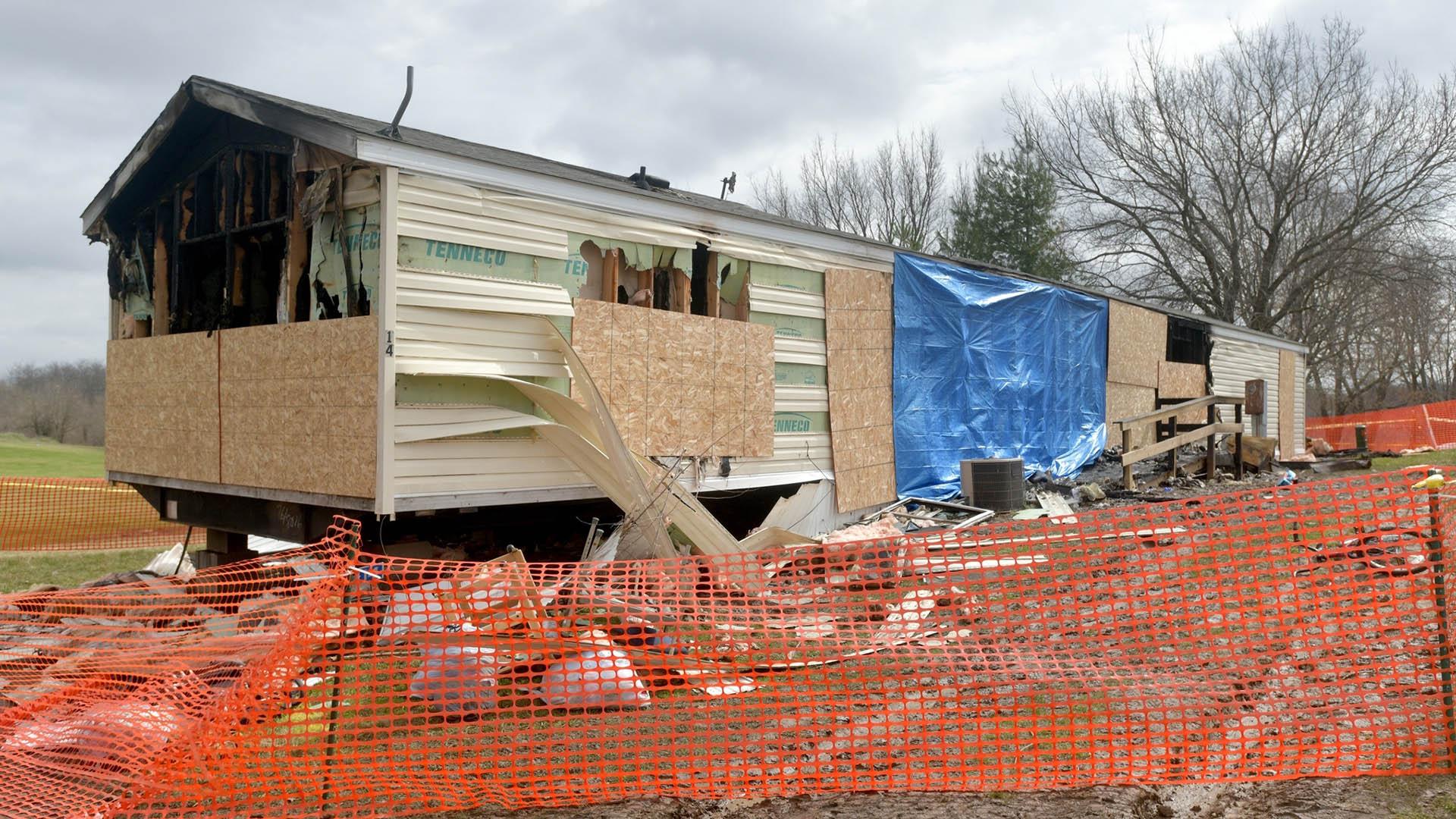 This photo taken April 7, 2019, shows a fence and caution tape surrounding a trailer home that was destroyed by fire in the Timberline Mobile Home Park northeast of Goodfield. (Matt Dayhoff / Journal Star via AP)
Because of the child's age, the judge can't detain him. Instead, he can get probation and services like counseling for himself and his family, for example.
"Now, if he was 10, he could conceivably have spent time in a county detention facility," said Nickeas. "If he was 13, he could have potentially served time in a state juvenile detention facility. But because he's 9, the only punitive option here available to the court is probation."
"One of the conditions of probation that's pretty ominous is there's no contact with alcohol or drugs. So, if he smokes a joint when he's 16, he could potentially be in violation of his probation and be sentenced to a juvenile detention facility," said Nickeas. 
According to Illinois law, a child charged with a crime can't be convicted unless the defendant is age 13 or older when the offense was committed. A 2007 committee paper from the United Nations Convention on the Rights of the Child said that criminal charges for a child under the age of 12 are not internationally acceptable. Experts on the U.N. committee recently said that age should be raised to 14.
"The research is vigorous," said Clarke. "Children cannot appreciate the consequences of their actions at that young age. And that's why the international community has long advocated for a reasonable minimum age of prosecution. The most common minimum age prosecution worldwide is 14."
Prosecutors and the defense will file their first motions in the case Friday.
Nickeas and Clarke join "Chicago Tonight" to discuss the case.
---
Related stories:
Mom Says Illinois Boy Charged with Murder is 'Not a Monster'
9-Year-Old Charged with Murder in 5 Illinois Fire Deaths
---