Just over a year ago, the public heard President Donald Trump's Supreme Court nominee Brett Kavanaugh testify before Congress.
Kavanaugh's remarks that day had little to do with his career and professional background, centering instead on allegations of sexual assault brought against him by Christine Blasey Ford.
The events leading up to that day of testimony – and the aftermath for Kavanaugh, who was sworn in as a Supreme Court justice just days later – are chronicled in the new book "The Education of Brett Kavanaugh: An Investigation."
The book, from New York Times reporters Robin Pogrebin and Kate Kelly, includes new details from Blasey Ford and a second woman who accused Kavanaugh of sexual misconduct, Deborah Ramirez.
Pogrebin and Kelly join us in conversation.
Below, an excerpt from "The Education of Brett Kavanaugh."
ONE
Alea Iacta Est
The  Die Has Been  Cast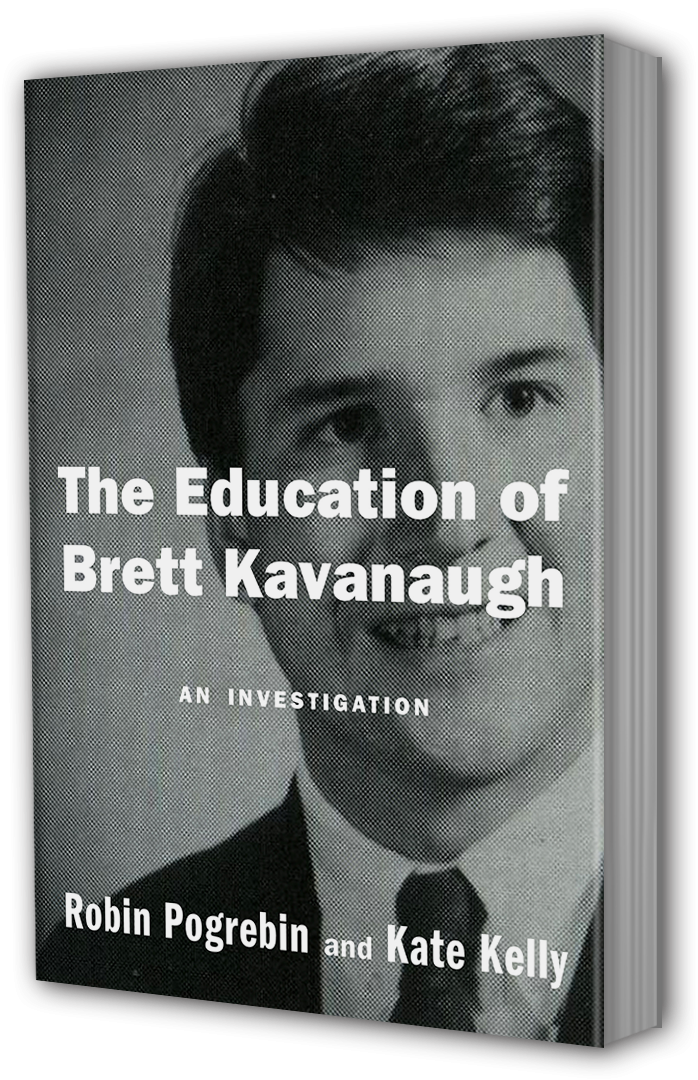 At nine o'clock on the evening of July 9, 2018, President Don­ald J. Trump gathered an audience in the White House's East Room to nominate Brett Kavanaugh to the Supreme Court. The judge, wearing a dark suit and crisp white shirt, was flanked by his two young daughters, Margaret and Liza, and his wife, Ashley, who stood smiling beside him.
A showman who relished his moments on camera, Trump joked about how he had rarely seen an East Room reception as warm as the one that Kavanaugh had received. Otherwise, the president was un­characteristically disciplined as he read his speech from the teleprompter. "Judge Kavanaugh has impeccable credentials, unsurpassed qualifications, and a proven commitment to equal justice under the law," Trump said, clasping the podium with both hands. "He's a brilliant jurist, with a clear and effective writing style, universally regarded as one of the finest and sharpest legal minds of our time."
Kavanaugh then switched places with Trump, taking in the room as the crowd enthusiastically applauded. His parents were  in  the front row, seated next to First Lady Melania Trump. Nearby was Fa­ther John Enzler, the local Catholic Charities president, for whom Kavanaugh had once served as an altar boy. Zina Bash, one of Kava­naugh's favorite former law clerks, was in the second row, not far from his friend Roman Martinez, another former clerk, now a Supreme Court litigator, who caught Kavanaugh's eye and flashed him a quick thumbs-up.
Kavanaugh thanked the president for his warm remarks and said he was "deeply honored" to have been named to replace Justice An­thony M. Kennedy, for whom he had once clerked. He recognized his parents, his wife, and their children, brushing back what appeared to be tears of joy.
"Margaret loves sports, and she loves to read," he said of his older daughter, a tall, blond-haired basketball player. "Liza loves sports, and she loves to talk," he added, exchanging a grin and a quick hand slap with his younger daughter, a smaller brunette. He poked fun at his own nickname among the girls on his daughter's basketball team, "Coach K," implying with a furrowed brow and faux grimace that he was unworthy of the name most commonly attached to Mike Krzyz­ewski, the famed Duke University men's basketball coach.
Finally, he turned to the nomination process about to commence.
"Tomorrow, I begin meeting with members of the Senate, which plays an essential role in this process," Kavanaugh said. "I will tell each senator that I revere the Constitution. I believe that an independent judiciary is the crown jewel of our constitutional republic. If confirmed by the Senate, I will keep an open mind in every case, and I will always strive to preserve the Constitution of the United States and the American rule of law."
The moment was understandably heady. Kavanaugh had worked his whole life toward a Supreme Court nomination. He had studied at prestigious schools, apprenticed himself to powerful mentors, mastered Washington politics. He had also remembered his origins, staying true to old friends and maintaining his Catholic traditions. But nothing had prepared him for the perils he would face in the next few weeks. Those would be an education of a very different kind.
The Education of Brett Kavanaugh: An Investigation by Robin Pogrebin and Kate Kelly, published on September 17th by Portfolio, an imprint of Penguin Publishing Group, a division of Penguin Random House, LLC. © 2019 by Robin Pogrebin and Kate Kelly.
---
Related stories:
Supreme Questioning at Kavanaugh Hearing Ignites Strong Emotions
Testimony Tactics: Role of Strategy, Optics in Kavanaugh Hearing
Third Woman Accuses Brett Kavanaugh of Sexual Misconduct
---