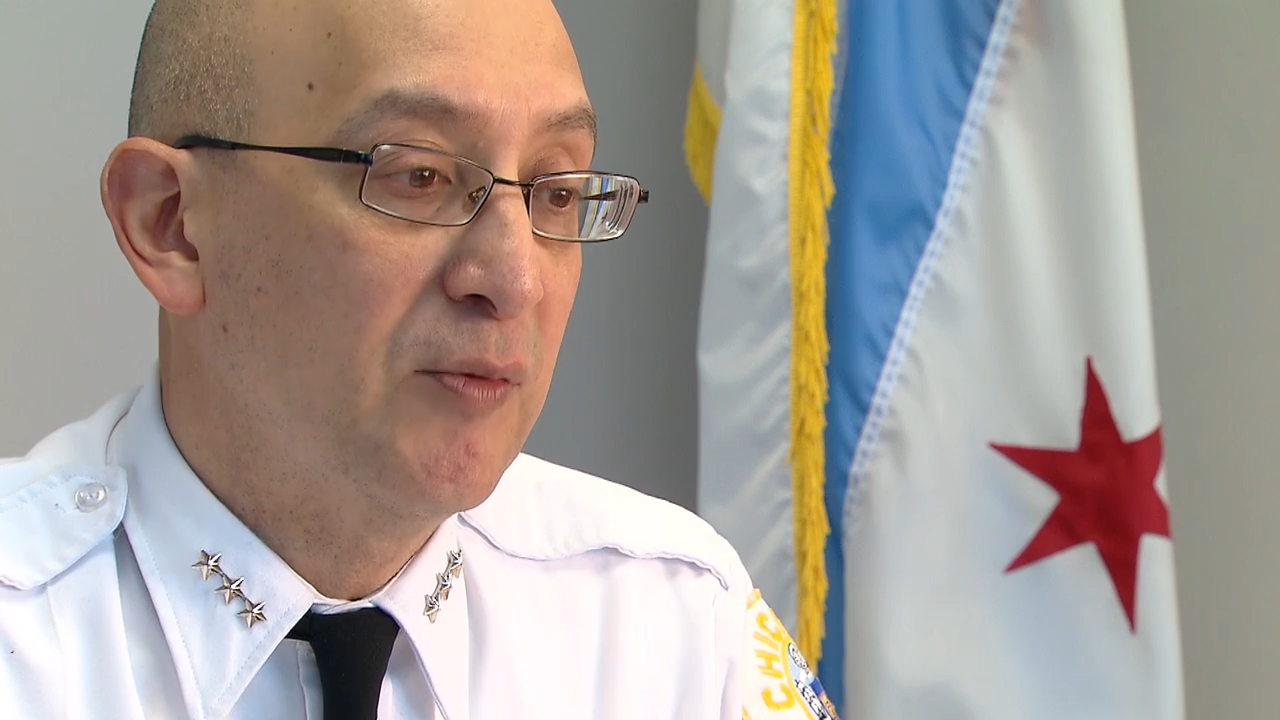 In this file photo, John Escalante speaks with WTTW News in March 2016 when he served as the interim Chicago police superintendent. (WTTW News)
Chicago's top cop Eddie Johnson on Thursday announced his retirement as the city's police superintendent, a role he's held for three years.
Johnson will leave the Chicago Police Department at the end of the year.
Mayor Lori Lightfoot is now tasked with finding Johnson's replacement. There is already speculation about who will take over the department in the interim. 
Following Johnson's announcement, WTTW News spoke with John Escalante, who served as interim police superintendent following the ouster of Garry McCarthy in December 2015 by then-Mayor Rahm Emanuel, who would go on to appoint Johnson as top cop in 2016.
We asked Escalante, now the head of the Northeastern Illinois University Police Department, about his experiences as interim police superintendent, the city's most pressing issues and what advice he'd give to the new head of the force. 
Below, an edited Q&A with Escalante.
---
Tell us about the experience: What was demanding about the job as interim superintendent, and what makes it difficult? 
Well, for one it was a shock to be put in that position. (I was the) first deputy superintendent to Superintendent Garry McCarthy. On Dec. 1, 2015, I got a phone call from the mayor (Rahm Emanuel) who told me, "John, I just asked for Garry's resignation. Until further notice I need you to step up."
When I left home that morning to go to work, I wasn't expecting that call from the mayor. I certainly wasn't expecting him to ask Superintendent McCarthy to resign. It was one week after the release of the Laquan McDonald shooting (video). It was a very controversial and stressful time, not just for me or the department (but for) the entire city.
Violence is still a critical issue for Chicago. Has much changed since you left the department in 2016?
A little bit. I think Eddie Johnson did a good job and did the best that he could to reestablish community trust. He made some progress there. It's certainly not where it needs to be, and that's no criticism of him. Unfortunately, there are some parts of the city that are going to take more of an effort to get that trust.
Superintendent McCarthy said this often: there are some parts of the city where there's never been trust in the police. Superintendent Johnson did a good job of mending some of those bridges and building some new bridges. There's still a long way to go. Those first two months of 2016, we saw unprecedented violence that we hadn't seen for decades.
(Note: In 2016, there were 764 homicides in Chicago, according to a University of Chicago Crime Lab report, which found that between 2015 and 2016, the city experienced 58% more homicides and 43% more non-fatal shootings.)
What advice would you give to the city's next police superintendent? 
The next person has to be someone that's already a proven leader. That has already run a major police department. There are pros and cons to someone coming from the outside and pros and cons of someone coming from the inside. If it's someone from the outside, number one, (that person) is going to be managing the consent decree. Part of that is reaching out to the community to show that they are going to be a catalyst to continue improving community relations. Those two things are going to be critical.
(Note: A federal court approved a consent decree in January that requires reforms in the police department.)  
What is most pressing for the city in terms of policing outside of the consent decree and reestablishing trust within the community? What should Mayor Lori Lightfoot and the new superintendent focus on going forward?
There's external issues, and there's internal issues. The external issues are (rebuilding) that community trust. The consent decree is the majority of it. The other issue that an outsider is going to have to understand is morale. It's always an issue. Morale is a pendulum; sometimes, morale is good, and other times morale is down, and sometimes moral is in the middle. You have to not only be able to gain the trust of the community, but you have to gain the trust of the department.  
I hope the next superintendent has success and builds on the good things that are there. The things that Eddie Johnson and his staff put in place. I hope that the next superintendent brings all the traits and qualities that can build on the good things and continue to move the department forward and be a leader, not just with the department but a leader with the city and a leader for the community. 
---
Related stories:
Top Cop Eddie Johnson Announces Retirement: 'It's Time'
Tough Challenges Ahead for Chicago's Next Top Cop
Spotlight Politics: Johnson's Retirement Will Set Off Political Fight for Next Superintendent
---