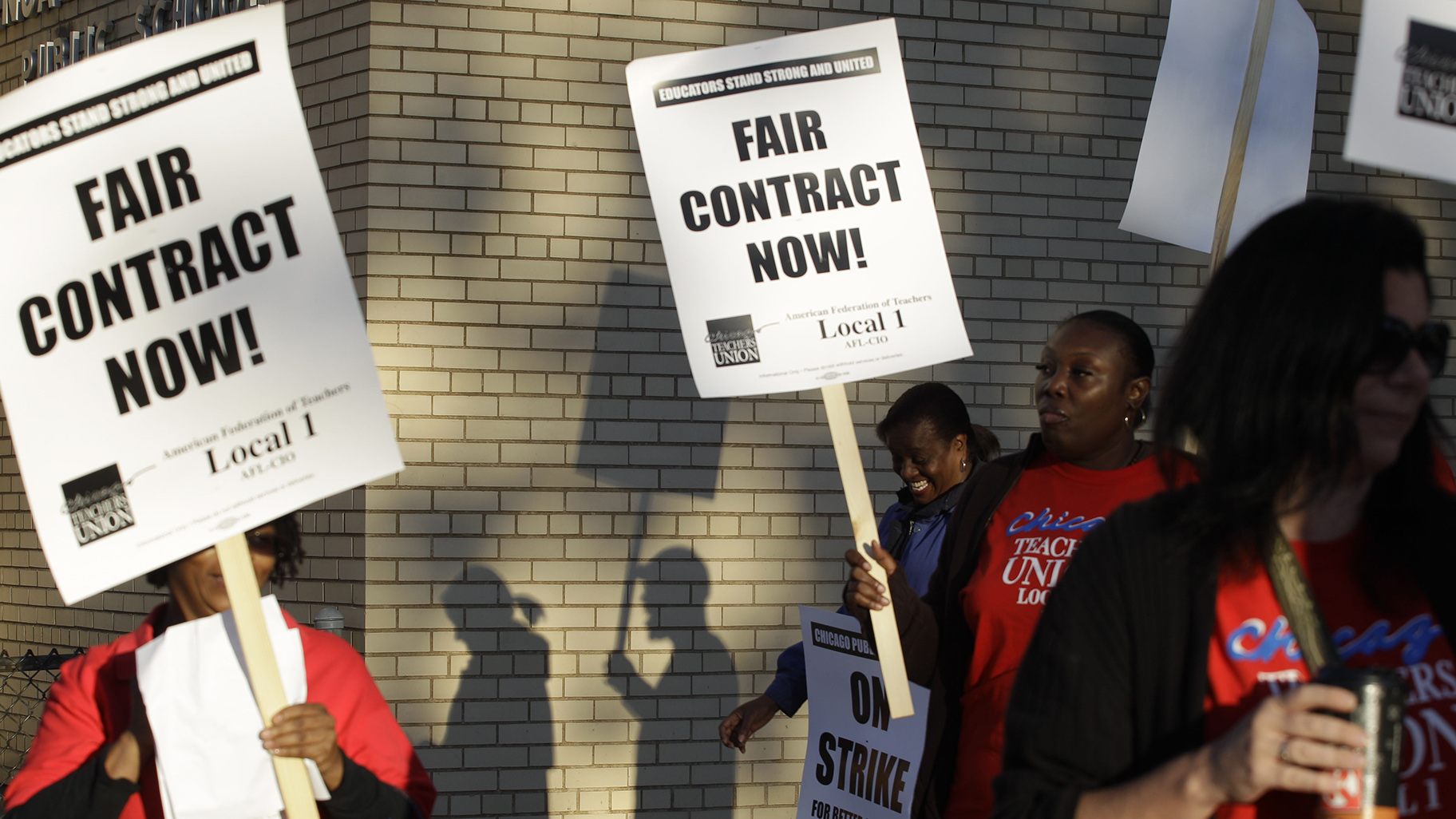 This Sept. 10, 2012 file photo shows Chicago teachers walking a picket line outside a school in Chicago, after they went on strike for the first time in 25 years. (AP Photo / M. Spencer Green, File)
Chicago teachers are just days away from a possible strike as they continue negotiating a contract with the city and district leaders.
But if teachers do walk off the job – for the third time since 2011 – what will it mean for parents and families?
First, some background:
Chicago Public Schools teachers' most recent contract expired earlier this year, just six weeks after Mayor Lori Lightfoot was sworn into office. Negotiations have been ongoing for months, but if a new contract isn't reached by Oct. 17 – the date selected by Chicago Teachers Union members to strike – there will be a work stoppage until a deal can be made.
Is a strike likely?
It remains unclear if a contract can be finalized by Thursday. Three years ago, the union came within minutes of a strike, but accepted a midnight deal to avoid a work stoppage.
CTU President Jesse Sharkey has said the union won't accept a last-minute agreement this time around, so if a strike is to be avoided, a deal must be finalized earlier in the week. The union's 700-member House of Delegates, which represents teachers across the city, must vote to avoid or call of a strike, and that could take some time.
Why are teachers threatening to strike?
The CTU is demanding written promises from the city in the contract to increase the number of nurses, counselors and social workers, cap class sizes and protect and increase staffing levels in schools.
CTU leaders have also called for social justice protections like affordable housing and sustainable community schools.
But the union can only legally strike over pay and benefit issues.
The city says it has offered a 16% salary increase over a five-year contract. They claim this increase will bring the average teacher's salary within CPS up to almost $100,000, though the union disputes those numbers.
How long would a strike last?
A strike has no set duration. It will last until a contract is finalized and ratified. For instance, the 2012 Chicago teachers strike lasted seven days.
What about classes and activities?
All CPS classes and activities before school, after school and those that are extracurricular will be canceled until the strike is resolved. That includes sports, Local School Council meetings and tutoring, among other activities, according to the school district's strike contingency plan.
Chicago Public Schools' contingency site map. Click to view all sites.
Will schools be closed?
The buildings themselves will remain open during normal hours and will accept students. Students who plan to go to a CPS school are asked to register beforehand here.
"All school buildings will be open, because again, many of our parents have to go to work so we will have an opportunity or place for them to take their kids so that they can get a warm meal and have productive activity," CPS CEO Janice Jackson said during a recent appearance on "Chicago Tonight."
Breakfast and lunch will still be served to students present, according to the district, and activities like reading, writing and arts and crafts will be provided. But regular class instruction will not occur.
Bus services will not be provided.
The district is encouraging students to attend their regular schools, but they will be welcomed "at any school that is appropriate for their age."
Charter and contract schools will operate as normal and won't be affected by the strike.
Who will be staffing the school buildings?
If there is a strike, teachers won't be in the school buildings. But they're not the only ones who will be missing: CTU has timed its potential strike to coincide with another possible strike from SEIU Local 73, which represents CPS support staff like speech, occupational and physical therapists, special education assistants and bus drivers.
CPS says principals will remain in school buildings as well as "trained CPS staff" including nurses and custodians. The district says its Office of Safety and the Chicago Police Department will also work with these staffers to "ensure students are safe in the event of a work stoppage."
Where else can students go during the day?
CPS has a list of more than 650 sites students can go to during the day in the event of a strike. Those include more than 400 elementary schools, almost 100 high schools and 70 Chicago Public Library locations.
There are also 31 safe haven sites and 42 "other" locations like Boys & Girls Clubs of Chicago sites, arts centers, community organization centers and YMCAs. A full map of these sites is available here.
Parent organization Raise your Hand has also been tracking other sites that will take in kids in the event of a strike, though some of those places are not free.
For additional help finding a place for students to go, CPS says parents should email their inquiries and home address to [email protected].
Will strike days be made up at the end of the year?
No. Unlike snow days, which CPS tacks on to the end of the school year as make-up days, the district does not plan on adding on any extra time in June to make up for classes missed due to a strike.
However, CPS says parents and families will be "notified of any final decisions in this regard," so perhaps that is still up in the air.
Contact Matt Masterson: @ByMattMasterson | [email protected] | (773) 509-5431
---
Related stories:
What's Next in Lead-Up to a Chicago Teachers Strike?
Lightfoot Expresses 'Significant Concern' As Teachers Strike Looms
Chicago Teachers Union Sets Oct. 17 Date for Strike If No Deal Reached
Teachers, Support Staff, Park District: A City on Triple Strike?
---