Video: James McNamee, president of the Illinois Public Pension Fund Association and a critic of pension consolidation, joins "Chicago Tonight." We were unable to find a member of the task force available to join the show. We also invited the Pritzker administration to send someone supportive of consolidation. A spokesperson said they, too, were unable to find anyone.
---
Consolidating scores of local firefighter and police pension funds could save Illinois taxpayers between $820 million and $2.5 billion in the next five years, according to a report published Thursday by a state task force that's been studying the issue since January.
"The fact that there are 649 downstate and suburban pension police and fire funds cries out for reform. Decades of underperformance, high administrative expense and duplication demand change. The status quo is both unacceptable and unsustainable," said William Brodsky, co-chair of the Pension Feasibility Task Force and former chairman of the Chicago Board Options Exchange.
The group's recommendation: Mandate merging the 649 various funds' assets into two – one plan for police, another for firefighters.
"The single most impactful step that the State can take to address the underfunding of downstate and suburban police and fire pension funds is to consolidate the plans' investment assets," the report reads. "This step is immediately actionable and beneficial to the health of the plans, retirees, and taxpayers."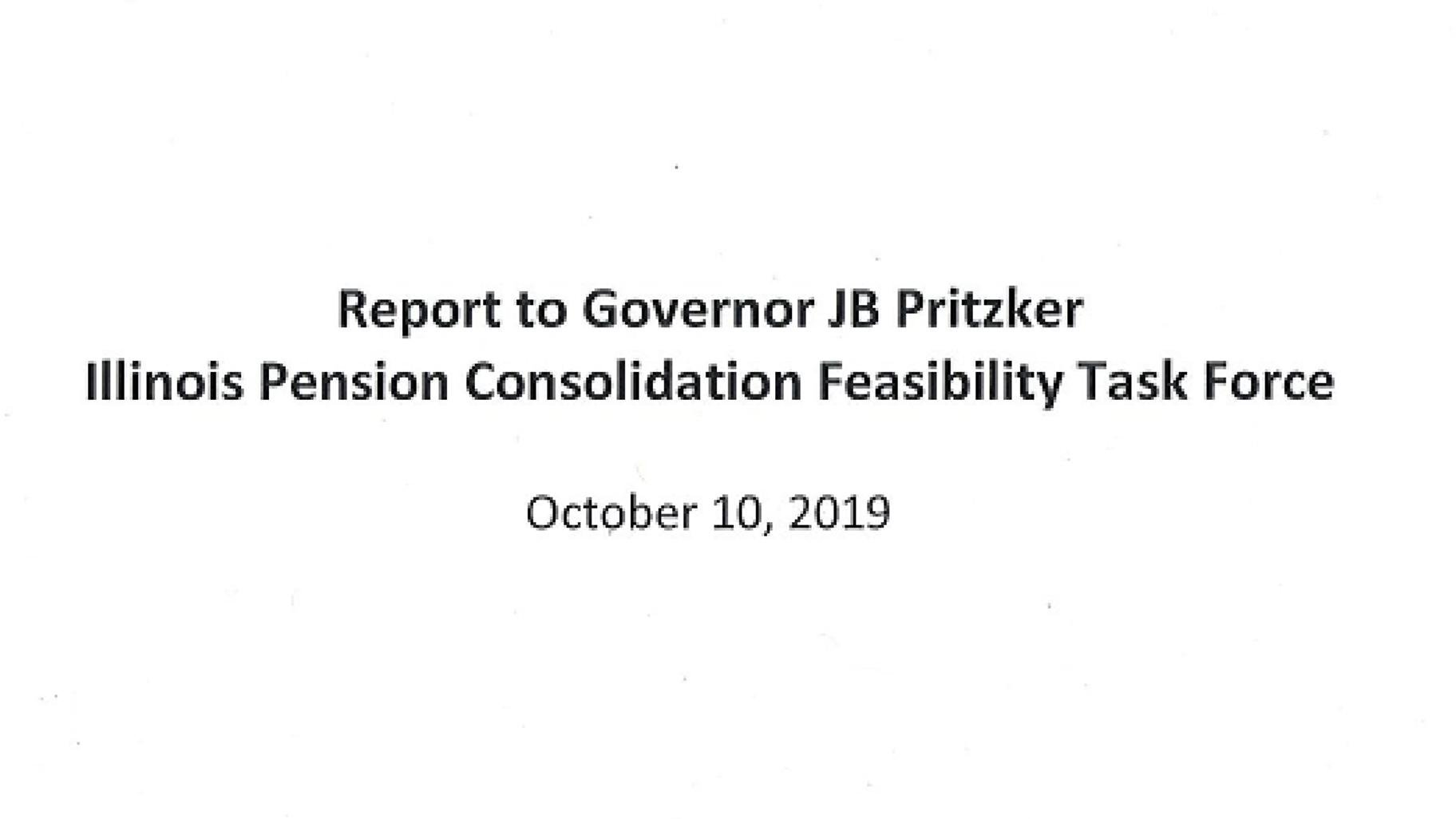 Document: Read the report. According to the analysis, 24 of the pension funds have "only one active participant." The smallest held assets of only $2,000. And only 30% of the plans have assets of more than $100 million.
The idea is to merge the assets to achieve the investment version of greater economies of scale. Pooling the assets would allow for reduced fees, more investment opportunities and higher returns.
Higher returns would "ultimately mean a reduction in the required annual employer contribution, and therefore and easing of the burden on taxpayers," the report reads.
The report also recommends another immediate change, estimated to cost taxpayers $70-$95 million within the same five-year window: Increasing the pension benefits for so-called "Tier 2" workers – first responders hired since 2011 receive a lesser retirement benefit than the "Tier 1" workers hired prior to that. Lawmakers created the smaller pension package as a way to save on costs, but critics have said they went so far in cutting benefits that it could run afoul of a federal "safe harbor" law, which requires certain municipal employees' retirement packages be at least equal to what they would get under Social Security.
Making the change "avoids a potential and costly safe harbor violation" down the road, the report says.
Lawmakers will have the next few weeks to get feedback on the recommendations.
Gov. J.B. Pritzker, a Democrat, wants the legislature to take up and pass that recommendation during the upcoming fall veto session, which begins Oct. 28.
"We really believe that collectively we'll be able to get this through," said Pritzker, who noted pooling the assets would be a "momentous change."
Already, the plan has buy-in from the powerful firefighters union – Associated Fire Fighters of Illinois President Pat Devaney was another task-force co-chair.
But the Illinois Fraternal Order of Police has characterized it as a money grab and questioned whether the state, with its worst-in-the-nation credit rating and record pension debt, can "responsibly manage (police officers') money."
The FOP is upset that the consolidated police pension fund would be governed by a board "where only 50 percent of the trustees are law enforcement officers.
"This committee thinks downstate police officers are the only public employees who are just not smart or sophisticated enough to manage their own money," FOP Labor Council Executive Director Shawn Roselieb said in an emailed statement from the union.
In a nod to other political difficulties that may lay ahead, the report does not recommend total consolidation – the benefit decisions will still be locally managed by the 649 various pension fund boards.
It also recognizes "challenges" such as initial upfront costs of transitioning assets and that "plan sponsors may feel their influence is being diluted."
Thus far, Pritkzer has gotten his way on every major item on his legislative wish list. Getting this passed would allow him to take a victory lap upon finishing his first year in office and demonstrate to voters that he's tried to reign in expenses before he begins in earnest to push them to amend the state constitution to allow for a graduated income tax structure. 
Pritzker's habit of pouring his personal wealth into legislative campaigns keeps him popular with Democrats who may be otherwise be reticent to go along with such a change, and Republicans are apt to be on board as well (former Senate GOP Leader Christine Radogno is another co-chair, and on Thursday publicly encouraged her former colleagues to buy in).
Still, pensions are also thought of as sacred cows, and critics of the plan have been quick to question its feasibility on both a practical and political basis.
Chicago's police and fire funds would not be part of the consolidation (according to the report, Chicago and Cook County's nine pension plans' assets "make up 19% of Illinois' total pension assets," an indication that they don't need to merge in order to capture higher investment opportunities).
Mayor Lori Lightfoot still is looking to the state for additional relief as the city faces escalating pension payments, but it's unclear what form – if any – that may take.
"The city of Chicago pension funds have experienced their own unique financial challenges in recent years that warrant specific considerations with respect to the future work of the Task Force," the report reads. "As such, the Task Force and the Governor's Office will continue to work with the City of Chicago on this issue as part of the next phase of this work."
Pritzker repeatedly said Thursday that he and the task force are taking a "phased" approach to addressing pension issues.
Follow Amanda Vinicky on Twitter: @AmandaVinicky
Note: This story was originally published on Oct. 10, 2019. It has been updated.
---
Related stories:
No New Taxes in Cook County Budget
Alderman: Budget Gap Could Be As High As $1.3 Billion
Pension Payment: Analysts on Outlook for State-Controlled Pension System
---