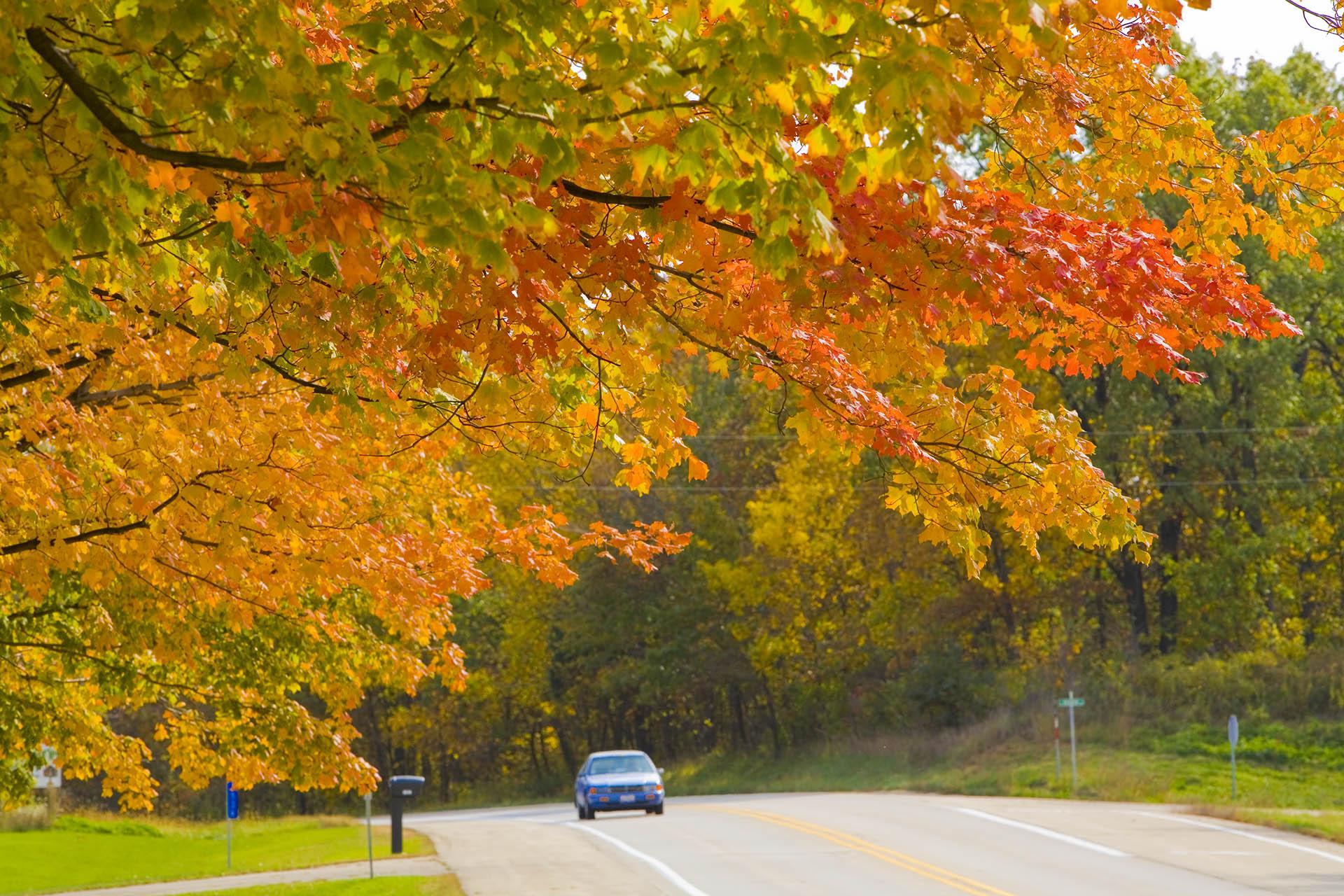 (Courtesy of the Illinois Office of Tourism)
Autumn is upon us, and soon Illinois will be awash in fall foliage.
Shorter days and cooler temperatures cause trees' leaves to stop a food-making process involving chlorophyll, which gives them their glorious green color and helps them convert sunlight into food. As chlorophyll breaks down, the green hue disappears and the yellowish colors or other pigments in the leaf become visible, according to the National Weather Service.
To help residents make the most of the seasonal splendor, the Illinois Office of Tourism and Illinois Department of Natural Resources issue a weekly fall color report on estimated peak fall foliage times across the state. The report also includes the various colors found in select counties throughout the state.
"We know people love to take road trips and see fall colors," said Springfield resident Jan Kemmerling, acting director of the Illinois Office of Tourism.
The fall color season lasts for several weeks and typically begins in northern Illinois. Here's your guide to where and when to see bright yellows, deep reds and purples, and bronze and orange shades throughout the Land of Lincoln.
Destinations are grouped by estimated peak time for the best fall foliage in October. Jump to: second week, middle, last week of October.
---
1. Big Marsh Park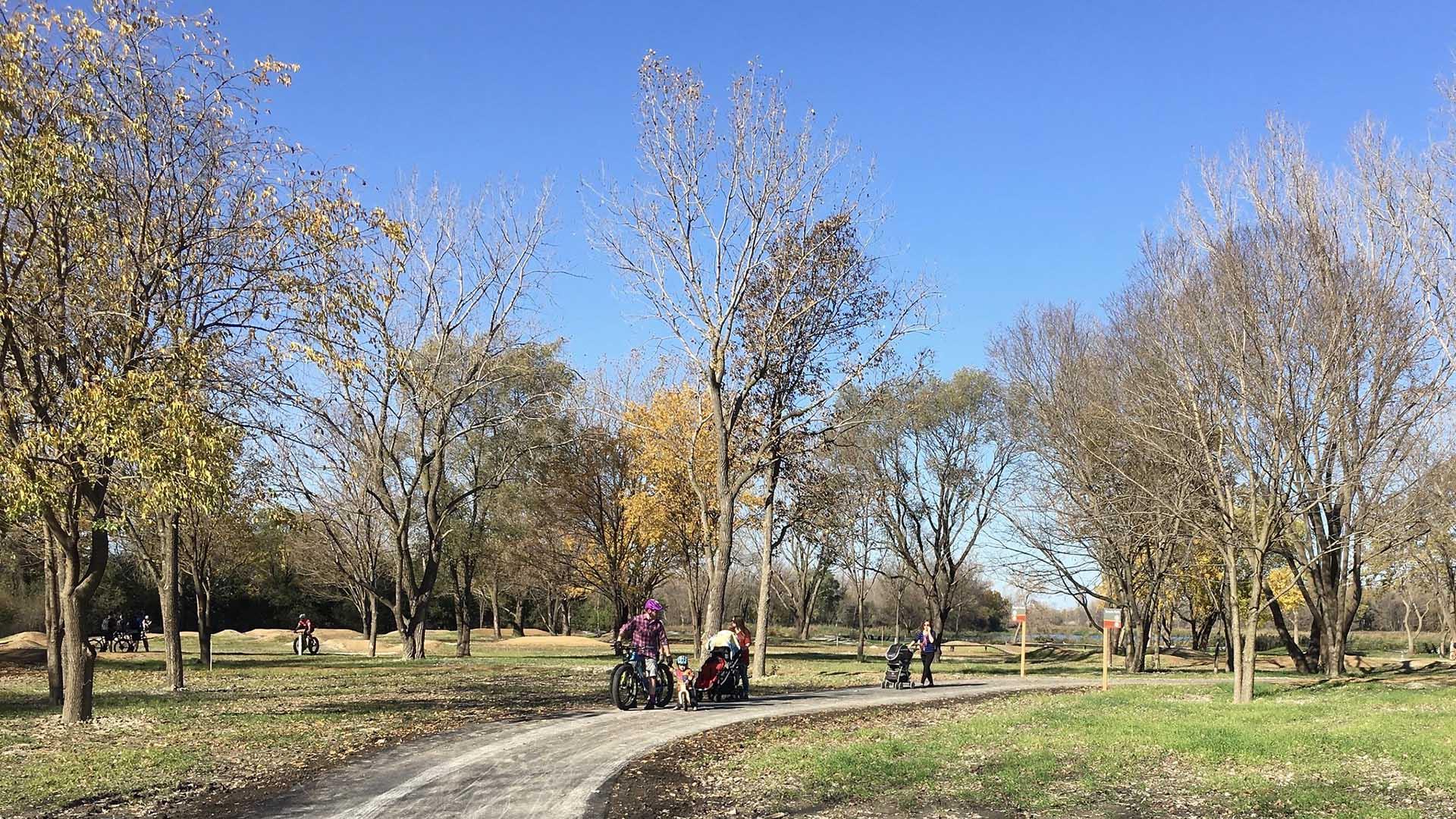 (Steven Vance / Flickr)
Where: South Deering
Distance from Chicago: 16 miles
A former industrial site acquired by the Chicago Park District, the roughly 280-acre Big Marsh Park provides 45 acres of recreational opportunities, like hiking and off-road biking, while also preserving and enhancing the natural habitat of the park. Bird watching and nature walking is allowed throughout the park.
---
2. Cap Sauers Holding Nature Preserve
(Photo by Kevin Coyote-Trust)
Where: Palos Park
Distance from Chicago: 26 miles
Wander through the glacier-formed landscape of Cap Sauers Holding Nature Preserve, described as the "most remote place in all of Cook County" by the Forest Preserve of Cook County. Miles of trails wind through wooded bluffs and ravines, wetlands and prairie openings. In order to get to the preserve, you must park at Teason's Woods and travel west along the Sag Valley Yellow Unpaved Trails.
---
3. Morton Arboretum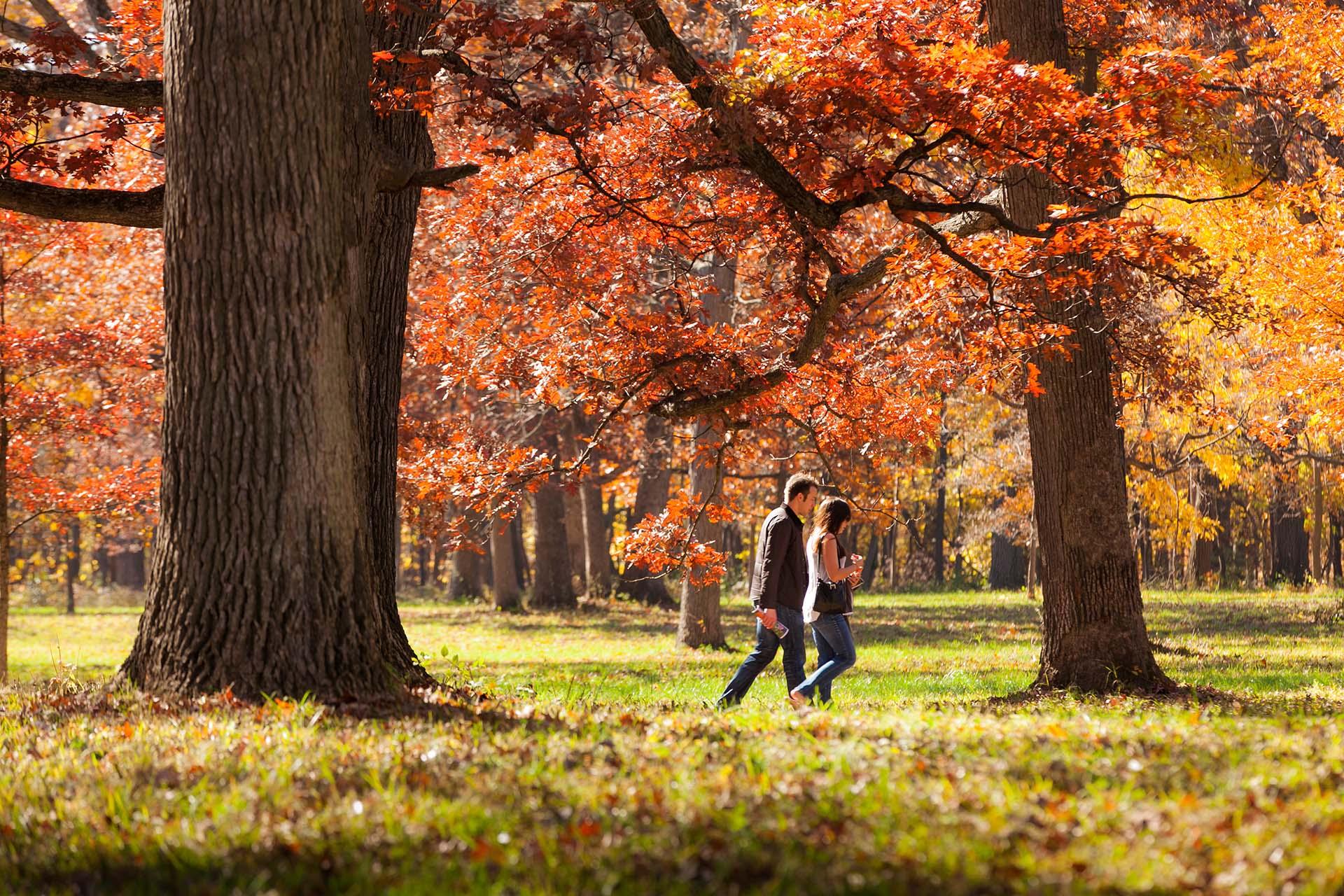 (Courtesy of The Morton Arboretum)
Where: Lisle
Distance from Chicago: 26 miles
Boasting 4,100 types of trees on 1,700 acres, you can surround yourself with fall foliage at the Morton Arboretum. Stroll along the 16 miles of trails to see fiery orange, warm gold and vivid crimson leaves. "One of my favorite things to do is get out there and see the trolls while walking around in taking in the colors," said Kemmerling.
The arboretum also hosts a Fall Color Festival that includes a glass pumpkin patch exhibit, an outdoor walking play, family jack-o'-lantern hike and fall foliage walking tour.
---
4. Forest Preserves of Winnebago County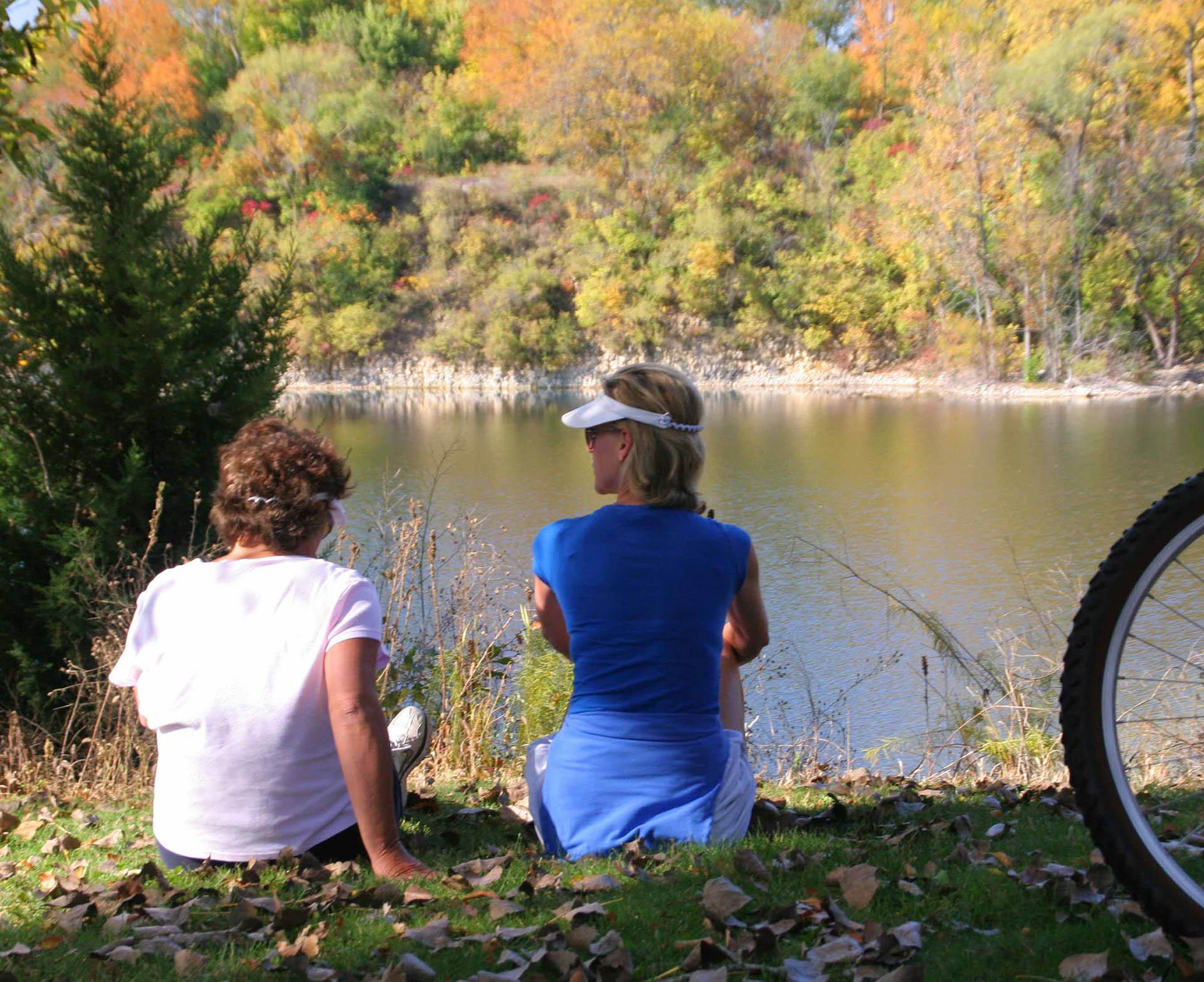 Bicyclists enjoy a relaxing break overlooking the quarry lake at Headquarters Forest Preserve which is the trailhead for the Rock River Recreation Path. (Photo by Jamie B. Johannsen)
Where: Rockford
Distance from Chicago: 88 miles
Dedicated to protecting and preserving natural beauty, the Forest Preserves of Winnebago County encompasses more than 10,500 acres of woods, streams, cliffs, prairies and dells. With more than 100 miles of hiking trails featuring a variety of terrain and length, there's a hike for everyone. Three of the most scenic preserves – Blackhawk Springs, Severson Dells and Klehm Arboretum – have paved, handicap accessible trails, according to the forest preserves.
---
5. Matthiessen State Park
(Curtis Albert / Flickr)
Where: Oglesby
Distance from Chicago: 103 miles
Spanning more than 1,900 acres, Matthiessen State Park boasts canyons, streams, prairie and forests, including red cedars and black and white oaks that transform the terrain into rusty reds and oranges.
Named for Frederick William Matthiessen, who was instrumental in the creation of the park, exposed sandstone can be seen throughout including in the main canyon which consists of the Upper and Lower Dells.
The park features 5 miles of marked hiking trails. For a more relaxing stroll, stick to trails along the upper area and bluff tops. Trails into the interiors of the two dells can be more difficult to negotiate, according to IDNR. Hop on a mountain bike or horse to explore the fall foliage through 9 miles of trails reserved for those purposes.
---
6. Pere Marquette State Park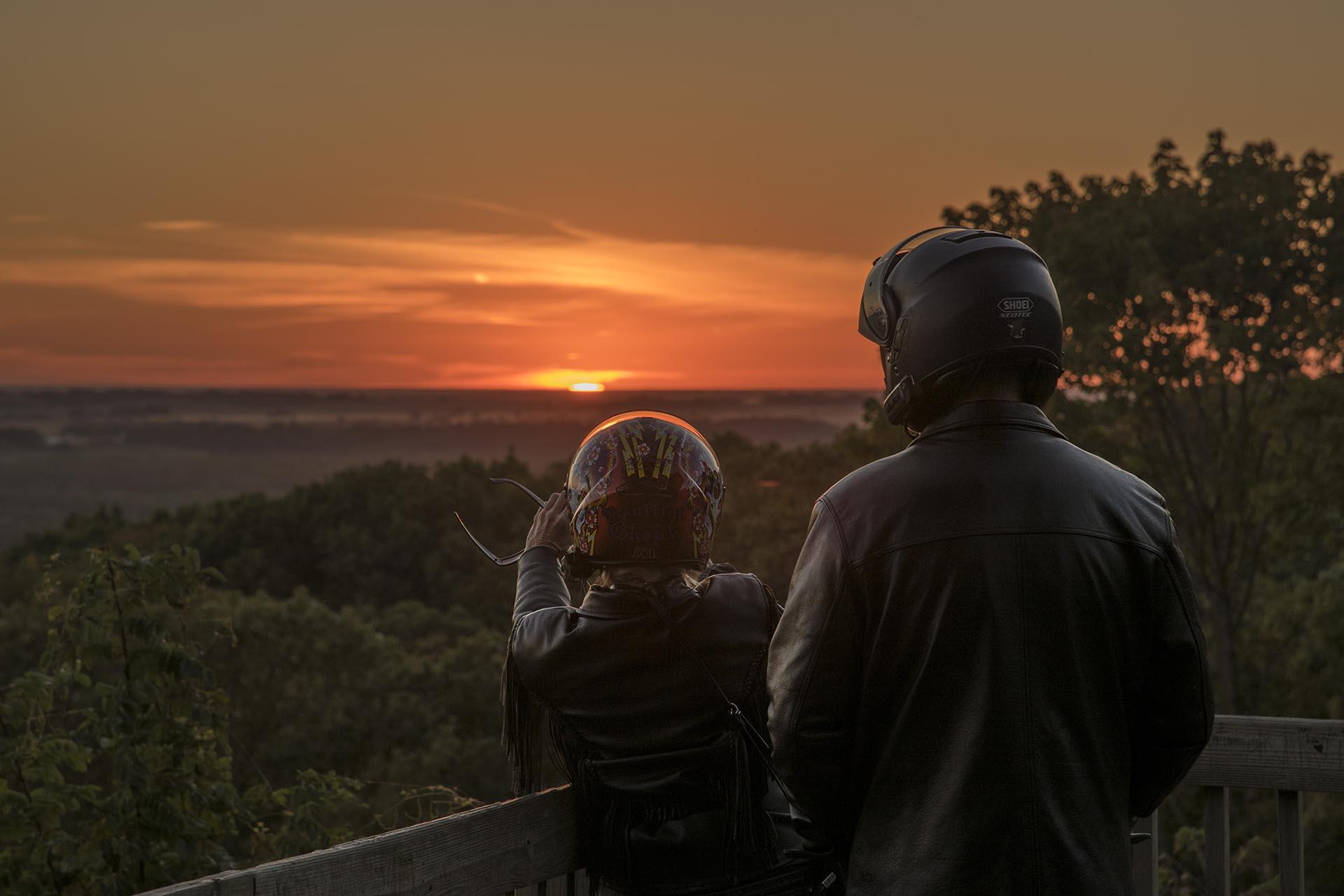 (Courtesy of the Illinois Office of Tourism)
Where: Grafton
Distance from Chicago: 306 miles
Illinois' largest state park sits along the confluence of the Illinois and Mississippi rivers and has become a popular spot for bird watching – about 230 species have been spotted soaring here – including American bald eagles.
Spanning 8,000 acres, Pere Marquette State Park includes 12 miles of hiking trails and 20 miles of equestrian trails. Hop on the Sam Vadalabene Bike Trail for a scenic 20-mile ride along the Mississippi River from the state park to the city of Alton.
Tip: If you make it to Alton, visit the McPike Mansion, which is listed on the National Register of Historic Places and rumored to be haunted.
---
7. Grand View Drive & Park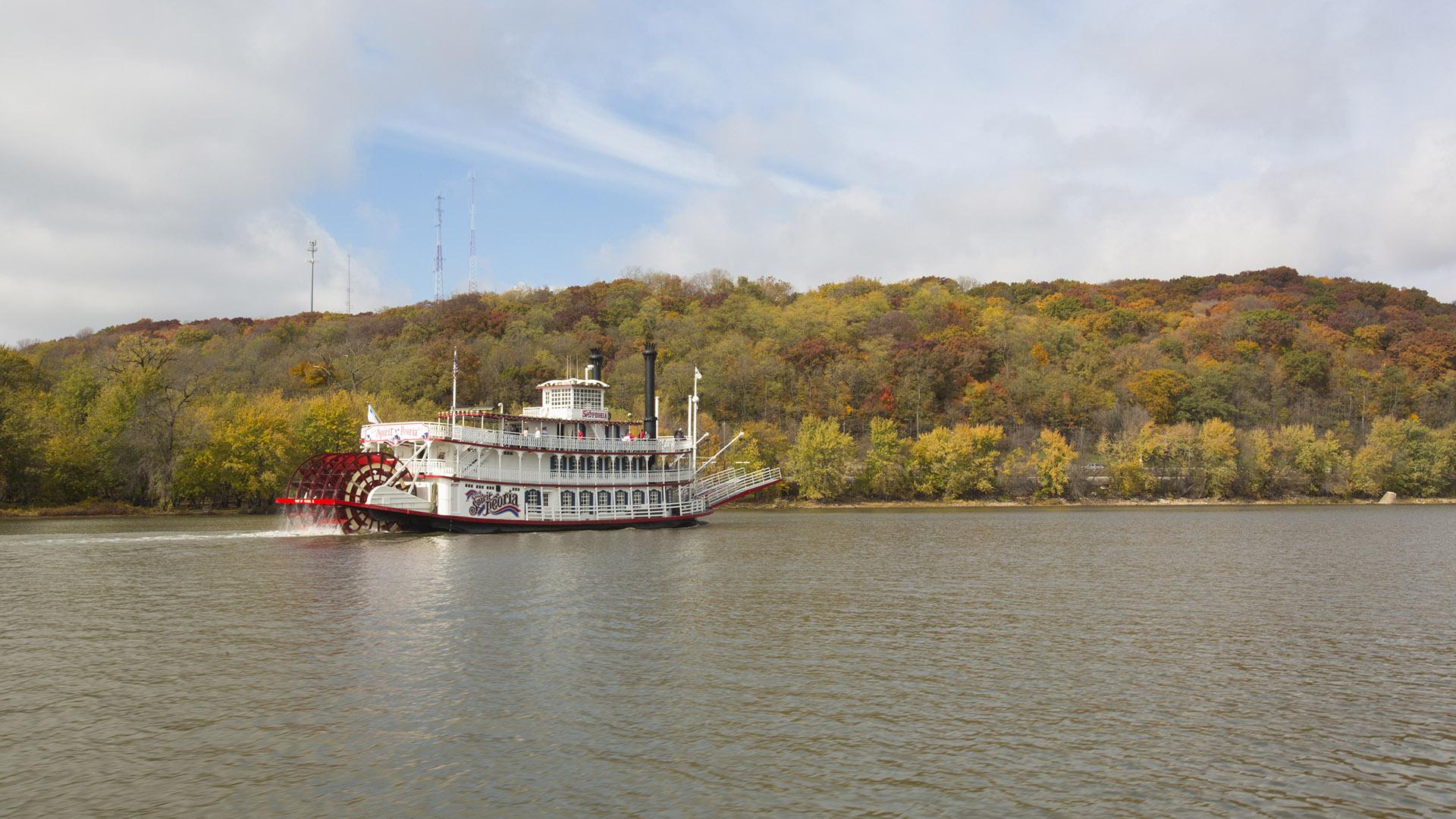 (Courtesy of the Illinois Office of Tourism)
Where: Peoria
Distance from Chicago: 151 miles
President Theodore Roosevelt called it the "world's most beautiful drive" during a 1910 visit to Peoria. See for yourself and soak up the seasonal splendor at Grand View Drive & Park. The 2.52-mile meandering drive is listed on the National Register of Historic Places and offers panoramic views of the Illinois River Valley. Grand View Drive also has 1.75 miles of paved sidewalk if you want to get out and stretch your legs.
For a unique vantage point, Kemmerling recommends setting sail on the Spirit of Peoria, which offers fall foliage lunch cruises on select October dates. "Seeing all of the colors on the banks of the shoreline is a really cool experience," she said.
---
8. Lincoln Memorial Garden & Nature Center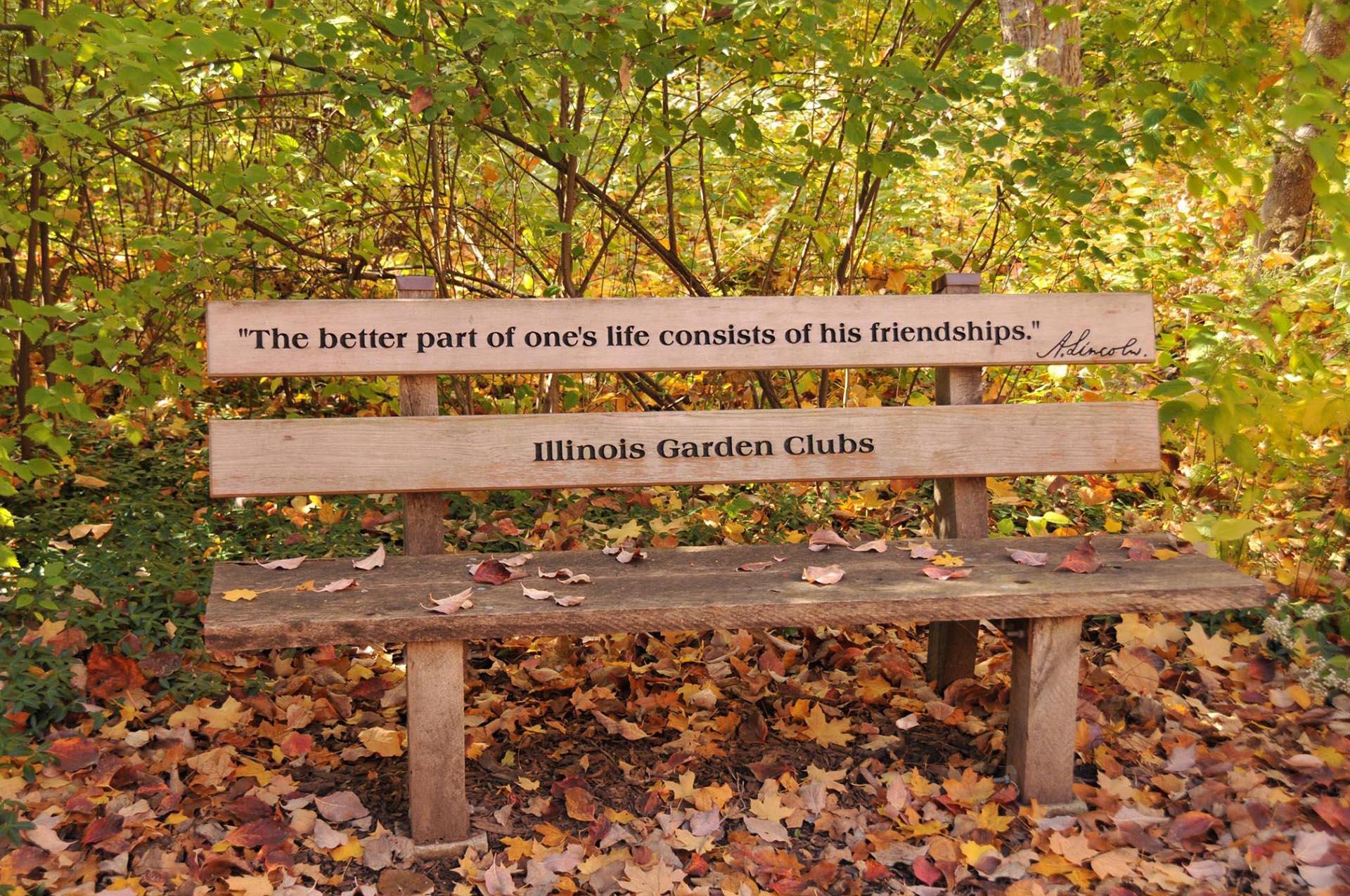 (Lincoln Memorial Garden / Facebook)
Where: Springfield
Distance from Chicago: 207 miles
The 100-acre Lincoln Memorial Garden & Nature Center features six miles of interconnected trails that wind through restored prairies, woodlands and wetlands, and cross streams and a small pond. Rest on benches throughout the garden – many of which are inscribed with quotes from Abraham Lincoln. Stop by the nature center for interactive educational displays, workshops and seminars.
---
9. Giant City State Park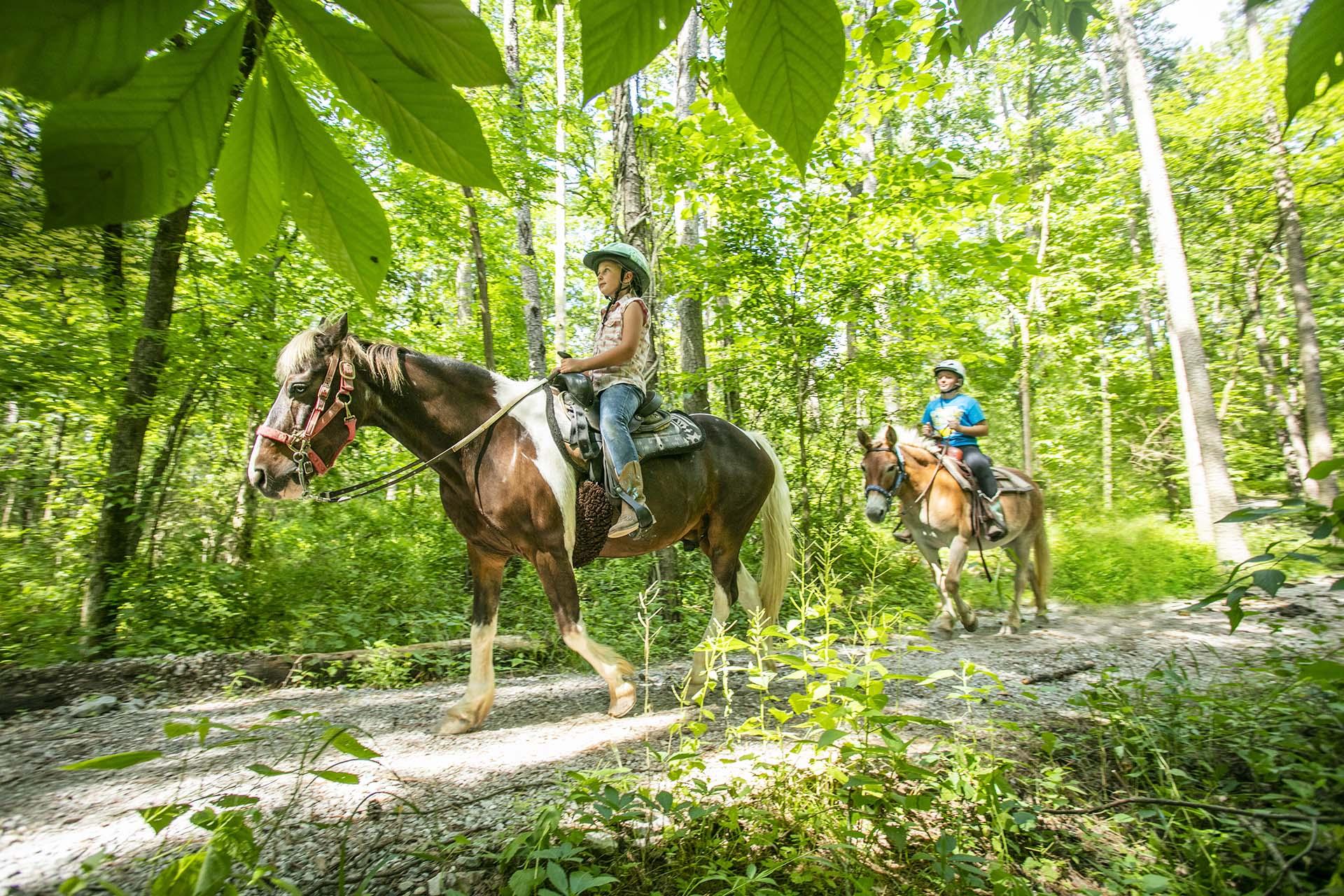 (Courtesy of the Illinois Office of Tourism)
Where: Makanda
Distance from Chicago: 340 miles
Have some energy to burn? At Giant City State Park, you can hike, fish, rock climb and rappel, hunt, camp and practice archery. Popular hikes include the Giant City Nature Trail, where you can see huge bluffs of sandstone formed 12,000 years ago.
For a relaxing hike, stroll along the Post Oak Nature Trail, a 30-minute, partially paved hike just one-third of a mile in distance. Looking for a challenge? Try the Red Cedar Hiking Trail, a 12-mile hike that offers an overnight campsite at the halfway point. Fast hikers can complete the trail in about seven hours, while leisurely hikers may take two days. IDNR recommends starting the trail before noon.
---
10. Shawnee National Forest
(Courtesy of the Illinois Office of Tourism)
Where: Herod
Distance from Chicago: 351 miles
Nestled between the Mississippi and Ohio rivers, the Shawnee National Forest features oak-hickory forests, rolling hills, rugged bluffs and lakes over 289,000 acres.
"If you have not seen Shawnee National Forest and that part of Illinois, you need to do it," said Kemmerling. "It's so different than what you think Illinois is. It's high bluffs, the start of the Ozarks, sandstone cliffs … and there are trees for miles and miles."
Garden of the Gods is a must see, says Kemmerling. Located within the national forest, the area features 320-million-year-old sandstone rock formations and cliffs, according to the United States Department of Agriculture. "For trees showing off their best colors, this is a great place to go," said Kemmerling.
Hike the quarter-mile trail that leads to the tops of the bluffs for views of Shawnee Hills and Garden of the Gods Wilderness. Open year-round, the trail includes some short, steep grades and a few steps. Forest service officials advise using caution near bluffs and when traveling on wet surfaces.
Contact Kristen Thometz: @kristenthometz | (773) 509-5452 |  [email protected] 
---
Related stories:
Growing Giant Pumpkins 'A Tough Hobby' for Illinois Enthusiasts
Find Pumpkin Patches in Chicago and the Suburbs
Ald. Leslie Hairston Stands By Comment That Nature Sanctuary is 'Dead'