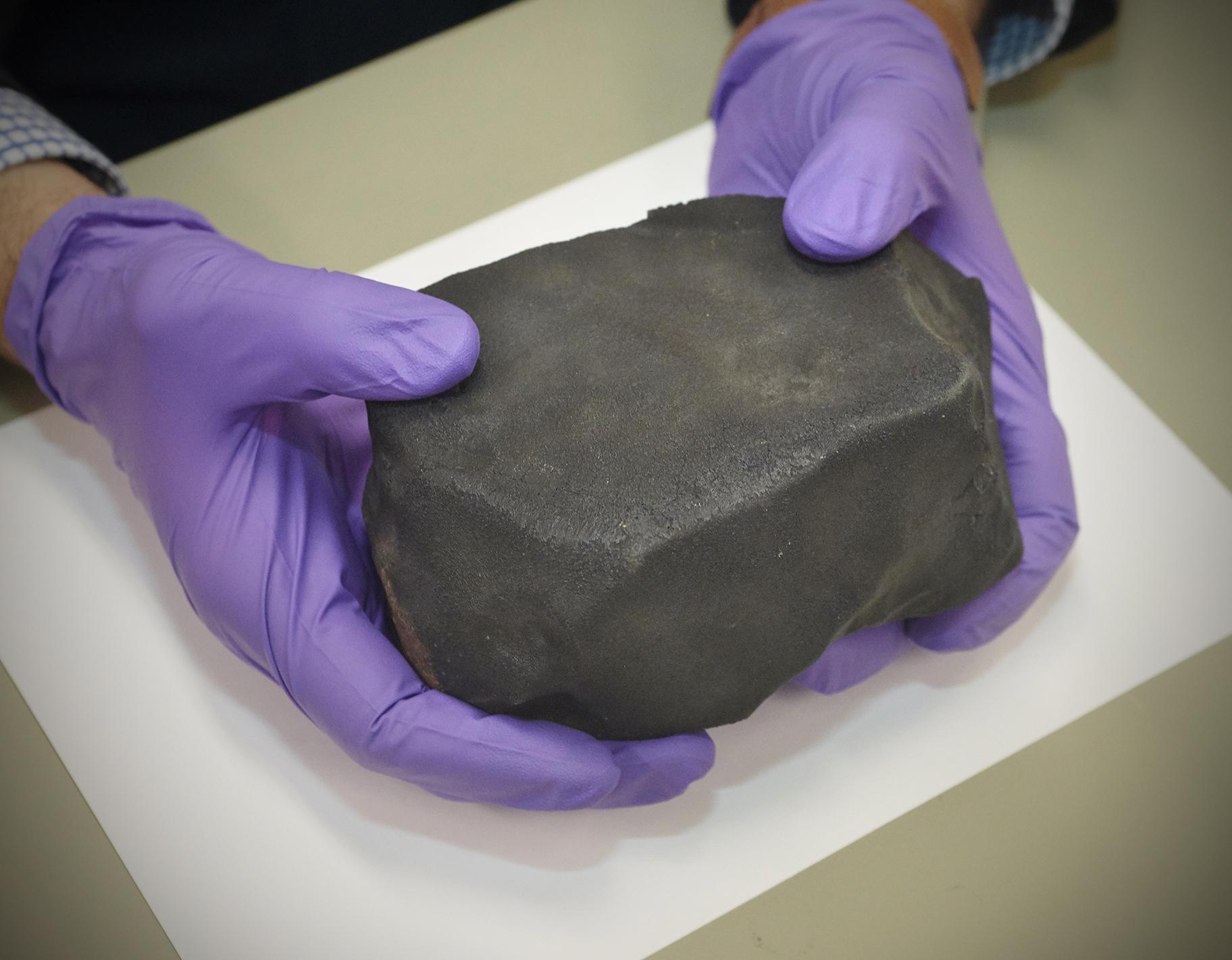 A 4-pound piece of a meteorite that struck Costa Rica earlier this year was handed over to the Field Museum on Oct. 7, 2019. (John Weinstein / Field Museum)
A 4-pound chunk of a rare type of meteorite that crashed into a Costa Rican village this spring has found its way to the Field Museum, and experts say the rock likely contains clues to the origins of life on Earth.
Retired health care industry executive and frequent donor Terry Boudreaux purchased the unspectacular-looking rock earlier this year and handed it over to the museum on Monday afternoon. Boudreaux declined to say how much he paid for the rock but said he bought it from Michael Farmer, a well-known meteorite hunter and broker who has reportedly received offers of $1 million and more for meteorite pieces.
The Field's new rock came from a meteorite that broke into many small pieces after entering Earth's atmosphere and descending upon the Costa Rican town just after 9 p.m. on April 23. Astronomers and meteorite enthusiasts rushed to obtain pieces of the meteorite, a rare form of meteorite called carbonaceous chondrite that contains large amounts of organic compounds like amino acids from about 4.5 billion years ago.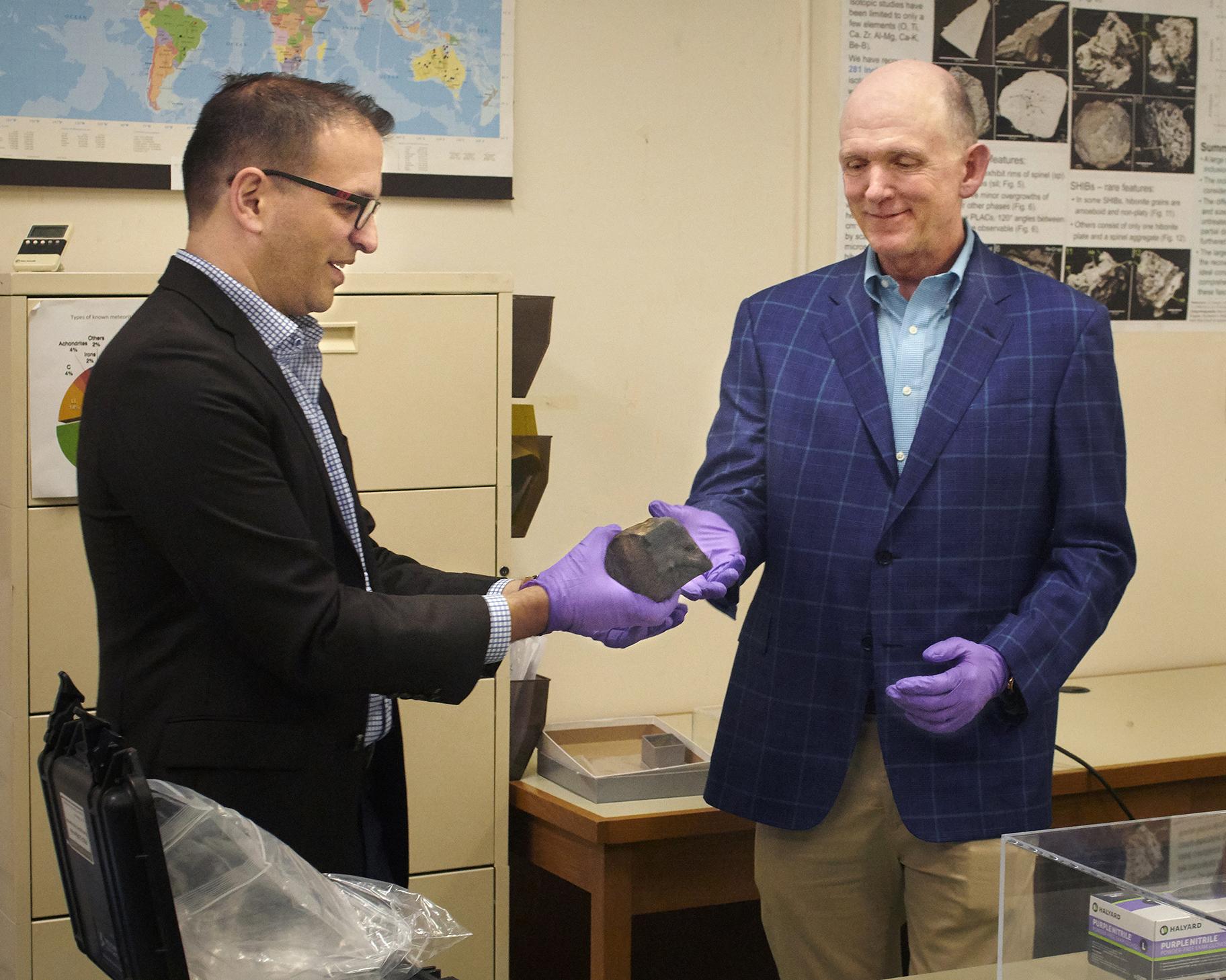 Field Museum donor Terry Boudreaux, right, holds the meteorite along with Philipp Heck, the museum's associate curator for meteoritics and polar studies. (John Weinstein / Field Museum)
The biggest piece of the meteorite discovered – the rock now in the Field's possession – landed near a farm in Aguas Zarcas, a town of about 20,000 people northwest of San Jose, Costa Rica's capital. Boudreaux said the mother of the family living on the farm found the rock within an hour of its fall and placed it in a sealed plastic bag, a crucial step that experts say helped preserve the rock's potentially groundbreaking contents.
"We think meteorites like this contain the building blocks of life," said Philipp Heck, the Field's associate curator for meteoritics and polar studies. The rock likely holds answers to questions about the origin of the oxygen humans breathe and the carbon from which we are made, he said.
Video: "Chicago Tonight" interviews Philipp Heck.
Of the 13,000 meteorite pieces in the museum's collections, the new rock is the only of its kind, containing pristinely preserved amounts of stardust made up of materials that predate the Earth, sun and our entire solar system.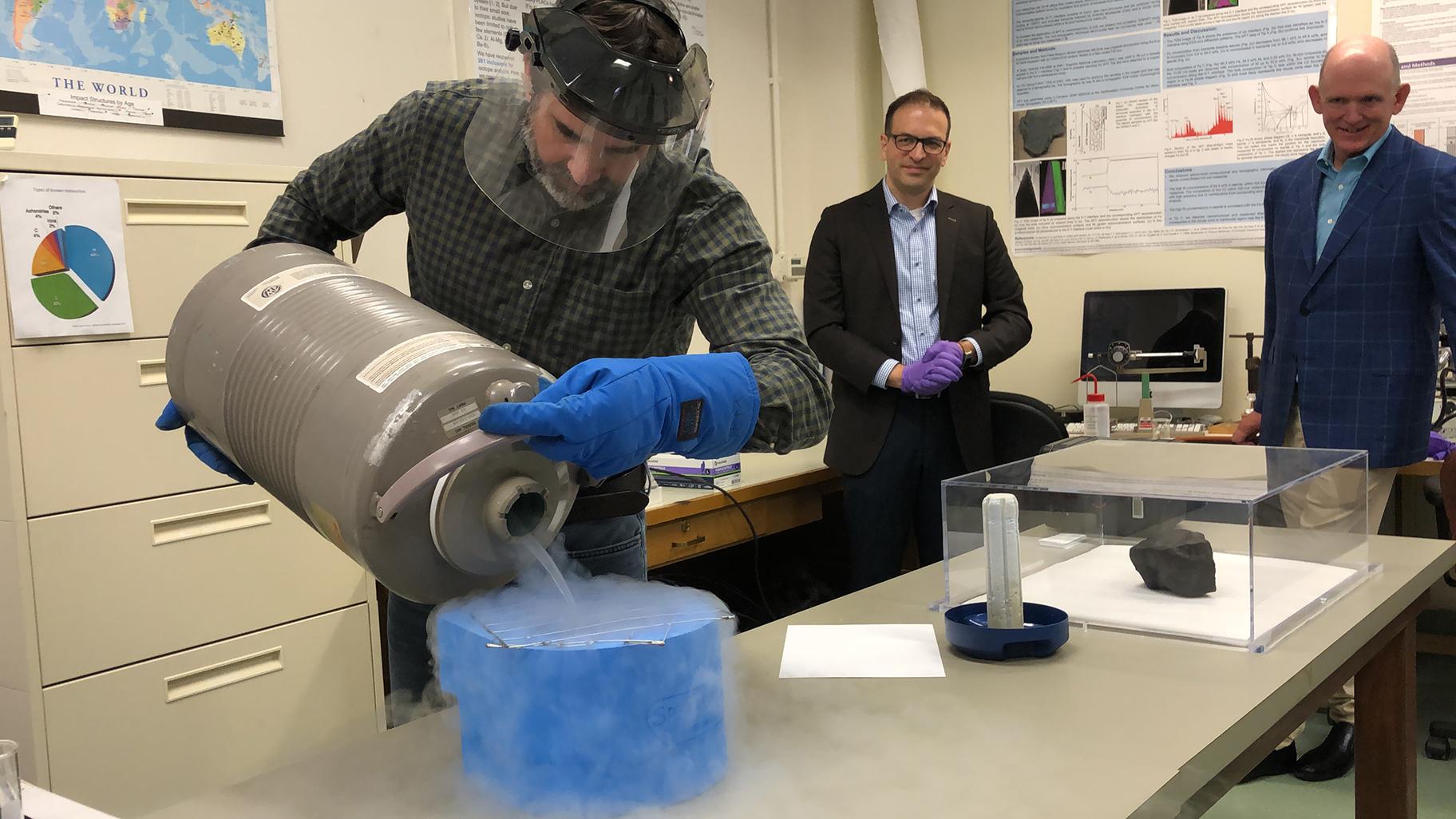 The Field Museum's Jim Holstein shows how the meteorite will be stored and preserved using liquid nitrogen cooled to negative 320 degrees Fahrenheit. (Alex Ruppenthal / WTTW News)
"It's probably one of the world's rarest meteorites," said Heck, who wore purple latex gloves while displaying the rock for media members. "It's essentially a time capsule from the early solar system."
The rock appears no larger than a normal-sized brick, but it does have an interesting – if disputed – scent. Heck, one of a few people who got close enough to smell the rock, said it has a pleasant vanilla-type odor. But some of his colleagues detected a scent they described as "sweet Brussels sprouts."
Heck and other Field researchers will now go to work studying the rock. Given its rare nature and high degree of preservation, the museum expects to receive requests from scientists around the world to analyze small pieces of the rock.
Field staff will soon conduct a CT scan of the rock to get a look at its internal structures, said Jim Holstein, the museum's collections manager of meteorites and physical geology. He said the rock will not be on display to the public because it must be stored in liquid nitrogen cooled to negative 320 degrees Fahrenheit in order to preserve the near-original state of the materials contained inside. 
Heck said the museum was thankful to the Boudreaux family, which has donated other meteorites to the Field over the last few decades that enabled new research opportunities.
But none figure to be as important as this rock.
"It's priceless," Heck said. "We will probably make discoveries now by studying this meteorite, and in 50 years, we will still make new discoveries."
Video: "Chicago Tonight" interviews Philipp Heck.
---
Contact Alex Ruppenthal: @arupp | (773) 509-5623 | [email protected]
Note: This story was first published Oct. 8, 2019. It has been updated to include our "Chicago Tonight" interview with Philipp Heck.
---
Related stories:
How Satellites Can Detect and Protect Earth From Asteroids
50 Years After Moon Landing, Billionaires Back Grandiose Visions for Space
Astronomers May Have Detected Neutron Star Being Consumed by Black Hole
Farthest Object Ever Explored Comes into View on New Year's Day
NASA Reaches New Heights: Mars, Asteroid Bennu and Ultima Thule
---